Ems win first championship since 1975
Eugene tops Everett in decisive game of Northwest League Finals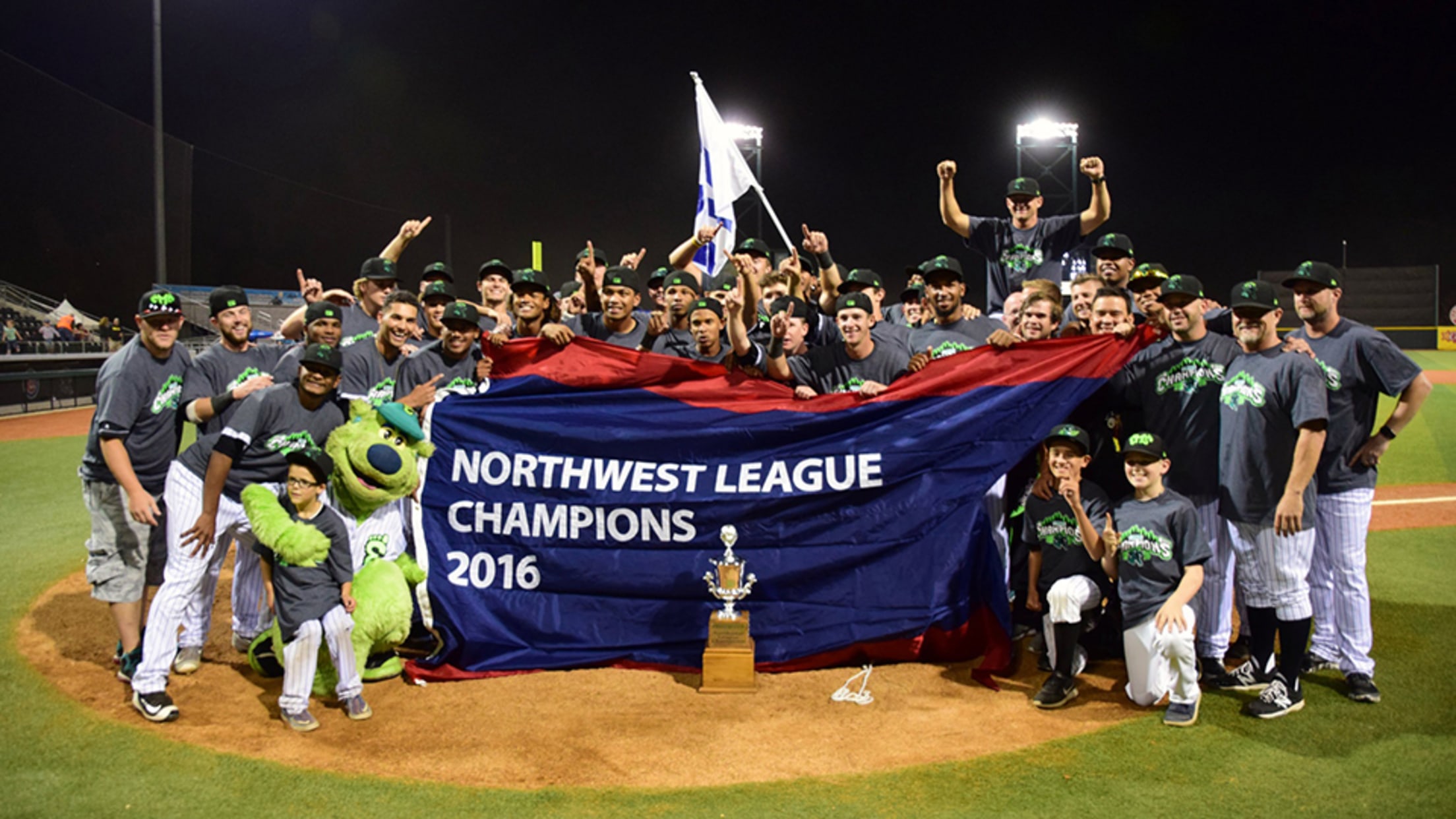 Eugene players and staff members celebrated their franchise's first title in four decades. (Jared Ravich/MiLB.com)
Members of an organizational family looking to end the longest title drought in major American professional sports, the Eugene Emeralds finally brought a close to their own. More than four decades after last celebrating a Northwest League championship, the Cubs affiliate did it again on Tuesday night. Yeiler Peguero hit
Members of an organizational family looking to end the longest title drought in major American professional sports, the Eugene Emeralds finally brought a close to their own.
More than four decades after last celebrating a Northwest League championship, the Cubs affiliate did it again on Tuesday night. Yeiler Peguero hit a tiebreaking RBI single in the fifth inning and Eugene edged Everett, 2-1, to capture its first outright title since 1975.
"It's special," Emeralds manager Jesus Feliciano said. "We have a very young team. Some of these guys, they just signed out of the Draft this year, so we have to give the credit to all our front office, scouting department, having the guys that they drafted this year, watching them work the way they did this year."
Eugene ran away with the league's best overall record in the regular season at 54-22, eclipsed its own NWL mark with a 15-game winning streak and dethroned two-time defending champion Hillsboro in the semifinals. The Emeralds looked poised for a Finals sweep following a Game 1 win, but the AquaSox rebounded with a 7-1 victory on Monday, setting up a fittingly tense showdown.
"That's the way they've been all year," Feliciano said. "After tough losses, I try to keep everything calm and relaxed and want them to focus for the next day, but when I got back to the clubhouse last night, I saw that they were clapping hands, giving fives, trying to get ready for the next day. That says a lot about our team. They didn't even have to wait for a coach or manager to say, 'You know what? Tomorrow's another day.' They were already getting ready for the next night."
The Emeralds struck first in Game 3 on Kevonte Mitchell's RBI single in the bottom of the second, but Everett evened the score in the fifth on Kristian Brito's run-scoring knock. Brito's hit could've given the AquaSox the lead, but Mariners No. 16 prospectBryson Brigman was thrown out at the plate to end the inning.
With momentum from their defensive stand, the Ems answered in the bottom half. Peguero came through with a two-out liner to center field to score Robert Garcia with the go-ahead run.
"[Everett] played a great game," Feliciano said. "They were one hit away like Hillsboro was in Game 3, but our players, they never panicked; they pitched well. Once again, all year, we've been carried by our pitching and defense."
Eugene starter Manuel Rondon (1-0) allowed a run on six hits and two walks with three strikeouts over five innings. Duncan Robinson, Michael Knighton and Wyatt Short combined to hold the lead the rest of the way, with Short earning his second postseason save.
The championship was Eugene's first in any capacity since sharing a title with Bellingham in 1980 and first since aligning two years ago with Cubs, a team whose well documented championship drought dates to 1908.
"We have been talking about this the last couple of weeks," Feliciano said. "[Cubs senior vice president of player development and amateur scouting] Jason McLeod, [director of player development] Jaron Madison, [president of baseball operations] Theo Epstein, all the front office has done to the Minor League system is very special. It's a lot easier to have their backs like they have our backs. They trust in us and I think what they're doing is not just in the big leagues. They're doing something special in the Minors."
Tyler Maun is a contributor to MiLB.com. Follow him on Twitter @TylerMaun.