Farm system rankings: Overall (30-16)
Marlins, Brewers, Pirates entering season in the middle of the pack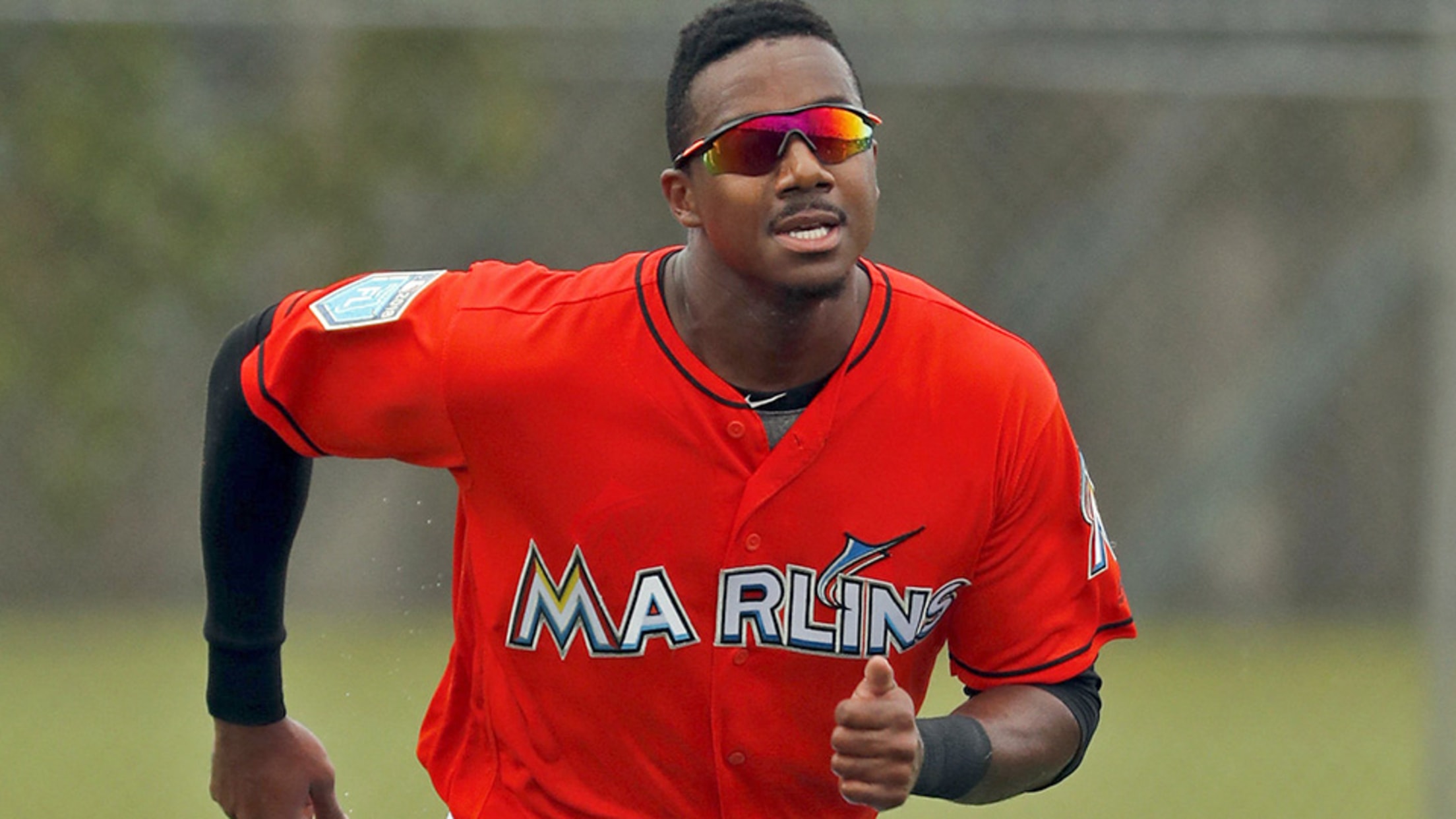 Acquired from the Brewers this offseason, Lewis Brinson is likely to begin the season as the Marlins' starting center fielder. (Jeff Roberson/AP)
With Spring Training underway and the 2018 season almost upon us, MiLB.com has looked at the state of all 30 farm systems over the last couple weeks and ranked them, according to certain changing criterion with each edition. After looking at position player prospects (30-21, 20-11, 10-1), pitching prospects (30-21,
With Spring Training underway and the 2018 season almost upon us, MiLB.com has looked at the state of all 30 farm systems over the last couple weeks and ranked them, according to certain changing criterion with each edition. After looking at position player prospects (30-21, 20-11, 10-1), pitching prospects (30-21, 20-11, 10-1) and 21-and-under talent, this edition focuses on the overall talent in each system in its current state. Here are the rankings, 30-16:

30. Seattle Mariners
Position players: 28th; Pitchers: 30th
Kyle Lewis
gave the Mariners a boost in position-player rankings as the organization's lone
top-100 prospect
, slotting in at No. 70 according to MLB.com, while 2017 first-rounder
Evan White
has a promising future as a potential Gold Glove-type first baseman entering his first full season. However, GM Jerry Dipoto was trade-happy once again in the early months of the offseason, picking up Dee Gordon and Ryon Healy, and that hurt the depth of an already thin system. The front office has shown in recent years that it would rather improve the Major League club through transactions rather than the farm system. That's fine, if it translates to success at the highest level, but don't be surprised if there's a lack of homegrown talent down the road.
29. Kansas City Royals
Position players: 30th; Pitchers: 29th
Though the Royals don't have a top-100 prospect, it's not a stretch to say the organization could eventually squeeze some help from this batch of prospects.
Khalil Lee
showed a promising combination of power and speed last season.
Nick Pratto
could be a future Eric Hosmer replacement after being taken 14th overall last June.
Nicky Lopez
had a strong Arizona Fall League and could take over in the middle infield at some point this summer.
Josh Staumont
has plus stuff in his fastball and curve but little control.
Trevor Oaks
has shown plus control at the upper levels but may lack plus stuff. But without a special talent to lead it, Kansas City's rebuild could be fighting an uphill battle. Barring a breakout year by a few of the more prominent names, this won't be close to the prospect revolution that produced Hosmer, Mike Moustakas, Alex Gordon, Salvador Perez and others and led to a 2015 title.
28. Chicago Cubs
Position players: 29th; Pitchers: 24th
Like the Mariners, the Cubs put themselves here with some big-time buys on the trade market, most notably the ones that added Aroldis Chapman in 2016 and Jose Quintana last season. Without those trades, it's possible
Eloy Jiménez
,
Gleyber Torres
and
Dylan Cease
are the North Siders' top-100 representatives. Instead, with resources pouring into the Major League side -- and the success to back up that strategy -- the Cubs' system is a far cry from its early 2015 state when Kris Bryant, Addison Russell, Albert Almora, Carl Edwards Jr. and Kyle Schwarber were still considered prospects. The farm is heavier on arms with
Adbert Alzolay
potentially looking at a 2018 Major League debut,
Jose Albertos
hoping to show health and
Alex Lange
and
Brendon Little
each going in last year's first round. That's a good sign, considering Kyle Hendricks is the only member of the rotation to get any significant time with Cubs' Minor League affiliates. Don't sleep on 19-year-old
Aramis Ademan
, who could be an impressive defender at short with a solid bat as he matures.
27. San Francisco Giants
Position players: 24th; Pitchers: 27th
The Giants might have seen the writing on the wall this offseason, knowing it was unlikely that improvements would come internally and choosing to go after Evan Longoria and Andrew McCutchen on the trade market. They lost a top-100 prospect (
Christian Arroyo
), a solid outfielder (
Bryan Reynolds
) and a potential late-inning relief option (
Kyle Crick
) in the process, hurting what was already a rough system. The good news is that 2017 19th overall pick
Heliot Ramos
is already looking like a potential steal after showing an impressive bat with good speed in his pro debut, and
Steven Duggar
, a defensive asset in center, is playing his way into a prominent role with a big spring. Elsewhere,
Chris Shaw
,
Tyler Beede
and
Andrew Suárez
could help the big club following returns to Triple-A Sacramento. But, outside Ramos, it's looking more like this batch of Giants prospects could serve as patchwork in San Francisco someday rather than franchise pillars.
26. New York Mets
Position players: 25th; Pitchers: 23rd
Following the Royals and Cubs, the Mets are the last system featured here without a prospect among MLB.com's top 100. That's not to say there aren't a few names to like.
Andrés Giménez
held his own playing all of last season with Class A Columbia at just 18.
David Peterson
showed special control at Oregon that made him the No. 20 overall pick. Peter Alonso is the game's No. 7 first-base prospect after showing good pop in his first full season and could be ready to show more now that he's fully recovered from a broken hand.
Luis Guillorme
and
Gavin Cecchini
will provide infield depth at Triple-A Las Vegas. But without graduated prospects
Amed Rosario
and
Dominic Smith
, this might be the least exciting version of the Mets system in recent memory.
25. Arizona Diamondbacks
Position players: 27th; Pitching: 20th
The D-backs were in the last spot of last year's rankings, so a move to 25th is a notable jump, even if it doesn't seem exciting on its face.
Jon Duplantier
gave Arizona fans plenty of joy in 2017 with a 1.39 ERA and 165 strikeouts over 136 innings en route to becoming MLB.com's No. 73 overall prospect. No. 7 overall pick
Pavin Smith
(No. 91) gives the club another top-100 option and could be primed to move quickly in his first full season out of the University of Virginia. It's a pretty steep drop from there, though. It could be fun to see what
Daulton Varsho
can do over 100 games as a fast catcher with a good hit tool, but otherwise, it's tough to find a prospect with a high ceiling outside the top two. It'll take a few more breakouts like Duplantier's for this system to jump again in 2019.
24. Baltimore Orioles
Position players: 21st; Pitchers: 28th
Outfielder
Austin Hays
, third baseman
Ryan Mountcastle
and catcher
Chance Sisco
give the O's three prospects who are or have been ranked among MLB.com's top 100. Hays, fresh off a 32-homer, .958-OPS campaign last season that propelled him to the Majors, would be the stud of many systems at No. 23 overall. Sisco may have slipped a bit from his previous lofty status, but his bat could be enough to get him the starting catching job this summer. However, Baltimore faces real issues when it comes to pitching talent in the system right now.
Hunter Harvey
is the club's top arm, and he hasn't pitched more than 20 innings in a season since 2014.
DL Hall
has promise but a long road ahead of him after going 21st overall last June, and third-best pitching prospect
Tanner Scott
is a likely reliever with a power fastball and control woes. With Manny Machado likely heading out the door in free agency next offseason, it's legitimate to worry about what the organization can do internally to compete in a crowded American League East. Spending little to nothing on the international market in recent years hasn't helped either.
23. Boston Red Sox
Position players: 23rd; Pitchers: 19th
Like so many others in this range, the top two prospects here are enough to cause excitement.
Michael Chavis
has grown into his first-round potential and showed impressive power with 31 homers at Class A Advanced and Double-A last season.
Jay Groome
may have struggled with health in 2017, but he showed in flashes why he was considered the top high-school arm of the 2016 Draft (namely, a plus fastball and a special curve). After that, the system gets a little less interesting. The Sox are trying to do a lot with 2017 first-rounder
Tanner Houck
to make him more consistent and add a curveball to his repertoire.
Sam Travis
and
Josh Ockimey
are first-base options but haven't shown enough to keep Boston from keeping Hanley Ramirez and Mitch Moreland the future of the position.
Mike Shawaryn
led the organization with 169 strikeouts but has the looks of a reliever. It's a far cry from the days when the system was buoyed by Andrew Benintendi, Rafael Devers, Michael Kopech, Anderson Espinoza and Yoan Moncada.
22. Texas Rangers
Position players: 20th; Pitchers: 26th
The hitters are the draw here.
Leody Taveras
continues to flash big-time toolsy potential even after stumbling some as an 18-year-old at Class A.
Willie Calhoun
's arrival from the Dodgers gave the system a slugging shot in the arm.
Ronald Guzmán
showed a solid bat after a full year as a 22-year-old first baseman at Triple-A.
Bubba Thompson
, the 2017 No. 26 overall pick, is about to get going in his first full season. It's a solid group, but not flashy or deep enough to cover holes like Taveras' lack of production thus far or Calhoun's defensive bugaboos. The arms are less exciting. That group took another hit with the news that
Cole Ragans
will need Tommy John surgery and
Kyle Cody
is dealing with elbow inflammation. That leaves second-rounder
Hans Crouse
as the most exciting pitching prospect almost by default, and he's thrown only 20 innings at the Arizona complex.
21. Detroit Tigers
Position players: 26th Pitchers: 11th
In a switch from the team directly above, the arms are the big-time draw here as five of the organization's top six prospects are building their careers on the mound. Three of the five (
Matt Manning
,
Alex Faedo
,
Beau Burrows
) are first-round picks and another is No. 39 overall prospect
Franklin Perez
, who climbed to Double-A as a 19-year-old in the Astros system before joining in the Justin Verlander deal. The other is
Kyle Funkhouser
, who showed signs of a breakout in the lower levels before experiencing elbow inflammation last season.
Jake Rogers
and
Daz Cameron
-- also additions in the Verlander trade -- have potentially high ceilings with their bats and gloves, and
Christin Stewart
continues to be an impressive slugger, albeit one with defensive questions. The Tigers are entering a rebuilding phase, and this list is a promising way to start.
20. Colorado Rockies
Position players: 14th; Pitchers: 20th
The Rockies could stoke excitement with any pair of position player prospects because of their potential move to Coors Field someday. But it helps to have No. 14 prospect
Brendan Rodgers
(the highest-ranked prospect mentioned so far) and No. 41
Ryan McMahon
in the pipeline, both of whom could impact the Colorado infield at points this summer. Elsewhere, following
Ryan Vilade
's first full season and
Garrett Hampson
's stolen-base total should be fun in 2018. As is often the case with this system, the arms are the question.
Riley Pint
has an incredibly high ceiling with his plus-plus fastball and good breaking stuff, but MLB.com's No. 100 prospect has to find the strike zone after walking 59 in 93 innings.
Peter Lambert
,
Ryan Castellani
and
Yency Almonte
all have the potential to fit in a rotation but lack standout results. The current Rockies rotation is so young they may not need the help for a while, but it would be more comforting to see a deeper group here.
19. Cleveland Indians
Position players: 17th; Pitchers: 16th
The Indians boast two of the top 25 prospects in the game in
Francisco Mejía
(No. 11) and
Triston McKenzie
(No. 24), and almost on the strength of those two alone, they claim a spot among the top 20 systems here. Mejia has the hit tool and arm to provide value anywhere, and that's big because the Tribe have already tried him out at third base, the outfield and his natural spot at catcher this spring. There's little about McKenzie that doesn't scream above-average -- from his control to his fastball/curve/change arsenal. He answered a lot of questions about durability with 143 innings last season. But Cleveland doesn't have another top-100 prospect beyond that pair.
Bobby Bradley
and Yu-Cheng Chang have good power but face questions about their overall hit tool.
Nolan Jones
has shown promise but hasn't played Class A yet,
Will Benson
oozes potential and a high strikeout rate and
Shane Bieber
has perhaps the Minors' best control but doesn't flash a plus pitch. If and when Mejia graduates this summer, this system could drop significantly.
18. Pittsburgh Pirates
Position players: 19th; Pitchers: 13th
The Bucs' top 10 is loaded with names that have a good shot of seeing a Major League roster one day.
Mitch Keller
, MLB.com's No. 15 overall prospect, is the most exciting of the bunch with his plus fastball and curve and impressive control, but
Austin Meadows
continues to get love as the No. 45 overall prospect because of his potential with his bat and his feet.
Shane Baz
is also ready to make a splash after his deep five-pitch repertoire made him last year's No. 12 pick and the current No. 67 overall prospect.
Ke'Bryan Hayes
,
Cole Tucker
,
Kevin Newman
,
Colin Moran
and
Kevin Kramer
should be solid on the infield, and
Bryan Reynolds
and
Lolo Sanchez
have potential on the grass. But no one in that group screams All-Star potential right now. So as deep as the Pirates could be, there are areas for improvement when it comes to top talent.
17. Milwaukee Brewers
Position players: 16th; Pitchers: 15th
It's a testament to how good this system was that a deal for a young, controllable outfileder like Christian Yelich didn't send the Brewers farm deeper down the rankings. Despite losing
Lewis Brinson
and
Monte Harrison
, Milwaukee still claims three top-100 prospects in No. 56
Keston Hiura
, No. 69
Corbin Burnes
and No. 96
Brandon Woodruff
. Behind them,
Luis Ortiz
,
Brett Phillips
and
Corey Ray
have all received top-100 attention in the past, only to see their stars dim slightly. Phillips has regained stature, however, after a bounce-back season offensively at Triple-A Colorado Springs that led to a debut with the big club. Ray, the 2016 fifth overall pick, has the tools to jump back into the top-100 discussion but struggled in his transition to pro ball at Class A Advanced Carolina. Watch out for 2017 34th pick
Tristen Lutz
in his full-season debut. The 19-year-old outfielder isn't below average in anything he does and could be ready to pop over 100-plus games.
16. Miami Marlins
Position players: 12th; Pitchers: 18th
It's interesting to put the Marlins just past the Brewers here because one wouldn't be this high (or low) without the other. Sure, Miami made some improvements on the farm by adding
Sandy Alcantara
,
Magneuris Sierra
,
Jorge Guzman
,
Zac Gallen
,
Nick Neidert
, Chris Torres and others in deals involving Giancarlo Stanton, Marcell Ozuna and Dee Gordon. But the additions of top-100 prospects Brinson and Harrison as well as the game's No. 4 second-base prospect,
Isan Díaz
, really put the Marlins in the thick of things here. Seven of the club's top 10 prospects weren't in the organization at the end of the 2017 season. Brinson should help right away as a Major League outfielder and essentially the face of the franchise as a local kid, while Harrison is at least a year away from taking all five of his tools to the game's top level. Among the more familiar faces, 2017 No. 13 overall pick
Trevor Rogers
will make his full-season debut, while 2016 seventh overall selection
Braxton Garrett
tries to find his health after Tommy John surgery.
Brian Anderson
will try to prove he's worth more than just his glove as the Major League third baseman. The Fish would love to turn this into a Braves or White Sox-style rebuild with prospects, but it'll take another blockbuster (J.T. Realmuto?) and some internal development to get there.
Sam Dykstra is a reporter for MiLB.com. Follow and interact with him on Twitter, @SamDykstraMiLB.