Farm System Rankings: Overall (30-21)
O'Neill emerges for Mariners; Angels begin rebuilding through Draft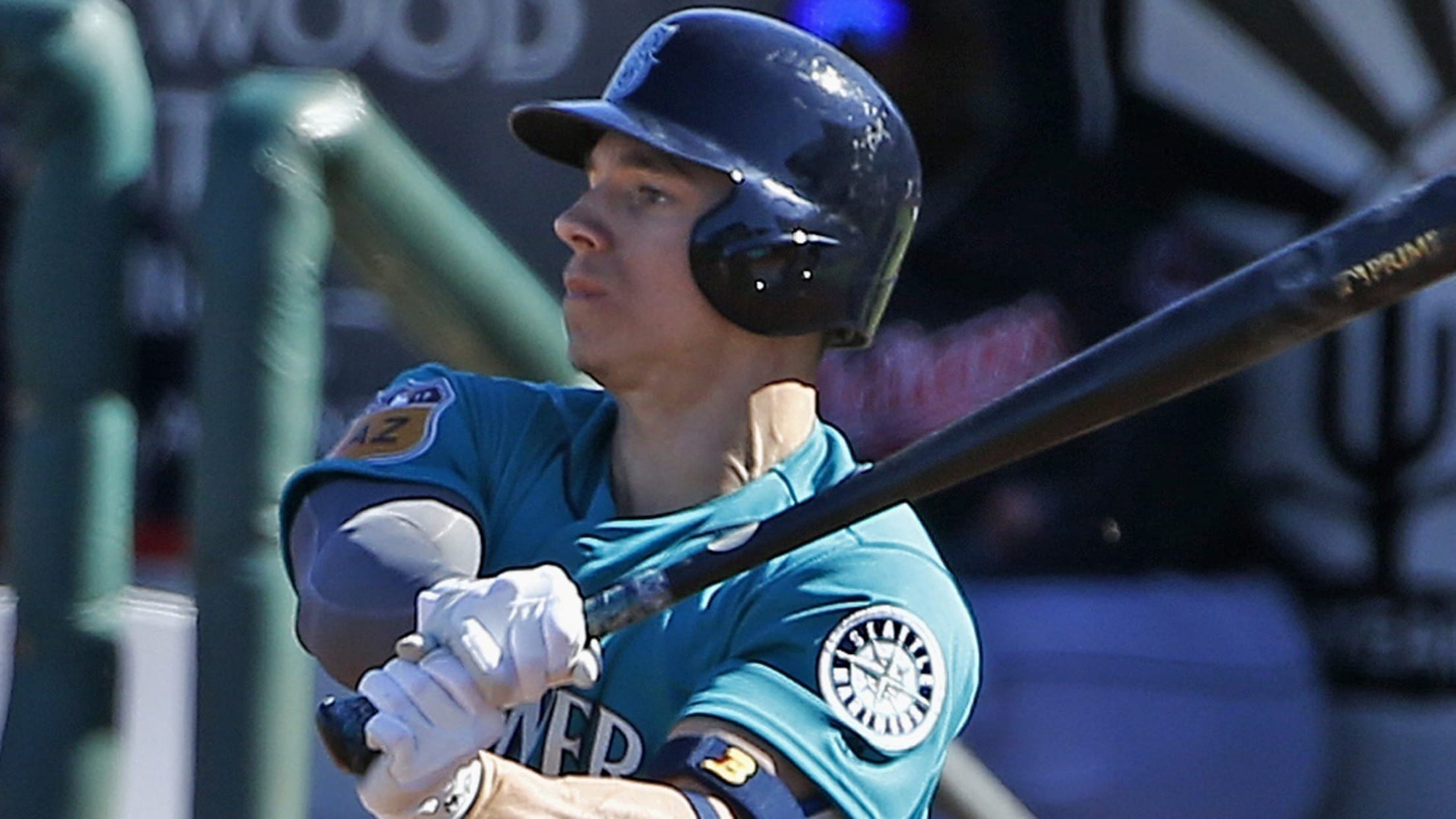 Tyler O'Neill led the Southern League with 102 RBIs in 130 games for Double-A Jackson last season. (Ross D. Franklin/AP)
With Spring Training underway and the 2017 season almost upon us, MiLB.com has been looking at the state of all 30 farm systems and ranking them according to certain changing criterion with each edition. Our final series of rankings focuses on the overall quality and quantity of top talent in
With Spring Training underway and the 2017 season almost upon us, MiLB.com has been looking at the state of all 30 farm systems and ranking them according to certain changing criterion with each edition. Our final series of rankings focuses on the overall quality and quantity of top talent in each system in its current state. The 30-21 rankings:
30. Arizona Diamondbacks
Ever since trading No. 1 pick
Dansby Swanson
and right-hander
Aaron Blair
to Atlanta for
Shelby Miller
before the 2016 season, the D-backs system has undergone a steady decline. The graduation of righty
Braden Shipley
from prospect status last year left Arizona without a player among MLB.com's
Top 100 Prospects
, and
Anthony Banda
is really the only one close. Outside of the Triple-A left-hander and a handful of decent arms -- such as Arizona Fall League standout
Jared Miller
-- the D-backs are rather starved for young talent.
29. Los Angeles Angels of Anaheim
The Angels have hovered near the bottom of these rankings for a few seasons now, but their past two Draft classes have them pointing in the right direction. Players such as 2015 second-round pick
Jahmai Jones
and 2016 first-rounder
Matt Thaiss
have emerged as legitimate building blocks. Los Angeles still has a ways to go, though. The system is extremely light on arms, placing 29th in
our pitching rankings
, and still lacks star power. Beyond their top handful of prospects, most of whom are still years away from being Major League-ready, the Angels system remains pretty barren.
28. Miami Marlins
How things shake out for the Marlins system depends heavily on
Tyler Kolek
. The second overall pick in the 2014 Draft missed all of last season after undergoing Tommy John surgery in April, and even when healthy, he has yet to deliver on the promise of his overpowering arsenal. If Kolek returns healthy and can put it all together this season, he and 2016 first-rounder
Braxton Garrett
would give Miami a formidable lefty-righty duo to dream on for the future. The position-player outlook is far less rosy, with a few intriguing players but no one who would stand out in a deeper system.
27. Kansas City Royals
The Royals system has thinned since homegrown talent helped carry them to the 2015 World Series. Now they are one of three teams (along with the Angels and D-backs) without a prospect among the overall Top 100. There are still some intriguing players in the organization. Third baseman
Hunter Dozier
finally broke out last season, left-hander
Matt Strahm
put together a 1.23 ERA in 21 big league appearances and righty
Josh Staumont
continued to light up radar guns (albeit with spotty control). That trio helps lift Kansas City over the cellar dwellers on this list, and a healthy return from 2012 first-round pick
Kyle Zimmer
could provide another boost. However, there is not much depth to the system, and there doesn't seem to be a player fans are aching to see.
26. Baltimore Orioles
The Orioles could be a system to keep an eye on in 2017. For starters, they are the first one on these rankings to boast a surefire blue-chip prospect in catcher
Chance Sisco
, who led all of Double-A with a .406 on-base percentage last season and appears to be Baltimore's catcher of the future. And while the upper levels of the system are fairly thin, the Orioles have done a decent job building up the lower levels by drafting such players as
Cody Sedlock
,
Keegan Akin
and
Ryan Mountcastle
in recent years. For the second straight season,
Hunter Harvey
remains the wild card. The talented right-hander was once one of the top pitching prospects in baseball, but he has hurled just 12 1/2 innings over the past two seasons due to injury.
25. Detroit Tigers
The Tigers have focused on building up their pitching depth in recent years (they ranked 22nd in our pitching rankings). Top prospect
Matt Manning
slots in as baseball's No. 74 overall prospect, while right-handers
Beau Burrows
and
Kyle Funkhouser
, left-hander
Tyler Alexander
and future closer
Joe Jiménez
all had solid 2016 seasons. Consequently, Detroit's position-player depth has suffered. Only outfielder
Christin Stewart
and his organization-leading 30 home runs in 2016 really stand out in that regard, and even he comes with questions about an elevated strikeout rate.
24. Seattle Mariners
The Mariners find themselves in the exact opposite scenario as Detroit. Seattle possesses a budding star in Canadian outfielder
Tyler O'Neill
and could potentially have another one on their hands if 2016 first-round pick
Kyle Lewis
can return healthy from an ACL injury that shortened his pro debut. On the other hand, the trade of left-hander
Luiz Gohara
to the Braves hurt the system's pitching depth, landing Seattle dead last in those rankings. But take heart Mariners fans: All of the organization's affiliates finished with winning records and postseason berths last season, despite placing 28th in our rankings in 2016.
23. San Francisco Giants
The Giants got a boost with a breakout year for top pitching prospect
Tyler Beede
at Double-A Richmond, giving them another top-100 prospect to pair with infielder
Christian Arroyo
at the forefront of their system. San Francisco boasts a good balance between hitters and pitchers, even if the latter tends to lean toward the upper levels of the system. It is not the kind of farm system that will enamor fans with toolsy players and overpowering hurlers, but it remains a solid pipeline of talent.
22. Minnesota Twins
Few systems have been hurt more by graduations in the past year than Minnesota. Obviously, the goal of any farm system is to get prospects to the Major Leagues. But for the sake of our rankings, losing
Byron Buxton
,
Miguel Sanó
,
José Berríos
,
Jorge Polanco
and
Max Kepler
from the prospect ranks forced them to fall all the way from third in
last year's edition
to here. Not that there aren't more talented players for Twins fans to look forward to. Left-hander
Stephen Gonsalves
turned in an impressive campaign between Class A Advanced and Double-A to force his way into a top-100 spot, and 21-year-old shortstop
Nick Gordon
's well-rounded game should fit nicely in a Major League lineup someday. The loss of 2016 first-round pick
Alex Kirilloff
for the season due to Tommy John surgery hurts a bit, but he could be back in time to participate in the Twins instructional league in September.
21. Texas Rangers
Texas is another club that has lost some prospect luster. While last year at this time we were talking about
Lewis Brinson
,
Nomar Mazara
,
Joey Gallo
,
Dillon Tate
and
Luis Ortiz
headlining up one of the game's elite farm systems, all of those players have since been traded or lost their prospect status. Speedy outfielder
Leody Taveras
picks up the mantle as the club's top prospect, while fast-rising left-hander
Yohander Méndez
leads a surprisingly deep pitching group. The Rangers have kept their system stocked by excelling on the international market -- 16 of their top 30 prospects hail from outside the United States.