Fatal crash on Reds' minds through game
Greeneville players tried to attend to injured on Tennessee road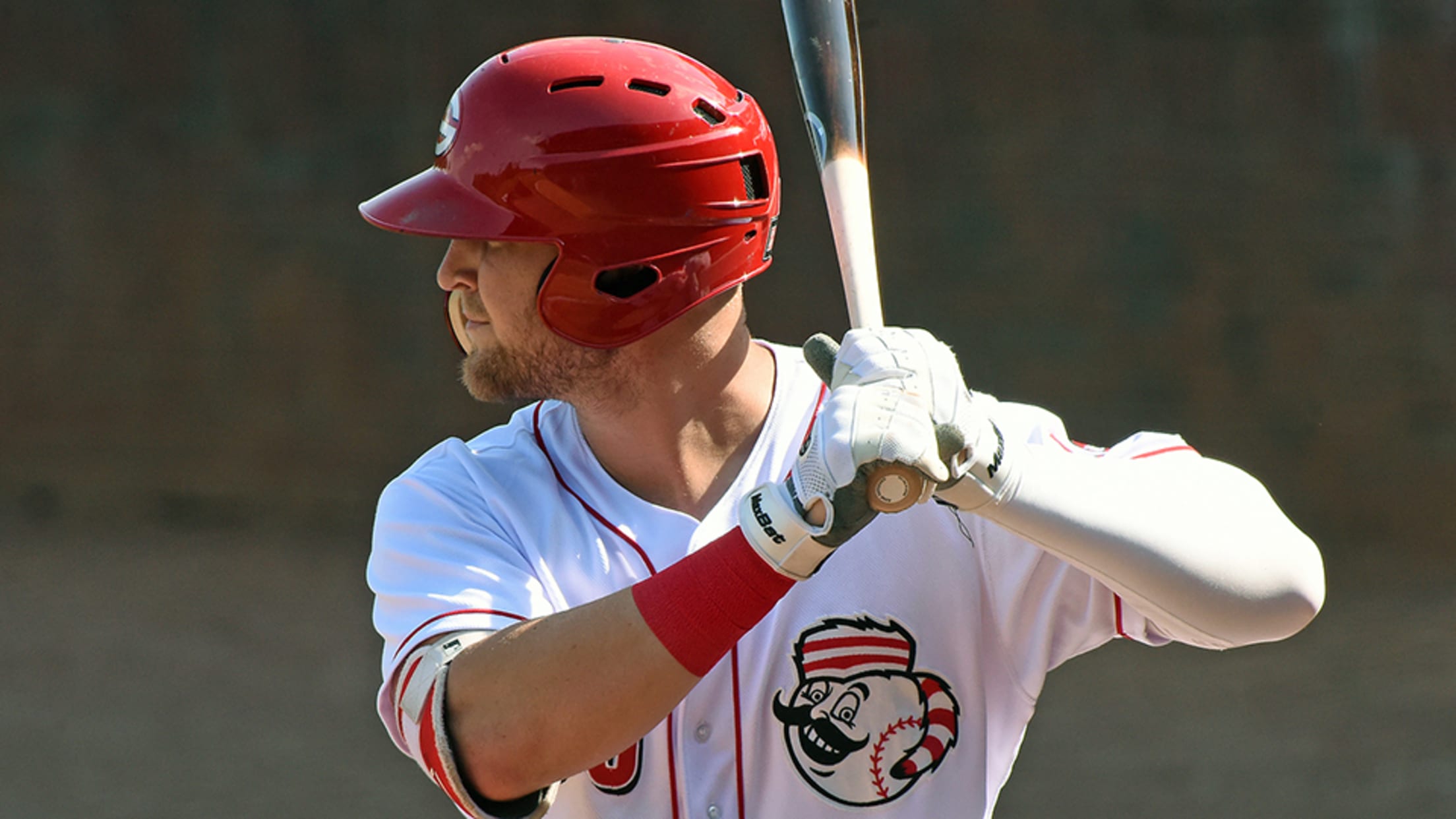 Justin Bellinger homered and drove in four runs for Greeneville. (Brian McLeod/MiLB.com)
A game that featured 22 runs and lasted 11 innings was rendered meaningless by what members of the Greeneville Reds saw before Friday's contest against the Bristol Pirates.A multiple-vehicle crash on Interstate 81 near Tri-Cities Crossing in Sullivan County, Tennessee, resulted in the death of one person, local authorities told
A game that featured 22 runs and lasted 11 innings was rendered meaningless by what members of the Greeneville Reds saw before Friday's contest against the Bristol Pirates.
A multiple-vehicle crash on Interstate 81 near Tri-Cities Crossing in Sullivan County, Tennessee, resulted in the death of one person, local authorities told WJHL-TV. The station reported that the Tennessee Department of Transportation confirmed a crash closed the southbound lanes at mile 55 at about 5:40 p.m. local time Friday. There was no word how many people were injured.
Greeneville broadcaster Justin Rocke was not a witness to the accident but talked to several players who were shaken by what they saw.
Gameday box score
Rocke spoke to left-handed pitcher Jacob Heatherly, catcher Hunter Oliver and outfielder Brandt Stallings, none of whom were in Friday's starting lineup.
"The way I described it on-air [after talking to the players], basically, it was like seeing something out of 'Dexter,' or 'Saw,' except instead of Hollywood make-believe, it was real," Rocke said.
"Stallings said he saw two Jeeps and heard a loud noise, and it sounded like a car coming ... but it didn't sound right," Rocke said. "The next thing he knew he saw it happening in slow motion. One of the Jeeps cut in front of the [team] bus, lost control and hit off a truck and then went over the median and landed on top of another smaller car."
Rocke said team trainer Ryan Ross got out and tried to help some of the victims, as did the players.
"A girl who was driving one of the cars but neither of the Jeeps had a compound fracture of one of her arm. ... Some of our players went over and try to flip the Jeep over, but when they looked inside, it was like a horror story. ... They decided to let the paramedics do their job.
"Hunter Oliver said he didn't want to eat anything [when he got to the ballpark] because he thought he was going to vomit. ... They all looked like they saw ghosts. I just saw pale faces."
Oliver told Rocke he was happy he wasn't in the lineup because he couldn't understand how the rest of the team could even play.
Manager Gookie Dawkins was too upset to talk about the accident after the game, Rocke said.
"Gookie was still visibly shaken up," Rocke said. "He was sitting at the front of the bus, with pitching coach Chad Cordero and they saw the whole thing unfurl. He just wants to put it behind him."
Somehow, the Reds played and battled back from a ninth-inning deficit and hung on to top the Pirates, 13-9, in 11 innings at Boyce Cox Field.
"I sort of felt like they were going through the motions," Rocke said, "and then the second time through the order, they began to hit and came back from down a run in the ninth, and then went on to win it in the 11th."
Tied at 8-8 heading to the 11th, the Reds began the extra frame with a man at second and Miguel Hernandez reached on a bunt single. Claudio Finol, who had three hits, doubled to plate a run with one out, and Reniel Ozuna chopped a two-run single to make it 11-8. An error on a ball off the bat of Jonathan Willems produced another run, while Justin Bellinger, who homered earlier and drove in four runs, blooped an RBI single to cap the Reds' scoring.
Rocke was impressed, not so much with the victory, but what he heard about the team prior to the game and what he has seen unfold all season.
"We've got talent and that's fun to watch," he said. "But what's made this year enjoyable, they're just really good kids. Kudos to the Reds scouting department for not only finding good players, but Good Samaritans. They put others first in a situation like that.
"I guess that'll be a night that'll be remembered in team history."
Vince Lara-Cinisomo is a contributor to MiLB.com. Follow him on Twitter @vincelara.