White Sox's Abbott hopes to swim in success
Former water polo star reflects on his decision to pursue baseball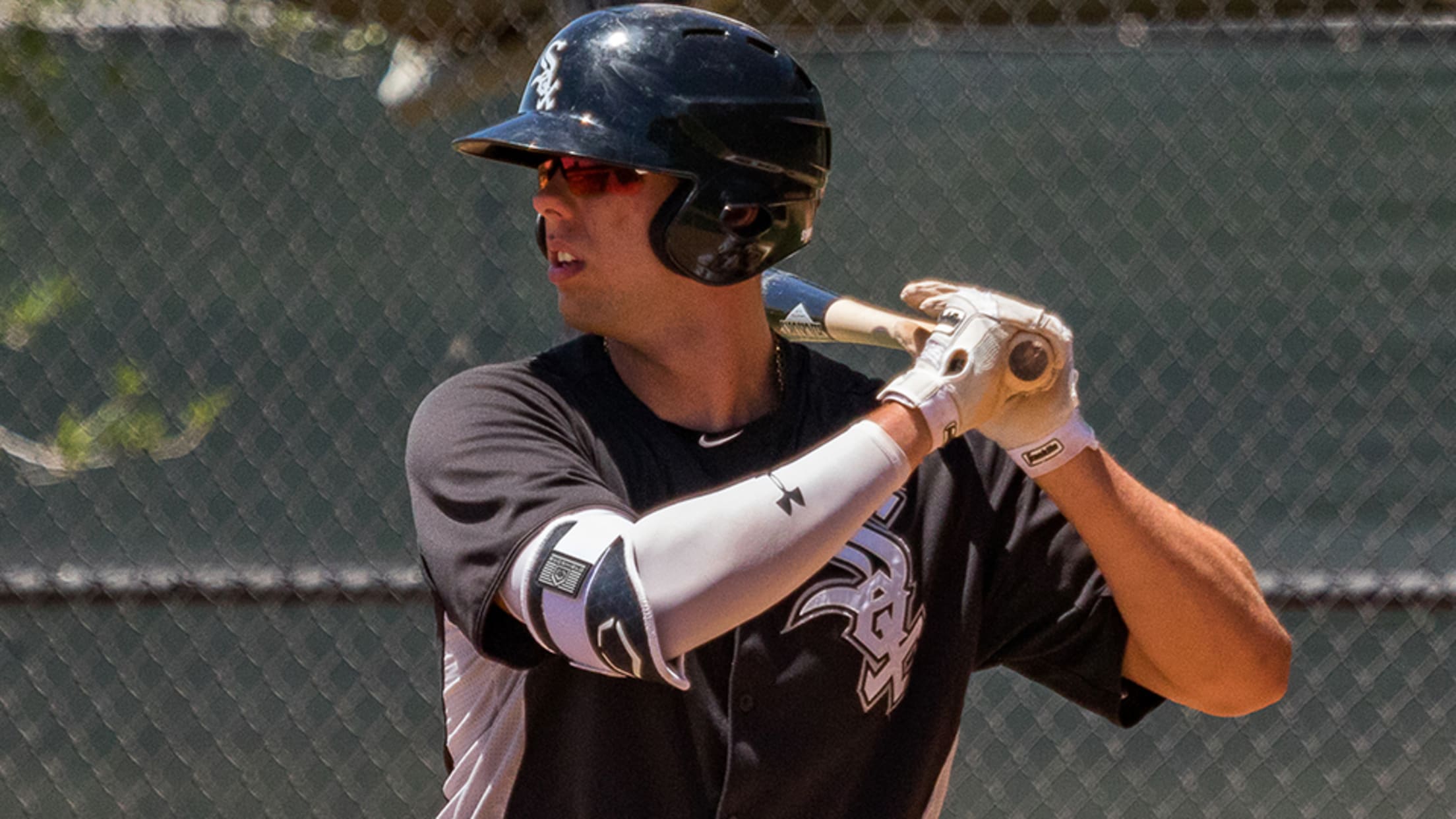 Sam Abbott has amassed 11 extra-base hits and 35 walks over 59 Rookie-level games across two seasons. (Freek Bouw/Phrake Photography)
When high school ended, Sam Abbott was nearly drowning in options.The native of the Seattle area entered his senior season seemingly destined to leave the diamond for good at the end of the year in favor of dedicating himself to a college career in another sport -- one that not
When high school ended, Sam Abbott was nearly drowning in options.
The native of the Seattle area entered his senior season seemingly destined to leave the diamond for good at the end of the year in favor of dedicating himself to a college career in another sport -- one that not a lot of other ballplayers are very familiar with.
In fact, Abbott has yet to meet another Minor Leaguer with a water polo background. He's confident that the two sets of skills are complementary.
"I hope it's not rare," the White Sox prospect said. "I do hear [about a former water polo playing baseball] every now and then. People might, on MLB Network, show where guys came from high school, and I've seen polo. ... I haven't played [baseball] against anyone who played water polo, but I hope I'm not as rare as I think."
A three-time state MVP in water polo at Curtis High School in University Place, Washington, Abbott had a partial scholarship to stay on that path at Long Beach State. But in the spring of 2017 -- the spring he thought would be his last for competitive baseball -- he batted .438 (21-for-61) with eight doubles, two home runs and 18 RBIs to earn an eighth-round Draft selection by the White Sox.
The left-handed-hitting, righty-throwing first baseman won't be out of his teens until next April 9, and he's worked on making consistent contact over two cracks at the Rookie-level Arizona League. Through 59 total games, his average sits at .190, but he boasts a .346 on-base percentage. He's shown plenty of power potential, too -- he went yard twice to plate four runs in an Aug. 17 game against the Indians.
And while he had to let go of the idea of collegiate water polo, he's still getting exercise in the pool.
"I try to swim, nothing hard but relaxed, every off day," he said. "Just get away and get in the pool. I really enjoy it. With all my buddies I played with in high school, it's really cool. I'm still close to a few guys I played with on national team stuff. I would be lying if I said I didn't miss it, but I love baseball. My goal is to go as far as I can in baseball. I hope my water polo can help me move forward with what I learned in that."
Water polo is a fall sport on the West Coast, so in high school Abbott didn't face any conflicts until water polo and baseball seasons coincided late in the summer. For a winter sport, he was a sprinter on the Curtis High swim team, coming in second place in the 100-meter freestyle in the 4A Washington state championships his senior year.
He swam throughout his life -- his mother was an Olympian as a swimmer and his father a baseball player -- but didn't pick up water polo until he started high school. It didn't take him long to stand out. Abbott went to a national tournament in California and then national team selection camp. On top of his MVPs, he helped Curtis claim two consecutive water polo state titles.
After he got his college offer, water polo was pretty clearly in the center of his future athletic endeavors. Then came his breakout baseball season, and a workout with other potential Draft picks at Chicago's Guaranteed Rate Field.
"The bat does speak," White Sox special assistant Jim Thome told NBC Sports after seeing Abbott in that showcase. "It's exciting to think where a kid like this has come from. He doesn't have a lot of wear and tear. ... It's exciting to see what he could potentially be. ... It'll be fun to see how this translates."
The only high school player the White Sox picked through their first 34 selections that year, Abbott was excited to join a pro organization that valued him so highly even though he didn't have a typical early-rounder's baseball pedigree. He's learned plenty over the two summers since, mostly figuring out how to be patient and adjust on the fly.
"This year was a big learning year," he said. "It's more ... getting in a routine, I learned the routine of day in and day out. Going to the cages, specific drills. Everything is a process. You hear about it growing up, but you don't really understand it until you play every day against the best guys in the world. Guys in professional baseball are there for a reason."
While he wasn't a part of high-profile national baseball showcases or tournaments in high school, the 6-foot-4, 225-pounder feels he's learned things from water polo that will give him an edge as he climbs through the Minors.
"People will say they're from California, so they play baseball [year-round]," Abbott said. "That's all they do: baseball, baseball, baseball. But I have the pool, and the things I learned there, I can take to baseball. The big thing is the mental focus. In water polo, you're swimming up and down and it's a physical sport, and you have no time to think. In baseball, it's the most mental sport there is. You take that mental discipline, and it translates into that focus."
As he concentrates on developing his own game, however, he's also bringing a team-first mentality from his other sport.
"In water polo, you're trying to help a team and it's not only scoring," Abbott said. "It could be passing or just moving around. It's the same thing in baseball. It might not be every time you have a guy on second or you're trying to hit a homer. It might just be getting a guy over and get the next guy up."
Marisa Ingemi is a contributor to MiLB.com.