Fresno looks to future with solar plans
Grizzlies determined to join Minors teams using sun's energy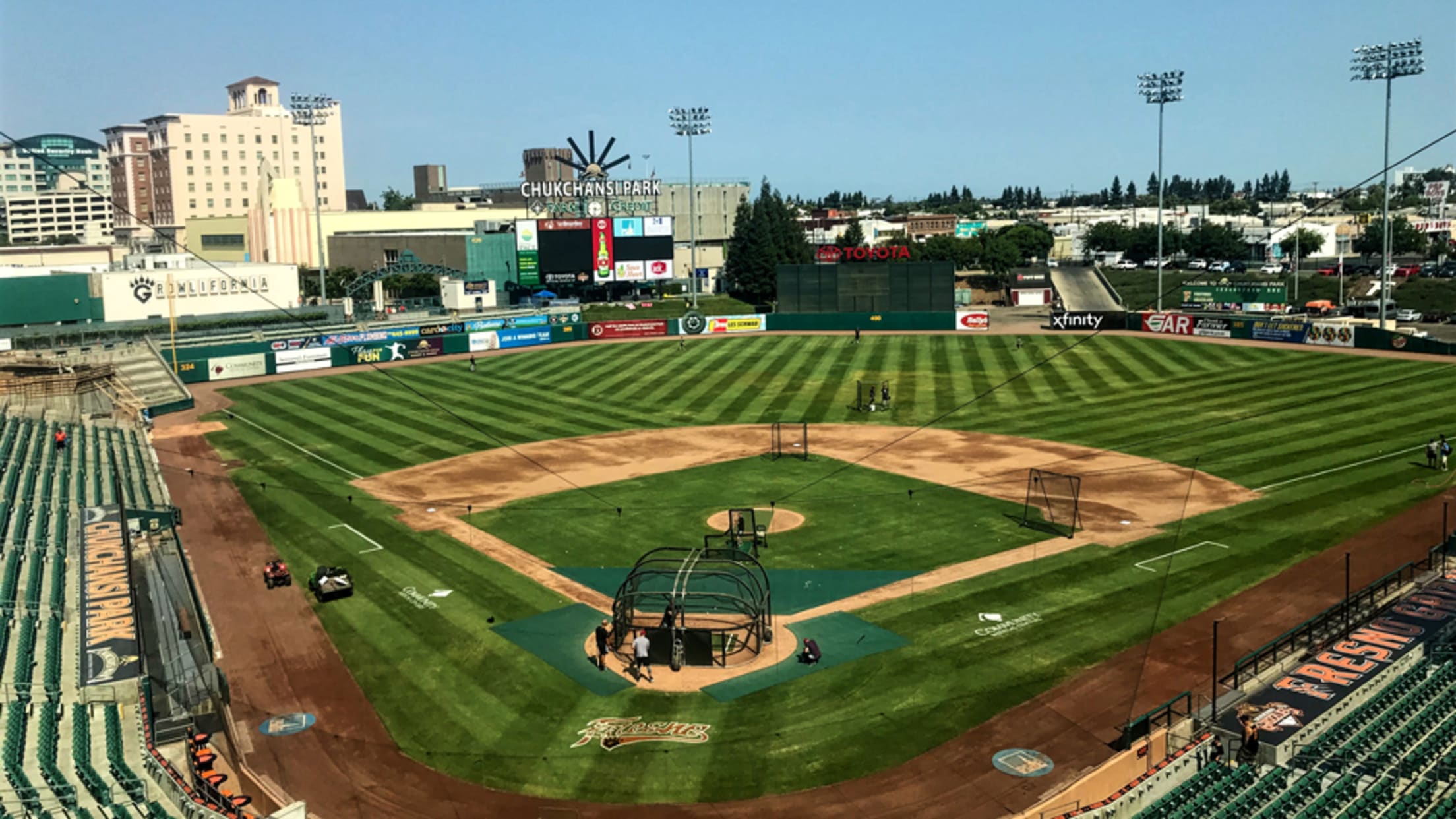 Located in California's Central Valley, Fresno gets approximately 270 days of sunshine per year. (Josh Jackson/MiLB.com)
As the Fresno Grizzlies, Triple-A affiliate of the Astros, duke it out with the Cardinals-affiliated Memphis Redbirds in a best-of-5 Championship Series for the Pacific Coast League title, the Fresno front office will be hard at work trying to bring another prize to Chukchansi Park.About six weeks ago, the club
As the Fresno Grizzlies, Triple-A affiliate of the Astros, duke it out with the Cardinals-affiliated Memphis Redbirds in a best-of-5 Championship Series for the Pacific Coast League title, the Fresno front office will be hard at work trying to bring another prize to Chukchansi Park.
About six weeks ago, the club released a request for proposals for solar installations. A total of 46 companies explored the possibility of submitting a bid, and the team expects to have between 12 and 24 complete proposal packages by Wednesday's deadline, when the Grizzlies host the Redbirds in Game 2.
Among the plans, Fresno hopes to find one that's perfect for bringing its stadium into the future and takes advantage to the fullest extent possible of an abundant and totally untapped resource.
"It's a place where the sun shines. It's a sunny place, and it's California so you know expenses here are higher," team president Derek Franks said. "Our energy is not an exception to what you hear about [the cost of] doing business in California."
Fresno won't be the first Minor League team to make use of the sun's energy. The California League's Lancaster JetHawks installed panels in their parking lot in 2011. The Sacramento River Cats, a Pacific Northern Division rival of the Grizzlies, added 472 solar modules to Raley Field in 2016. In the Midwest League, the Wisconsin Timber Rattlers began the installation of 88 panels last August. The Class A Short Season Spokane Indians don't have solar panels, but they've relied on renewable energy since 2010.
Going green is not exactly a new idea for the Grizzlies, either.
"I could go back probably seven years to the first time we started talking about doing this," Franks said. "Our club had been for sale for the last three or four [years], so any major improvements or projects were put on hold."
The ownership questions were resolved in February, when Fresno Sports and Events acquired the club and agreed to a lease extension that keeps the Grizzlies in Chukchansi Park through at least 2036.
That sense of stability makes this the perfect moment for the team to invest in infrastructure. And beyond the environmental appeal of switching to renewable energy, there are major financial incentives. For example, when the JetHawks installed their solar panels, the project was designed to provide 98 percent of their energy needs and estimated to save them $50,000 in the first season alone.
"We figure it's hard to do a 100 percent offset, but that's OK," Franks said. "We pay $600,000 a year for energy, and that's just energy and gas, not [including] other utilities like trash and water utilities and all that. Six-hundred thousand is a big item in the budget. And that's only going up as we add more events. ... Clearly, that bill is never going down unless we do this. We're excited about the project, to say the least."
To whatever degree they can decrease that bill, it will go a long way toward keeping Triple-A baseball an affordable entertainment option in Fresno for years to come, Franks believes.
"As things like minimum wage go up in California, we took the beer prices down this year -- $5.00 drafts," he said. "Well, minimum wage is 11 bucks, and it goes up a dollar every year and stops at 15. ... We know to be able to keep the beer at $5, we've got to be able to find other places to save, like the energy bill. We think that the long-term approach is, as we create some of these efficiencies, we can keep finding more $5 beer-type things [for fans] and not have to take those things away."
Of course, installing solar panels will come with an upfront cost, no matter what proposal the team chooses, but the decades-long lease means both the Grizzlies and their landlord (the City of Fresno) are committed to spending the cash necessary to maintain the viability of the venue. In fact, the City and the team pool money in a capital improvement fund that's replenished annually through contributions from each partner. The previous owners and the new ownership group chipped in a combined $2.2 million early this year.
"The whole point of that fund was, 'Hey, let's keep monetizing the ballpark. Let's keep it up and make it viable for the long haul,'" Franks said. "I think what we've seen so far in Year 1, doing projects and getting approval, is [that] the City's motivated to have this thing make it to 2036 and far beyond."
For example, the Grizzlies got to work on opening a new bar beyond left field, which was under construction for much of this season.

The Grizzlies will likely get a good bang for buck with solar energy. (Josh Jackson/MiLB.com)
"There's going to be projects that we do that are going to be out in front, fan-facing projects like our left field bar, and we've got some stuff for 2019 that we're going to announce in a few months. They're going to be fan enhancements," Franks said.
"[And] in our list of projects, we've also got some things that help our efficiency, like fixing [the energy management system and indoor temperature control systems], looking at LED lighting and things like that. As we look to 2036, the faster we can get that $600,000 energy bill down … then you can look at more fan enhancements. Paying 600 grand for energy doesn't help the fans at all. If we can get that down [through a combination of solar panels and efficiency measures], we can find other things to do that will make this place the place to be."
But having the incentive and the capital to install solar panels doesn't mean doing so will be easy. Given that parking lots take up a lot of space on land that's generally flat and, in California, often exposed to direct sunlight, they're a common spot to place panels, typically atop the roofs of newly created carports. But the largest lots for game-day parking in Fresno are across the street from the ballpark, owned by the City and not leased to the team. The Grizzlies do control a small parking lot beyond the right-center field gap, but the notion of installing panels there raises other questions.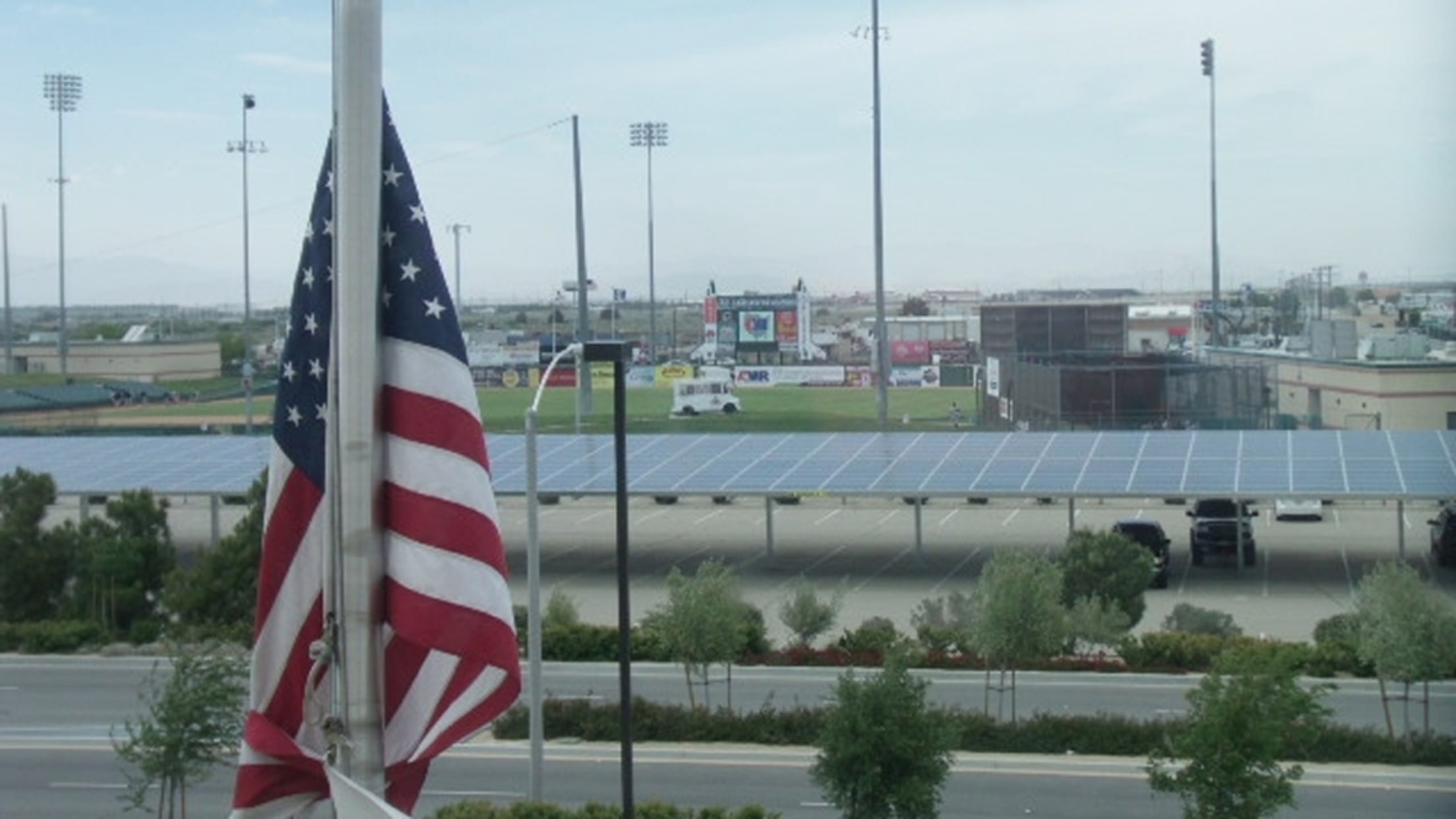 Lancaster installed solar panels in its parking lot before the 2011 season. (Ben Hill/MiLB.com)
"We have to think far into the future as we receive these things. We have to say, 'Is that going to be a parking lot for the next 20 years, or 14 years?' That's probably what we'd ask ourselves anywhere around the place," Franks said. "I've seen some ideas pitched where we go, 'Well, that's the area where our big taco throwdown is, so can we shift if we put panels there?'"
Knowing these kinds of obstacles would arise, the Grizzlies avoided setting limits in their request for proposals beyond asking that the plans stay within Chukchansi Park's property lines -- and even that could change at some point.
"If you look at the [request for proposals], it's really open-ended, because we want to see who's motivated to work with us and who's excited about doing a project like this, with a Triple-A ballpark. It's not a typical building; there's not a lot of roof space, so it certainly opens up some creative ways to put some panels in here and get the energy costs down," Franks said.
"We said you can put them anywhere that would make sense. Of course, they've got to think about where baseballs might do damage."
Josh Jackson is a contributor to MiLB.com. Follow and interact with him on Twitter, @JoshJacksonMiLB.