Lefty Cabrera whips up a gem for Biscuits
Rays No. 21 prospect fans career-high 12 over seven innings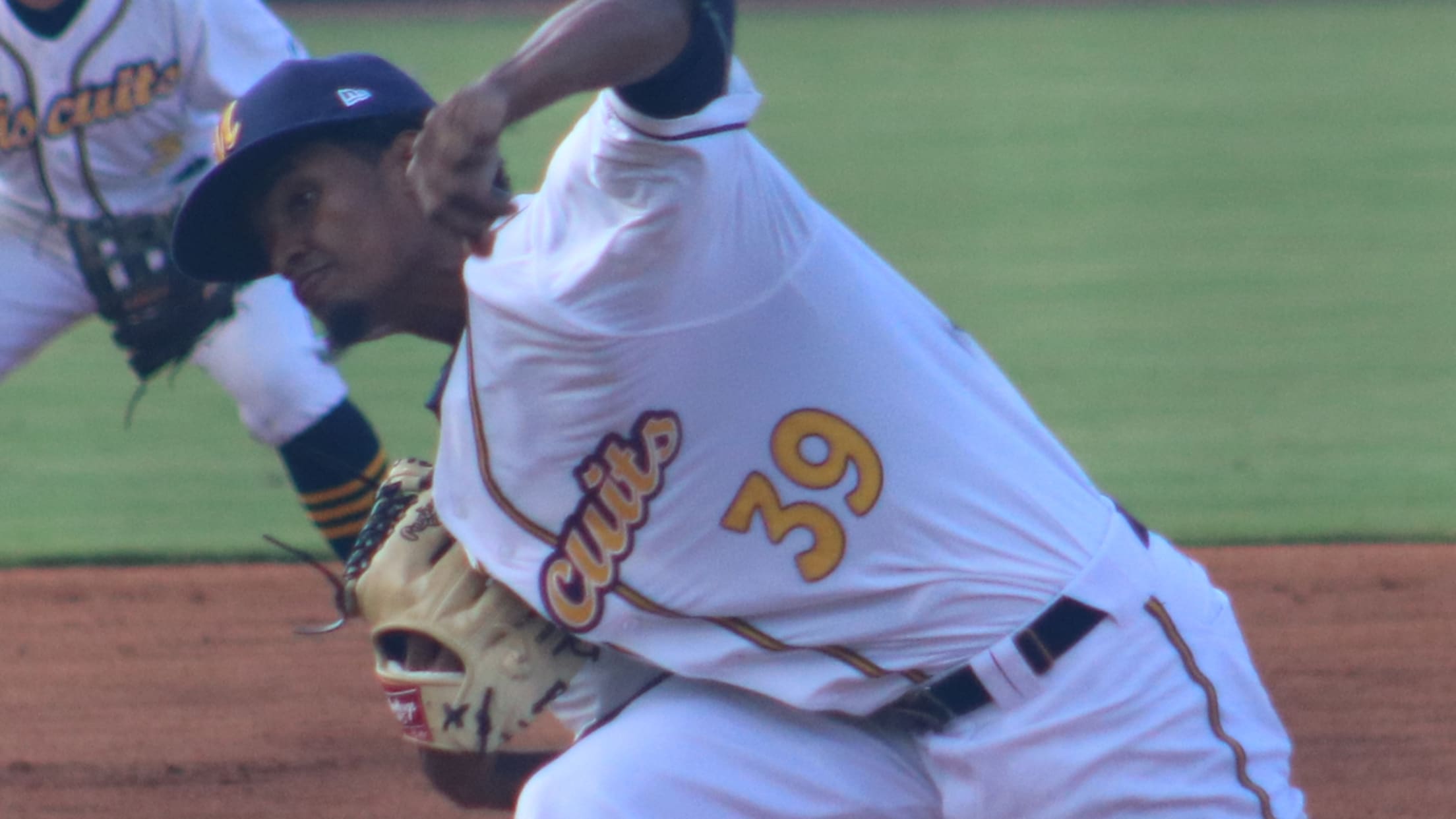 Genesis Cabrera posted a 4.55 ERA in six May starts after putting up a 2.57 mark in five April outings. (Nathan Gunn/Montgomery Biscuits)
The Minor Leagues aren't just for developing a player's physical tools. There are intangibles that get refined as well.Génesis Cabrera found that out the hard way for a few starts, but is back on track with some newfound clarity."The fact of the matter, really, is we probably gave him a
The Minor Leagues aren't just for developing a player's physical tools. There are intangibles that get refined as well.
Génesis Cabrera found that out the hard way for a few starts, but is back on track with some newfound clarity.
"The fact of the matter, really, is we probably gave him a little too much information, and he broke it down and made sense of it his way. The reality is the last two outings he's gone back to really being aggressive from the first pitch of the game."
In his second straight strong outing, Tampa Bay's No. 21 prospect struck out a career-high 12 batters without a giving up a walk while scattering five hits over seven innings as Double-A Montgomery pulled away from Mississippi in a 3-0 shutout.
"He's a 21-year-old kid who is learning, still, the transition to the language and stuff like that," Biscuits pitching coach R.C. Lichtenstein said of his starter from the Dominican Republic. "He understands the language really well, but some of the intricacies still kind of get him. A big thing we talked about was continuing to establish his changeup, which slows him down on the fastball and keeps him in rhythm. He took that as he needed to slow down and needed to go easier."
Cabrera (5-3) yielded 13 earned runs in 14 1/3 innings over three starts from May 12-24, but broke the rough stretch by working into the seventh while allowing two runs on two hits and three walks while fanning nine his last time out on May 30.
Gameday box score
"He started to try and pitch with his fastball instead of attack with his fastball, and when he hit that bump in the road, he wasn't in attack mode from the start," Lichtenstein said. "He thought that what we wanted him to do was slow down his game, but what we really wanted him to do was stay aggressive but just keep the changeup in the mix, which slows him down physically and keeps him in rhythm.
"His last game, he topped off at 98 [mph] and sat 95. Today, he topped off at 97 and sat 95. Those games in the middle where he hit that bump in the road, he was 92-94 in the first couple innings, and then all of a sudden in the fourth or fifth inning when he got mad, he would rear back and throw 96. It was just a matter of being able to sit down with him and have him understand that we don't want him to lose his edge. Part of what makes him special is his aggressiveness, and his last two outings, he's shown that."
Returning to that mind-set while incorporating the approach the staff wanted, Cabrera has thrived, flashing his best stuff of the year Monday. The 21-year-old retired the side in order in four different innings and set down 12 straight from the final out of the first inning through the second out of the fifth, striking out seven in that stretch. After Daniel Lockhart doubled to snap the streak, he was thrown out by right fielder Nathan Lukes trying to score on Luis Marté's single.
"When he gets aggressive and starts to see the results, I think it drives him to continue to be aggressive," Lichtenstein said. "He had a real good cutter tonight, and he was able to throw that back-door, which we've been working on, and also under the zone with two strikes."
Cabrera set down the side in order in the sixth and pitched around Tyler Neslony's two-out double in the seventh. The southpaw fanned Carlos Martínez to finish his night with his 12th strikeout.
He outdueled No. 11 Atlanta prospectTouki Toussaint, who was charged with one unearned run on four hits over six innings.
"For a young kid over the last year-and-a-half, [Cabrera's] matured tremendously," Lichtenstein said. "The thing I've noticed is he takes care of his own business. He's not worried about what's going on in the game, so with Toussaint doing what he's doing against us as well, Cabrera was just taking care of his business. He was really locked into what he wanted to do tonight, which was continue to attack."
Jordan Harrison struck out one batter in a perfect eighth for his fourth hold and Cody Hall picked up his first save by inducing a game-ending double play ball off the bat of Tyler Marlette to erase the one-out walk he issued to Travis Demeritte in the ninth.
Rays No. 14 prospect Brandon Lowe gave the Biscuits a 1-0 lead with an RBI single to shallow left in the top half of the fifth, and the Biscuits gave Cabrera's win bid some insurance in the eighth on a two-run single to center by Brett Sullivan.
Tyler Maun is a contributor to MiLB.com. Follow him on Twitter @TylerMaun.