Late rally drives Greenville to SAL title
No. 30 Red Sox prospect Netzer plates three runs in clincher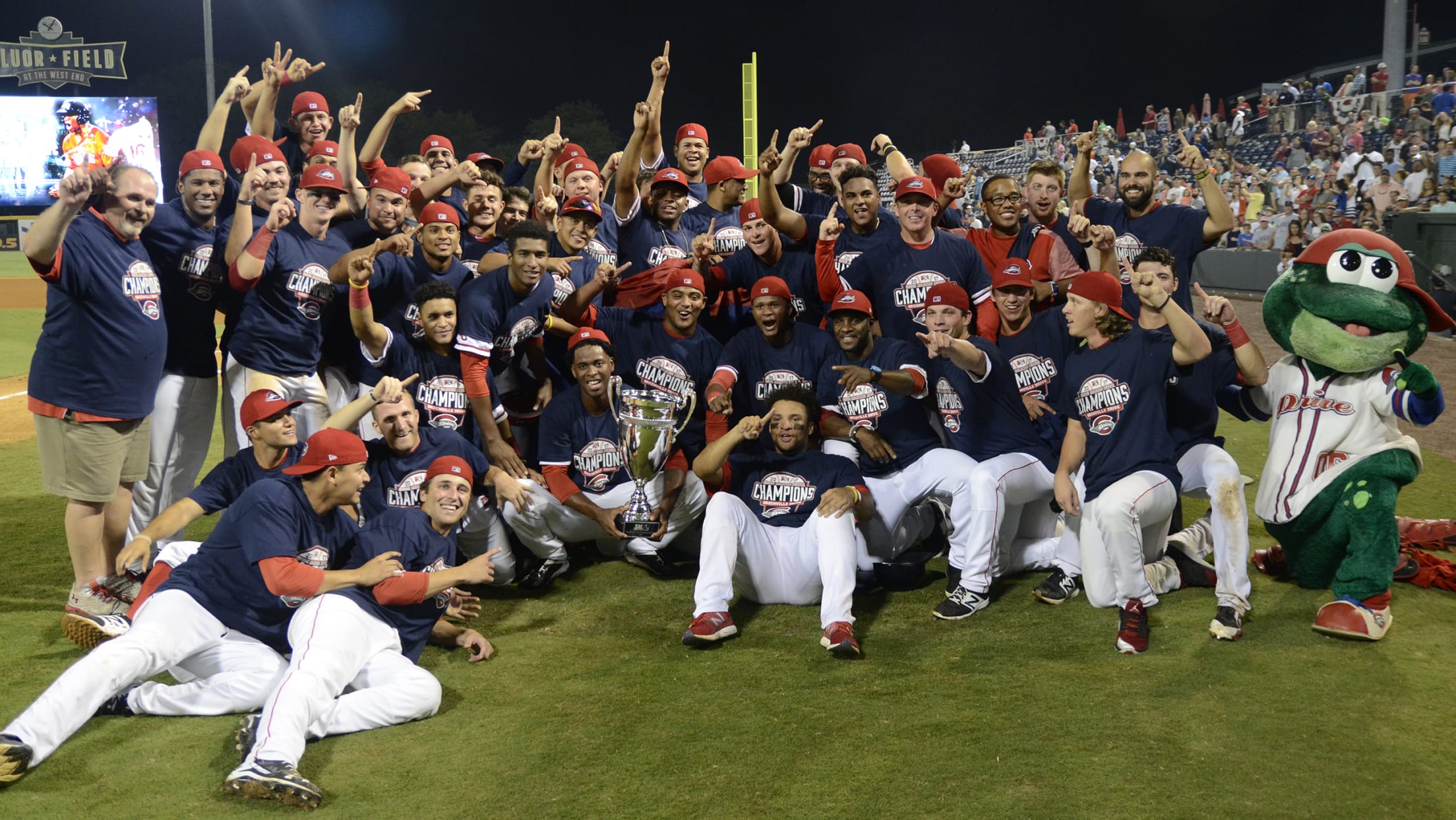 The Greenville Drive hadn't reached the South Atlantic League Championship Series since the 2010 season. (Greenville Drive)
As Greenville manager Darren Fenster watched his team's lead evaporate in the fourth inning Friday night, he couldn't help but think it was a microcosm of the entire season. The Drive had put themselves in tough situations all year, so it was only fitting that they'd have to claw back
As Greenville manager Darren Fenster watched his team's lead evaporate in the fourth inning Friday night, he couldn't help but think it was a microcosm of the entire season. The Drive had put themselves in tough situations all year, so it was only fitting that they'd have to claw back in the final game of their championship quest.
Using a five-run sixth inning, Greenville rolled to an 8-3 win over Kannapolis and the first South Atlantic League championship in franchise history at Fluor Field at the West End. Brett Netzer went 2-for-3 and capped the big sixth with a bases-loaded double.
"We never made it easy on ourselves with this group of 25 guys that are here and another 25 that have been through here," Fenster said. "They just found ways to win. It wasn't always pretty, but it was always competitive. This is the culmination of a lot of work from a lot of people. I'm very, very happy for all of the guys who have been a part of this."
Gameday box score
With a chance to sweep the best-of-5 Finals on Thursday, Greenville fell, 5-4, as Kannapolis' Blake Hickman limited the Drive to four runs on six hits over 6 1/3 innings. Fenster said his team was eager to get back out on the field and close things out.
"We knew this wasn't going to be easy by any means," the skipper said. "Game 1 of this series, which went 12 innings, that was one of our most competitive games and just back and forth and we were fortunate to come out on top in that one. After that game I said, 'Hey, this is one of the toughest games that we're going to have to play and to get two more wins, it's going to be even tougher.'"
In the first inning on Friday, Red Sox No. 11 prospect Bobby Dalbec delivered an RBI double before the Drive added two runs when second baseman Zach Remillard couldn't handle Tyler Hill's pop fly. Staked to a 3-0 lead, Hildemaro Requena kept the Intimidators off the board until the third when Alex Call -- the No. 25 White Sox prospect -- belted a leadoff homer. An inning later, Kannapolis tied it as No. 23 prospect Evan Skoug went deep and Call ripped an RBI base knock.
Requena gave up two hits in the fifth, but Hunter Smith (1-0) came on with runners at the corners and struck out Remillard to end the inning. Smith stayed on for two perfect frames, adding three punchouts.
"Hunter was the momentum-changer for us," Fenster said. "Our starter, Requena, had been lights-out for us up until the clinching -- he had a ridiculous scoreless streak. Tonight, he just wasn't as sharp as he had been and he pitched into the fifth and gives up a leadoff double and we just got a sense that we needed to stop the bleeding somehow and Hunter Smith comes in and does an outstanding job."
With the game still tied, Greenville got three consecutive singles to start the bottom of the sixth. Pedro Castellanos hit a slow grounder to third and Dalbec beat Jake Burger's throw to the plate for the go-ahead run. After Jagger Rusconi extended the lead with an RBI single, Netzer smacked a three-run double to center. The 30th-ranked Red Sox prospect hit .428 with a league-leading eight RBIs in the playoffs.
"This guy, he took his game to another level over the last two weeks," Fenster said of Netzer. "He joined us late because he was a Draft guy this year, and he's just a gamer. I think that's the best way I can describe him as. He's a gamer and I don't know if they give an MVP for this series, but he was it with the big hits that this kid came up with."
Smith worked a scoreless seventh before turning things over to Brendan Nail, who yielded a two-out single in the eighth but nothing else. Juan Florentino recorded the final three outs, fanning Burger to set off the celebration.
"It was a big exhale -- I'm not going to count the chickens before they hatch," Fenster said. "Right up until the last strike, I wasn't writing anything off, but once he got it in I tried to find my staff and hug them and enjoy the night. It's a great year with a ton of people on our player development staff who have had a part in this."
Complete playoff coverage
As Fenster reflected on the historic season, he couldn't help but think of his personal journey with the Drive.
"Greenville has kind of become my home away from home since coming over to the Red Sox in 2012 -- I've spent five of my six seasons here and four as manager. I've really grown close to the ownership and front office," he said. "They go above and beyond to make our jobs as a coaching staff here really easy. It's not like that everywhere and to deliver on a championship for them is very, very special."
Andrew Battifarano is a contributor to MiLB.com. Follow him on Twitter, @AndrewAtBatt.