Three pitchers combine on BayBears' no-no
Angels No. 8 prospect Canning goes five innings, sets the table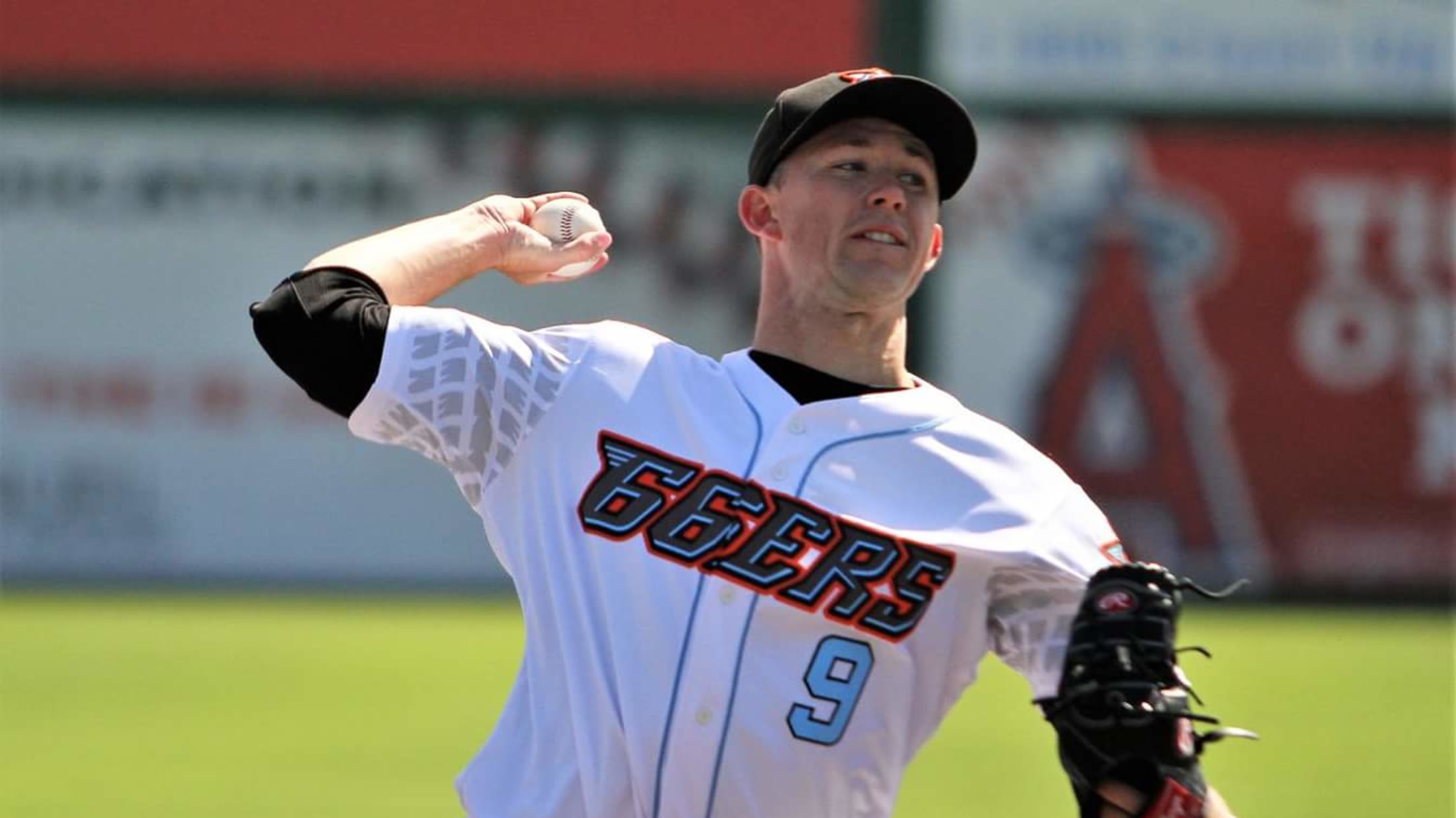 Griffin Canning struck out 12 over 8 2/3 scoreless innings with Class A Advanced Inland Empire to start the year. (Jerry Espinoza/MiLB.com)
Griffin Canning, Matt Custred and Ryan Clark all began the season at Class A Advanced Inland Empire and were promoted to Double-A Mobile a little over a week ago. The trio joined forces on Saturday night to accomplish something that was only done one other time in team history.Canning, the Angels'
Griffin Canning, Matt Custred and Ryan Clark all began the season at Class A Advanced Inland Empire and were promoted to Double-A Mobile a little over a week ago. The trio joined forces on Saturday night to accomplish something that was only done one other time in team history.
Canning, the Angels' No. 8 prospect, combined with Custred and Clark to throw the BayBears' second no-hitter as Mobile blanked Montgomery, 1-0, at Montgomery Riverwalk Stadium.
"It's a pretty cool moment," said Clark, who recorded the final three outs. "I've never been a part of one and to be able to do it with two guys that we started together in the Cal League and now we're here, it's just special."
Canning (1-0) did not appear to have his best stuff as he walked six over five innings. The right-hander's biggest struggles came in the third, when he issued four of those walks and threw 28 of his 84 pitches.
"I was out of sync today. I didn't have command of my fastball," he said. "But you have to work with what you have and I knew I was on a pitch count, so I just wanted to use more of the plate towards the end of my outing and try to get early outs. The defense really picked me up, they were awesome. And then Matt and Ryan closed the door."
The BayBears did not commit an error on 13 balls that were put in play while the 21-year-old Canning was on the bump, and he used 24 pitches to get through his final two frames to put himself in line for his first professional win.
"Griffin had that one inning where he just competed," Custred said. "It didn't look like he was getting any calls, but he buckled down and to see him stay calm and get through that inning and then pitch two more, man, that's all the inspiration you need. You want to go out there and work hard for that guy and what he just did."
The right-hander from Houston took the ball in the sixth and set down the first five batters he faced before walking Mac James on a six-pitch at-bat in the seventh. He did not allow another baserunner and finished with a strikeout.
Gameday box score
"I actually didn't realize it was a no-hitter until I went out for my second inning of work and saw the scoreboard," the Texas Tech product said. "But I just tried to stay cool, calm and collected and stick to my game plan of being aggressive and going right at guys. The defense was incredible though, there were great plays everywhere -- people were diving all over the place. It's what you love to see as a pitcher and it really gives you confidence knowing you have that kind of back up."
Clark came on in the ninth and needed 12 pitches to retire the side in order, fanning two. The Biscuits sent Rays No. 25 prospectRyan Boldt to the plate as a pinch-hitter with two outs but, after working the count full, Clark blew a heater by him to complete the fourth no-hitter in the Minor Leagues this season and pick up his first save of the year.
"I didn't realize we had a no-hitter going until they sent up that pinch-hitter and I had a chance to look at the scoreboard. I saw all the zeros and I just said to myself, 'Oh, man, you better get this done,'" the 6-foot-5, 220-pound right-hander said. "And we were only up by one and you can't let a guy tie it up with one swing. So I just stayed aggressive and went after him.
"At first, when he struck out, my thought was that it was good to get the win. But then everyone got kind of fired up. It was one of those moments you don't really realize until it sinks in."
Angels No. 9 prospect Matt Thaiss provided all of the offense with two outs in the fifth when he sent a 2-2 pitch from J.D. Martin (0-4) over the wall in right-center. It was his third dinger of the season.
The BayBears almost pitched a no-hitter on Wednesday when Angels No. 11 prospect Jesus Castillo fired seven hitless innings against Mississippi in Mobile. Conor Lillis-White took the ball from there and surrendered a leadoff double in the ninth.
Mobile's other no-hitter came on Aug. 14, 2013 when then-D-backs top prospect Archie Bradley combined with Matt Gorgen, Derek Eitel, Willy Paredes and Jake Barrett on a 2-0 victory over Huntsville.
Rob Terranova is a contributor to MiLB.com. Follow him on Twitter @RobTnova24.