Minors legend Jones still holds batting record
'Deacon' led the Midwest League with a .409 average in 1956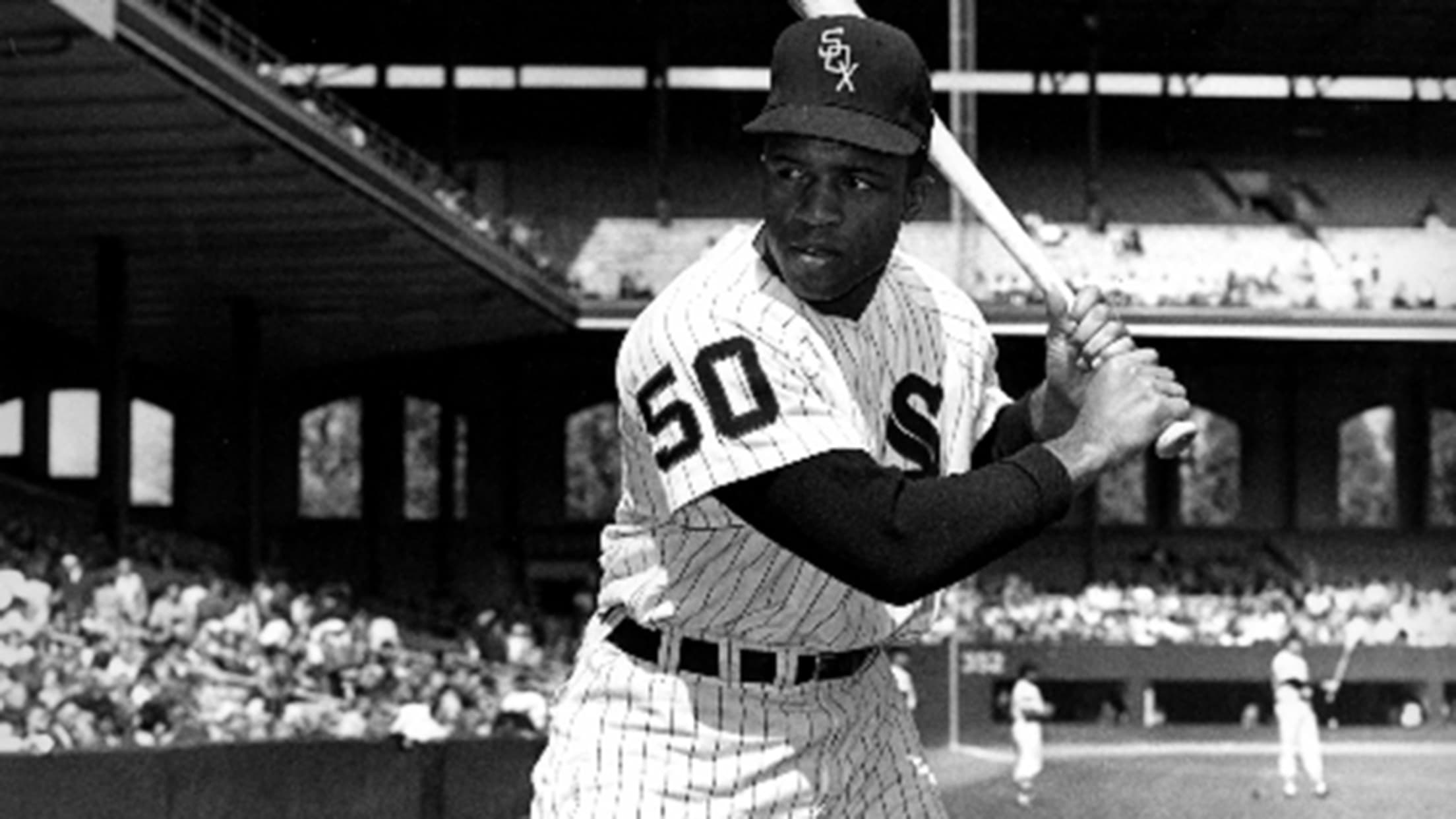 Grover "Deacon" Jones became the first black player to be recognized by the Hall of Fame in Cooperstown, New York. (Don Pulford)
Minor League Baseball is known for its rich history, dating back more than 100 years. While much has been written about the best teams and top players who have graced the Minors, there remain many stories either untold or largely forgotten. Each week, MiLB.com will attempt to fill that gap
Minor League Baseball is known for its rich history, dating back more than 100 years. While much has been written about the best teams and top players who have graced the Minors, there remain many stories either untold or largely forgotten. Each week, MiLB.com will attempt to fill that gap and explore these historical oddities in our "Cracked Bats" feature.
Grover Jones has spent more than a half-century in baseball, serving the game at almost every level and in nearly every capacity. While he played in the Majors briefly and coached there for more than a decade, his greatest accomplishments may well have come far away from the bright lights of the big leagues.
Jones, who is better known by his nickname "Deacon," is one of the legendary figures in the history of Midwest League. He set a league record in 1956, then had one of the finest seasons in circuit history in 1966 before helping break down a racial barrier in the spring of 1973. While his place in baseball history may not be as prominent as some, Jones remains one of the great Minor League figures over the last half-century.
"It's nice to be mentioned that way," said Jones, now 73 and living in Houston. "The game is bigger than all of us, though, and it goes on without Deacon Jones. I have a great passion for the game. It's always been about the game, and no one ever gets that."
Jones' passion for the game is and always was obvious. So was his talent as he starred for White Plains High School in a suburb north of New York City in the early 1950s. That talent also shone at Ithaca College, so much so that the Chicago White Sox won a bidding war between several teams and signed him in the spring of 1955 to his first professional contract.
"In those days, there was no draft," said Jones, who earned his nickname because his father was a deacon at the local Union Baptist Church in Greenburgh, New York. "You just went around and sold your wares. You'd go to different places. I remember going to Pittsburgh to work out for Branch Rickey. I worked out with Sandy Koufax there."
The Sox sent Jones to the Class-B Three-I League in Waterloo, Iowa, that summer, where he hit .318. Jones played alongside a young slugger named Norm Cash who went on to become an icon in Detroit. That season set the stage for a memorable 1956.
The Midwest League, which had been known as the Illinois State League and the Mississippi-Ohio Valley League between 1947 and 1955, officially adopted its current name in 1956. Jones helped kick off the league's existence by leading all of Minor League Baseball with a .409 average. It remains a league record, one that no one has come within 41 points of matching in the last 51 years. It's a mark that seems especially improbable because Jones played most of the season with an injured shoulder.
"I went to Spring Training with the big league club in 1956 as a left-handed hitting second baseman," Jones said. "I thought I was hot stuff. I hit a triple one day in Tampa and when I slid head first into the base, something popped in my shoulder. I couldn't move it the next day. I went to all the top doctors and they wanted me to have an operation.
"But I studied physical therapy in college. And I knew, in those days, if they cut into my shoulder that it would limit me a lot. If they had arthroscopic surgery back then I would have allowed it. So I didn't have an operation, I just continued to play. I couldn't throw so they sent me to Dubuque, Iowa, because they said it [the weather] was hotter there and I tore up the league."
Jones went 0-for-2 during his first game with the Packers, but bounced back with a four-hit performance the following day. His average fe under the .400 mark only three times during the remainder of the season, none of which came after the club's 16th game. He finished the year by collecting 135 hits in 330 at-bats. He also hit 24 homers and led the league with 121 RBIs.
His keen eye at the plate became his trademark: Jones boasted a .580 on-base percentage bolstered by the 112 walks he drew, and he finished with a .755 slugging percentage.
"During the last two weeks of the season, they told me I had a chance to win the Silver Slugger Award for all the Minor Leagues," Jones said. "I was hitting .420 at the time. See how things mess with your coconut. They planted a seed and I went 0-for-4 the day they told me and finished with a .409 average.
"But I knew my strike zone and was aggressive with my control. Later I preached that when I was a coach. Be aggressive, but have control."
While Jones and the Sox were pleased about his season, there was no controlling what happened next. The budding star was drafted in the fall of 1956 and spent the next two years in the military.
"I hated every bit of it," Jones said. "Uncle Sam called, and I was mad. They sent me to Columbus, Georgia. And here I am in the U.S. military, in my uniform. But I was still a black man in America, and there were two sets of rules in place. I'm not bitter about it, but I'm an American citizen and a good person. I didn't need to be hiding from the Klan in the woods all night.
"Later on, when I was playing in the International League with Don Buford, we tried to eat at a bus stop in Georgia. Our catcher came over to us and said, 'Deacon, the guy behind the counter doesn't want you in here.' So as I'm passing the counter to leave, he puts the biggest gun I ever saw in my face and said if I ever went in there again, he'd blow my head off. I had never seen so much hate in my life."
Amidst the racial tension of the time, Jones finally got his big break. The White Sox, to whom he was still under contract, called him to the big leagues in 1962. Jones appeared in 18 games and hit .321 with eight RBIs in 28 at-bats. He would get 16 more at-bats in 1963 and another five in 1966, finishing up his Major League career with a .286 average in 49 at-bats.
Jones found himself back in the Midwest League in 1966, this time in Fox Cities playing for legendary Minor League manager Stan Wasiak. He again won the batting title, hitting .353 to lead the Foxes to the league title. Jones also led the league in RBIs (80), on-base percentage (.484) and extra-base hits (58).
He returned to the Class A circuit the following season as a player-coach, but it was clear his career had peaked. Jones bounced around the Minors for five more seasons before the White Sox made him an offer in January 1973. They wanted him to manage their Midwest League affiliate in Appleton.
"They called me in the office in Spring Training and I thought I was finally getting my papers," he said. "But they said they wanted me to consider being the player-manager in Appleton. My heart jumped."
Danville had made Bernie Smith the first African-American manager in Midwest League history a few days before the Sox gave Jones the job in Appleton. While Danville went on to finish in first place and reach the league Finals, Jones was let go midway through the season as Appleton headed to a last-place finish.
"I can't say that it didn't make me feel good," Jones said of the opportunity. "But I don't make a big deal out of it. It was something that was going to happen to someone somewhere. We just happened to be the first two. But I don't think it had much of an impact on me because I can't hardly remember it."
Jones went on to serve as a hitting coach with Houston from 1976 through 1982 before joining the Padres as their hitting coach in 1984. San Diego reached the World Series that season, marking the first of five seasons he spent as that club's hitting instructor. He spent the following two decades as a roving instructor and scout for the Orioles. He still scouts the Texas League for several teams.
He's also got the distinction of being honored by five Halls of Fame. He was inducted into his high school and college halls, the Midwest League Hall of Fame and the Westchester County (New York) Hall of Fame (in the same class as NFL legend Frank Gifford). The honor in which he seems to take the most pride, however, is his mention in the National Baseball Hall of Fame in Cooperstown.
Jones was honored as the American Legion Player of the Year in 1951 when he hit .408 as a catcher. He became the first black player recognized by the Hall.
"I got everything I wanted out of the game," he said. "I was good to it, and it was very good to me."
Kevin Czerwinski is a reporter for MiLB.com.