Crouse strong in return to Crawdads
No. 63 overall prospect hurls three hitless innings in brief stint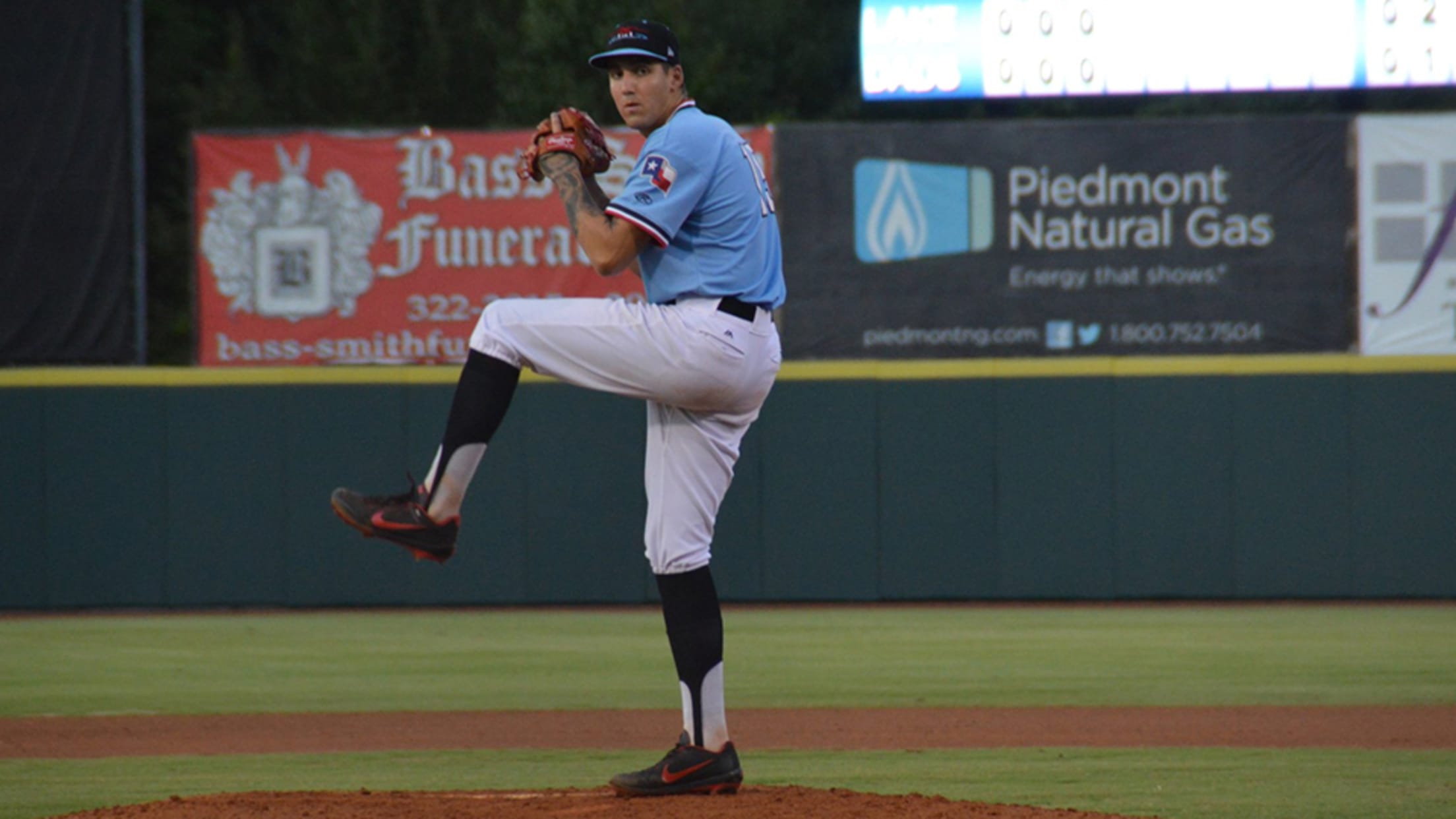 Hans Crouse had last pitched for Hickory on May 26 before being sidelined with bone spurs in his right elbow. (Hickory Crawdads)
Rangers fans got probably the best news possible Sunday: Hans Crouse pitched again.Texas' top prospect returned to the mound for Class A Hickory nearly a month after his last start, tossing three hitless innings in a 5-3 win over Charleston at L.P. Frans Stadium. He worked around two walks in
Rangers fans got probably the best news possible Sunday: Hans Crouse pitched again.
Texas' top prospect returned to the mound for Class A Hickory nearly a month after his last start, tossing three hitless innings in a 5-3 win over Charleston at L.P. Frans Stadium. He worked around two walks in the first inning before retiring the last eight batters he faced, two of whom he struck out.
"I knew it was going to be a short outing," Crouse said, "so I tried to get all my pitches in and felt pretty good with everything."
Gameday box score
The Rangers have tried to be careful with the arms in their system. No. 2 prospect and 2018 first-round pick Cole Winn, for example, did not pitch after signing last year. Five of their top 30 prospects have undergone Tommy John surgery in the past two years.
Crouse, a hard-throwing right-hander with a violent delivery that can whip a fastball as fast as 99 mph, has been part of that cautious approach. After being selected with the 66th pick of the 2017 Draft, Crouse pitched only 20 innings in his debut season and 54 2/3 frames last summer. But he was effective in that brief sample, posting a 5-3 record with a 1.93 ERA and a 31 percent strikeout rate across three levels of the Minors.
Sunday's outing was Crouse's ninth start for Hickory this season. The 20-year-old posted a 2-0 record with a 1.33 ERA and 23 strikeouts through four April starts, surrendering three earned runs in 20 1/3 frames. He notched a 5.71 ERA in four May starts and was shut down with bone spurs in the back of his throwing elbow after allowing six hits in five innings May 26.
"The plan is to get them removed when the season is over," Crouse said.
For now, the workload will steadily increase as his body allows. The Crawdads aimed Sunday to deploy him for three innings or 45 pitches, whichever came first. Next start, the righty is expected to go four or five innings or reach at least 60 pitches.
Crouse's velocity climbed as high as 96 mph against Charleston, which was "almost normal" considering his month-long layoff. He finished the third right on target at 43 pitches. But 15 of them came before he recorded a second out, and the Crawdads gathered on the mound following a four-pitch walk to Josh Stowers that put two runners aboard in the first.
The message? Slow down. And it worked. Crouse induced two swinging strikes against Canaan Smith for his first punchout, then got Mickey Gasper to fly out to center on one pitch.
"It being my first time back out in a while, [I just had] a little jitters getting a feel for the zone in the first inning," he said. "But I thought against those next two batters I faced, I made some good sequences to get out of the inning."
Injuries aside, Crouse said he feels good about his mechanics. He is "in sync" and has developed his changeup thanks to some tinkering with Rangers pitching coordinator Danny Clark. During a recent bullpen session, Clark suggested sliding Crouse's pinky higher up on the ball. The altered grip shaved a few ticks off the velocity, bringing it down around 84 mph. That plays well off a fastball that approaches triple digits.
"I've gotten to the point where I feel comfortable throwing it in any count, and I know I'm going to have the right action on it," Crouse said. "I think it could be a big third pitch for me."
He'll have time to work on the offering as he attempts to recover the slider that escalates the discomfort in his elbow. Crouse won't throw more than five or 10 sliders a game right now. Raising those figures and lowering an already-low 5 percent walk rate are his main goals now that he's back on the mound.
"If I can just throw [my slider] a little more and get the feel back for it, I feel like I'll have a good, strong finish to the year," he said.
Grant Wolfram (2-2) followed Crouse and claimed the win, letting up three earned runs on five hits while striking out four and walking one over 3 1/3 innings. Jesus Linarez allowed one baserunner over the final 2 2/3 frames to earn his first save.
Hickory's offense backed the three hurlers with 11 hits. Jax Biggers, batting .302 this season, knocked in two runs with RBI singles in the fifth and the eighth.
Joe Bloss is a contributor to MiLB.com. Follow him on Twitter @jtbloss.