Head of the Class: A Full Season
Royals' Matias, Phillies' Parkinson light it up in the first half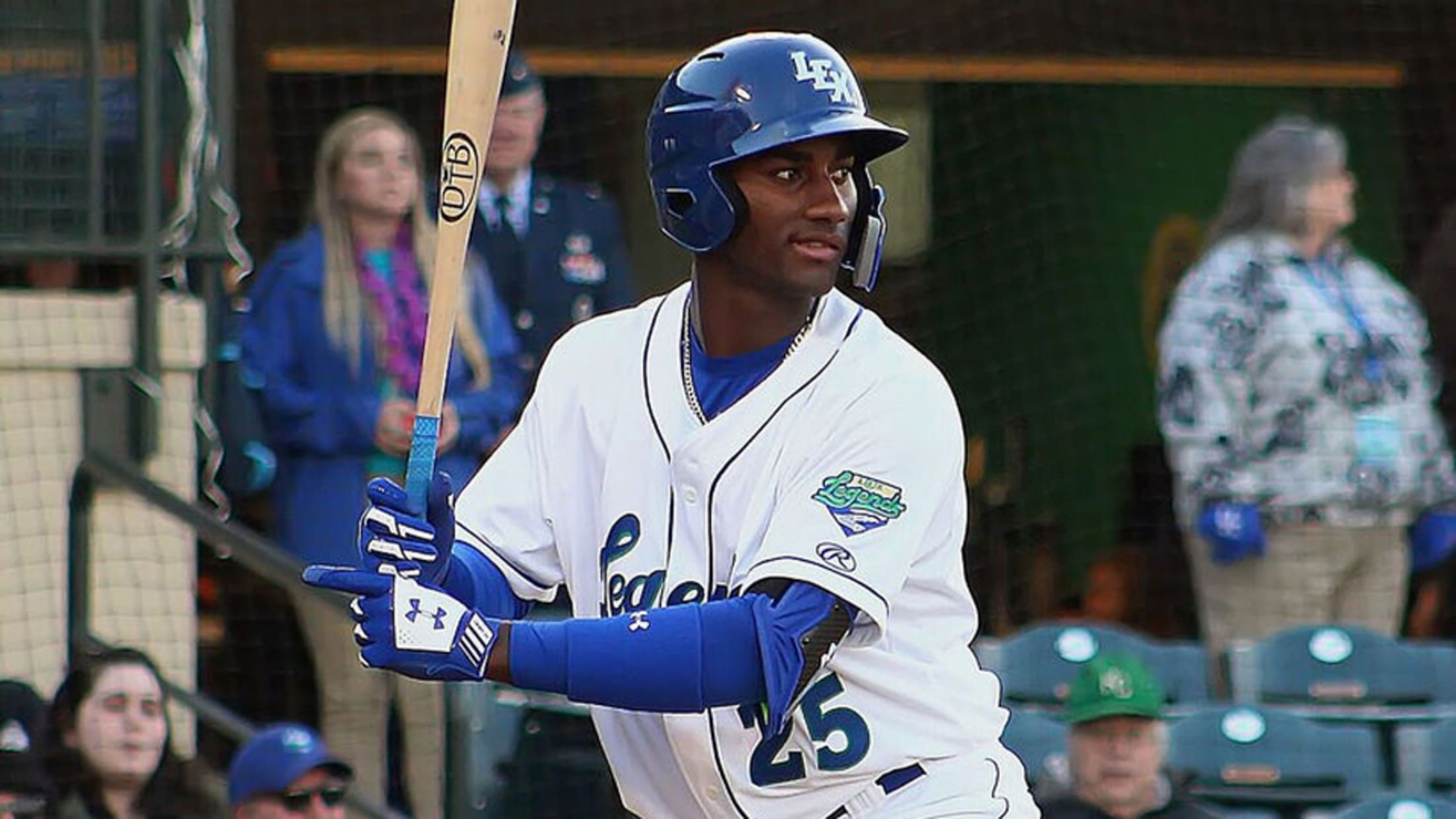 Seuly Matias leads active Class A batters with a .632 slugging percentage. (Clinton Riddle)
With All-Star Games approaching across the Minor Leagues, members of the MiLB.com staff are looking back at some of the most notable performers from the first half of each of the four full-season levels and who could take off in the months to come. Here, we look at players in
With All-Star Games approaching across the Minor Leagues, members of the MiLB.com staff are looking back at some of the most notable performers from the first half of each of the four full-season levels and who could take off in the months to come. Here, we look at players in the Class A Midwest and South Atlantic leagues.

Most exciting hitter
Royals OF Seuly Matias, Lexington:
Through the first 110 games of Matias' career, the
Royals' No. 3 prospect
tallied 15 home runs. But through the first 56 games this season, Matias has left the yard 22 times. Legends manager Scott Thorman said the power surge is due to the 19-year-old calming his swing and using his hands more. But whatever the cause, Matias leads the Minors in long balls, averaging a home run every 2 1/2 games. With that power comes whiffs -- the Dominican Republic native has a 36.8 percent strikeout rate -- but Matias made big strides to cut that rate down in the final 10 games of the first half. While the right-hander's 70-grade arm has always been considered his best tool, his power continues to demand attention.
Most exciting pitcher
Phillies LHP David Parkinson, Lakewood:
The 22-year-old started the season with authority and, even with a couple hiccups, is one of the most dominant pitchers in the Minor Leagues. Parkinson ranks second overall with his 1.07 ERA in 59 innings over 11 starts. The Ole Miss product didn't allow an earned run in eight of those starts while yielding two earned runs or fewer in all but one outing. South Atlantic League foes are hitting .196 with just two home runs against Parkinson this season. Admittedly growing more confident with each start, the 6-foot-2 southpaw is 6-1 with 74 strikeouts and 20 walks, though he doesn't consider himself a big strikeout guy. Parkinson is not currently ranked among Phillies prospects, but it shouldn't be long before he has a "No." next to his name.
Best team
Bowling Green Hot Rods:
Two-way player
Brendan McKay
was probably the most talked about Rays prospect on Opening Day. MLB.com's
No. 22 overall prospect
dominated from the mound and made strides at the plate before getting a promotion to Class A Advanced Charlotte on May 14. But Bowling Green carried on without the 22-year-old, going on to secure the best winning percentage in the Minors at .681 in the first half.
Taylor Walls
and
Zach Rutherford
are among the level's top hitters, batting .318 and .308, respectively, while Ronald Hernandez's 50 RBIs ranks fourth among Class A hitters. On the mound, the Rays affiliate ranks second in the Midwest League with a 3.15 ERA, thanks to circuit-leader
Tommy Romero
and his 2.17 mark.
Josh Fleming
hasn't allowed more than two runs in a start since joining the squad on May 6 while
Riley O'Brien
and
Austin Franklin
deepen the rotation. Locking up the first-half title early, the Hot Rods will return to the Midwest League playoffs for the third straight season.
Second-half breakout
Reds RHP Hunter Greene, Dayton:
April was not kind to baseball's No. 19 overall prospect, and May had its chilly days too. Through his first seven starts, Greene went 0-3 a 10.06 ERA, 26 strikeouts and 10 walks in 17 innings. Since then, the 18-year-old has begun chipping away at that ERA, getting it down to 5.53 at the All-Star break. Greene even picked up his first pro win on June 3, though he hasn't had a scoreless outing since May 12. In three of his last five starts, the only mistake the 2017 first-rounder made was a solo homer, so he will look to keep the ball in the yard as the season goes on. Greene used an 80-grade fastball to overpower Midwest League hitters. Working with a pitch count of 85, the 6-foot-4 hurler hasn't stretched beyond five frames, but the Reds could loosen that restriction as the season goes on.
Coming soon
2018 picks:
This year's Draft was all about college players, with the first five picks all having NCAA experience. And while most of these guys will start in short-season and Rookie ball, it won't be long before they're gracing the Midwest and South Atlantic leagues. Catcher
Joey Bart
just received the largest post-Draft signing bonus for a position player from the Giants. After averaging .321 in three seasons at Georgia Tech, the 21-year-old will look to carry the momentum in what could be a brief stop with Class A Short Season Salem-Keizer. Infielders
Nick Madrigal
and
Jonathan India
are currently killing it at the College World Series for Oregon State and Florida, respectively, and that should only continue for their White Sox and Reds affiliates. The Phillies are having
Alec Bohm
start in Rookie ball while the Tigers haven't said where exactly top overall pick Casey Mize will begin his career. But with both being 21, they shouldn't be in the lowest levels for long.
Kelsie Heneghan is a contributor to MiLB.com. Follow her on Twitter @Kelsie_Heneghan.