Horne's 'home run cycle' has yet to be replicated
Recent college grad puts baseball history in perspective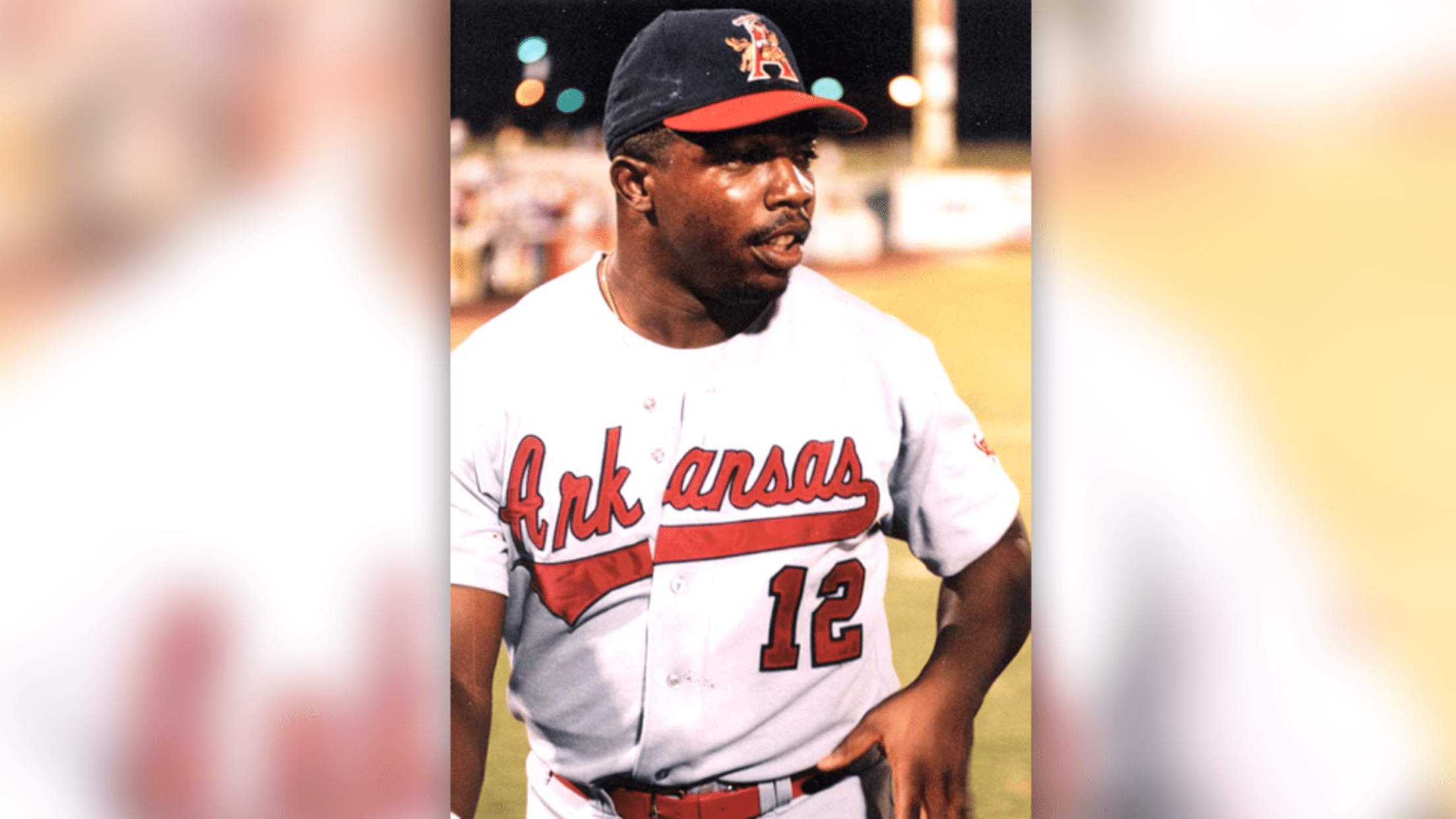 Tyrone Horne hit .312/.402/.605 with 37 homers and 139 RBIs in 123 games for Arkansas in 1998. (Texas League archives)
In "All You Need Is Love," the Beatles sang, "There's nothing you can do that can't be done."Tyrone Horne might beg to differ.It's hard to believe that in the long history of baseball -- where every record is made to be broken -- Horne is one of the few people
In "All You Need Is Love," the Beatles sang, "There's nothing you can do that can't be done."
Tyrone Horne might beg to differ.
It's hard to believe that in the long history of baseball -- where every record is made to be broken -- Horne is one of the few people to have performed a feat that had never been accomplished before and has not been equaled since.
On July 27, 1998, playing for the Arkansas Travelers of the Double-A Texas League, Horne hit four home runs in a 13-4 victory at San Antonio.
Now, four-homer games by themselves are rare, but certainly not unprecedented. This year, there have been two such performances in the Minors (Ryan Harvey of the Daytona Cubs did it on July 28 and Alexis Gomez of the Toledo Mud Hens hit four on Aug. 7).
But Horne hit a two-run home run in the first inning, a grand slam in the second, a solo shot in the fifth and a three-run homer in the sixth.
In essence, he "homered for the cycle," something never done before in the Majors or Minors and has not been duplicated since.
"I hadn't realized I'd homered for the cycle at first," recalled Horne, from his home in Idaho Falls. "I'd never even heard of homering for the cycle."
The power outburst itself was not out of character for Horne, who would go on to win Texas League MVP honors for the '98 Travelers, at the time a St. Louis Cardinals farm team, after hitting .313 with 37 home runs and 140 RBIs.
In fact, right after the game, a still-stunned Horne and his teammates hopped on a bus for the 10-hour drive back to Little Rock, and the next night he competed in the league's All-Star Game, winning the Home Run Derby in what he called, "an awesome couple of days for me."
He enjoyed the fame, once he came out of his daze.
"After the [cycle] game, I went into the clubhouse to eat the spread and someone turned the TV to ESPN," he recalled. "I'm sitting there eating and watching, and I see this guy running around the bases and realize it's me. So I rushed to the phone to call my mom. It was a very proud moment."
When he returned to Arkansas, he received a call from the Baseball Hall of Fame asking him to send them his bat.
"Right there, I knew what I'd done was something special," said Horne, who has not yet gotten to Cooperstown to see the display, though several of his friends and relatives have done so, and sent him pictures. "I'd like to get there eventually."
At the time of the homer cycle, Horne was in his 10th pro season with his sixth organization. Originally a 44th-round draft pick by the Montreal Expos in 1989 out of high school in Troy, N.C., he hit .285 through his first seven-plus seasons in the Expos system before being traded to the New York Yankees midway through 1995 for infielder Dave Silvestri.
He moved on to a series of Minor League free agent contracts with the Athletics, Mets, Marlins and Cardinals, with whom he had his banner season. He would eventually play for the Phillies and Yankees again, as well as in Korea and the independent Atlantic League, before a ruptured disc in his neck forced him to retire after the 2000 season at age 31.
Horne moved home temporarily from Idaho, where he was living with his wife and two daughters, to let his mom Elsie and his grandmother help nurse him through his recovery. He was virtually immobile for several months and couldn't eat solid food for many weeks.
When he finally recovered and returned to Idaho that fall, Tyrone Horne did something else that, while not unprecedented in baseball, is pretty rare. At age 31, he went to college.
And four years later, this past May 13, he graduated from Idaho State University with a degree in physical education. And while he is understandably proud of his place in baseball history, Horne called May 13 "the proudest day of [his] life."
At West Montgomery High School, in Mount Gilead, right outside of Greensboro, he was a good student, boasting a 3.2 GPA, and receiving a full football scholarship to North Carolina A&T.
"I always made sure that school came first, and then sports," he said.
But Horne's heart wore a baseball uniform. So despite his low draft status and minimal bonus, that was the path he chose to take in 1989, with his mom's blessing.
"I always promised my mom I would get my college degree when my playing days were over, and you can't lie to your mom," said Horne. "But she always supported me in whatever decisions I made."
Horne said that through his 12 pro seasons, he always knew that he would one day return to school to get his degree. He switched majors early on, from health care administration to physical education with a minor in coaching.
"I wanted to do something that I loved," he said. "My favorite classes were in kinesiology, sports management and the history of sports."
While taking 16 credits each regular semester, and eight in the summers, he was able to complete his degree in four years, even while working full-time nights at a Thrifty Car Rental. And in those four years, he never took a day off.
"I'd do my homework during downtime at work, then come home and work for a few more hours," said Horne. "Sometimes my wife would wake up and see me asleep at the table."
Horne lives with his wife Sarah, their four-month-old daughter Aiyanna, and his stepdaughter Tayshia, 6. In addition, his two daughters from a previous marriage, Aliyah, 9, and Nachelle, 6, also live with the couple part-time. And while he loves his house full of his girls, not a day goes by that he doesn't miss baseball.
Since his playing days ended, he's been coaching teenagers, first with a local high school team and more recently with the local American Legion team, the Idaho Falls Russets.
"Sometimes I wanted so badly to put on a helmet and go up there myself," he said. "It's killing me, because I never really had any closure. I didn't finish the way I wanted to finish. I miss it so much. I tried playing softball, but it's just not the same thing. I miss baseball; the travel, the life. What I miss most is my friends; the guys sitting around the locker room talking baseball."
With the numbers that Horne posted, it's remarkable that he can look back on a dozen years in the game -- without so much as the proverbial cup of coffee in the big leagues -- with no bitterness, just unmitigated love for the game.
"My mom always told me, if it wasn't meant to be, it wasn't meant to be," he said. "I had so much fun playing for those 12 years, and I guess it just wasn't in God's will for me to play in the Major Leagues."
Now that he's done with school, though, Horne is still working at the Thrifty Car Rental. His biggest dream is to coach or scout at the professional or college level. He's spending his newfound spare time putting together resumes to send out to organizations, in hopes of returning to the game.
And you have to hope that some of the folks whose desk that information crosses will find their memories jogged about his unique place in baseball history.
"I will always have that [cycle]. I'm very proud of it," Horne said. "People can release you, they can cut you, but that's something that no one can ever take away from me. It's history, something no one has ever done before."
With that place in history, coupled with his love of the game and work ethic, surely there must be a place where Tyrone Horne can return to organized baseball.
After all, as the Beatles said, "Love is all you need."
Lisa Winston is a contributor to MiLB.com.