Fisher gives Grizzlies second '18 cycle
Rehabbing Astros outfielder sets career high with five hits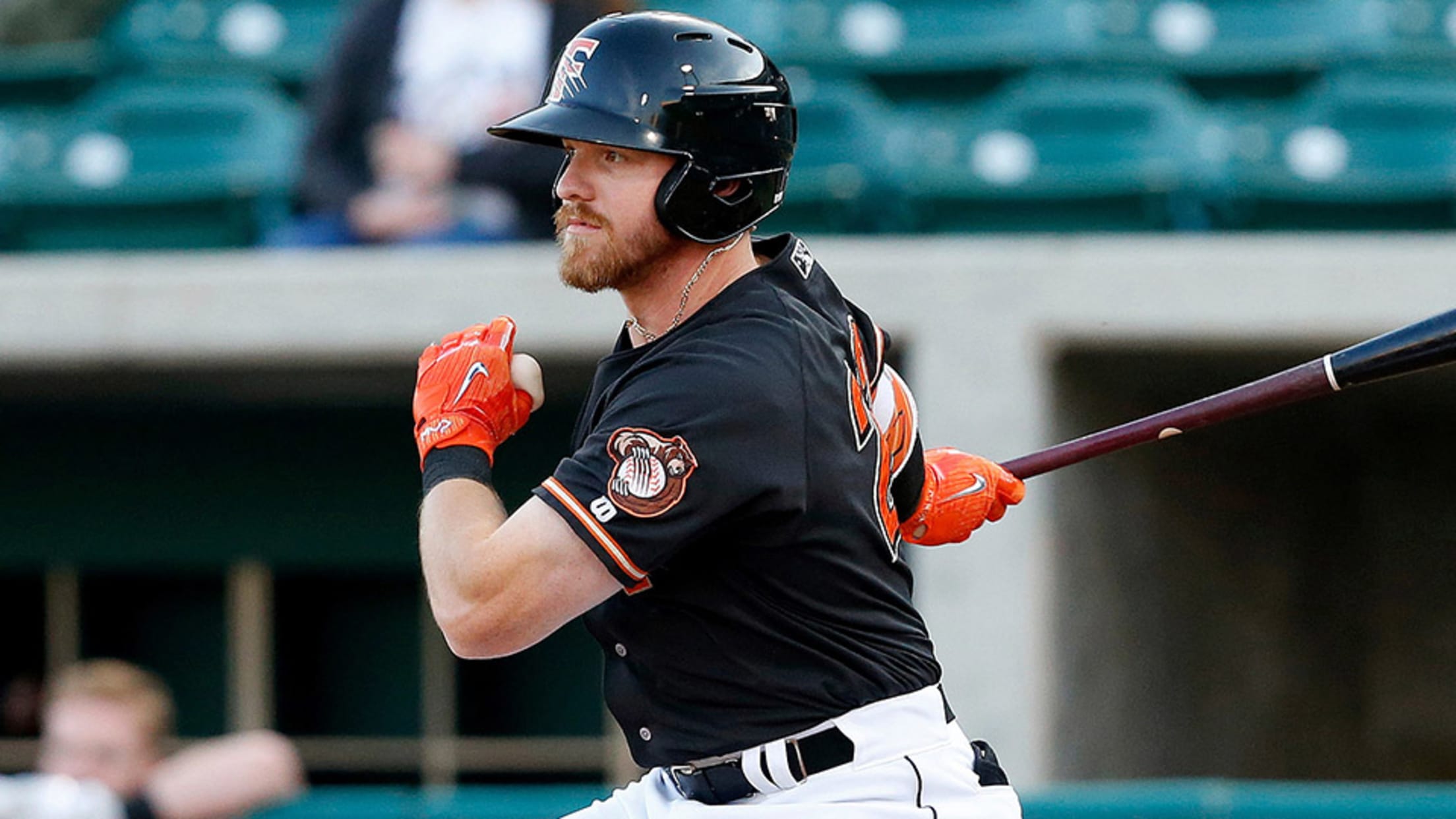 Derek Fisher is 10-for-18 with five extra-base hits, eight runs scored and five RBIs in four games with Fresno. (Kiel Maddox/MiLB.com)
Before May 17, Triple-A Fresno had only two cycles in the 20-year history of the team. Now the Grizzlies have had two in the past two weeks.Rehabbing Astros outfielder Derek Fisher accomplished the feat Friday, setting a career high with five hits and driving in four runs as Fresno cruised
Before May 17, Triple-A Fresno had only two cycles in the 20-year history of the team. Now the Grizzlies have had two in the past two weeks.
Rehabbing Astros outfielder Derek Fisher accomplished the feat Friday, setting a career high with five hits and driving in four runs as Fresno cruised past Albuquerque, 10-3, at Isotopes Park.
Gameday box score
Fisher hit a three-run homer in the seventh inning to complete the effort. He joined J.D. Davis, who did it on May 17 at El Paso, as Grizzlies who've hit for the cycle this season.
Eight Fresno players have had at least four hits in a game this season, all on the road.
Manager Rodney Linares gave all the credit to hitting coach Darryl Robinson.
"Hey, we've got a good hitting coach," Linares said. "I had Fisher at Double-A and here and he has a good rapport with [Robinson]. They work well together."
Fisher, who's been on the disabled list since May 19 with a gastrointestinal ailment that he said stemmed from an adverse reaction to medication, led off for Fresno and doubled to right field to start the game. He scored on a single by Astros No. 2 prospectKyle Tucker.
Linares could tell Fisher was feeling good from the start.
"The first at-bat, he swung at the first pitch and hit the crap out of it," the manager said. "[But] just from the conversations he was having [you could tell he was into it]. People don't see all the preparation these guys go through.
"Last night was the big test. He was scheduled to get five at-bats and in the ninth we were facing a lefty, and he said, 'I can hit lefties, you know.' And he saw some questionable pitches and ended up getting called out. But tonight, he ended up getting the cycle with a home run off a lefty [Mason Melotakis] and he hit the ball on the screws. He's strong as an ox."
The University of Virginia product grounded a single to right in the third, lined a triple to right in the fifth and scored on Tucker's sacrifice fly, then went to the opposite field with his seventh-inning solo shot. He added a single to left in the eighth to plate Nick Tanielu.
Fisher is working on rebuilding strength after the ailment left him down several pounds.
"He was battling the sickness, and it cost him a lot of weight," said Linares, who has managed in the Houston organization for 12 seasons. "When I saw him in Spring Training, he was big and strong. So when [he was sent down] I saw him and said, 'What happened?' He told me the whole story and said he hadn't eaten in a couple of days.
"He's still a little affected, but he was aggressive tonight. It's just a matter of getting healthy. He was probably the best player in Triple-A last season. We all still believe in Fish. He's a big part of what we're trying to do."
The 2014 supplemental first-round pick is no stranger to historic performances. On May 30, 2015, Fisher broke the California League record with 12 RBIs as he homered three times for Lancaster in his Class A Advanced debut.
The Grizzlies pounded out 15 hits, so Fisher had plenty of help. Sixteenth-ranked Drew Ferguson singled three times and drove in a run, No. 23 prospect Garrett Stubbs doubled and singled, Jack Mayfield homered and singled twice and Jon Kemmer also went yard.
Mike Hauschild (3-5) was the beneficiary of the support and worked six innings, allowing three runs -- one earned -- on seven hits. He struck out eight and did not give up a walk.
Major League veteran Jeff Hoffman (3-4) gave up four runs on eight hits in six innings to take the loss for the Isotopes, and Melotakis surrendered five runs on six hits and a walk while recording four outs.
Vince Lara-Cinisomo is a contributor to MiLB.com. Follow him on Twitter @vincelara.