Astros' de Oleo showcases his power
Catching prospect hits three homers, drives in five runs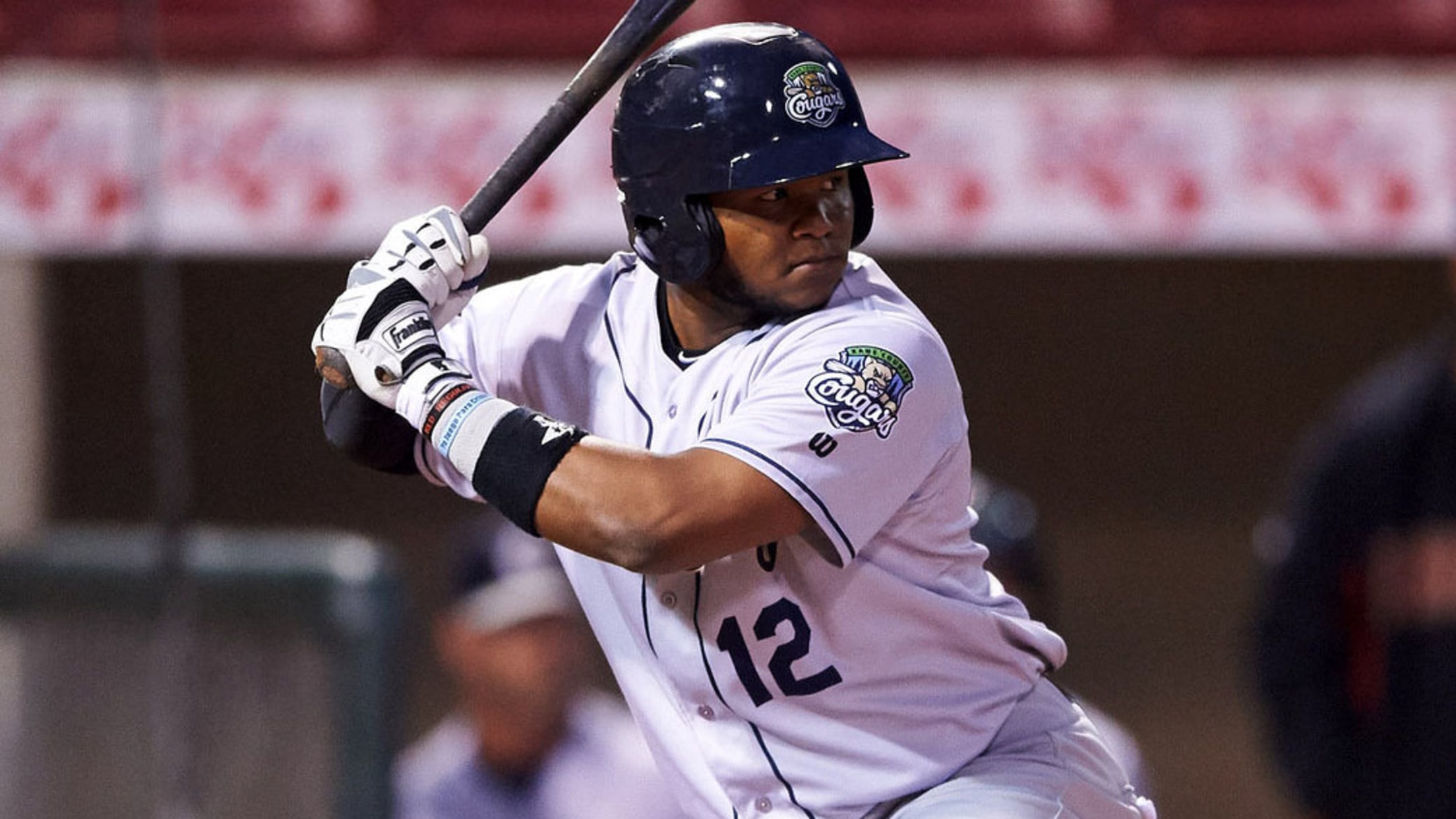 Eduardo de Oleo has hit just 22 home runs total over his six-year Minor League career. (Mike Janes/Four Seam Images)
Class A Advanced Buies Creek manager Omar Lopez can't make any guarantees about getting his guys the playing time they want, but for Eduardo de Oleo, performances like Friday night's should help him make a strong case in the future.The Astros prospect homered three times in four at-bats to power
Class A Advanced Buies Creek manager Omar Lopez can't make any guarantees about getting his guys the playing time they want, but for Eduardo de Oleo, performances like Friday night's should help him make a strong case in the future.
The Astros prospect homered three times in four at-bats to power Buies Creek to a 9-4 victory over Carolina at Five County Stadium. He tied a career high with five RBIs in just his second game of the season.
Box score
"Playing time is not coming totally from me," Lopez said. "We have a lot of players that need to get some playing time and there is a lot of distribution that we have manage. But in order for de Oleo to get that, by making noise in the way he did tonight, he's going to open more eyes and give himself a chance to get more playing time down the road."
The 24-year-old catcher, who totaled 22 home runs during his six-year Minor League career, took his team by surprise with Friday's offensive outburst.
"I didn't know much about him, at least during Spring Training," Lopez said. "And then toward the end of Spring Training when they posted the rosters, he was on my roster. So the last few days, I wanted to give him some playing time just to see what he's got.
"He shows some pop during batting practice, and tonight he was able to crush those three home runs and able to be selective of the plate, wait for his pitch and do what he did."
De Oleo and the Astros wasted little time putting the game out of reach as they batted around in the first inning and score six runs -- highlighted by his three-run homer to left field.
"When you have that type of rally in the first inning and you're able to get the starting pitcher from the opposing team out of the game, it's a plus for any team," the skipper said. "Those six runs were basically the key in the game tonight, and de Oleo set the tone there."
The native of the Dominican Republic followed that up with leadoff homers in the third and eighth innings. He struck out in the fifth.
"After he hit the second home run, every at-bat after that, our guys were in the dugout praying for another one," Lopez said. "When he finally got No. 3, I can see the reactions from the teammates getting excited about the situation for de Oleo."
Selected by the Astros in the Triple A Phase of the 2016 Rule 5 Draft in December, de Oleo slugged two homers in 69 at-bats last season across three levels. The season before, he hit three in 194 at-bats.
"He has a lot of tools," Lopez said. "He has a great arm and obviously some pop in his bat. But the thing that's probably holding him back a little is his plate discipline. Tonight, he showed some improvement and hopefully in the games he plays from now on, he'll be able to do the same stuff. If he's able to stay under control and work with his strength, he's going to be able to do some damage with his bat."
The Astros finished with 11 hits, with Myles Straw and Ryne Birk collecting two apiece.
Brewers No. 25 prospectJake Gatewood and Troy Stokes Jr. both had three hits for Carolina.
Michael Peng is a contributor to MiLB.com. Follow him on Twitter @MichaelXPeng.