Astros' Beer homers in Minor League debut
First-round pick doubles, walks, scores three runs for ValleyCats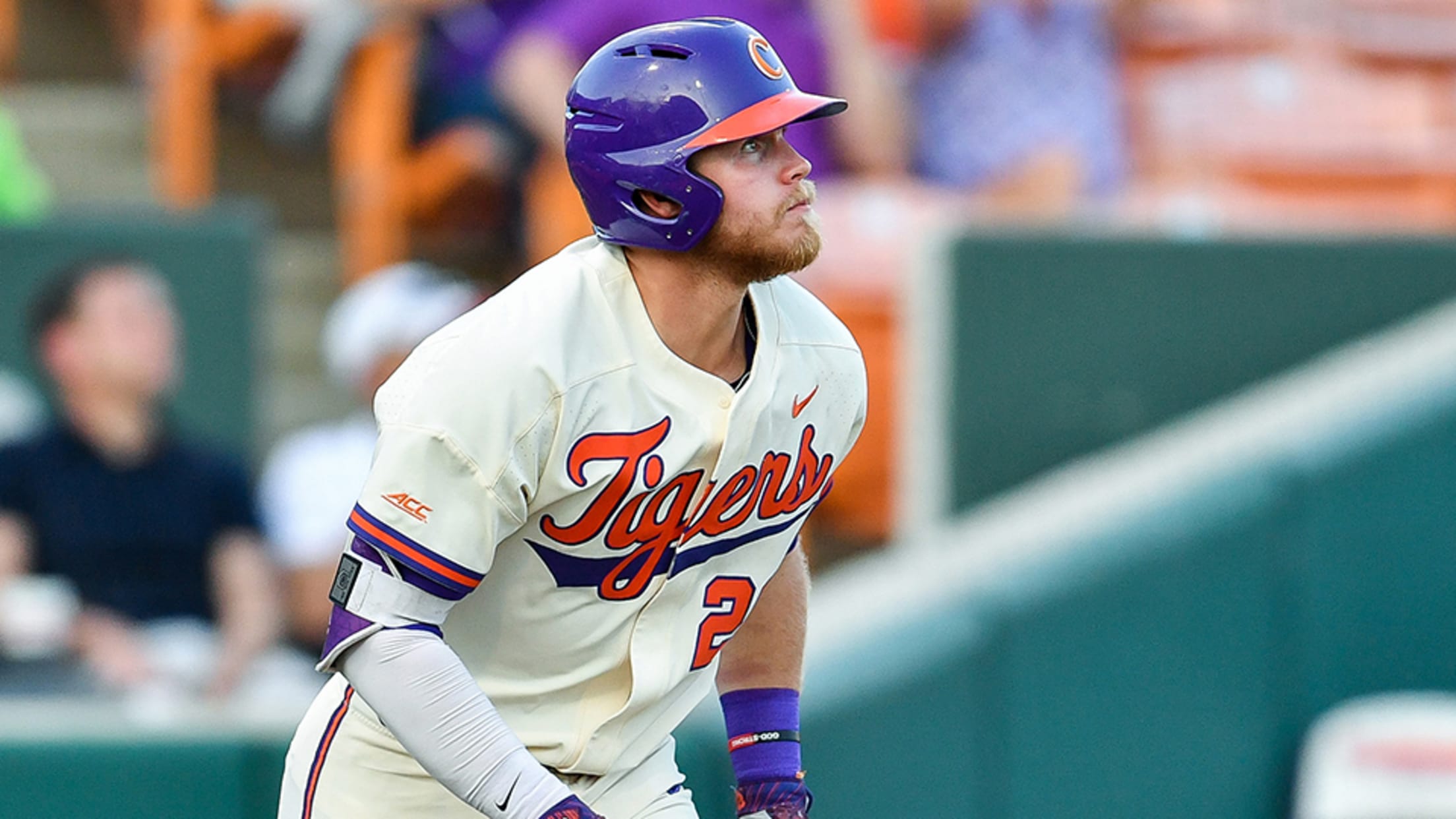 Seth Beer, who totaled 56 homers at Clemson University, went yard in his first game as a professional. (Carl Ackerman/Clemson University)
For one night, at least, Seth Beer's purported defensive shortcomings and lack of versatility didn't matter. He did what he did best at Clemson University: hit.The 28th overall pick in last week's Draft homered, doubled and scored three times in his Minor League debut on Friday, leading Class A Short
For one night, at least, Seth Beer's purported defensive shortcomings and lack of versatility didn't matter. He did what he did best at Clemson University: hit.
The 28th overall pick in last week's Draft homered, doubled and scored three times in his Minor League debut on Friday, leading Class A Short Season Tri-City to an 11-1 romp over Vermont at Joseph L. Bruno Stadium.
Gameday box score
Beer was among the Draft's most divisive prospects, with some teams reportedly wary of his body and lack of athleticism.
"I think [the negativity] drives me," he said. "I'm more than happy to go out there and give everything I have. We talked about playing left field, right field and first base, and I'm going to do anything I can to widen my [skill set]. I'll go out there early and get my work in and keep learning and working hard."
The left-handed slugger, who clubbed 56 homers in 647 career college at-bats, flied out and reached on an error in his first two plate appearances. In the fifth inning, he cracked a ball the opposite way that cleared the wall in left-center field for a two-run homer.
"I think I had butterflies," the 21-year-old said. "I was more excited than nervous to get out there and start playing. I just wanted to have fun and that's what I did.
"I was just looking for a good pitch to hit, just trying to hit the ball up the middle or in the gap. It's the same aspect and approach I had in college."
Beer also was known for his outstanding plate discipline -- he drew 180 walks in college while striking out 98 times -- and he walked in the sixth before capping his night with a double to right in the eighth.
The offensive exploits came as no surprise to Kevin Goldstein, the Astros' special assistant to the general manager.
"We drafted Seth because he was one of the premier bats in the Draft, and he just finished a college career that some would call historic," Goldstein said.
He also noted that Beer -- whom scouts say appears limited defensively even as a first baseman -- played left field in the New York-Penn League season opener.
"He played left and he played it for a reason," Goldstein said. "[But] he has more defensive flexibility than was talked about during the Draft. We're still figuring out [where he'll play], but he's a more athletic person than you think. He was a world-class swimmer and he has multi-sport ability. It's something we're going to figure out, but his bat is his ticket to the big leagues."
Beer wasn't surprised by his first defensive assignment as a pro.
"No, not really. The organization and the scouting director and our manager talked to me about that I would be playing left," he said. "And I was excited to do it -- it's a new situation and a new place."
Luis Encarnacion, who got a $1 million signing bonus from the Phillies in 2013 as an international free agent but was released in March, homered and tied his career high with five RBIs for the ValleyCats. Jeremy Pena doubled, singled and scored twice, and Kyle Davis homered and plated two.
That support was more than enough for right-hander Chad Donato (1-0), a 2016 11th-round pick from West Virginia. He allowed one run on three hits and a walk over six innings, striking out six. Luis García and Felipe Tejada combined to fan seven while yielding two hits and a walk over the final three frames.
But Beer, who crashed the college scene by hitting 369/.535/.700 with 18 homers as a freshman in 2016, had the spotlight in his pro debut, although Goldstein cautioned it won't always look so easy.
"I think there's an adjustment period for everybody. To stick with the college player metaphor, he'll face a guy with Friday starter stuff almost every night," he said.
As for the knocks on lack of athleticism, Beer brushed them away.
"I think the [talk about athleticism] started in the pool, because some people noticed I wasn't the fastest right off the bat," the former high school swimmer said. "But I worked very hard, I had a good work ethic and I can take the [criticism] as hurtful or I can use it as fuel to get better.
"At the end of the day, it only takes one team to see what they want to see. I just have to go out there and if people are on the fence about me, I'm just happy to have the opportunity and that the Astros organization has given me the trust to do it."
Vince Lara-Cinisomo is a contributor to MiLB.com. Follow him on Twitter @vincelara.