Grizzlies' White drives in six in PCL slugfest
Astros infielder goes 5-for-6; 'Topes' McMahon plates seven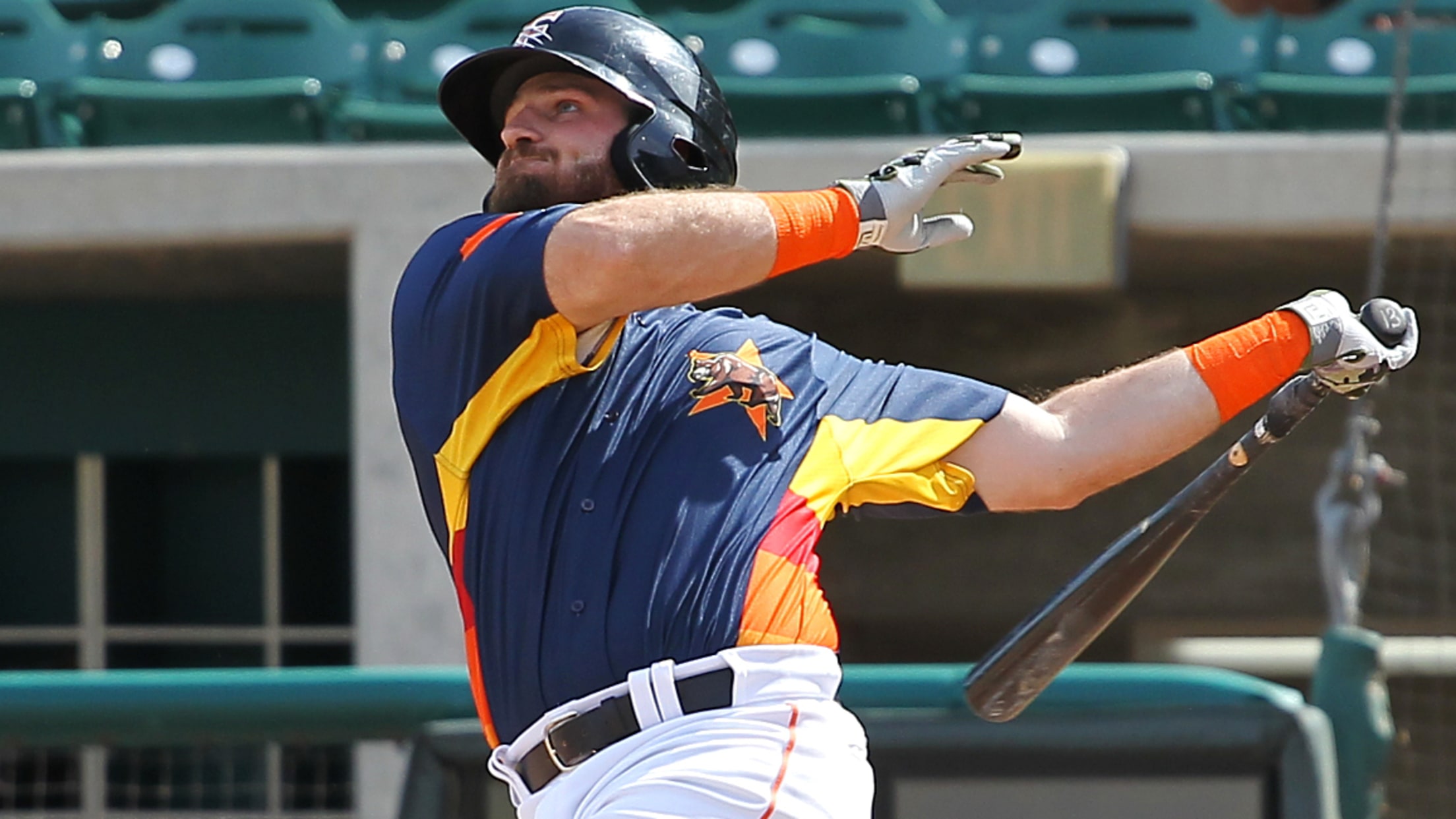 Tyler White is batting .458 with five home runs and 18 RBIs over 14 games in June. (Ben Sandstrom/MiLB.com)
Tyler White continued to sizzle at the plate as Triple-A Fresno went toe-to-toe with Ryan McMahon and Albuquerque in a wild night at the ballpark.The Astros infielder racked up five hits -- falling a triple shy of the cycle -- and six RBIs as the Grizzlies escaped with a 15-14
Tyler White continued to sizzle at the plate as Triple-A Fresno went toe-to-toe with Ryan McMahon and Albuquerque in a wild night at the ballpark.
The Astros infielder racked up five hits -- falling a triple shy of the cycle -- and six RBIs as the Grizzlies escaped with a 15-14 win on Friday at Isotopes Park. McMahon, the Rockies' fifth-ranked prospect, also went 5-for-6, homered twice and drove in a career-high seven runs.
The teams combined for 44 hits, including nine home runs.
White was hitting .247 on June 5. Since then, the 26-year-old has produced 10 straight multi-hit efforts, raising his average 60 points. With Friday's outburst, White is 26-for-46 (.565) with five homers, eight doubles, 18 RBIs and 14 runs scored during the streak.
Gameday box score
"I think it was just getting into the season and finding my swing. I stopped trying to create a new swing or do a different thing every day," said White, who is 9-for-12 in his last two games. "I just did the best I could with my swing. I settled in and started kind of doing less more than anything. Taking less swings, trying to figure things out less."
The 2013 33rd-round pick flied out to center field in the first inning, but delivered singles to right in the third and fifth. White added a two-run double to center in the sixth and launched a two-run homer to left in the seventh before finishing with an RBI double to left in the eighth.
White recorded his second career five-hit game, matching his career high set on May 6, 2014 with Class A Quad Cities. He also matched a personal best with six RBIs, which he accomplished on Aug. 26, 2014 with Class A Advanced Lancaster and Aug. 17, 2015 with Fresno.
"It was definitely a good feeling," the Western Carolina University product said. "Every hit you get is a good feeling. I was just seeing the ball well and trying to swing at good pitches."
McMahon put together his second straight game with multiple homers. The 2013 second-round pick highlighted a five-run rally in the ninth with a three-run dinger to center field that pulled the Isotopes within a run.
"He [Brian Holmes] threw a fastball over the middle and I didn't miss it," McMahon said. "Everybody was pumped. We were down by one. We all thought we were going to catch them."
The 22-year-old infielder has had a series to remember against the Grizzlies, with five homers among 12 hits and 12 RBIs in four games. Over the last two contests, he's 9-for-10 with four roundtrippers and 11 RBIs.
"It's pretty amazing what's happening," McMahon said. "I'm just enjoying the ride and just trying to keep doing what I've been doing. Definitely feeling good with where I'm at with my approach and what I'm doing in the box."
While White and McMahon posted the gaudiest numbers, there has been no shortage of offense over the last two games as the teams combined for 52 runs, 75 hits and 17 homers.
"I'm sure it's fun for the fans," White said with a laugh. "It's great. You go out there every day and you compete. That's what both teams are doing. A lead is never enough. If we were behind, we would put up runs and when they were behind they would put up runs until the very last out. It's been a lot of fun."
Astros No. 24 prospect Colin Moran went 3-for-6 with a homer and two RBIs, while Juan Centeno finished 3-for-5 with a run scored for Fresno. Reid Brignac, Jon Kemmer and Preston Tucker also went yard for the Grizzlies.
Fresno starter Trent Thornton (4-2) allowed seven runs on 12 hits -- both season highs -- over six innings.
Albuquerque reliever Shane Carle (0-3) retired two batters and surrendered seven runs on six hits with a walk and two strikeouts.
Noel Cuevas was 3-for-5 with a long ball and three RBIs, while Cristhian Adames hit one out and drove in two and. Rosell Herrera was 4-for-6 with three runs scored for the Isotopes.