Scorching Davis adds cycle to his ledger
Astros No. 9 prospect collects five RBIs, reaches base five times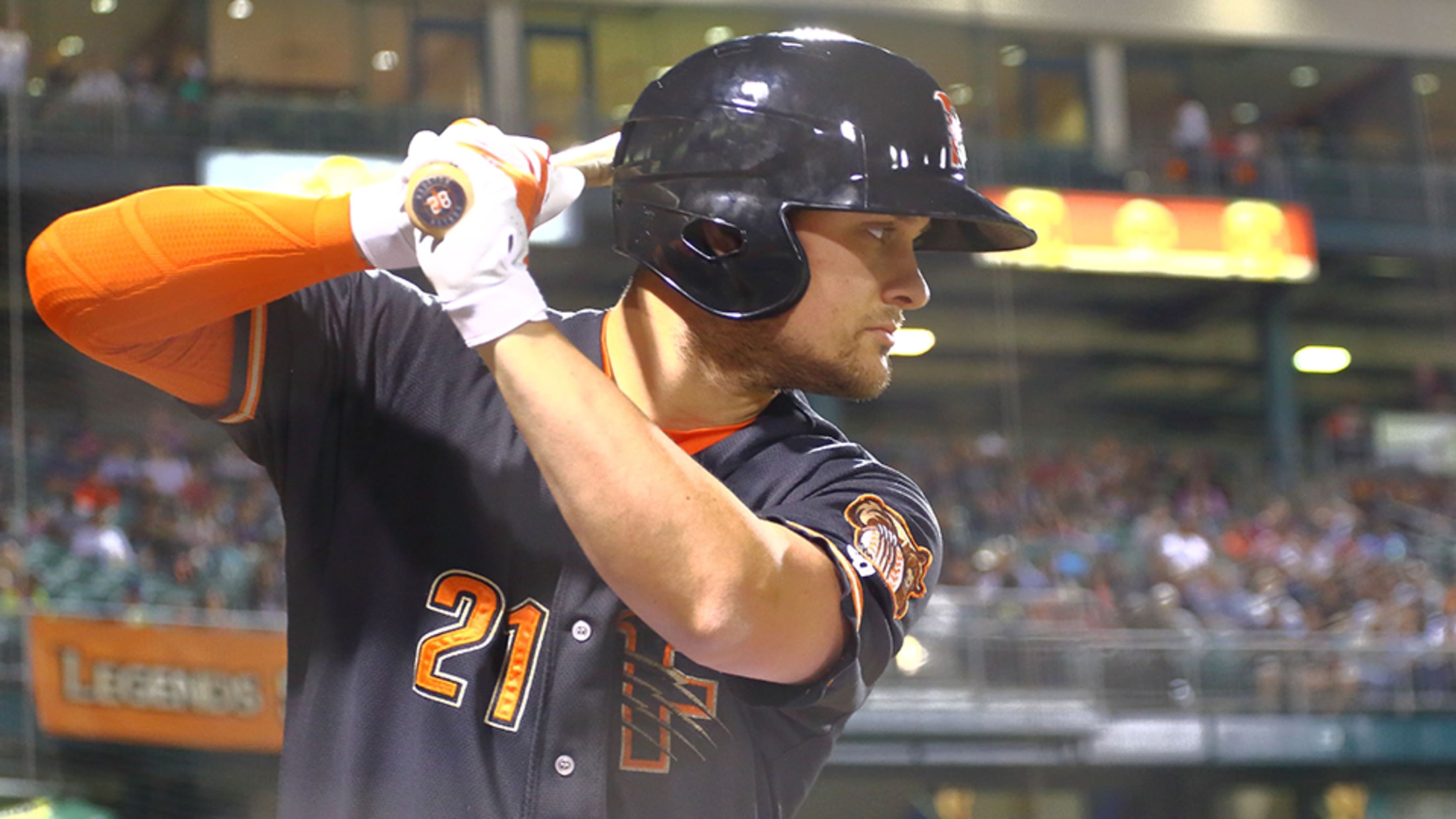 J.D. Davis is batting a Minor League-high .425 after hitting for the cycle. (Fresno Grizzlies)
There's getting off to a hot start and there's what J.D. Davis has done the first six weeks of 2018. But even he outdid himself Thursday night.Houston's No. 9 prospect hit for the cycle, reached base safely five times and drove in a season-high five runs as Triple-A Fresno outslugged
There's getting off to a hot start and there's what J.D. Davis has done the first six weeks of 2018. But even he outdid himself Thursday night.
Houston's No. 9 prospect hit for the cycle, reached base safely five times and drove in a season-high five runs as Triple-A Fresno outslugged El Paso, 9-7, at Southwest University Park. Davis led off the ninth inning with a first-pitch homer to become the third Grizzlies' player to accomplish the feat and the first since Joe Borchard on May 3, 2010. Fresno was the Triple-A affiliate of San Francisco at the time.
The Elk Grove, California native wasn't sure he was in the midst of something historic until the game was more than halfway through.
"I had a feeling, but I wasn't totally sure what they ruled [the first-inning triple]," Davis said. "I saw they scored it that in the fifth and I thought, 'Wow, now I've got a chance at this.' When I got up in the ninth, I was trying for [the cycle,] but also wanting to stay with my gameplan. It's very rare to be in that situation, but I also didn't want to get too jacked up. I got a good pitch up in the zone and didn't try to get too aggressive with it."
Davis got the Grizzlies' offense going in the top of the first inning with a two-run triple to right field. He scored the third run of the inning on AJ Reed's groundout. He walked in the third, drove an RBI single to right in the fourth and plated another run with a double to center in the seventh. Needing a homer to complete the Minor Leagues' third cycle in less than a week, Davis took El Paso reliever Kyle McGrath over the left-field fence on the first pitch in the ninth to give Fresno what proved to be an important insurance run.
Gameday box score
"I was pretty blown away," Davis said. "I was star-struck. I couldn't believe I did it as I was rounding the bases. It was really a great feeling."
His third four-hit game this month and his 18th multi-hit effort in 32 contests lifted the 25-year-old's slash line to .425/.479/.669. In addition to leading the Minors in hitting, his 17 doubles stand two off the pace of Minor League leader Kevin Smith of Lansing and Davis' 36 RBIs tied him for second in the Pacific Coast League with Salt Lake's Chris Carter. Franmil Reyes had driven in a circuit-best 38 runs with El Paso before he was promoted to San Diego on Monday.
"Every player expects this type of [production] out of himself," Davis said. "But to actually do it for this long? That's crazy. I'm really blown away at what I've been able to do this year. I've been quick to make adjustments and I've been a little more focused at the plate. Everything is just clicking for me. I almost don't like talking about it because I'm afraid I'll jinx myself."
The 25-year-old began the year in the Majors with Astros, where he batted .250 in 24 at-bats over nine games. He returned to Triple-A on April 9 and has reached base safely in all but four of the 32 contests he's appeared in for the Grizzlies. Coincidentally, Davis had been held hitless in three of his last six games, which had dropped his average from a season-high .450 on May 9.
"Having that experience in the big leagues and going through some tough situations and big moments put things in perspective," Cal State Fullerton product said. "I worked on slowing things down and on the mental side of my game. I tell myself that if things go too fast for me in Triple-A, how will I ever handle that in the bigs?"
Reed homered and drove in two runs and Antonio Nunez chipped in three hits for the Grizzlies, who pounded out eight extra-base hits.
Fresno starter Josh James allowed two runs on three hits and two walks with a season-high 10 strikeouts in five innings. Matt Ramsey (2-1) allowed a hit and a walk while fanning two in two frames to pick up the win. Brendan McCurry surrendered a run on two hits and a walk while striking out one in the ninth to notch his seventh save.
Allen Craig and Dusty Coleman hit two-run homers and Hunter Renfroe had an RBI single in his first Major League rehab appearance for El Paso. Shane Peterson doubled twice for his 1,000th Minor League hit.