Bukauskas fans six in rehab start
Astros' fourth-ranked prospect goes three innings, allows one hit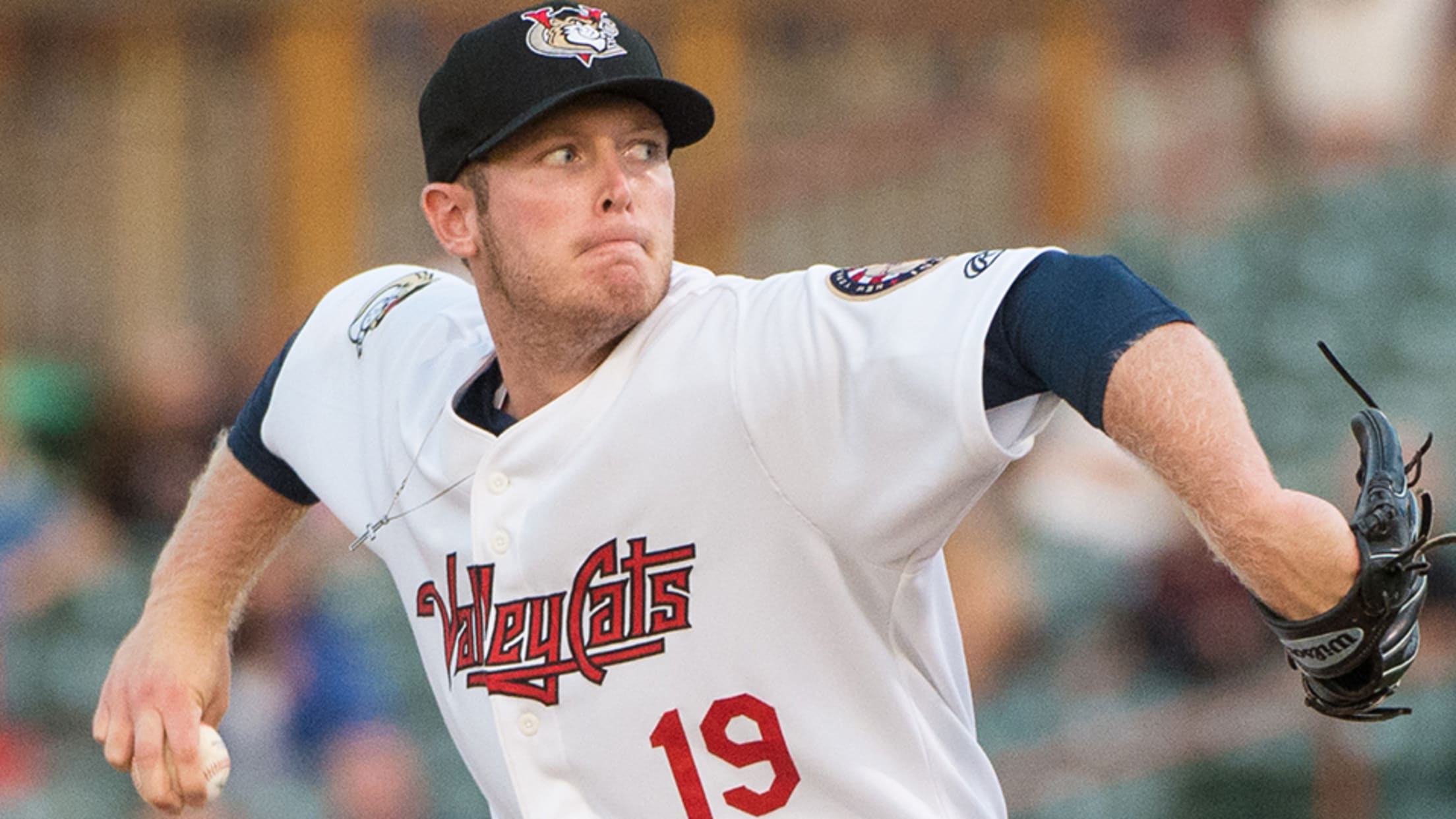 As a junior at the University of North Carolina in 2017, J.B. Bukauskas went 9-1 with a 2.53 ERA. (Greg Fisher/Tri-City ValleyCats)
J.B. Bukauskas insists he is not yet feeling 100 percent. But the hitters he faced Monday might disagree. The Astros' fourth-ranked prospect fanned six over three innings, allowing a hit and a walk, in a rehab start as Class A Short Season Tri-City defeated Aberdeen, 7-3, at Joseph L. Bruno Stadium. 
J.B. Bukauskas insists he is not yet feeling 100 percent. But the hitters he faced Monday might disagree.
The Astros' fourth-ranked prospect fanned six over three innings, allowing a hit and a walk, in a rehab start as Class A Short Season Tri-City defeated Aberdeen, 7-3, at Joseph L. Bruno Stadium.
Bukauskas has been sidelined since pitching two innings with Class A Quad Cities on April 24. The 21-year-old was involved in a car accident during Spring Training. The effects from the crash lingered, and he was eventually diagnosed with a slipped disk in his thoracic spine, he said, with nerve discomfort. The pain led him to believe it was initially an oblique issue. When an MRI dispelled that, it was off to rehab.
"I'm feeling better," Bukauskas said. "I wouldn't say 100 percent yet. Anytime you have a back injury like that it kind of lingers. I felt better than I did my last outing. I think it's just going to be building on it and try and make progress as we go."
The 2017 first-round Draft pick struck out Willy Yahn to begin the game before Robert Neustrom singled to right field. But Bukauskas whiffed Seamus Curran swinging and catcher Cesar Salazar caught Neustrom stealing second to end the first inning.
Box score
Aside from a two-out walk in the second to Dalton Hoiles, the North Carolina product struck out the other three batters he faced looking in that frame. Bukauskas retired the side in order in the third to end his outing, facing one over the minimum.
"We really focused on fastball command and throwing the breaking stuff with two strikes this past week in the bullpen," the Ashburn, Virginia native said. "I think I did a better job of that today. The results are always great, but really focused on getting healthy right now, which is the most important thing."
The way Bukauskas' body responds to the outing will be something he keeps an eye on.
"The level of soreness I feel in my ribs and my back is going to be a big sign," he said. "Like I said, it's been progressively getting better. It's just been a long process. It's something that's going to take some time to heal fully. It was giving me a lot of fits toward the beginning of the season. I think I probably didn't do it any service by keeping pitching. I think the level of soreness I feel, just staying on top of my stuff, will really dictate how I feel moving forward. The training staff and everybody here has been doing so much to help me. I've made leaps and bounds, strides, from where I was. I'm starting to feel better."
Bukauskas' first rehab start came on June 29 in the Gulf Coast League against a Cardinals squad; he allowed two earned runs on five hits over 1 2/3 innings. Last Wednesday, the right-hander pitched two hitless innings with one walk and one strikeout for Tri-City.
As Bukauskas strives to return to normalcy, he isn't sure what his next step entails but believes he will remain with the ValleyCats.
"I'm just kind of pitching when they tell me to pitch or wherever they tell me to pitch," he said. "I think I have one more start here to get back up to four innings, so I have a good foundation for wherever I go, so I can get back out there in that good routine and get back out there and not just do these kind of rehab starts -- these two, three-inning starts. I want to keep building, get stronger, and make sure I can help whatever team I'm with."
The 6-foot, 196-pound prospect was pleased with the way his breaking pitches performed Monday and felt a greater sense of confidence following the outing.
"I think the issues I was having prior to this outing was trying to do too much with it and kind of not really trusting the pitch," Bukauskas said. "But I've been working a lot with our pitching coaches and just trusting the [breaking pitches] and trust it in the zone, then work it from there. But we also have been talking about using the changeup a lot more, and I think that will be beneficial as well."
Astros No. 22 prospect Gilberto Celestino went 4-for-5 with a double and two RBIs. The 19-year-old is hitting .366 on the year and has a five-game multi-hit streak. He has 13 hits over his last 22 at-bats with seven runs batted in during that span.
Chris Bumbaca is a contributor for MiLB.com based in New York. Follow him on Twitter @BOOMbaca.