Astros Prospect Primer: Tucker knocking
Talented outfielder ready to burst on scene for defending champs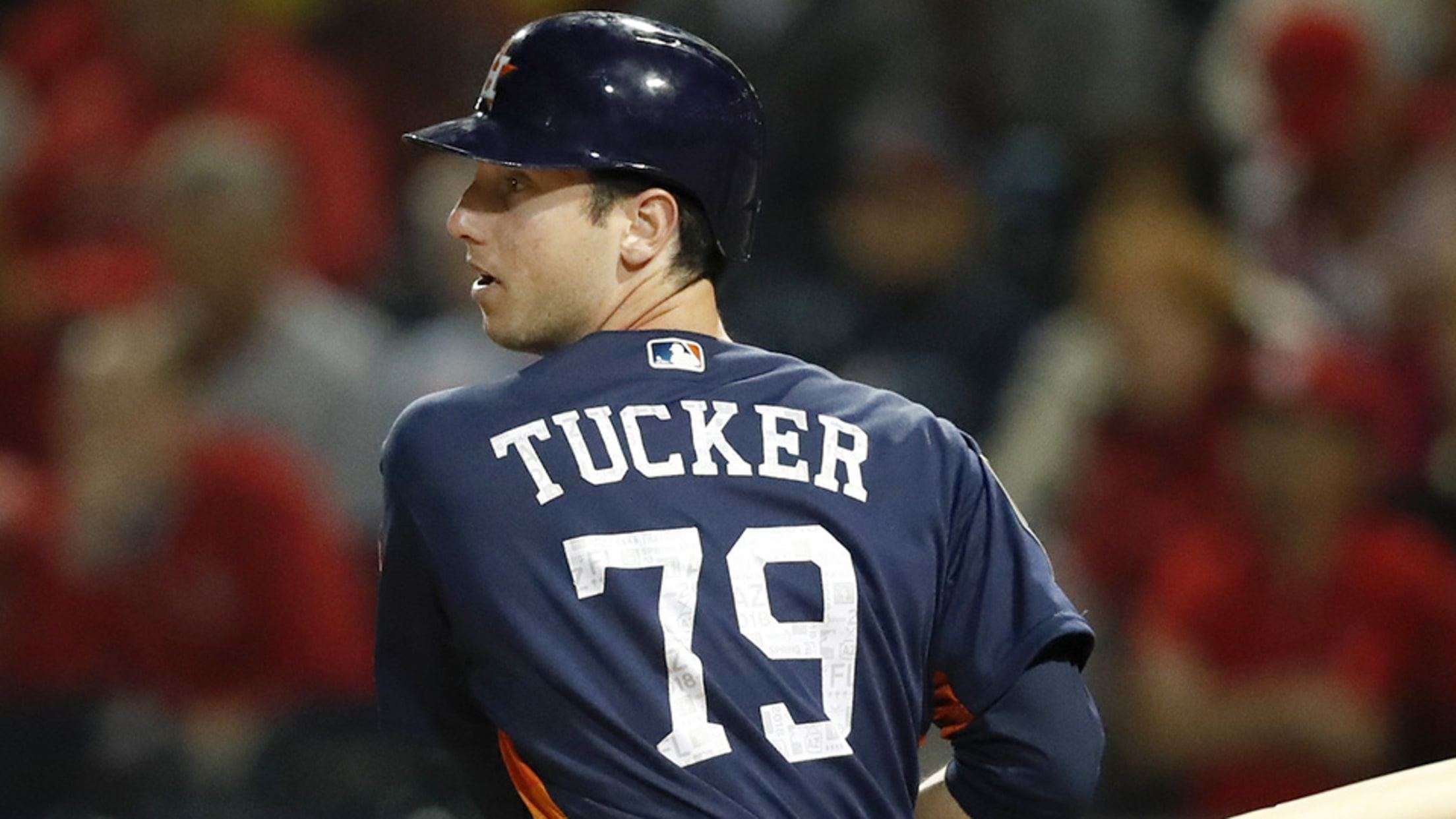 Kyle Tucker was reassigned to Minor League camp on March 18 after an impressive Grapefruit League campaign. (John Bazemore/AP)
Some players are on the verge of stardom, others are entering a crucial phase of their development and still others are getting their first tastes of full-season ball. With the 2018 season approaching, MiLB.com takes a look at the most intriguing prospects from each MLB organization.Shining star: Kyle Tucker, OFMLB.com's
Some players are on the verge of stardom, others are entering a crucial phase of their development and still others are getting their first tastes of full-season ball. With the 2018 season approaching, MiLB.com takes a look at the most intriguing prospects from each MLB organization.
Shining star: Kyle Tucker, OF
MLB.com's No. 16 overall prospect picked up a new nickname this spring and instead of getting one more worthy of a playground -- like most 21-year-olds in a Major League clubhouse would -- Tucker's new moniker is actually quite flattering.
You can call him Ted.
The big leaguers became so enamored with Tucker's easy left-handed swing that they took to naming him after Hall of Fame left fielder Ted Williams. (Tucker just goes by Ted, though. No last name. Like McLovin, according to Lance McCullers Jr.) It's hard to blame them after the organization's No. 2 prospect hit .425/.455/.800 with four homers in 18 games during his first invite to Major League Spring Training. But even though that was a small sample, it marked the continuation of a strengthened professional resume for the 2015 first-rounder. Tucker hit .274/.346/.528 in 120 games between Class A Advanced Buies Creek and Double-A Corpus Christi last season and his home run total jumped from nine in 2016 to 25. With 21 steals added in, he's one of the toolsier outfield prospects in the game entering 2018.
The Astros know exactly what they have in Tucker, beyond the nickname.
"No. 1, he's real explosive," said Astros director of player development Pete Putila. "He's a taller, lankier guy, but he runs well. It shows up in his swing. Even if they're able to bust him inside, he can pull his hands in quick. He's got a natural ability to make contact. You couple that with the power he has, and it's a real good package there. Last year at Corpus, he made some adjustments at the plate in terms of his approach, trying to be more selective, trying to be calm instead of taking hacks every time. I think he's one of those guys that can cover a lot of the zone and outside of the zone, which can be a blessing or a curse depending on how you see it. As he moves up the levels, that'll be a thing that'll dictate how well he can do. We know he can hit everything. But to hit it for power, we have to make sure he's staying in the zone."
Tucker's ascendance may be coming at a perfect time. The Astros are arguably weakest in left field, where Derek Fisher and Jake Marisnick are likely to get time to begin the season until Yuli Gurriel's return from injury and suspension opens up Marwin Gonzalez to enter the mix. Those are a lot of options, but none have the ceiling of Tucker. Putila said Tucker is a candidate to begin the season at Triple-A Fresno, and even if he does end up back in Corpus for a brief spell to find his footing in April, the organization expects him to push the envelope quickly upon his arrival to the Pacific Coast League.
"Given the way the ball flies in that league, I'm sure he'll do really well there," Putila said.
Full-season debutant: J.B. Bukauskas, RHP
There was a time when Bukauskas was in the conversation for being the top right-handed college pitcher entering the 2017 Draft. MLB.com had him as high as seventh overall on its Draft board going into June. But the University of North Carolina slipped to the Astros at No. 15 when he struggled down the stretch with the Tar Heels, notably allowing six earned runs on six hits and four walks in 3 2/3 innings in a NCAA regional loss to Davidson on June 2.
The Astros gave him minimal work in the Gulf Coast and New York-Penn Leagues but came away not worried about the late collegiate drop in results from their first-rounder. Bukauskas has been praised for his mid-90s fastball and his 65-grade slider, and those alone should give him a solid foundation over a potential 120-inning season in the mid-Minors. But Houston has focused on improving the direction of Bukauskas' energetic delivery as well as his development of a third pitch, and they believe those improvements will serve him best as he begins his pro career in earnest.
"Obviously, the fastball is there, but he made some big strides with his changeup, which is a pitch he didn't really use as much," Putila said. "It's a real weapon. He was working on that with pitching coach Bill Murphy and Josh Miller, our pitching coordinator gave him a good plan for the offseason. As with most college pitchers, that's the most they've pitched in their lives. We're looking forward to seeing him out there. The biggest thing will be honing in the zone because his stuff will play in the strike zone. It's a matter of pounding the zone. We're excited to get him going. Often, you'll see guys come back for their first full season, coming off a really full offseason to prepare, and you see a bigger jump."
Major League-ready: J.D. Davis, 3B/1B/OF
This is a little too easy, given the news over the weekend. The Astros have already announced their No. 9 prospect cracked Thursday's Opening Day roster, but that was no formality. Davis had to hold off Tyler White and A.J. Reed for potential playing time at first base with Gurriel's expected time off. He hit .373/.397/.678 with five homers and three doubles in 22 games to do so. He'll also serve as a backup to Alex Bregman at his natural position of third base and might continue to get looks in left field, where his plus arm could play a large role.
This is a much better start to 2018 than the one Davis received in 2017. Despite posting an .818 OPS in 126 games at Double-A in 2017, the right-handed slugger was sent back to Corpus Christi to begin last season because of a logjam at the hot corner. Despite some issues with his assignment, Davis hit 21 homers in 87 games back with the Hooks, prompting a promotion to Fresno in mid-July and a Major League debut on Aug. 5. Though he didn't make the postseason roster after 24 games with the big club, Davis made enough of an impression that the Astros felt comfortable dealing fellow third baseman Colin Moran to the Pirates in the package for Gerrit Cole this offseason. Part of that impression came down to Davis' willingness to go with the flow 12 months ago.
"He was chomping at the bit to go to the next level, but he's a professional and understood the situation," Putila said. "He just kept raking at Corpus and ended up with 44 homers over two years and then got the callup and then got the other callup probably earlier than anyone expected to the Major Leagues. It's just a credit to his attitude that he maintained instead of dogging it at a level that he'd dominated the year before."
It's unlikely that Davis, who has shown above-average power everywhere he's played, will be up long to begin 2018 after Gurriel is healthy and no longer suspended, and as good as his bat is, his ability to return quickly might come down to how he handles increased reps in left and first.
"He's got a great arm," Putila said. "We're just continuing to work on footwork and quickness with him. Offensively, just making sure he's consistently in a good place to hit and make more contact because the power is real with him. Once he starts to quiet things down and gets his barrel through the zone, I think he'll be fine."
At the crossroads: David Paulino, RHP
The further away Paulino gets from his 2017 the better. The Astros' No. 8 prospect only threw 43 innings between Fresno and the Majors, largely because of an 80-game suspension beginning on July 1 for a positive test of the PED Boldenone. He was eligible to return on the last day of the Major League season, but underwent surgery to remove bone spurs in his right elbow. Paulino's time on the field wasn't memorable either -- he allowed 21 earned runs in 29 Major League frames over six starts.
A consensus Top-100 prospect at the beginning of last season, Putila expects him to rebound and work his way into the starter conversation, particularly on the strength of his fastball, plus curveball and above-average control. The pieces are all there for Paulino to get at least a look in the rotation, but after missing so much and struggling so mightily in the time he did get at the highest level, it could be an uphill battle for him in 2018.
"That's a big goal for all the pitchers we have with the exceptions of college guys we draft to be relievers all the way up. You look at the names in the Major League rotation we could lose in the next two years, and it becomes a priority for us to develop starters," he said. "He's made huge strides. He's finally fully healthy. ... I think he's going to have a big impact on our Major League roster this year. You always use more than the five starters every year. He's ready, and we're excited for him."
Loudest tool: Jorge Alcala, RHP
The Astros seventh-ranked prospect made at two full-season affiliates last season, putting up some nice numbers between Quad Cities and Buies Creek: a 3.05 ERA, 1.06 WHIP, .188 average-against, 95 strikeouts in 109 1/3 innings. But there were a few numbers that were a little more eye-popping.
"I think every start after past May 15, he hit 100 mph as a starter and touched 102 a couple times. It sits 98," Putila said.
People are starting to take notice of the 22-year-old right-hander, who initially signed for $10,000 out of the Dominican Republic. Alcala climbed from No. 29 in the Astros rankings at the start of the 2017 season to his current spot in the top 10. The biggest improvement has been in the control department, he went from a 1.05 K/BB ratio in the Dominican Summer League in 2015 to 2.11 last season. The strikeout totals may not have been as crazy last season as his velocity alone indicates, but the Astros are confident Alcala can be a pitcher who's known for something more than just a plus-plus fastball.
"His slider is 88-92," Putila said. "He's got a changeup that he likes to throw, which is a rare for a guy that throws that hard. Usually, they like to overpower guys. He's one of our hardest workers. He's got laser focus to his work. He keeps improving. In the DSL, he couldn't throw a strike. Our staff has worked really well with him, and now it's just trying to refine things like throwing to the bottom of the zone. Guys like him have huge opportunities."


More to keep an eye on: As good as Tucker is, right-handed pitching phenom Forrest Whitley remains the top prospect in the system and would have topped the Prospect Primer under normal circumstances. However, he's been suspended for the first 50 games of the season for an undisclosed violation of the Minor League drug policy and will be held back at extended spring training on Opening Day to build up for his eventual return to Corpus Christi sometime in May. The Astros aren't worried about how the time off will affect the 20-year-old's potential development. "He's more motivated than ever to prove himself," Putila said. ... No. 12 prospect Rogelio Armenteros showed signs of brilliance in camp, and after posting a 2.04 ERA in 123 2/3 innings at Double-A and Triple-A last season, he might not have much less to prove before he gets a shot in Houston's already crowded rotation. The right-hander relies on impressive control, and Putila praised him as "one of our best true pitchers." ... Yordan Alvarez will continue to split time in left field and first base in his second full season in the system. The Astros are big believers in his power potential and have made getting the ball off the ground and into the air a priority for the 20-year-old.
2018 organization predictions:
Most home runs: Alvarez
Most stolen bases: Myles Straw
Most strikeouts:Corbin Martin
Current prospect to get most Major League playing time: Tucker
Non-Top 100 prospect to end 2018 in the Top 100: Alvarez
Sam Dykstra is a reporter for MiLB.com. Follow and interact with him on Twitter, @SamDykstraMiLB.