Koplitz helped league go out in style
Right-hander's dominant 23-3 season in '61 included no-hitter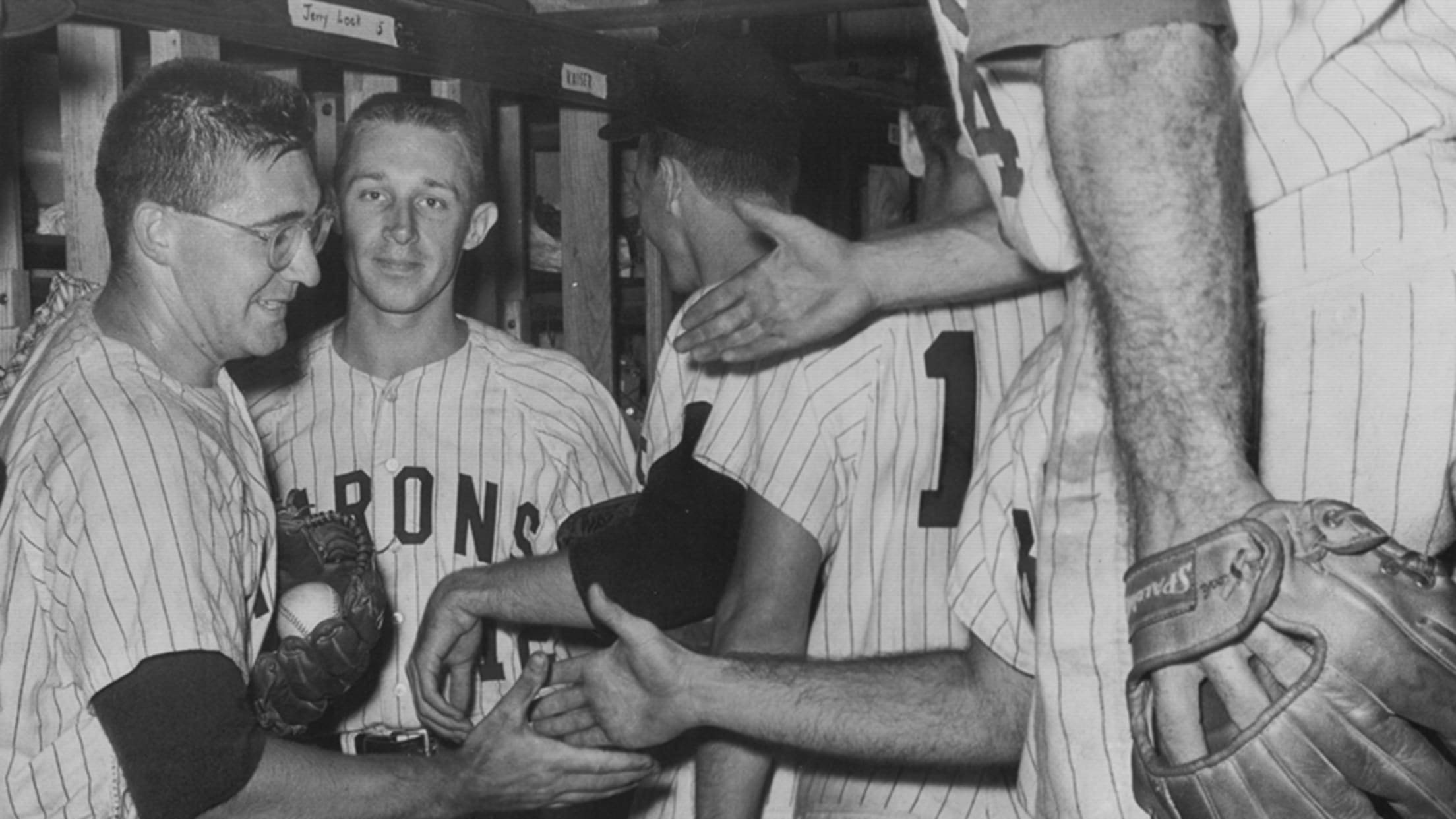 Howie Koplitz is congratulated after pitching a no-hitter for Birmingham on July 1, 1961. (Courtesy of Howie Koplitz)
Minor League Baseball is known for its rich history,dating back more than 100 years. While much has been written about the best teams and top players who have graced the Minors, there remain many stories either untold or largely forgotten. Each week, MiLB.com will attempt to fill that gap and
Minor League Baseball is known for its rich history,dating back more than 100 years. While much has been written about the best teams and top players who have graced the Minors, there remain many stories either untold or largely forgotten. Each week, MiLB.com will attempt to fill that gap and explore these historical oddities in our "Cracked Bats" feature.Know of any stories to be considered for this feature in the future? Send an email and let us know.
The Southern Association was on life support in 1961, gasping as it approached the end of its 60-year run as one of the most recognizable and dominant Minor Leagues. While the circuit disbanded once the summer of '61 was in the books, one player stood out enough to make the end of its often-significant existence notable one last time.
Howie Koplitz, an unassuming right-hander from Oshkosh, Wisconsin, dazzled the Southern Association that season, becoming the league's final 20-game winner en route to registering one of the most talked about Minor League campaigns of the early '60s. Koplitz posted a remarkable 23-3 record with a 2.11 ERA for Birmingham and was named Southern Association MVP and Minor League Player of the Year by The Sporting News.
Koplitz fanned 166 batters over 230 innings, walked only 75 and recorded an eye-popping 19 complete games. His .885 winning percentage was the sixth-highest in league history, and he also threw the final Southern Association no-hitter, shutting down Mobile in July. It was the first no-hitter at historic Rickwood Stadium since 1917.
"I don't look at myself as a person with a big ego," Koplitz said. "So I hope when I discuss the '61 season, it doesn't come across that way. But when you talk about peaks and valleys, the 1961 season was one big peak. The part that was hard to understand was the consistency of the whole year. For a pitcher, that's kind of uncommon. Every time I went to the mound, I took the same stuff.
"My two-seam fastball was sinking real good, and if I wanted to go upstairs, the four-seamer had that extra hop on it. My breaking pitches also had a tighter rotation, which gave them a sharper break. And I was throwing more strikes with them. I never had a real good curveball, but my slider was exceptional all year. It didn't matter to me who was hitting, I felt like I was better than he was. What a joy to pitch a whole year in that mode."
Koplitz also pointed to his palm ball, a pitch seldom seen these days, as the source of much of his off-speed success. The sink on the pitch was exceptional, complementing his already solid control. So as the season progressed and it became apparent that he was hot, Koplitz said he became more aggressive with opposing hitters.
He reached one of his many high-water marks on July 1, when he no-hit Mobile. Koplitz called the game "icing on the cake" for his season. What made the outing even more special for him was the fact that fellow Oshkosh native Larry "Dutch" Rennert, a future Major League umpire, was working the game on the bases.
"Heart is what Koplitz has got," Birmingham manager Frank Skaff told The Morgantown Post after the no-hitter. "He hit a popup to short at one point. He knew he had a no-hitter going with a seven-run lead. He was tired because it was very hot. How many guys would have run that ball out? But he did. He ran like a champion and made it to second when the ball fell out of the shortstop's hand."
Everything, it seemed, was going right for Koplitz that summer. Shortly after the no-hitter, when the club was home, legendary Alabama football coach Paul "Bear" Bryant showed up at Rickwood, hoping to see Koplitz pitch.
"He said he came to check out the Koplitz kid," Koplitz said. "The Birmingham paper got a hold of that and they had a nice piece the following morning with Coach Bryant saying some complimentary things about me. That's one article I'll never lose. My buttons were popping."
The Tigers, who'd signed Koplitz out of Oshkosh High School in 1956, were pretty happy, too. They called him up to the big leagues at the end of that season, and he went 2-0 with a 2.25 ERA in four games. In fact, Koplitz is one of only two pitchers -- Yusmeiro Petit did it for the Marlins in 2006 -- in the last 76 years to win his first Major League start after allowing at least four runs in the first inning.
Minnesota touched him up for four first-inning runs, but he rebounded and pitched five innings to earn the victory on Sept. 30, 1961. Koplitz appeared in 16 more games over the next two years and gained some more distinction by going 7-0 before losing his first career decision in 1965 with the Senators, who claimed him in the Rule 5 Draft following the 1963 season.
Koplitz appeared primed for a big season in 1966 but blew out his shoulder in Spring Training. He pitched one more Major League game before retiring.
"It was Spring Training and I was the mopup man in the bullpen on a cold, windy day in Florida," he said. "I wasn't supposed to pitch unless one of the other pitchers got in trouble. Sure enough, 'Koplitz get ready.' I went to the bullpen mound and the wind blew me off. That was hardly a good sign.
"I should have told someone right there I couldn't get loose. But I figured for one inning I could get by. Bad decision. One of the first pitches I tried to force, and it felt like a hand grenade went off in my shoulder. I knew right away there was no repairing this. Maybe now, but not in 1966."
Koplitz accepted a position with the postal service following his exit from baseball and remained there until he retired. He still lives in Wisconsin with Karen Koplitz, his wife of 45 years. He calls her "the glue that keeps us all together." The couple has five children: Jeffrey, Kelly, Michael and twins Julie and Jaime.
The old hurler has remained active, coaching in Little League and helping out with field maintenance. Koplitz remains quite the celebrity and still has people writing and calling, asking him to autograph baseball cards from time to time.
While he never quite achieved the stardom many expected following his 1961 season, he certainly helped bring the Southern Association's history to an end in grand fashion.
Kevin T. Czerwinski is a reporter for MiLB.com.