IL notes: Irvin brings attack mentality
Phillies No. 10 prospect among IL leaders in WHIP, ERA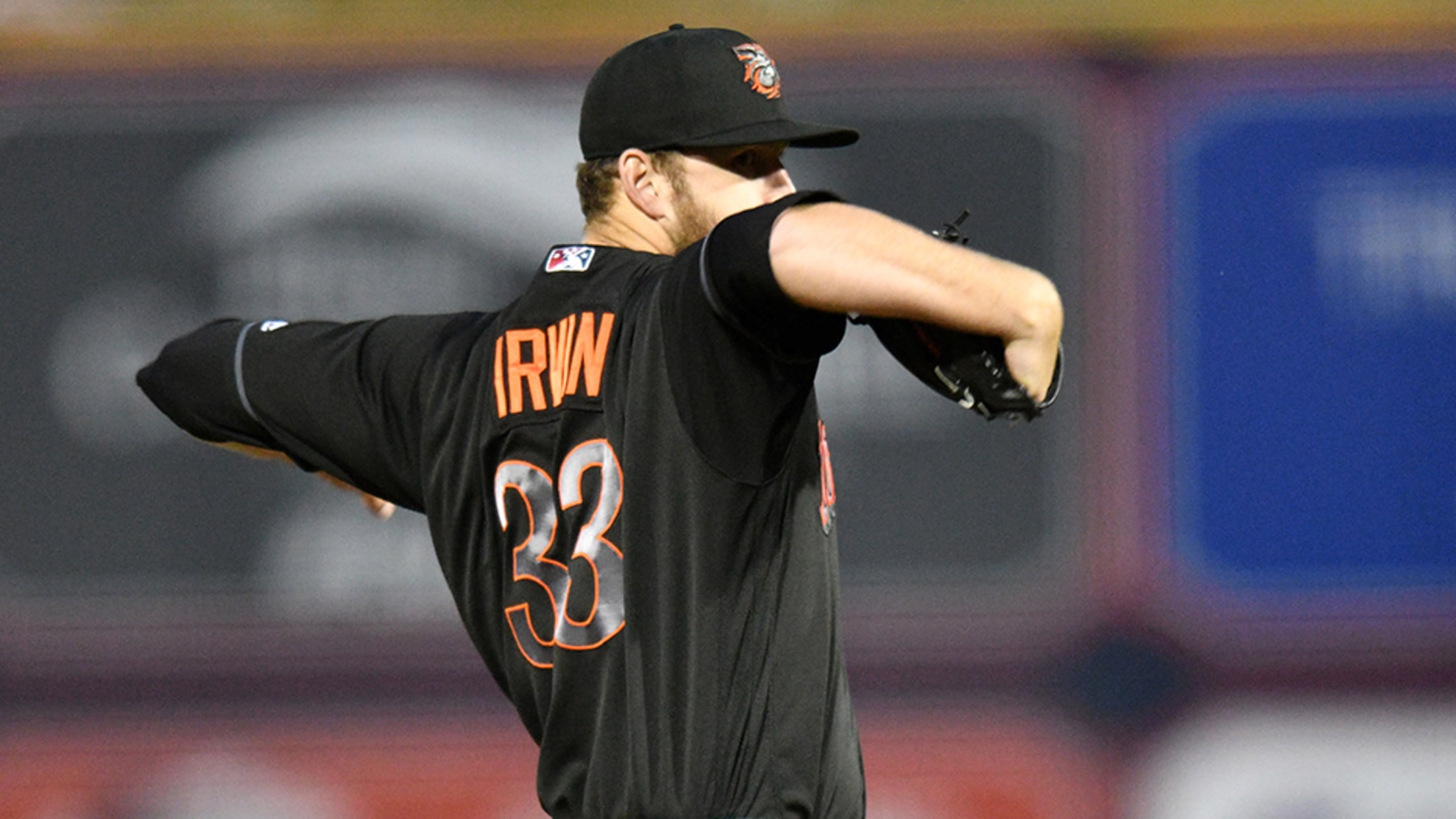 Cole Irvin has given up one earned run or fewer in 11 of his 21 starts for Lehigh Valley. (Ken Inness/MiLB.com)
While Lehigh Valley left-hander Cole Irvin grew up in California, he looked to the east when picking some of his baseball pitching idols."I grew up watching guys like [Cole] Hamels and Cliff Lee," Irvin said. "I watched them throw strikes and have good fastball and changeup command, which allowed them
While Lehigh Valley left-hander Cole Irvin grew up in California, he looked to the east when picking some of his baseball pitching idols.
"I grew up watching guys like [Cole] Hamels and Cliff Lee," Irvin said. "I watched them throw strikes and have good fastball and changeup command, which allowed them to throw to both sides of the plate and disrupt a hitter's timing."
That should be exciting for Phillies fans, since Irvin -- the 10th-ranked prospect in the organization -- is hoping to emulate two of his favorite pitchers as he climbs the ladder toward the Major Leagues.
The 6-foot-4, 180-pound southpaw has looked like those outstanding Philadelphia pitchers from the past this season. He's 10-3 and ranks fourth in the IL with a 2.77 ERA in 21 starts.
But IronPigs manager Gary Jones said Irvin's success is about more than numbers.
"He's a very competitive guy," Jones said. "He wants the ball every fifth day, he's not afraid of contact and he's very aggressive -- he attacks the hitters. That's a recipe for some success."
Do not misunderstand: The numbers also point to success. His average of 1.87 walks per nine innings is tops among IL starters as is his ratio of 9.97 baserunners per nine innings.
But Irvin said he doesn't "give in" to batters when he falls behind in the count, instead trying to pitch to a plan.
"In any given count, I think you should be able to throw any of your pitches for a strike," he said. "And you want to throw a quality strike, not just a strike. … I just want to throw strike one, win all the 1-1 counts and use my change and curve in 3-2 counts."
For those who think Irvin is feasting against left-handed hitters, think again: right-handed batters are hitting .241 against him.
"There's something to be said for left-handers who, even though they only throw 89-to-91 mph, know how to pitch," Jones said. "They can use their changeup, can use their off-speed pitches when [they're] behind in the count, and that's what he does.
"There's also a little deception in Cole's delivery because hitters don't get good swings off him. Every once in a while, you'll see a hitter barrel him up, but most of the time he doesn't get squared up."
And as for strikeouts? Irvin ranks fifth in the league with 110 over 130 innings. But getting punchouts is not his focus.
"When I'm throwing at my best, I'm up and in on a guy's hands, but I'm also executing pitches down and in as well," he said. "And I can extend the fastball off the plate as well. Then I mix in my slider and my curveball and throw a changeup -- and I think all of my pitches are a weapon. And while I know I might be able to throw a no-hitter, I'm just trying to get guys out as quickly as possible. Hitters get themselves out more than I strike them out."

In brief
Three-for-all:
When June ended, Scranton/Wilkes-Barre SS
Abiatal Avelino
had two triples in 32 games. But once the calendar flipped to July, he flipped the script and has collected four triples in his last 25 contests. The 23-year-old native of the Dominican Republic is batting .272 with four homers and 34 RBIs and is tied for the IL lead with six triples in 57 games.
The stars align:
Durham RHP
Ryan Weber
pitched well before the All-Star break, going 5-3 with a 2.23 ERA. But after the break, the 27-year-old has reached back for something extra and has a 1.96 ERA in four starts. The Bulls have won three of those four starts, during which he's struck out 20 over 18 1/3 innings. For the season, Weber is 6-4 with an IL-leading 2.17 ERA.
He said it:
"Just same old, same old. This is my fourth organization. [I just try to] get to know the guys and just be myself. Kind of quiet, I guess. They're good people and it's a really good team and a really good clubhouse." --Buffalo OF
Billy McKinney
to
The [Wilkes-Barre] Times Leader
after he was traded from the Yankees to the Blue Jays. McKinney, who hit .235 in his first 10 games with the Bisons, also has played in the Cubs and A's systems.
He said it, Part II:
"I'm just trying to stay as sharp as possible and ease back into an extended pitch count. It's a tough spot throwing only 15 innings in all of July. That's what some relievers do, but I'm not complaining one bit. If the phone rings, I have to be ready." --Columbus RHP
Adam Plutko
to the
Columbus Dispatch
. Plutko was limited to 10 innings with the Clippers last month because he was promoted to Cleveland, where he threw five innings. On the season, the right-hander is 5-3 with a 1.96 ERA in 12 starts for Columbus.
John Wagner is a contributor to MiLB.com