I-Cubs' Davis plates career-high six runs
'Camera guy' collects four hits, shows he's more than gimmick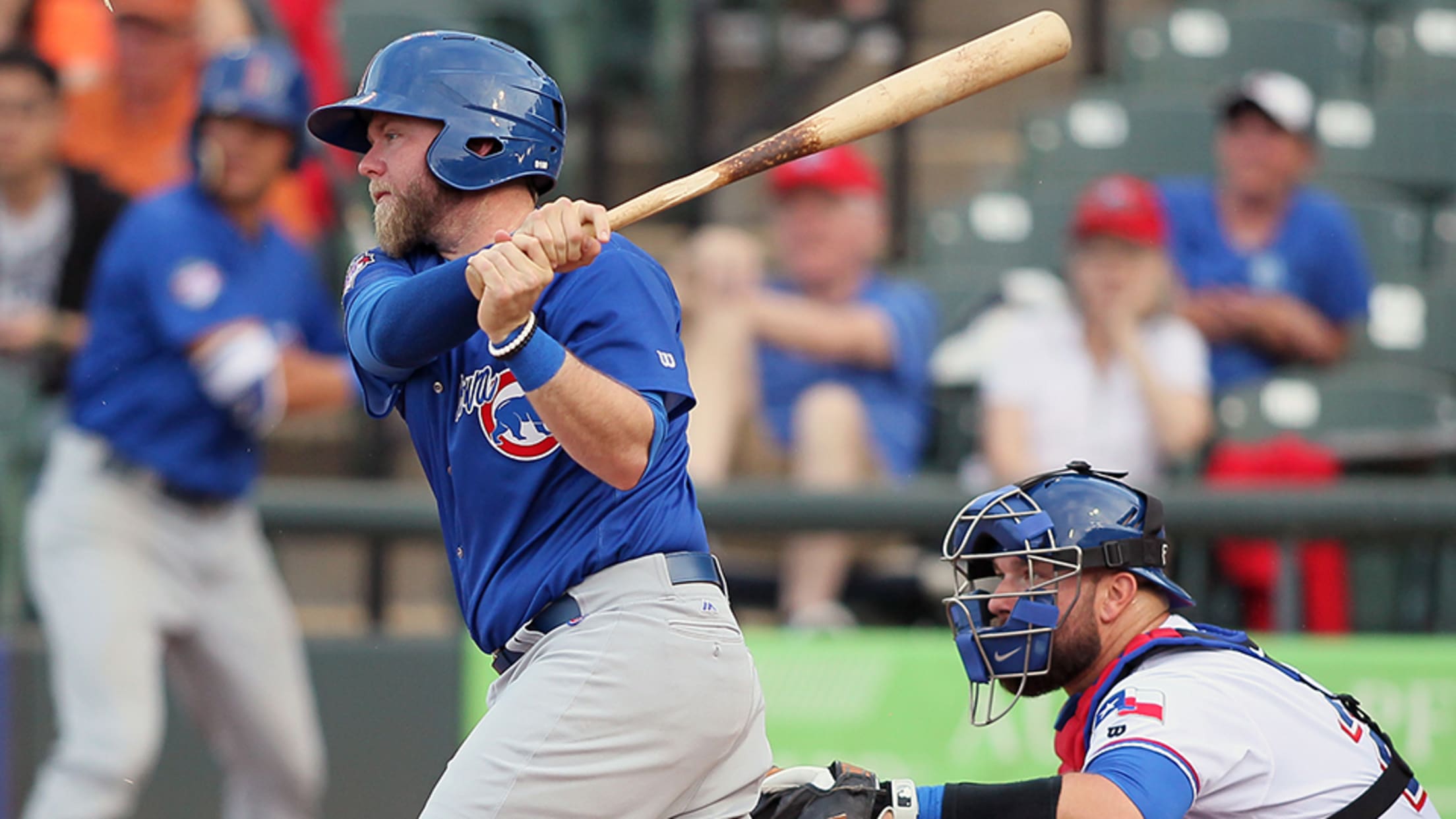 Taylor Davis was hitting just .128 in his previous 10 games before Friday night's outburst. (Jim Redman/MiLB)
Taylor Davis might be best known for his viral video antics. On Friday, he showed he's more than a Twitter meme.
Taylor Davis might be best known for his viral video antics. On Friday, he showed he's more than a Twitter meme.
The 28-year-old catcher set a career high with six RBIs and tied a personal best with four hits, leading Triple-A Iowa to a 13-3 romp over New Orleans on Friday at Principal Park.
Davis has been a solid performer in the Minors, posting a .760 OPS over an eight-year career. But he'd never had a night like Friday.
"I had one similar in college. I believe it was a nine-RBI game [in 2010 for Morehead State]. It's the only home run that I ever pimped, except that it hit off the wall. The bases were loaded and not all the runs scored, so I didn't get the school record because I pimped it," he said.
"So I had nine RBIs, but I got yelled at for pimping it. It was a fun day."
Prior to Friday -- and probably even after Friday, Taylor would admit -- he'll be best known as the guy who stared into the camera before and during games.
ICYMI: Find someone who looks at you the way @IowaCubs catcher Taylor Davis looks at the camera 👀 pic.twitter.com/bdTjyWbZW2

— Minor League Baseball (@MiLB) August 31, 2017
It started innocently enough and, to hear Davis tell it, it had so much momentum he couldn't stop it if he wanted to.
"You know, a guy who now plays with Reno, [Kristopher Negrón], he did it a couple of times, but he moved on and I started doing it last year and the bullpen loved it, so I just kept doing it," he said. "A month in, before a game, [general manager Sam Bernabe] came to me and said, 'Are you going to keep doing it?' And I said, 'I guess this is a thing now."
Not that Davis objects to anything that injects fun into the game. The backstop laughed as he talked about his talk show with reliever Michael Roth called "Michael and the Mayor."
Roth is Michael, of course, and Davis is the Mayor because of all the time he's spent in Des Moines. He's played for the Cubs' Triple-A affiliate parts of the last four years.
"It's kind of a cross between 'Regis and Kelly' and 'Between Two Ferns,'" the backstop said. "We've even got a couple of sponsors."
The talk show is not named after the popular New York radio show "Mike and the Mad Dog," Davis said, adding that he came up with the name "on the spot."
But after a couple of episodes, the duo has run into some drama: Roth was traded to Texas on Friday. Still, Davis plans to keep the show going and might even keep the name, hinting he's already secured a new partner. While he didn't name him, Mike Freeman seems like the natural choice.
Gameday box score
"Anybody that gets baseball, they'll love it. It's just fun," Davis said.
Davis' big game came despite the Cubs finishing a long travel day that began at 3:30 a.m. in Round Rock. The team did not arrive in Des Moines until 4 p.m., about three hours before Friday's first pitch.
Davis said the travel is not extraordinary for the Pacific Coast League.
"It's just pretty standard at this point. You kind of sign up for it," he added. "I think there's a give and take with everything. But I love the cities we go to in the PCL. Obviously, I'd love to be in the [Majors], but if I'm going to be in Triple-A, I want to be in the [PCL] because of the cities we're going to."
Davis had plenty of help Friday as Efren Navarro went 4-for-4 with two doubles, while Cubs No. 13 prospectMark Zagunis, 14th-ranked David Bote and Jacob Hannemann knocked out two hits apiece.
No. 11 prospect Jen-Ho Tseng (2-4) walked six over six innings but allowed three runs on two hits while striking out two for the win.
Vince Lara-Cinisomo is a contributor to MiLB.com. Follow him on Twitter @vincelara.