Newest Hall of Fame class enjoyed grind
Guerrero, Hoffman, Jones, Thome reflect on time in the Minors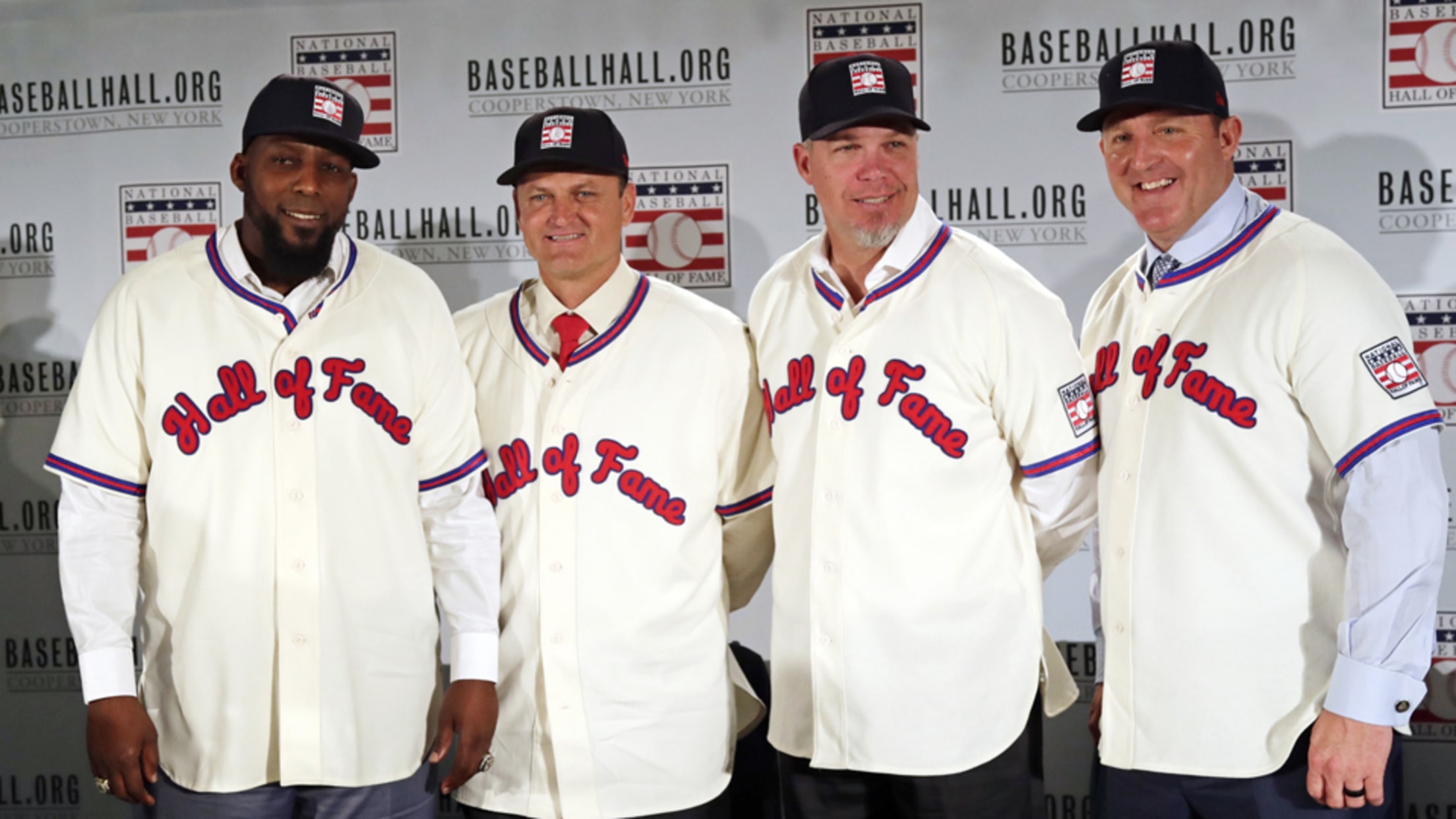 Vladimir Guerrero, Trevor Hoffman, Chipper Jones and Jim Thome were voted into the Hall for 2018. (Frank Franklin II/AP)
NEW YORK -- After putting on a new jersey for the last time, Chipper Jones picked up the Baseball Hall of Fame hat. But before he would adorn the logo of his final "team," he had to adjust the bill, just like he's done probably dozens of times before.Twenty-seven-and-a-half years
NEW YORK -- After putting on a new jersey for the last time, Chipper Jones picked up the Baseball Hall of Fame hat. But before he would adorn the logo of his final "team," he had to adjust the bill, just like he's done probably dozens of times before.
Twenty-seven-and-a-half years ago, Jones put on a professional hat for the first time. After being selected first overall in the 1990 Draft by the Braves, the then-18-year-old was handling being away from home like the rest of his teammates while dealing with the pressure of the spotlight.
"You know, being the first pick in the Draft, everything you do is going to be put under a microscope, everything is going to be scrutinized," he said at Thursday's Hall of Fame press conference. "If you don't perform, people are going to second-guess. My goal was to make Bobby Cox look good. He was the general manager when I was drafted and I spent my whole career trying to make him proud."
Jones made stops at the Rookie-level Braves, Class A Macon, Class A Advanced Durham, Double-A Greenville and Triple-A Richmond before heading to Atlanta for good in 1995. In 456 Minor League games prior to his big league debut, the Florida native hit .312 with 42 homers, 278 RBIs, 182 walks and 231 strikeouts. Jones later was named to both the South Atlantic League and the Southern League's Hall of Fame while Durham retired his number 10.
Thinking back, Jones remembers the Minors as a boot camp with early wakeup calls and hard work expected all day and night long as the front offices figured out who can help in the Majors.
"They find out whether you want to go the extra step right away," he said. "Those bus rides and those long games and those long nights, it weeds people out in a hurry. You got to be completely and totally focused on what your goal is to make it through that."
Jim Thome knew Jones was something special when they were playing in Triple-A in 1993, Jones with Richmond and Thome with Charlotte, which was an Indians affiliate at the time.
Before he settled in with the Cleveland system, Thome went undrafted out of high school. But following some time at Illinois Central College, he was selected by the Indians in the 13th round of the 1989 Draft.
Thome got a taste of the Majors early -- in his second full season in 1991 -- but he remained a key prospect in the organization until becoming a full-time Major Leaguer in 1994. Before his big break, the first baseman batted .317 with 51 jacks, 245 RBIs, 324 walks and 304 strikeouts in his first 404 contests.
Besides playing with the Rookie-level Indians, Rookie-level Burlington, Class A Advanced Kinston and Double-A Canton-Akron, Thome played for veteran manager Charlie Manuel with Triple-A Colorado Springs and Charlotte before reuniting with the longtime skipper in Cleveland and Philadelphia.
"I think the Minor League life was demanding. You're getting on buses, you got to learn how to eat right, you have to get sleep and then also perform and try to get better every day. You're going to the ballpark at 1 [p.m.] If Charlie Manuel was your manager or instructor, you might be there at 11 a.m. to hit," Thome said with a laugh. "But the grind is, I think, what prepares you for the big leagues. That's what so great about all those cities, the Carolinas, the Kinstons..."
"I still go around those areas with the White Sox, working for them, and I think it's what's special about the game."
Trevor Hoffman said he also tried to focus on the positives of the Minor League pace. After being taken in the 11th round in 1989 by the Reds as a shortstop, the University of Arizona product almost found himself out of baseball following his rookie campaign with Class A Charleston. With a bat that lacked power and defense that needed some polish -- "I was terrible," he now admits -- Hoffman was given a second chance on the mound.
Not having pitched since he was 12, the right-hander started in the bullpen, stretched out as a starter and returned to the bullpen over the course of two seasons with Class A Cedar Rapids and Double-A Chattanooga. Before heading to the Marlins in the 1992 expansion Draft, Hoffman went 5-1 with a 1.75 ERA, 106 strikeouts and 31 walks in 77 1/3 innings. Starting early, the veteran closer notched 20 saves in 20 opportunities and also was named to the Southern League Hall of Fame.
"When they approached me about the transition, I was game for it because it was an opportunity to keep putting the uniform on, to be honest," he said. "Some of the moments that I shared in the Minor Leagues were some of my greatest moments in baseball, sharing with some of my teammates. We didn't had a lot of commonality, we didn't have a lot on our plate at that time."
Hoffman added he still considers a gas station near the Chattanooga stadium to have the best fried chicken he's ever had. Recently, he took son Quinn there.
Vladimir Guerrero said he also thinks about the buses when reflecting on the Minors. But for the Dominican Republic native, it was about timing.
"What I recall vividly is the 6 a.m. bus. Knowing that I was a Hispanic player and not speaking English, I made sure I didn't miss that first bus because there's nobody to drive me, I wasn't driving and obviously the language was very tough," he said through broadcaster Jose Mota, who acted as interpreter. "I recall mainly making sure I got up on time to not miss that first bus to make sure things went the right way for the rest of the day."
Baseball has been a part of the Guerrero family since brother Wilton was signed in 1991. Montreal signed the eventual Hall of Famer in 1993, assigning him to the Rookie-level Expos, Class A Albany, Class A Advanced West Palm Beach and Double-A Harrisburg over four seasons. In Guerrero's final campaign in the Minors, he hit .360 with 24 homers, 96 RBIs, 54 walks and 52 strikeouts in 138 games, reminiscent of the numbers his son of the same name has been putting up in the Minors.
Tweet from @VladGuerrero27: Before and after. Now my kid is stronger than me. Thanks God for the blessings! pic.twitter.com/LouJUc1tE3
Jones noted there aren't many third baseman in the Hall of Fame. He is looking at guys like Vladimir Guerrero Jr. to change that.
"I'm proud to be a part of that very small fraternity," Jones said. "I think you see some really good, young third basemen coming up. I'm sure the fraternity will get much bigger pretty soon."
Thome, who serves as special assistant to White Sox general manager Rick Hahn, said he talks to Jones a lot still, but they stay guarded when it comes to prospects.
"I know [the Braves] got some great players in the Minor Leagues, we do as well," Thome said. "So there's always that cat-and-mouse game."
Of course, those prospects will have to go through what Baseball Hall of Fame president Jeff Idelson said is "one of the most difficult career paths" en route to "The Show," but for the newest Hall of Famers, they wouldn't want the grind any other way.
"There's some special stuff in the Minor Leagues," Hoffman said. "I think the weeding-out process is certainly a part of it, but there's memories that you can't replace."
Kelsie Heneghan is a contributor to MiLB.com. Follow her on Twitter @Kelsie_Heneghan.