Booker alters style, stars for CAR South
White Sox outfielder homers, plates four runs en route to win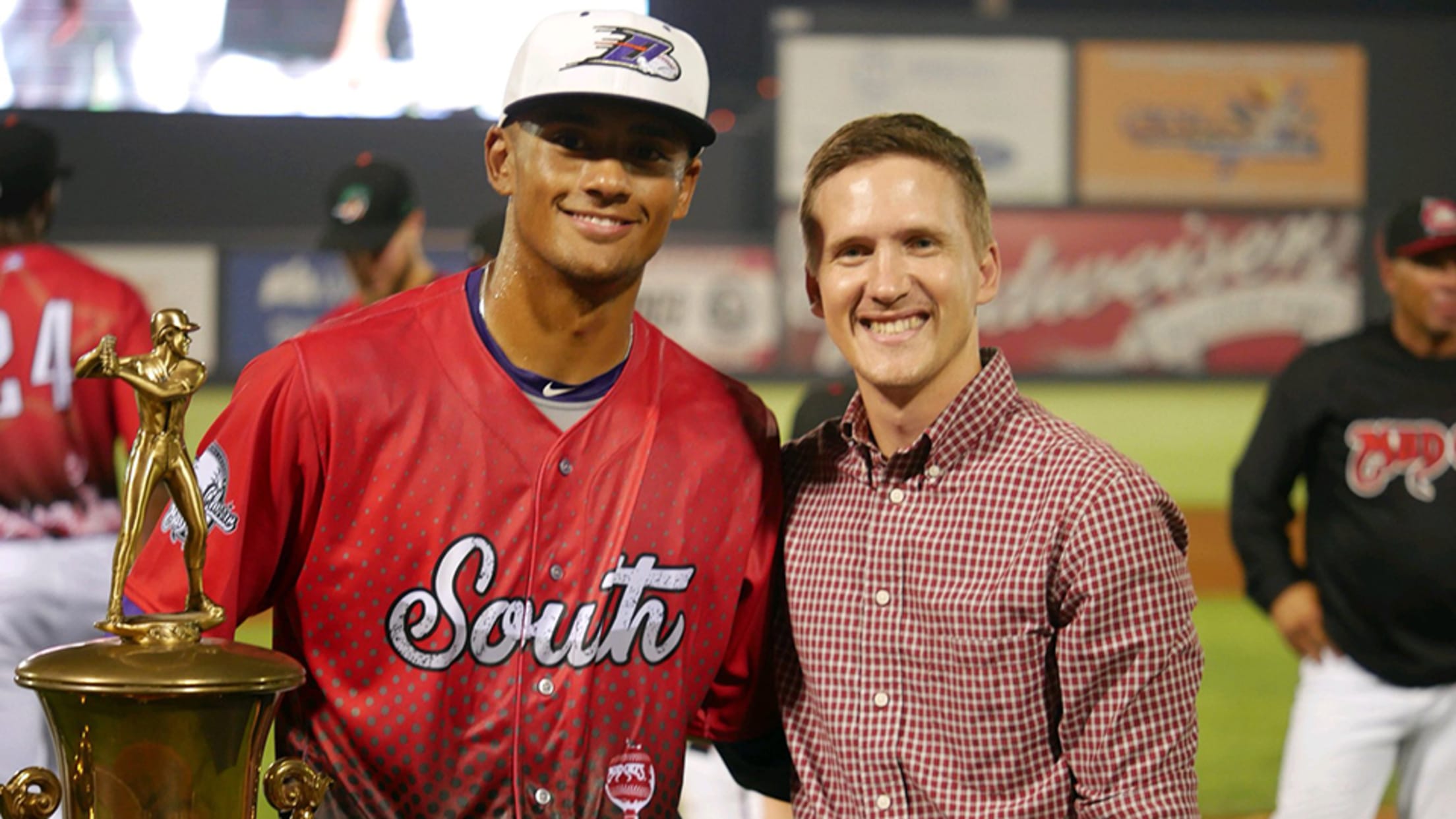 Winston-Salem's Joel Booker drove in four runs out of the leadoff spot for the victorious Southern Division. (Carolina Mudcats)
ZEBULON, North Carolina -- Joel Booker has spent most of the 2018 season trying to be a more selective hitter. He picked a great time to temporarily scrap that approach Tuesday night in the Carolina League All-Star Game."I think tonight was the first time I've swung at a first pitch
ZEBULON, North Carolina -- Joel Booker has spent most of the 2018 season trying to be a more selective hitter. He picked a great time to temporarily scrap that approach Tuesday night in the Carolina League All-Star Game.
"I think tonight was the first time I've swung at a first pitch in a long time," a smiling Booker said. "I've always been a guy that the pops (home runs) come randomly and I'll continue to be that guy."
Gameday box score
The White Sox outfield prospect went collected three hits -- including a homer -- and drove in four runs out of the leadoff spot as the Southern Division rallied to a 7-6 victory. In the process, he was named the BUSH'S® All-Star MVP.
Booker, who helped Class A Winston-Salem Dash take the first-half title in the Southern Division, turned on the first ball and skied it over the left-field wall, nearly hitting the Mudcats' clubhouse. The University of Iowa also plated a run with an RBI groundout in the fifth and put his team on top with a two-run single in the sixth.
The 2016 22nd-round selection had his entire swing rebuilt in a January hitters' camp at the White Sox facility in Arizona.
With a goal of removing some of the movement in his hands during swings, Booker started off by keeping his legs still during swings, which allowed him to concentrate on using his hands and upper body more effectively. Later in the week-long process, the legs factored back into the swing. After the camp, Booker worked on the changes at home in Polk County, North Carolina for two weeks before heading back to Spring Training in Arizona.
The results showed up more consistently before the end of the season's first half, with Booker hitting .333 in his last 10 games.
Birthday boy Roegner gets All-Star start for South
Scoring Most Valuable Player honors for the first time little more special with his dad, Clemmon Booker, in attendance.
"It's nice, never thought it ever would have happen," Booker said. "Glad that I was close enough that my dad got to come and see me do it, especially since I went away to play in college and he couldn't make many of those. He comes to everyone he can make now."
Winston-Salem's Dylan Cease and Bernardo Flores, Buies Creek's Brett Adcock and Brandon Bielak and Carolina's Marcos Diplan each worked single scoreless innings for the South. Bielak picked up the win and Down East reliever C.D. Pelham got the final out for the save.
Third-ranked Nationals prospect Carter Kieboom homered on a three-hit night and Potomac teammate Tres Barrera added a solo shot for the North..
Houston's No. 14 prospect Ronnie Dawson pulled the South even with an RBI ground-rule double while Lynchburg's Conner Capel and Buies Creek's Abraham Toro added two hits.
Mudcats catcher Max McDowell, who caught 34 stealing during the first half, nabbed Jerry Downs at second base in the All-Star Game. South manager Joe Ayrault, also his skipper at Carolina, confirmed after the contest that McDowell will head to Double-A Biloxi.
Ayrault got every one of his players in the contest, making sure he kept a pregame promise to himself.
"They're all gonna play, all deserving to be on the team," he said. "A great experience for us to have them all in our dugout for once, just an amazing night."
D. Clay Best is a contributor to MiLB.com.