Siri's hitting streak sets Midwest record
Reds No. 24 prospect singles in final at-bat to reach 36 games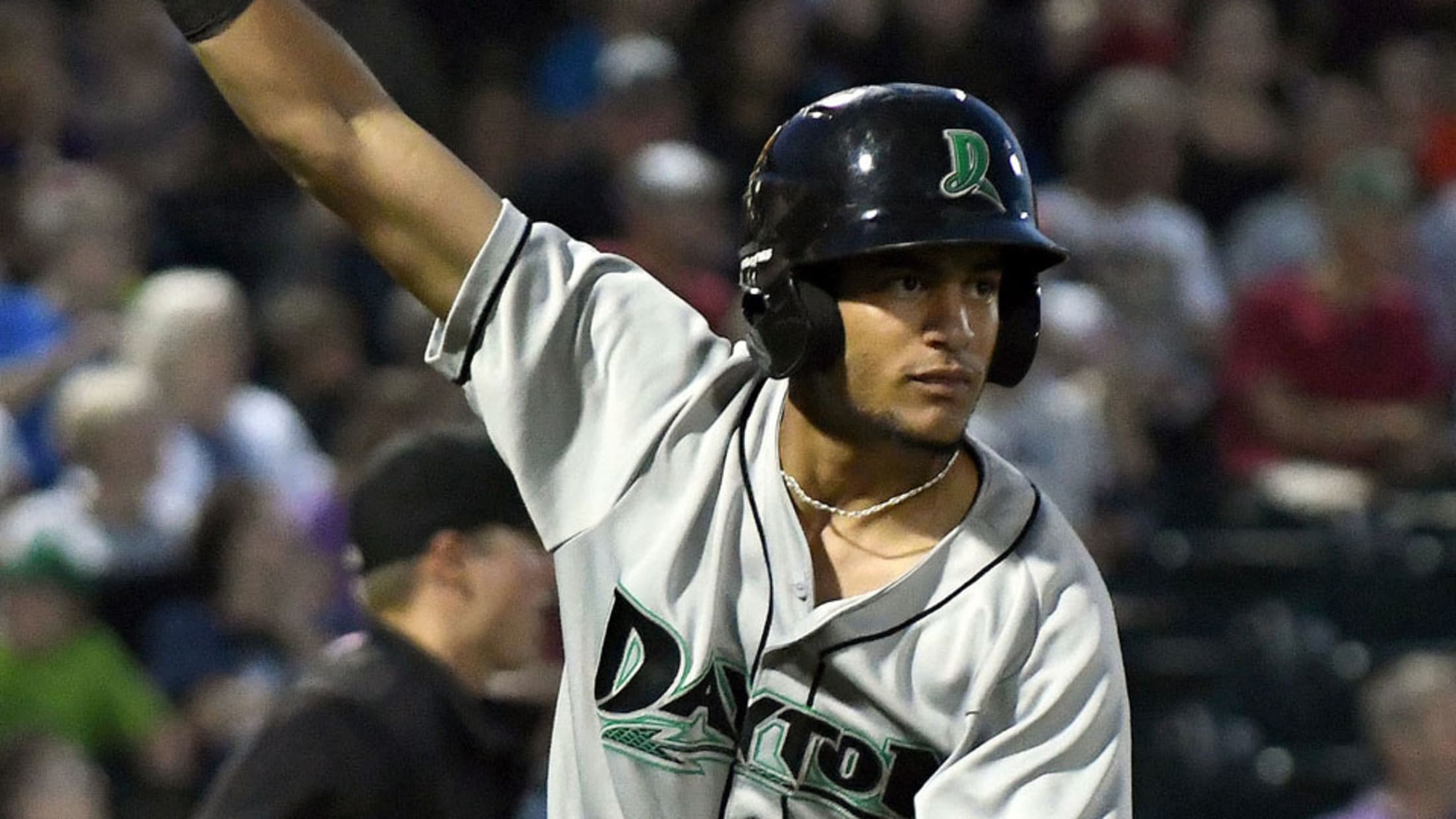 Jose Siri is tied for the Minor League lead with 56 hits since his streak started June 22. (Nick Falzerano/Dayton Dragons)
Jose Siri waited until the last minute to etch his name into the Midwest League history books Monday night.Cincinnati's No. 24 prospect singled to left field in his final at-bat in the eighth inning to push his record-setting hitting streak to 36 games in Class A Dayton's 4-3 loss to
Jose Siri waited until the last minute to etch his name into the Midwest League history books Monday night.
Cincinnati's No. 24 prospect singled to left field in his final at-bat in the eighth inning to push his record-setting hitting streak to 36 games in Class A Dayton's 4-3 loss to Fort Wayne at Parkview Field. It was the first time Siri failed to extend his run in the first seven innings of a game since July 14 against Clinton.
Siri struck out in his first three at-bats against Padres No. 7 prospectMichel Baez (4-0), who racked up a Parkview Field-record 14 strikeouts over 6 2/3 one-run frames. Facing right-hander Diomar Lopez in the eighth, the 22-year-old outfielder got into an 0-2 hole and fouled off two more offerings before pulling the fifth pitch of the at-bat on the ground past the left side of the infield.
"This means a lot to me; I am very happy," said Siri, who raised his right arm high in the air when he saw the ball reach the outfield. "When the count got to 0-2, all I was thinking about was letting the ball get to me and not picking up my foot and just driving the ball somewhere."
Gameday box score
The hit gave Siri outright possession of the record, breaking the 40-year-old mark originally set in 1977 by Waterloo's Tony Toups, who hit in 35 consecutive games for the Cleveland affiliate. While coverage of the run was markedly different during his own playing days, Toups understood what Siri has been going through.
"When I was in my streak, I didn't even realize it until it was in the mid-20s and somebody said something about it," Toups said. "It does put some added pressure at that point, especially when it gets down to your last at-bat.
"Obviously, congratulations are in order, and hopefully good times will come for him in his future. It feels good to have your name in the record books and have something to look back on. The plaque in my office will still stay there ... but like many people say, records are made to be broken."
• Get tickets to a Dragons game »
Siri passed Robert Fick, who hit in 32 straight games for West Michigan in 1997, to move into second place in the Midwest League history books before overtaking Toups on Monday night. Toups also was well aware when Fick was approaching his mark 20 years ago.
"It's not something I think about very often unless somebody is trying to break it. I think 1997 was the last time somebody had called me," Toups said. "[West Michigan] wanted to see if I was available to attend the game, and I said I might. I was honored that somebody would want to have me there. It's not one of those things where I'm going to hope he fails. It's nice to keep the record forever, but things like this don't happen every day."
The 6-foot-2, 175-pound native of the Dominican Republic's streak is the longest in affiliated baseball this season, and Siri's recorded multiple hits in 14 of the games during the historic run. He's hit .348 with 13 home runs and 29 RBIs over that span.
The Dragons collected eight hits on the game, four off the bat of second baseman Hector Vargas, who singled in each of his plate appearances.
Vargas' keystone counterpart Nate Easley went 2-for-3 with a two-run homer for the TinCaps.