Soto promoted to Class A Advanced Potomac
Nationals No. 2 prospect's sizzling start leads to April advancement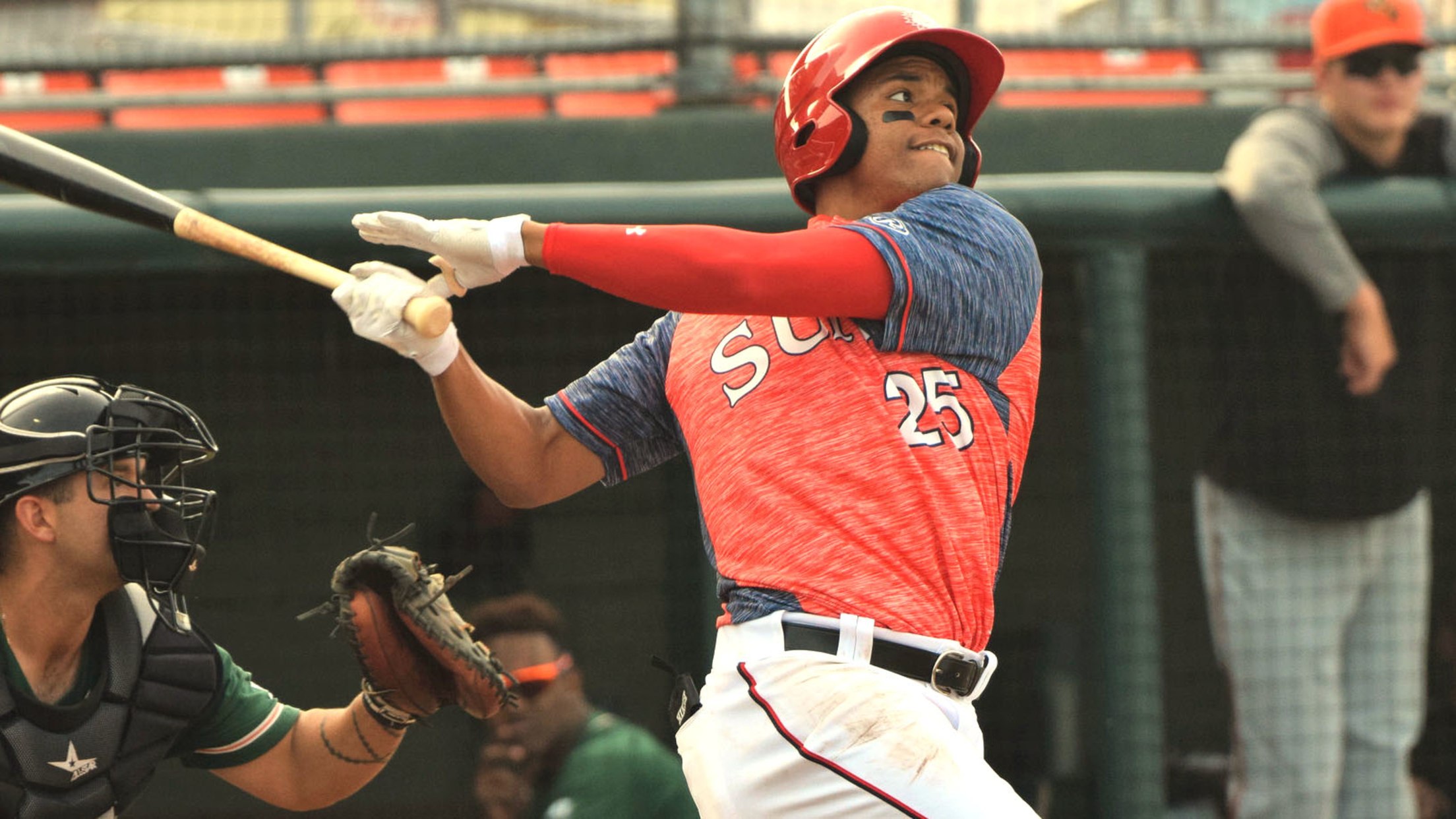 Juan Soto owns a career 1.011 OPS and 74 RBIs in 99 games across three levels. (Patrick Cavey/MiLB.com)
Injuries stalled Juan Soto's progress through the Nationals system last season, but the 19-year-old outfielder has quickly made up for the lost developmental time in 2018.MLB.com's No. 29 prospect packed a month-and-a-half's worth of production into 16 games at Class A Hagerstown this month to earn a promotion to Class
Injuries stalled Juan Soto's progress through the Nationals system last season, but the 19-year-old outfielder has quickly made up for the lost developmental time in 2018.
MLB.com's No. 29 prospect packed a month-and-a-half's worth of production into 16 games at Class A Hagerstown this month to earn a promotion to Class A Advanced Potomac on Monday. Through April 22, Soto was leading the South Atlantic League in on-base percentage, slugging percentage, OPS, extra-base hits, RBIs and total bases and was recently named the league's Player of the Week.
Soto's breakout follows a string of injuries the Nationals' second-ranked prospect suffered in 2017. Soto was hitting .360/.427/.523 through 23 games for the Suns when he fractured his ankle on a slide into home plate in early May, an injury that kept him on the sidelines for the next two months.
The 6-foot-1, 185-pound Dominican native started a rehab assignment with the Rookie-level GCL Nats in July and lasted five games before fracturing the hamate bone in his right hand and undergoing surgery. A second attempt at a return, this time in the GCL in September, ended with a hamstring injury after four contests.
Those 32 games produced three home runs, 18 RBIs and 18 runs scored along with a cumulative .351/.415/.505 batting line, keeping expectations high for Soto in his return to Hagerstown. Despite all the missed time, he's only gotten better.
Soto's 16-game stint with the Suns this season culminated in a .373/.486/.814 line, five home runs, 24 RBIs and more walks (14) than strikeouts (13), a feat he also accomplished in 2017 with 12 free passes and nine whiffs. His play isn't the only thing he improved this offseason, either.
"It had its good and its bad, actually," Soto told MiLB.com through an interpreter in March. "It may have seemed bad on its surface, but because I learned so many things about my body, how to treat some of the injuries, how to prevent certain things, how to strengthen parts of my body that were weak, there was some good to it."
Soto also appears to be tapping into the raw power scouts expect him to add, as his five homers in 16 games this year are three fewer than the eight he hit in 83 contests in 2016 and 2017. Combined with a plus hit tool that has been on display since his stateside debut -- which his .364 career average attests to -- and an advanced approach that has resulted in 43 career walks and 51 strikeouts, Soto's future is extremely bright.
"Obviously, he's so advanced for his age," Nationals director of player development Mark Scialabba said. "To have success very early in his career shows what's he capable of. Hopefully he can grow even more in the future, but right now, he's a very special man of hand-eye coordination, power, strength in his swing. It's exciting to see him healthy and strong on the field this spring. He's somebody who has an impact bat and hopefully is a National for a long time."