Jupiter's Yamamoto whiffs career-high 13
Marlins No. 20 prospect allows two hits in seven shutout innings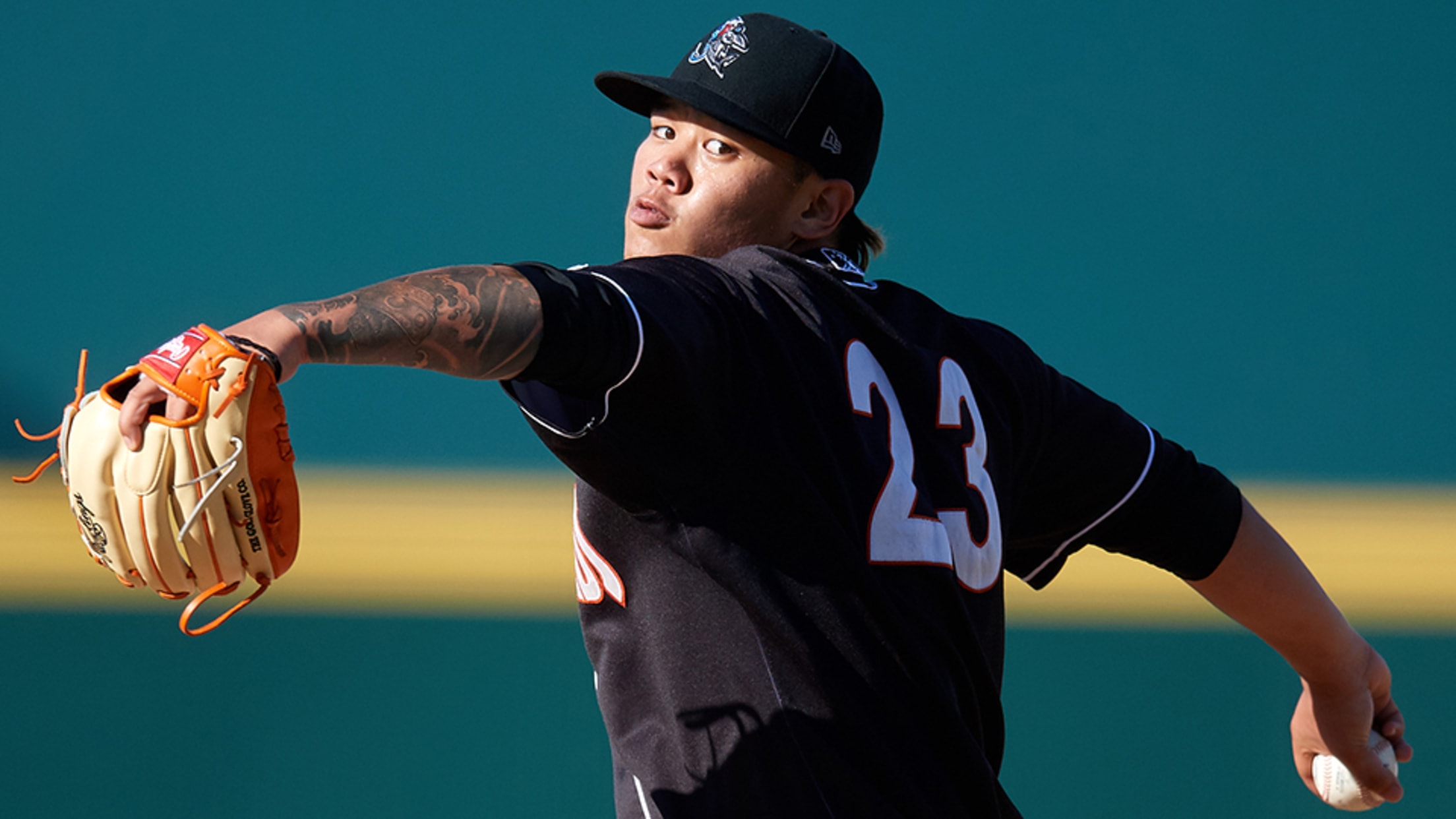 Jordan Yamamoto spent four seasons in the Brewers organization before being dealt to the Marlins this offseason. (Mike Janes/AP)
For Jordan Yamamoto, taking the mound these days qualifies as a thrill alone. When his organizational debut with the Marlins was delayed until May 27 due to a right shoulder impingement, he anticipated everything coming together. The wait ended Wednesday during his fifth start of 2018. Miami's 20th-ranked prospect fanned a professional-best
For Jordan Yamamoto, taking the mound these days qualifies as a thrill alone. When his organizational debut with the Marlins was delayed until May 27 due to a right shoulder impingement, he anticipated everything coming together.
The wait ended Wednesday during his fifth start of 2018.
Miami's 20th-ranked prospect fanned a professional-best 13 batters while allowing two hits through seven innings in Class A Advanced Jupiter's 2-0 victory over Florida at Roger Dean Stadium.
"I felt really good tonight, first outing since I came back that I felt like I had all my pitches and my velo back," Yamamoto said. "I just felt like everything was there tonight and everything was working for me. Everything just felt on point."
Gameday box score
The 22-year-old's previous career high for punchouts had been 11, which was also the Hammerheads' prior club record. Trevor Richards last reached the benchmark for Jupiter on June 2, 2017.
"I kind of knew during the game that I was getting close [to my personal best]," Yamamoto said. "But my main focus was getting through seven innings or eight innings, whatever I could. Just to take it pitch by pitch or out by out. It just happened that I threw really good."
The strikeouts came early and often for the right-hander, who carried a perfect game into the fifth inning. That ended when Fire Frogs right fielder Garrison Schwartz singled up the middle with two outs in the frame. Yamamoto (3-0) recorded two whiffs in each of the first four innings.
"It would be kind of cool to have that, going into the seventh throwing a perfect, but baseball happens," he said.
With one out in the sixth, Kevin Josephina lined a 1-0 pitch to center field for a single. He was the final Florida player to reach against the 2014 12th-round pick. Yamamoto, acquired in the trade that sent Christian Yelich to the Brewers, struck out Braves No. 9 prospectCristian Pache and Shean Michel to end the frame.
"I just threw like I knew how, exactly like I did last year, down in the zone, working off my fastball." the Pearly City, Hawaii native said.
Yamamoto worked a 1-2-3 seventh, striking out Braxton Davidson and Jordan Rodgers for the final two outs to cap his longest outing of the season. He threw 64 of 89 pitches for strikes and lowered his ERA to 1.63. Whether he took the ball for one inning or seven, the St. Louis High School product feels blessed to be back on the mound.
"Being able to play the game, and not be in rehab and not be hurt is just a positive in itself," he said. "It's just a great feeling to be back on the field competing, being able to be out there with new friends, new teammates, and just performing. I just thank God with what he's provided me, being able to play the game every day, just to put the jersey on. ... No matter what happens, it's a great feeling getting to know I get to go out there and play."
Yamamoto considers being sent to another organization to be a gift.
"Like I said from the day I got traded, it's a business," the 6-foot prospect said. "Someone wants you more than another team. You take it as a new opportunity and a fresh start to make a name for yourself."
Before Yamamoto landed on the disabled list with the shoulder trouble -- which he described as "nothing too crazy" -- and rehabbed at the Marlins' extended spring training facility in Florida, he befriended an important teammate: Jupiter catcher B.J. López.
"We clicked," Yamamoto said. "We just know what we're thinking and how we're going to go about the gameplan. He knows exactly what to call and when to call it and where to call it. It's really nice having chemistry with the catcher."
Lopez said he loves catching the 185-pound righty because of the tempo he employs on the mound.
"There's no shaking [off] involved," Lopez said. "It's just 'Hey, let's go.' I guess we think alike. We're always on the right page. That helps the momentum."
On Wednesday, the 23-year-old native of Puerto Rico immediately noted Yamamoto had his best stuff since he's been catching him, locating the fastball to both sides of the plate. The slider was the battery's weapon of choice against Florida, but Yamamoto was throwing all of his pitches for strikes, Lopez added.
"For me, it was just getting ahead of everybody," the catcher said. "He was commanding every pitch for a strike."
Yamamoto was equally complimentary of Lopez.
"He really helped me out," he said. " [He] pulled some balls for strikes and called a really good game back there. [He] knew exactly what I wanted to throw and called it."
John Silviano went 3-for-4 and scored once for Jupiter.
Atlanta's fifth-ranked prospectIan Anderson (1-4) surrendered two runs on seven hits and one walk while striking out eight over six innings.
Chris Bumbaca is a contributor for MiLB.com based in New York. Follow him on Twitter @BOOMbaca.