Backstop Melendez catching fire for Legends
No. 4 Royals prospect hits two homers, plates career-high five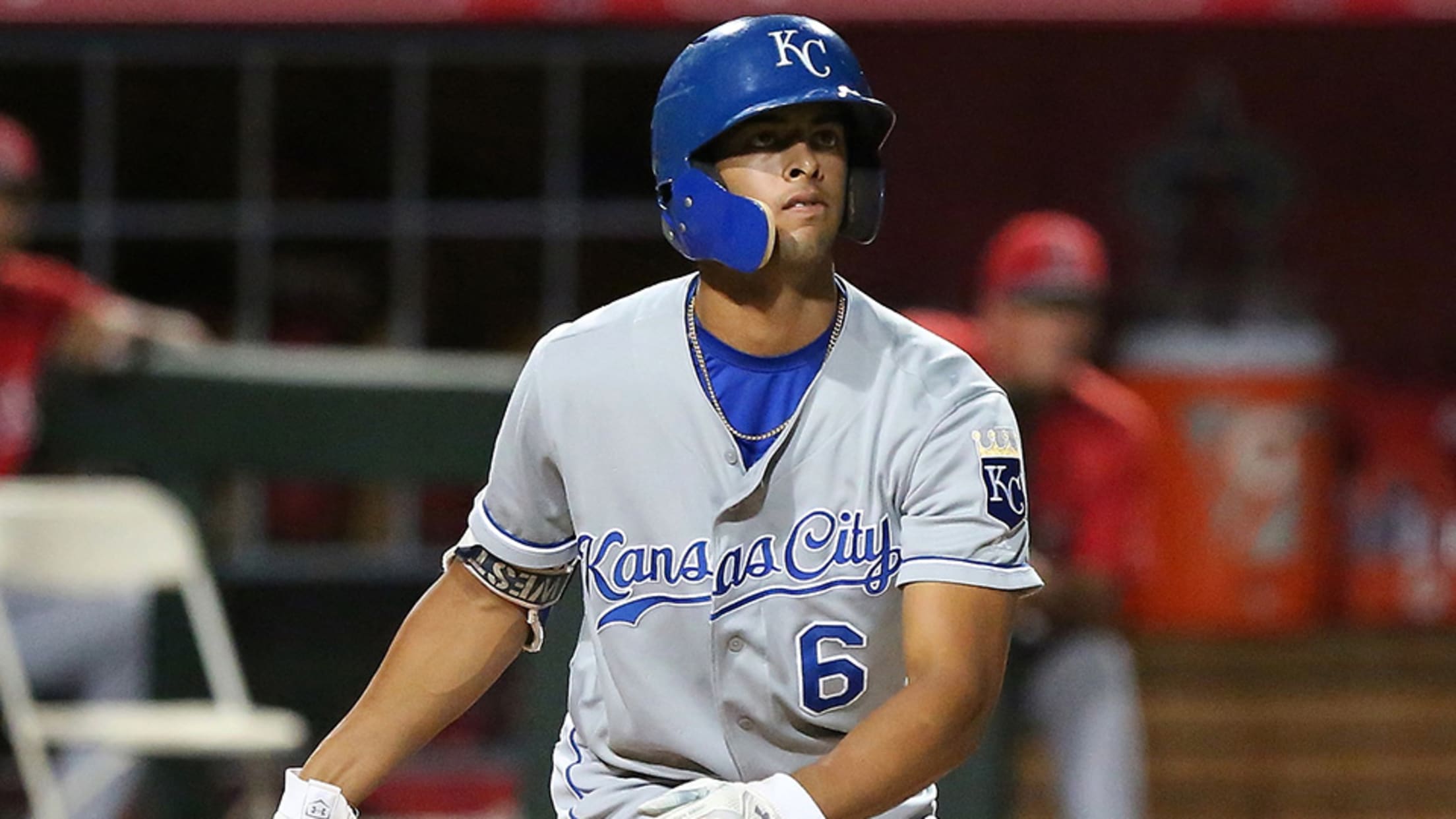 MJ Melendez ranks third in the South Atlantic League with a .625 slugging percentage. (I.B. Lee/MiLB.com)
For MJ Melendez, "Bo knows." And that's Bo Bichette, not Jackson. After watching a recent MLB.com video interview in which the Blue Jays' second-ranked prospect discussed how returning to being himself at the plate allowed him to emerge from a slump, Melendez was inspired to try that approach himself. "I kind of took
For MJ Melendez, "Bo knows." And that's Bo Bichette, not Jackson.
After watching a recent MLB.com video interview in which the Blue Jays' second-ranked prospect discussed how returning to being himself at the plate allowed him to emerge from a slump, Melendez was inspired to try that approach himself.
"I kind of took that to my game and went back to being MJ," said Melendez, adding that the two are good friends, having frequently played with and against each other in high school in South Florida. "[Being MJ] is being confident and not doing too much. I really felt like I was trying to do too much in the early and middle parts of the season and I've had some success, but I've had some games that haven't been as good. I'm just going back to sticking to my approach, hit the ball solid and not trying to do too much by not trying to lift balls out of the park, and let my physical abilities take over."
Gameday box score
The back-to-basics mentality led to a career night for the Royals' No. 4 prospect on Friday, as he smacked two homers and drove in a career-high five runs to power Class A Lexington to a 6-0 victory over West Virginia at Appalachian Power Park. It was his first multi-homer game.
The 3-for-5 performance raised his batting average 16 points to .269.
Melendez cashed in his first homer in the opening frame, launching a 3-1 offering from starter Sergio Cubilete over the fence in right-center field. In his next at-bat, he lined an RBI double to center, then deposited Cubilete's first pitch of his fifth-inning at-bat over the fence in center for another blast.
"He's done a really nice job for us this year," Legends manager Scott Thorman said. "He's quickening up his swing this year and the power production has gone up, and he's done a really nice job of having consistent at-bats and driving the baseball."
Thorman described the 19-year-old catcher as a leader behind the plate, which is something he's worked toward from an early age. His oldest baseball memory is of squatting in position in front of the television, watching Bethune-Cookman University games at age 3. His father, Mervyl, coached for the Wildcats at the time, and Melendez -- his hat on backward and a Fisher-Price mitt covering his left hand -- would strike the floor to imitate the pop of the baseball hitting the catcher's glove.
"I thought it was so cool that they would catch the ball every pitch and it would make that noise," he said. "It really sparked my interest. I think that's one of the main reasons I wanted to become a catcher at that age."
Every Christmas after that, the first item on Melendez's list to Santa was a catcher's set. He typically got one that was too big, but he loved it anyway. The feeling of being in the stance with the chest protector draped over his shoulders and the shin guards wrapped around his ankles made him feel distinguished. And that hasn't dissipated as he's gotten older.
"Since I've grown up, and I'm still growing up, I've realized it's one of the most important positions in baseball," he said. "You see the whole field and it's like the quarterback of baseball. There's a lot we have to do, to be a leader and help control the pace of the game and everyone's looking at me."
MJ's father took over as head coach at Florida International University in 2017 after five seasons at the helm at Alabama State and 11 before that at Bethune-Cookman. Melendez committed to play for his pops at FIU, but elected to sign with the Royals for a reported $2.1 million after being selected in the second round of last year's Draft.
The decision, even with the considerable signing bonus, was excruciatingly difficult for Melendez.
"That was definitely an extremely tough decision," he explained. "Me and my family are all super close and my dad coached me all through growing up and taught me everything I knew about baseball. I really wanted to play for him out of high school, but the Royals were a blessing to me and gave me an amazing opportunity to continue my career in pro ball.
"I really think the Royals provide an amazing organization, the best in baseball in my opinion, and I'm extremely happy with where I'm at right now."
Being a catcher in the Kansas City system means the potential pressure of following Salvador Perez, whom Melendez hasn't met yet, except for when the youngster was working out with Twins' Eduardo Escobar in Florida and Escobar introduced them by placing a video call to Perez.
"Hopefully one day there will be other guys, whether it's in my organization or younger kids, that are able to learn from me as well," Melendez said, "but it's a privilege and a treat to see it at the big league level with Salvy and at the Minor League level with my other teammates."
He hit .262/.374/.417 in the Rookie-level Arizona League in his first professional season and has continued to get on base with added power this year, posting a .269/.330/.625 slash line in 28 games.
No. Royals prospect Carlos Hernandez (2-1) tossed five hitless innings for the win, striking out five and walking three. He threw 57 of 87 pitches for strikes.
"He just had a lot of confidence going into the game today. He looked really good in his bullpen," Melendez said. "His location was fantastic, and especially against a team like that, you really have to locate well and he did that. And of course the velocity is always there with him. When you have that, it's a one-two punch and it's pretty easy to get hitters out, and his off-speed looked amazing today as well, so it was a great complement to his fastball."
Holden Capps threw three innings of relief and Sal Biasi worked the ninth to finish the Legends' second shutout of the season.
Lexington's Travis Jones was 3-for-4 with two doubles and an RBI.
Fifteenth-ranked Pirates prospect Calvin Mitchell was 2-for-4 with a double for West Virginia.
Josh Horton is a contributor to MiLB.com. Follow him on Twitter @joshhortonMiLB