Rivera's legend grows in Mayagüez
Royals prospect playing for hometown team, pride in Puerto Rico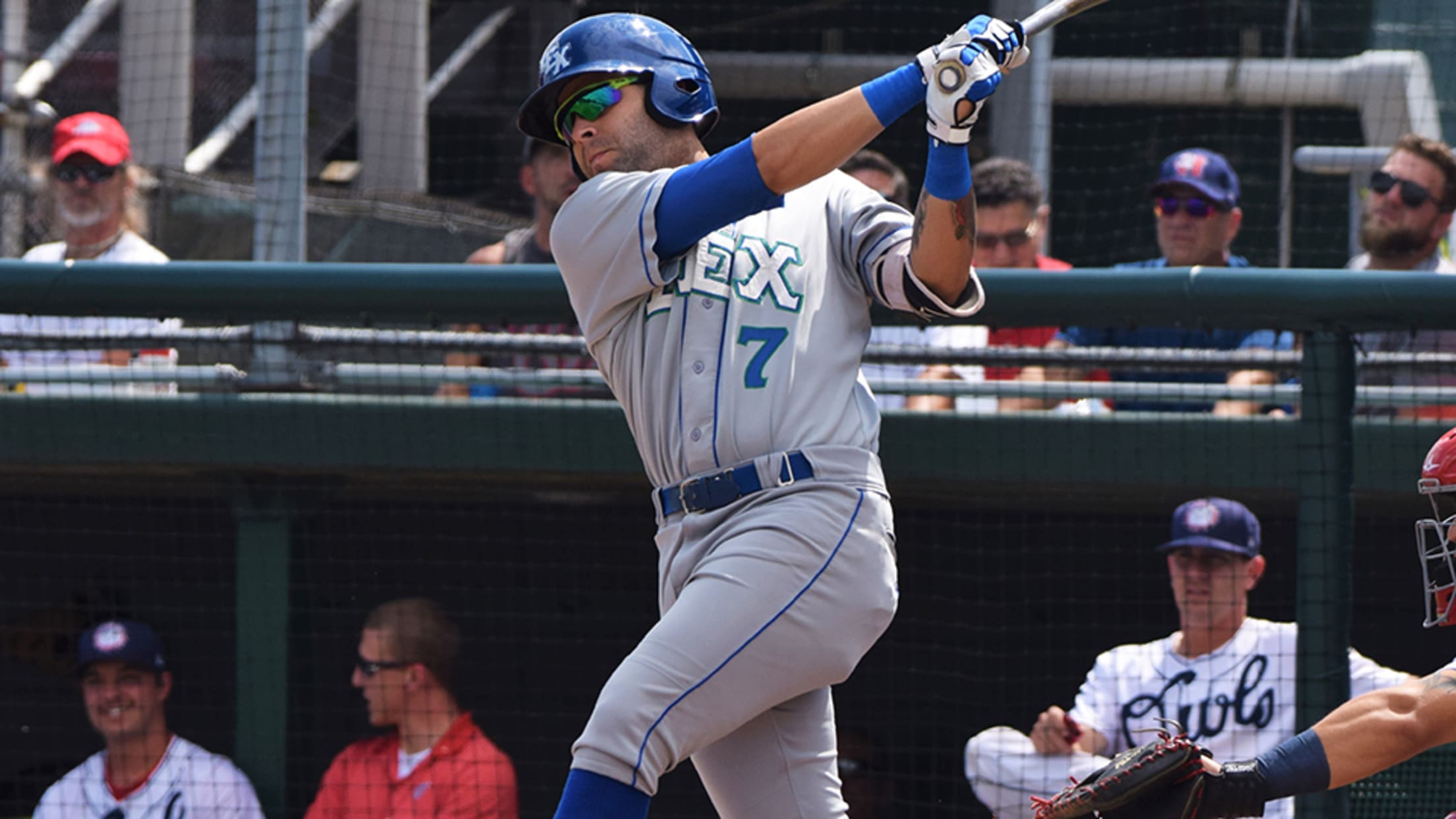 Emmanuel Rivera batted .310 with Class A Lexington to win the 2017 South Atlantic batting title. (Patrick Cavey/MiLB.com)
For many natives of Puerto Rico, baseball does not have an offseason. As the calendar flipped last January, Royals third baseman Emmanuel Rivera was, in fact, still playing. He wrapped up his rookie season in Liga de Béisbol Profesional Roberto Clemente (Puerto Rico Baseball League) in a cheerful beginning to
For many natives of Puerto Rico, baseball does not have an offseason. As the calendar flipped last January, Royals third baseman Emmanuel Rivera was, in fact, still playing. He wrapped up his rookie season in Liga de Béisbol Profesional Roberto Clemente (Puerto Rico Baseball League) in a cheerful beginning to a year with a tragic ending.
Playing in his hometown of Mayagüez, a small city on the island's west coast, the 16th-ranked prospect in the Kansas City system batted .330/.393/.413 with seven doubles and eight RBIs for the local Indios de Mayagüez (Mayagüez Indians). He was unanimously named PRBL Rookie of the Year at the end of the season.
His success carried into his first full season stateside as the 21-year-old claimed the South Atlantic League batting title with a .310 average for Class A Lexington.
"Playing in [the PRBL] definitely was another key for my success in Lexington because I faced a lot of veteran pitchers," Rivera told MLB interpreter Marino Panchano. "Also, I could watch the other players and see how they go about their batting practices and then I applied it in the games. It helped me in my approach in games during at-bats."
Rivera also clubbed 12 homers, five triples and 27 doubles while driving in 72 runs and scoring 60. His .832 OPS earned him the third baseman slot on the Royals' 2017 Organization All-Stars and he was named Kansas City's Hitting Prospect of the Year by MLB Pipeline.
"What helped me last year was my routines every day before the game," Rivera said. "I like to hit the batting cages and [hit] off the tee, and during batting practice I focus on hitting the ball the other way."
Rivera returned home in October to participate in the PRBL, a tradition that has lasted 79 consecutive years. However, the league's 80th iteration was threatened by a series of natural disasters.
The Atlantic hurricane season typically begins on June 1 and ends on Nov. 30. In only this respect would 2017 be considered commonplace. According to Weather.com digital meteorologist Johnathan Belles, the season had 17 "named" storms, 10 hurricanes and six major storms (Category 3 or stronger), well above average in the Atlantic basin.
The first storm to make landfall in Puerto Rico was Hurricane Irma, a crippling Category 5 knockout punch that hit on Sept. 6. Hurricane Maria (Category 4) followed a similar path and ravaged the island again two weeks later. The lethal combination left an estimated 90 percent of the island without power, shut down more than 90 percent of its roads and left a death toll that has yet to be resolved almost five months later.
Baseball and the PRBL would have to wait.
Mayagüez was not part of the small fraction of the island spared by the storm. According to the Federal Emergency Management Agency's (FEMA) website, electricity was not fully restored to the city until early December.
Despite the devastation caused by the hurricanes, the month on the calendar read October and, for the city of Mayagüez and its nearly 90,000 residents, baseball would, in a way, become a saving grace.
A sculpture depicting Isidoro "El Cholo" García, a pitcher for Mayagüez in the 1930s, rests in the shadows outside a stadium that bears his name. The sculpture stands alone, in front of a line of seven other statues of past heroes. Garcia is seen in this image as an imposing figure looking straight ahead with his right arm held high, ready to throw a pitch.
After the hurricanes hit, the statue had toppled forward, with Garcia's likeness nearly falling face-first -- an unintentional symbol of the destruction left in the storms' wake. While Garcia had almost fallen, he remained on his feet.
On Oct. 21, Isidoro Garcia Stadium was a place where the people of Mayagüez could go to get back on solid ground of their own.
Unfortunately, the stadium was not ready to host baseball games: FEMA had opened a disaster recovery center inside the main concourse, where people could apply for assistance and try to make sense of what happened.
According to Daniel Llargues, FEMA's national Spanish spokesman, the center has served more than 15,000 residents. FEMA also has received more than 24,000 registrations for assistance from the facility and has funded more than $14.2 million under the Individual and Household Assistance Program in Mayagüez.
2017 Royals Organization All-Stars
Even now, Mayagüez and the island as a whole have a long way to go to return to normalcy. But on Jan. 4 Puerto Rico took a big step forward. PRBL president Héctor Rivera Cruz held a news conference in San Juan, the province's capital, to announce that the league would play in 2018.
A season that usually runs about 40 games from October to January was condensed into an 18-game schedule. Normally, the league has five members -- Mayagüez, Cangrejeros de Santurce, Gigantes de Carolina, Criollos de Caguas and Tiburones de Aguadilla; this year, the teams from Mayagüez and Aguadilla were combined.
Each team typically has its own stadium but only two were operational this winter: Isidoro Garcia Stadium and Hiram Bithorn Stadium in San Juan, home to the Cangrejeros. Due to electrical problems, Bithorn Stadium is only able to host day games. In Mayagüez, fans must use alternate entrances as the FEMA recovery center remains operational in the main concourse.
For Rivera, any version of the PRBL, even the abbreviated one of 2018, conjures memories of his childhood when he would go to Isidoro Garcia Stadium and cheer for Mayagüez -- the same team for which he's now the starting third baseman.
"It's definitely very important, especially for the kids on the island. They look up to the players, so it's very important for the kids to keep watching us," Rivera said. "Since the hurricane, it's definitely one way [for people] to keep their minds off whatever happened."
Even as games have been forced into the daytime, interfering with most fans' work schedules, the PRBL has been a welcome distraction for people on the island.
"The fan reception has been great, especially since most of them won't be able to see us in person in a big league stadium," Rivera said.
Rivera is batting .208 (10-for-48) with a .578 OPS, a pair of doubles and three RBIs during the limited schedule. His team finished the 18-game tournament 9-9, tied for second with Santurce. The teams play a Wild Card game Wednesday night, with the winner facing the Criollos de Caguas in a best-of-5 series to determine the league's champion.
"I definitely feel really proud because when I was a kid growing up, I followed the team as a fan," Rivera said. "Now, playing for my hometown team, there's a lot of pride."
Gerard Gilberto is a contributor to MiLB.com. Follow and interact with him on Twitter, @GerardGilberto4.