Johnson City's Woodall hits three homers
Cards prospect draws go-ahead walk, plates career-high six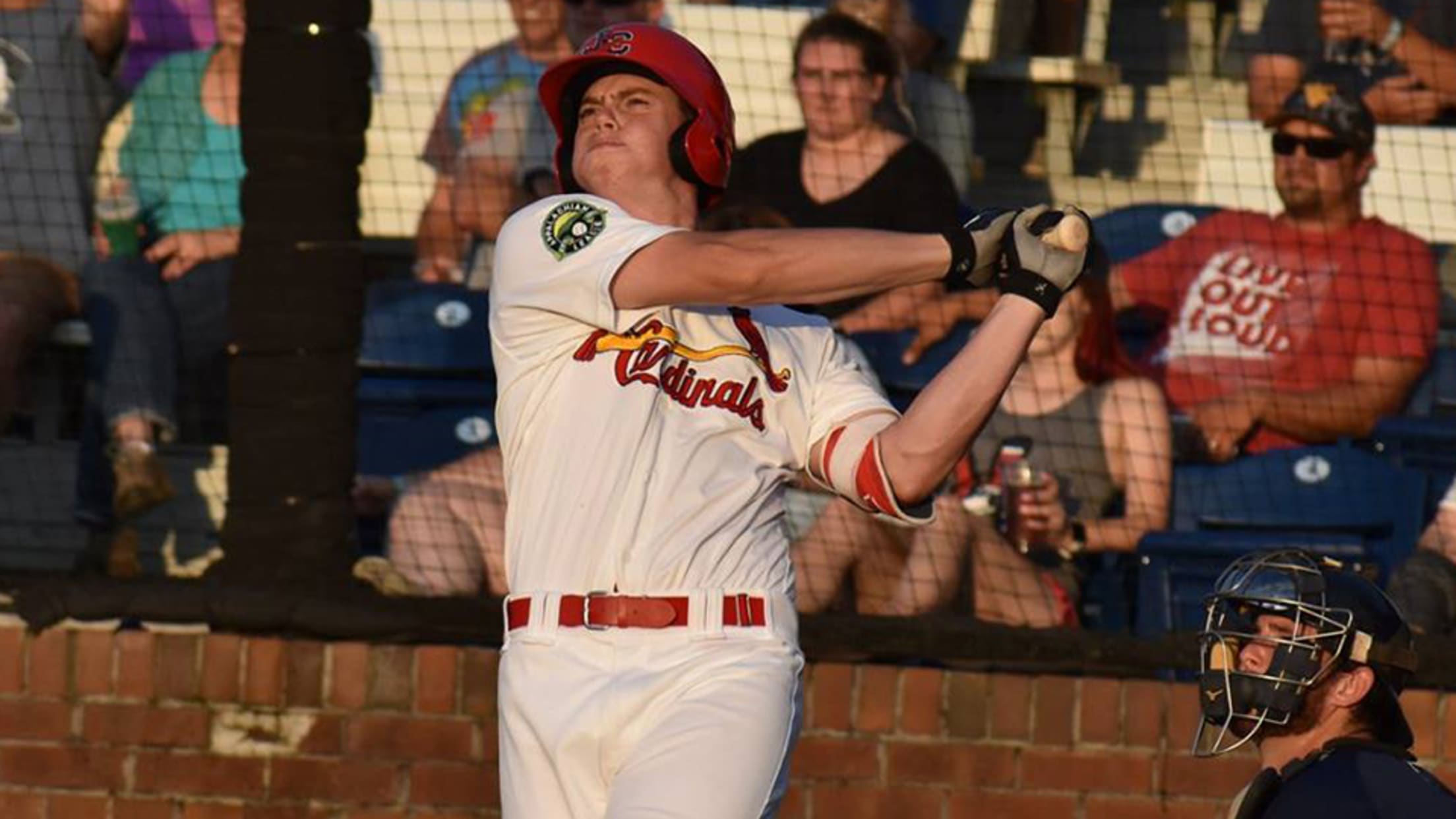 Kevin Woodall went to the Cardinals in the 10th round of the 2018 Draft out of Coastal Carolina. (Bret Jacomet/Johnson City Cardinals)
Kevin Woodall totaled three homers in his first 19 Minor League games. In game No. 20, he went for three more, then walked his team to a win.The Cardinals prospect left the yard three times and drew a go-ahead walk in the eighth inning, driving in six runs and leading Rookie-level
Kevin Woodall totaled three homers in his first 19 Minor League games. In game No. 20, he went for three more, then walked his team to a win.
The Cardinals prospect left the yard three times and drew a go-ahead walk in the eighth inning, driving in six runs and leading Rookie-level Johnson City to a 7-5 triumph over Bluefield at TVA Credit Union Ballpark.
His manager had a straightforward key to Woodall's career night.
Gameday box score
"His pitch selection," Johnson City skipper Roberto Espinoza said. "Tonight, he was swinging at good pitches. He'd been working all day with that with the hitting coaches, and today he just got the result that he's been working on. Pitch selection, swinging at good pitches, and this guy is big, so he's going to get those results if he keeps doing that."
Selected in the 10th round of last month's Draft, Woodall owned a .267/.321/.493 slash line heading into Wednesday night's game before breaking out for his second three-hit performance as a pro.
"That's great for him," Espinoza said. "That's what we always expect from these guys -- they can get good results and take their confidence to a different level. That's awesome, and we're really happy with his result tonight."
The Coastal Carolina product got started in the bottom of the first inning, belting a two-run homer to right-center off right-hander Felipe Castaneda. In the fifth, Woodall hammered a one-out solo shot to left-center off Castaneda, then came through again with a man aboard in the seventh, clobbering a game-tying two-run shot to right-center off righty Mike Pascoe.
"He made adjustments every at-bat because the first time it was to right field, opposite field, then pulled over the left field wall, and the third homer was straightaway center field, something hard to do at this ballpark if you've been here," the manager said. "It's really hard to do it, and then he took a walk in a clutch situation, so he was making adjustments each at-bat. It's great for him.
"He's coming from a huge program, and our scouting department knew what he can do. He's been showing that. The discipline that he has at the plate is really amazing. Sometimes, like any other young guy first time as a professional, he wants to do too much, but he's been working on it with our hitting coach."
The three-homer game was the first in the Appalachian League since Bluefield's Bradley Jones accomplished the feat on Aug. 25, 2016.
With the bases loaded and two outs in the eighth, Woodall worked a walk to force in the go-ahead run and double his previous personal best in RBIs. After batting .214 in seven games in June following his assignment to Johnson City, the 22-year-old has a .340/.421/.720 slash line, four homers and 15 RBIs in 13 contests in July.
Tyler Maun is a contributor to MiLB.com. Follow him on Twitter @TylerMaun.