Tucker comes back to Fresno with a bang
Astros No. 2 prospect delivers two homers, five RBIs in victory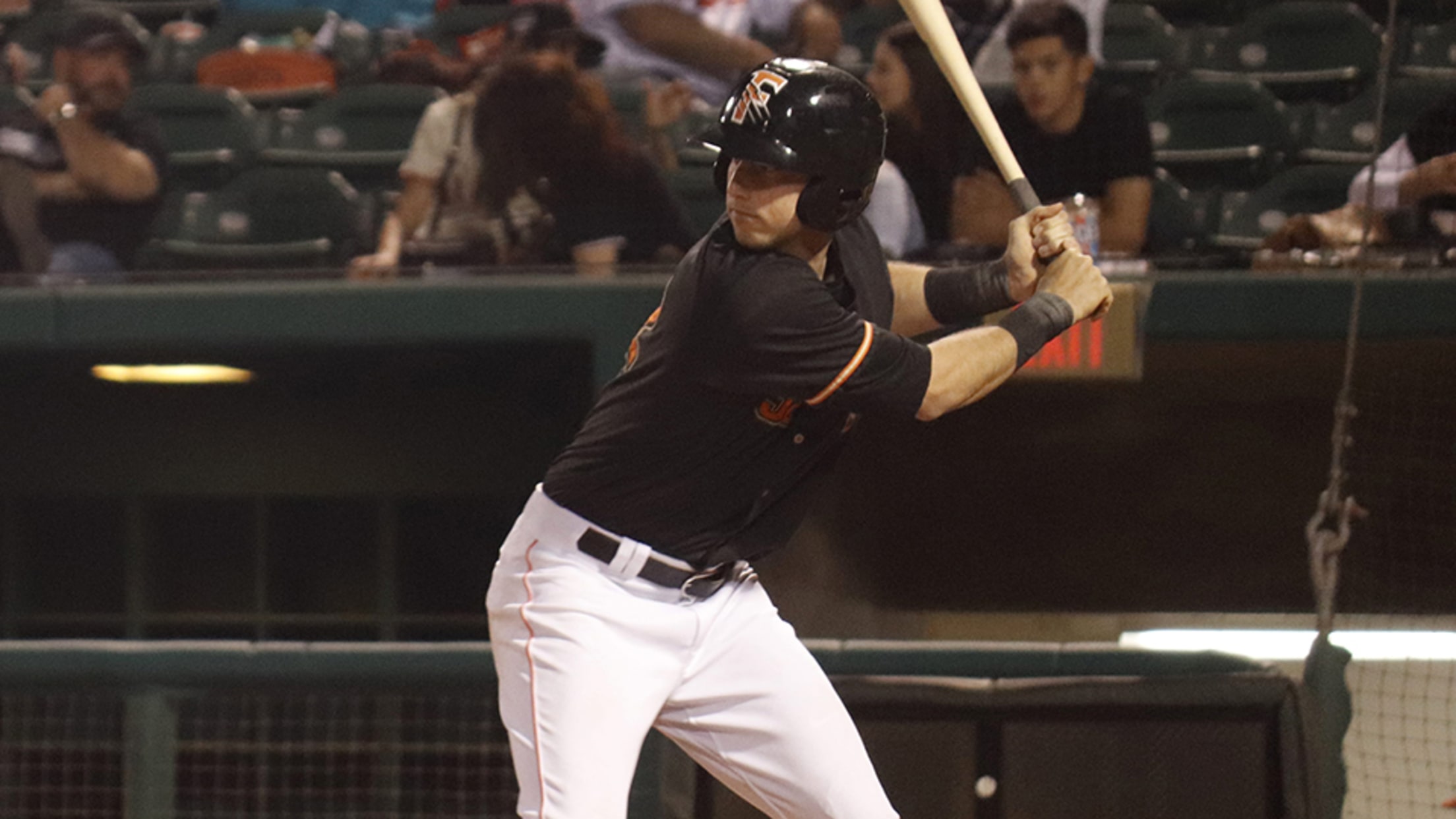 Kyle Tucker has produced four multi-homer games through four seasons in the Minors. (Jesus Sepulveda/Fresno Grizzlies)
Triple-A Fresno manager Rodney Linares has seen plenty of players come through the Astros system in his 12 years with the organization, but few have possessed the power Kyle Tucker wields at the plate. "His bat-to-ball skills are second to none. He's really impressive to watch," the Grizzlies skipper said. "You
Triple-A Fresno manager Rodney Linares has seen plenty of players come through the Astros system in his 12 years with the organization, but few have possessed the power Kyle Tucker wields at the plate.
"His bat-to-ball skills are second to none. He's really impressive to watch," the Grizzlies skipper said. "You can see him hit in a game and it looks like he had never hit in his life -- he can get fooled by three breaking balls in a row. But if comes back up again, that breaking ball better be in the dirt. Because if not, he's going to hit it out of the park."
The second-ranked Houston prospect put that tool on display Wednesday as he crushed two home runs -- including a game-tying grand slam in the ninth inning -- and drove in a season-best five runs to help rally Fresno to a 10-8 win over Sacramento. It marked Tucker's second multi-homer game of the year after belting two dingers on May 30.
On Aug. 11, MLB.com's No. 8 prospect was recalled by the Astros for his second big league cup of coffee. In the short trip, he went 1-for-7 before being optioned back to the Grizzlies on Monday to make room for José Altuve.
Linares had a short conversation with Tucker after he was sent down to Fresno that boiled down to some minor things the power hitter could improve upon before getting another shot with the big club. At this point, Linares said Tucker needs consistent at-bats to help with his development, which would be tough to get in a crowded Houston outfield.
"Tuck's a man of little words, so it's good that he's opening up about stuff after being up a couple of times in the big leagues," Linares said. "This is about him understanding that he's a big part of what we're trying to do, not only here but in the big leagues. He's going to be part of our big league club for a long time.
"He's got to know we're not disappointed -- he's gone up there and struggled a little bit. But he comes back here and does stuff like he did tonight. The future is bright with this kid."
Gameday box score
Back in the lineup for the first time since he was sent down, Tucker wasted no time against No. 21 Giants prospectJordan Johnson with a first-inning single into right field.
In the third, Tucker took a six-pitch walk and then took second base for his 18th steal of the year. Jack Mayfield drove him home with a double into left.
The 2015 first-round pick whiffed in the fourth, but he brought out the power stroke in the seventh. On a 1-2 pitch from reliever Tyler Rogers, Tucker cranked a breaking ball over the right-field fence for a solo homer, pulling the Grizzlies within four runs.
"[Rogers] hung one and [Tucker] hit it out," Linares said. "It's not pretty at times, but it works, it works, man. When he hits the ball, he can bash with the best of them. I've said it before, it's all about maturing into the player he's going to be. When he does, he's going to be someone special in the big leagues."
With a chance to tie the score in the ninth, the Florida native did not miss a beat. With the count full against Roberto Gomez, Tucker throttled the seventh pitch of the at-bat over the right-field wall for a grand slam. In bases-loaded opportunities this season, the 21-year-old has hit at an 8-for-14 clip.
In that situation, Linares almost didn't want Tucker to take one deep because it only tied the game. But when the manager saw the ball sail over the wall, he couldn't help but let out a big grin.
"Right there I'm thinking, 'Hit a double,' because a homer ties the game and we're on the road," Linares said. "But when he hit it, I was happy as I could be. I jumped up as soon as he hit the ball. [Grégor Blanco] was playing right field, and I thought he had a bead on it, but it's 20 feet away from Blanco and he's jumping for the ball. That ball was struck really well."
Tucker has produced a .316 average and .929 OPS with 19 homers in 90 games in the PCL this season. He's one long ball and two steals away from piecing together his second straight 20-20 year. Linares said he and the team have given Tucker the green light to be more aggressive on the bases this year, which only added another element to his solid all-around game.
"He got a stolen base tonight, just gives him another option to showcase his abilities," the manager added. "When this kid gets it in the big leagues, he's going to be special. This kid is going to be someone that you're going to be talking about for a long, long time."
Fresno put the finishing touches on the comeback when third-ranked Astros prospect Yordan Alvarez and Jamie Ritchie drew bases-loaded walks. Brendan McCurry then fanned one in a perfect bottom half to earn his 14th save of the year.
Andrew Battifarano is a contributor to MiLB.com. Follow him on Twitter, @AndrewAtBatt.