Tucker powers Grizzlies to division title
Walk-off homer gives Fresno PCL Pacific Northern crown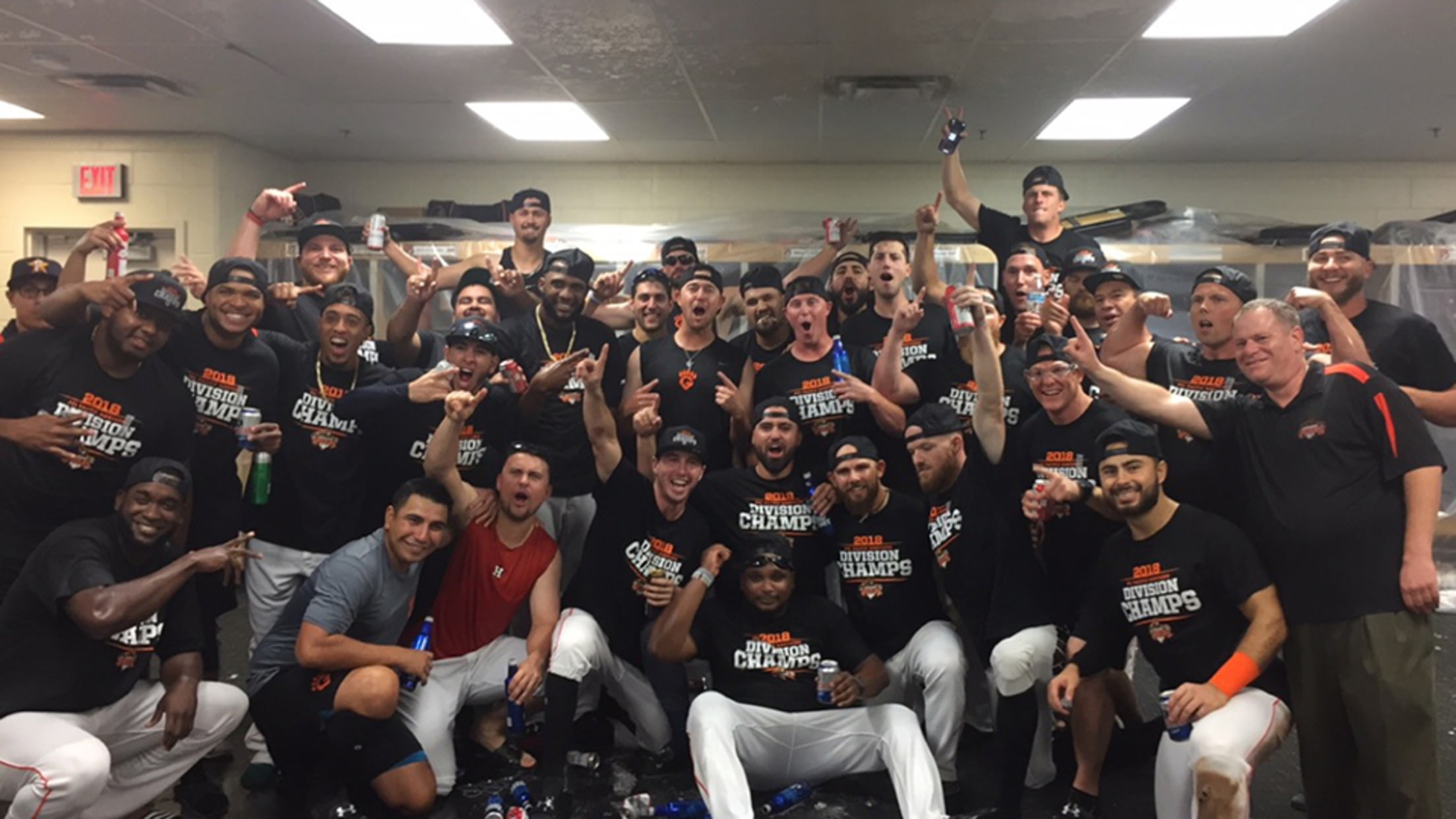 Fresno celebrates after clinching its second division title as an Astros affiliate (Fresno Grizzlies)
Fresno was down by four runs in the ninth inning and, with Reno having already won, it seemed the Grizzlies would have to wait at least another day before wrapping up the Pacific Coast League Pacific Northern Division crown.But with each passing hit, walk and error, the lineup crept closer
Fresno was down by four runs in the ninth inning and, with Reno having already won, it seemed the Grizzlies would have to wait at least another day before wrapping up the Pacific Coast League Pacific Northern Division crown.
But with each passing hit, walk and error, the lineup crept closer to red-hot Kyle Tucker.
Fresno scored twice and, after a pitching change, the Astros' second-ranked prospect faced left-hander Conor Lillis-White with two on and one out. What happened next came as no surprise to anyone who's been watching Tucker lately.
MLB.com's No. 8 overall prospect smashed a walk-off three-run homer that gave the Grizzlies a stunning 7-6 win over Salt Lake and a spot in the PCL playoffs.
"You're down, but you're never out," Fresno manager Rodney Linares said. "It was a total team effort. But they brought in the lefty, and this guy has a .120 average against and I was just thinking, 'Get a hit and bring J.D. Davis up, but he didn't do it. [Tucker] just hit it out."
IN IT!!! #Growlifornia 🐻 pic.twitter.com/WyKNIBNKRW

— Fresno Grizzlies (@FresnoGrizzlies) August 26, 2018
"He's one of those guys, and I've said before, you're going to talk about him for a long time. He reminds me of [Alex] Bregman. Pressure doesn't get to him."
Tucker has homered in four straight games, totaling seven during that stretch, and has a long ball in eight of his past nine games with Grizzlies around a two-week stint with the big club. In that span, he's 20-for-36 to raise his batting average 24 points to .327.
"I thought J.D. was hot, but Tuck came through and it's to the point that when he doesn't hit a homer, people say 'What's wrong?' To see him blossom ... those are big time at-bats, against closers and lefties," Linares said.
Gameday box score
Tucker had help Saturday as AJ Reed blasted his Triple-A-best 27th homer, giving him 106 RBIs, the most for a Fresno player since the franchise became affiliated with the Astros.
"People kind of underestimate our team, but you've got J.D. hitting above .350, A.J. hitting homers, but you also have guys like Jack Mayfield, and we haven't even seen Yordan Alvarez play his best. This is a talented group, but it's a team effort," Linares said.
Cionel Pérez (1-0) pitched the ninth to get the win.
With the regular season just about done, Linares is looking forward to the next step.
"I'm excited to see what this group can do in the playoffs. I told them, 'Get ready for real baseball,'" he said. "This is when it gets fun."
Vince Lara-Cinisomo is a contributor to MiLB.com. Follow him on Twitter @vincelara.