Angels adding Maitan after Braves release
Switch-hitting shortstop gives Los Angeles system another boost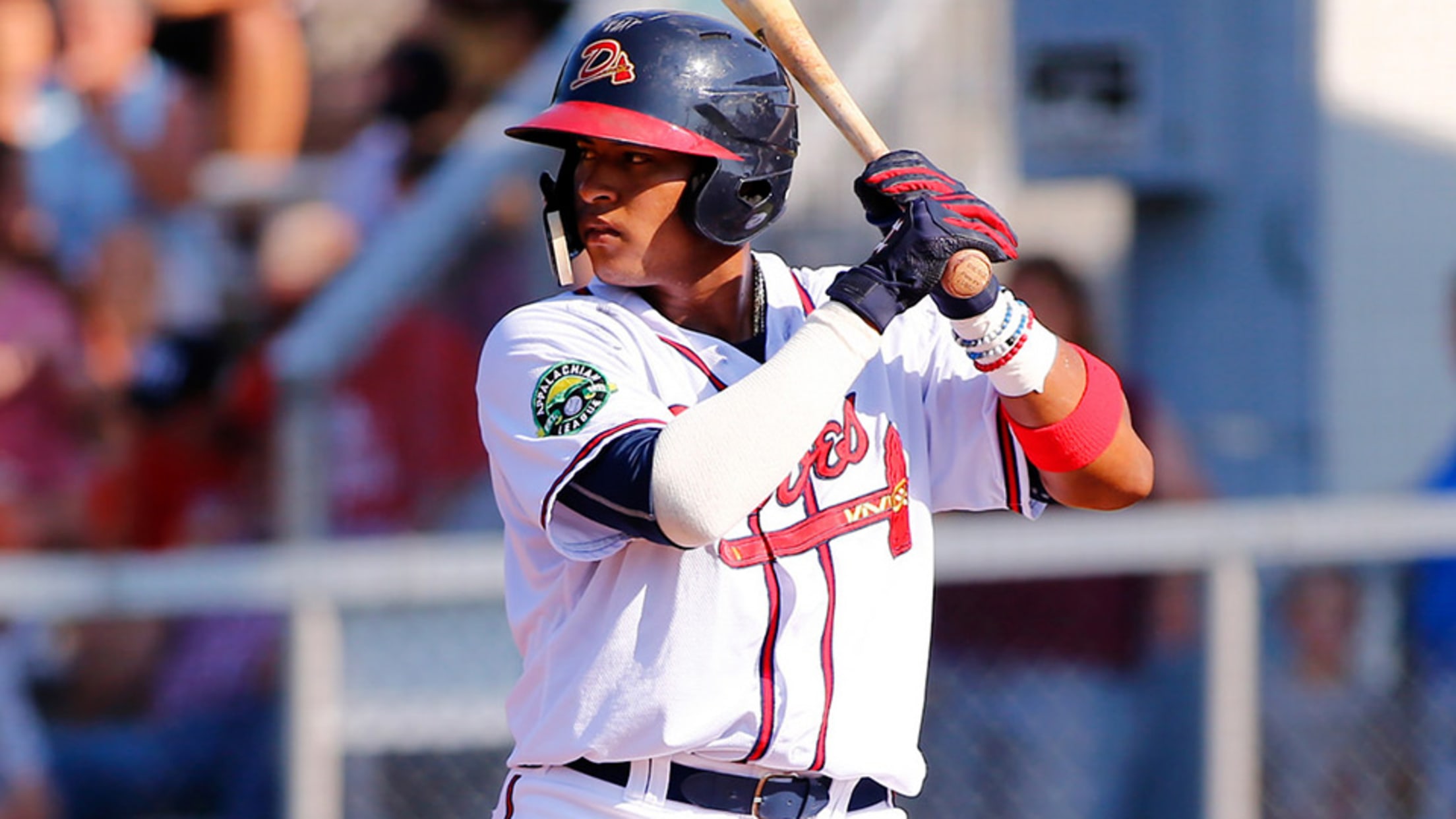 Kevin Maitan produced a .629 OPS over 42 games at two levels in the Braves system during the 2017 season. (Chris Robertson/MiLB.com)
The Angels farm system has definitely improved over the last year. On Tuesday, it took another big jump with one addition.Los Angeles has signed 17-year-old shortstop Kevin Maitan, according to multiple reports. ESPN's Buster Olney first reported the signing, and MLB.com's Jesse Sanchez added that the deal includes a $2.2
The Angels farm system has definitely improved over the last year. On Tuesday, it took another big jump with one addition.
Los Angeles has signed 17-year-old shortstop Kevin Maitan, according to multiple reports. ESPN's Buster Olney first reported the signing, and MLB.com's Jesse Sanchez added that the deal includes a $2.2 million signing bonus.
The Venezuela native was released from his contract with the Braves last month as part of Major League Baseball's sanctions against the club for breaking international signing rules. Maitan thus became a free agent able to sign with any other club, which could use money from either its 2017-18 or 2018-19 international signing pools -- but not both -- to ink him. Because the Angels only had $1.315 million left for 2017-18, they will be dipping into their 2018-19 pool for Maitan, leaving the money for this period open for potentially signing Shohei Ohtani.
Maitan is currently ranked as MLB.com's No. 38 overall prospect, but he is unlikely to hold that spot when the top-100 list is updated later this offseason.
The switch-hitting shortstop, who originally signed for $4.25 million back in July 2016 and will still keep that money, struggled in his stateside debut this summer, hitting .241/.290/.340 with two homers, one triple and eight doubles in 42 games between the Braves' Gulf Coast League affiliate and Rookie-level Danville. He struggled to make contact at those lower levels with a 27.8 percent strikeout rate, and there have been concerns about his size and conditioning. (He's listed at 6-foot-2 and 190 pounds but is likely larger than that.) He has an impressive arm, but those body concerns, along with speed and range issues, may move him to third base down the line.
Nevertheless, Maitan provides a great boost to a once-downtrodden Angels system. With the potential to show above-average hit and power tools at the plate, he joins 2017 10th overall pick Jo Adell and toolsy outfielder Jahmai Jones as top-100 candidates in the Los Angeles pipeline.
Maitan wasn't the only former Braves prospect to find a new club Tuesday. Right-handed pitching prospect Yefri Del Rosario, who was also released from his contract with Atlanta as part of those recent sanctions, signed with the Royals for $650,000, according to Sanchez. The 18-year-old Dominican Republic native put up a 3.62 ERA with 36 strikeouts and 14 walks in 37 1/3 innings in the Gulf Coast and Dominican Summer Leagues in 2017.
Sam Dykstra is a reporter for MiLB.com. Follow and interact with him on Twitter, @SamDykstraMiLB.