PCL notes: Thaiss, Jewell adapting quickly
Angels prospects on the rise after early promotions to Salt Lake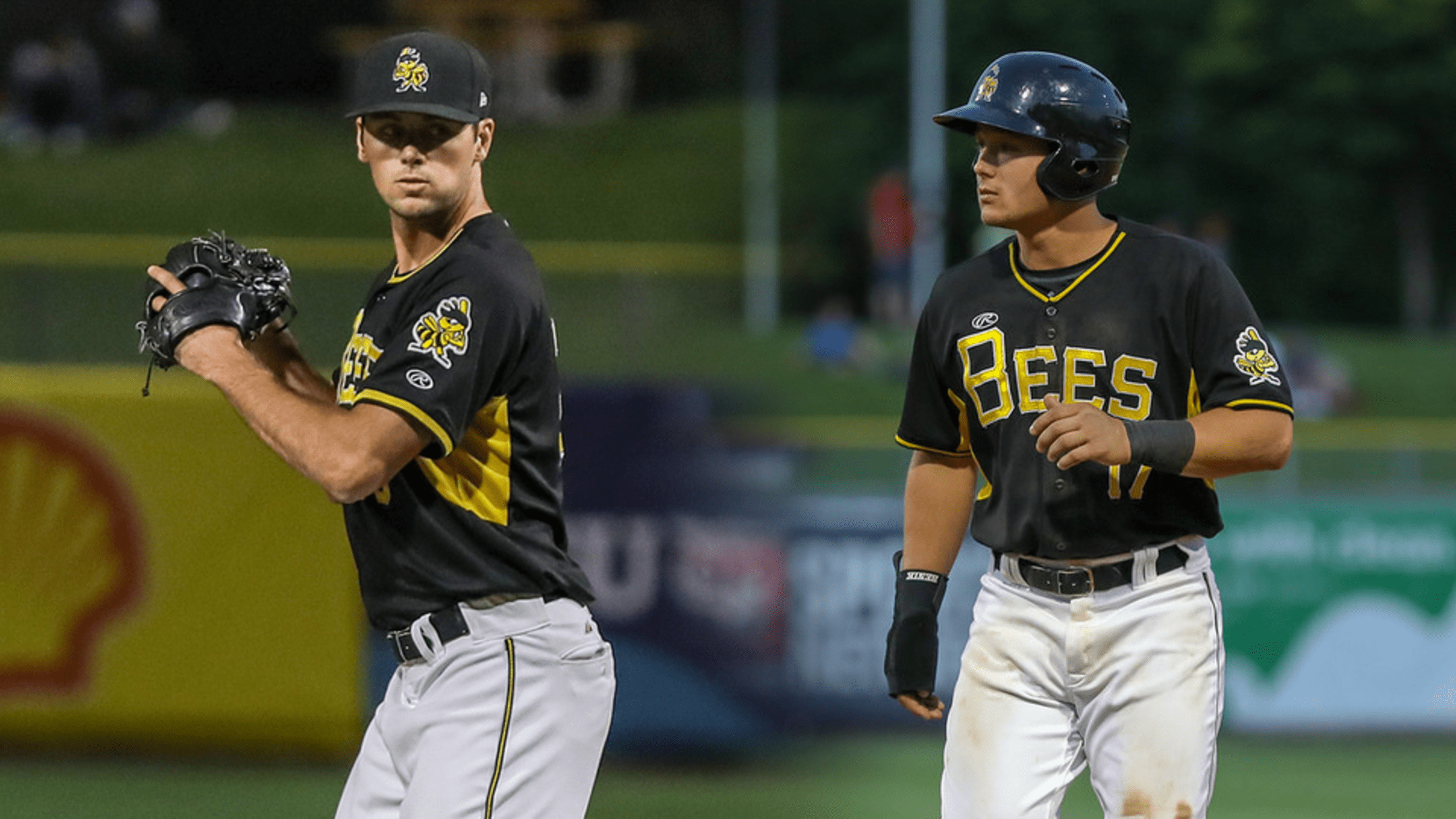 Jake Jewell and Matt Thaiss are enjoying early success with Triple-A Salt Lake. (Brent Asay/MiLB.com)
In-season promotions from Double-A to the Pacific Coast League are far from rare, though for prospects, most of those tend to happen around the middle of the year.The Los Angeles Angels, however, are showing no qualms about promoting their prospects from Mobile to Salt Lake at any point in the
In-season promotions from Double-A to the Pacific Coast League are far from rare, though for prospects, most of those tend to happen around the middle of the year.
The Los Angeles Angels, however, are showing no qualms about promoting their prospects from Mobile to Salt Lake at any point in the season.
Right-hander Jake Jewell (No. 25) joined the Bees after just seven games with the BayBears this year. His promotion wasn't much of a surprise, as he spent almost all of last season with Mobile.
So far, the PCL has been fairly kind to Jewell. He's gone 1-3 with a 3.18 ERA and two saves in 17 innings across 11 appearances.
"It's tough mentally, honestly -- you just think about keeping the ball down," Jewell said of life as a pitcher in the league.
First baseman Matt Thaiss (No. 8), on the other hand, reached Salt Lake last Tuesday, less than two years after he was drafted in the first round out of Virginia. Thaiss played a total of 89 games at Double-A between last season (49) and this year (40).
"You don't really try to think about getting to a place by a certain time," he said. "You just worry about how play, how you go about the game. It's definitely, I wouldn't say surprising, but it's exciting to be here."
Both players have done their fair share of adapting in their careers. Jewell has alternated between starting and relieving. He made 26 starts and one relief appearance in 2017 before moving to the bullpen full-time this season.
"For me, it's just fun to do everything," Jewell said. "It's cool, the different routines you get on, but as a pitcher you have the same mentality every time. You just attack the hitters."
For Jewell to earn that next promotion, he said he knows that mastering his slider and curveball are a must to go with his nasty 98 mph fastball.
"I'm still working on them -- sometimes they're inconsistent, sometimes they're good," Jewell said. "The fastball is feeling really good right now."
Jewell said he knows there is always room for relievers who can get outs in the Majors, plus careers can often last longer in relief.
"I think being a reliever definitely saves bullets, not as many throws, not as many innings," he said.
As for Thaiss, despite his higher prospect ranking, the road forward looks tougher. He has future Hall of Famer Albert Pujols and veteran Luis Valbuena ahead of him at first base in Anaheim, plus phenom Shohei Ohtani is gobbling up at-bats at designated hitter.
"[My goal is] continue to have good at-bats and keep honing that," Thaiss said. "I worked very hard with a lot of our [hitting coaches] with the Angels this offseason and Spring Training to kind of clean up some things. I'm trying to keep pressing through and get better at first base."
Thaiss only hit nine home runs last season, a low total for a first baseman. This year he already has nine, including three in his first six games with Salt Lake. Thaiss' slugging percentage has gone up from .395 to .490.
"It's been good -- it's been a lot of ups and downs, a lot of learning moments, but it's been awesome," he said.

In brief
Coming up Aces in May:
Reno right-hander
Taylor Clarke
has turned his season around since the calendar flipped to May. In five starts, the D-backs' No. 7 prospect has gone 4-1 with a 2.43 ERA, a massive improvement on a rough April (1-4, 7.43).
Under the radar:
After five bumpy years in the Minors, the Chicago Cubs are hoping that No. 29 prospect
Duane Underwood Jr.
has finally figured it out. In eight starts and one relief outing for Iowa, the right-hander has gone 3-4 with a 3.35 ERA, walking just 10 batters in 45 2/3 innings after a long history of control problems.
Arms up, bat down:
Three of the prospects the Marlins received from the Cardinals in the Marcell Ozuna trade are at New Orleans, and the pitchers are outshining the position players so far. Outfielder
Magneuris Sierra
(No. 6) has hit just .243/.267/.277 with 44 strikeouts in 173 at-bats, but right-hander
Sandy Alcantara
(No. 2) has gone 2-1 with a 3.71 ERA in nine starts and right-hander
Zac Gallen
(No. 12) is 4-1 with a 3.29 ERA in 10 starts.
Chris Jackson is a contributor to MiLB.com.