Castillo is heavenly during hitless effort
No. 11 Angels prospect faces the minimum in seven innings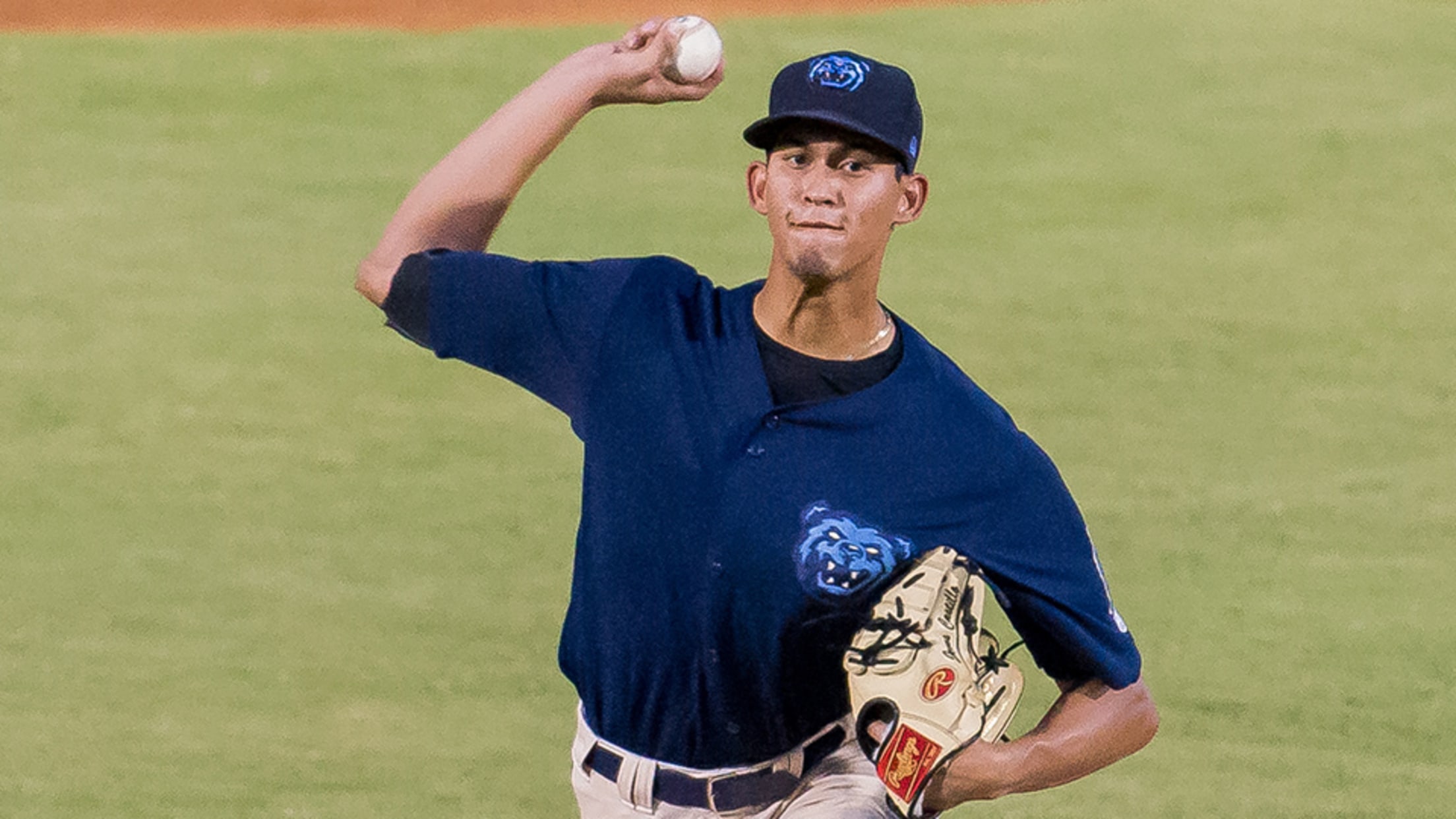 Mobile's Jesus Castillo has surrendered no more than one earned run in three of his first four starts of 2018. (VPBowers.com)
One poor start early in the season can mar an otherwise solid pitching line. Conversely, a great outing can have the opposite effect. And then there's the type of performance that Jesus Castillo put forth on Wednesday afternoon.The No. 11 Angels prospect fired seven no-hit innings to lead Mobile past
One poor start early in the season can mar an otherwise solid pitching line. Conversely, a great outing can have the opposite effect. And then there's the type of performance that Jesus Castillo put forth on Wednesday afternoon.
The No. 11 Angels prospect fired seven no-hit innings to lead Mobile past Mississippi 2-1, at Hank Aaron Stadium. The 22-year-old struck out four and faced the minimum 21 batters. Conor Lillis-White took over and pitched a hitless eighth, but the Braves' Tyler Marlette ended the no-hitter with a leadoff double in the ninth.
Even though he sat six outs from personal glory, Castillo (2-1) completely understood why he was removed from the game.
"I wasn't disappointed [in coming out] at all," he said. "My coaches told me I was done after the seventh and I was very happy that I threw such a good game. They're the ones in charge so I listen to them because they know what's best for all of us. The defense helped me a lot today and I just feel really great after having a start like that.
"I knew I had [a no-hitter] going. Some of the fans and my teammates mentioned it to me earlier in the day. But I tried not to let that distract me. I wanted to keep my mind on the game. It's the same no matter what the situation so I didn't try to do anything different."
Box score
Castillo seemed to be in a strong position to throw the first complete game no-hitter in BayBears history -- he finished the top of the seventh inning having thrown just 70 pitches (51 for strikes). His only blemish came when he plunked Braves No. 14 prospectAlex Jackson with one out in the second, but was perfect after that. The Venezuela native retired the last 16 batters he faced and ended his outing by fanning Austin Riley, the Braves' eighth-ranked prospect.
"I kept telling myself to stay closed on my front side," Castillo explained. "It's something that we've been working on the last few weeks and today was a good sign. Keeping my front closed helps my control and keeps my pitches going where I want them to. Well, most of the time, at least."
Castillo, who has not thrown more than 73 pitches in a start this season, appeared to get stronger in the later innings, recording all four of his strikeouts in the last two frames. His scoreless outing sliced his ERA by more than two runs, from 6.39 to 4.12. Even that number is a bit deceiving, as it was largely based on his second outing of the year when he surrendered seven runs in three frames against Jacksonville on April 11. Castillo allowed a total of two earned runs over 9 2/3 innings in his other two starts.
Signed by the Angels two days after his 16th birthday, he enjoyed a strong stateside debut in 2016 before bursting onto the prospect scene last year. Castillo went 9-6 with a 3.32 ERA and ranked fifth in the organization with 118 strikeouts in 124 2/3 innings. He began the season with Class A Burlington and moved on to Class A Advanced Inland Empire before finishing up with Mobile.
"The biggest thing for me this year is to throw as many innings as I can and give my team a chance to win," Castillo said. "Hopefully down the road I can reach the big leagues, but for now, I just want to be consistent and have a good year."
White was shaky in the ninth but escaped with his second save after allowing a run to score. The left-hander surrendered the lone Mississippi hit, walked two and struck out a pair in two innings.
Wade Wass got the BayBears on the board with a solo homer to center in the fourth, his first of the year. Angels No. 9 prospect Matt Thaiss followed up his near-cycle on Tuesday with a single and two walks.
M-Braves starter Enderson Franco (0-2) surrendered one run on five hits and three walks with three strikeouts in five innings.