Angels Prospect Primer: All eyes on Ohtani
Japanese two-way player atop system still gaining strength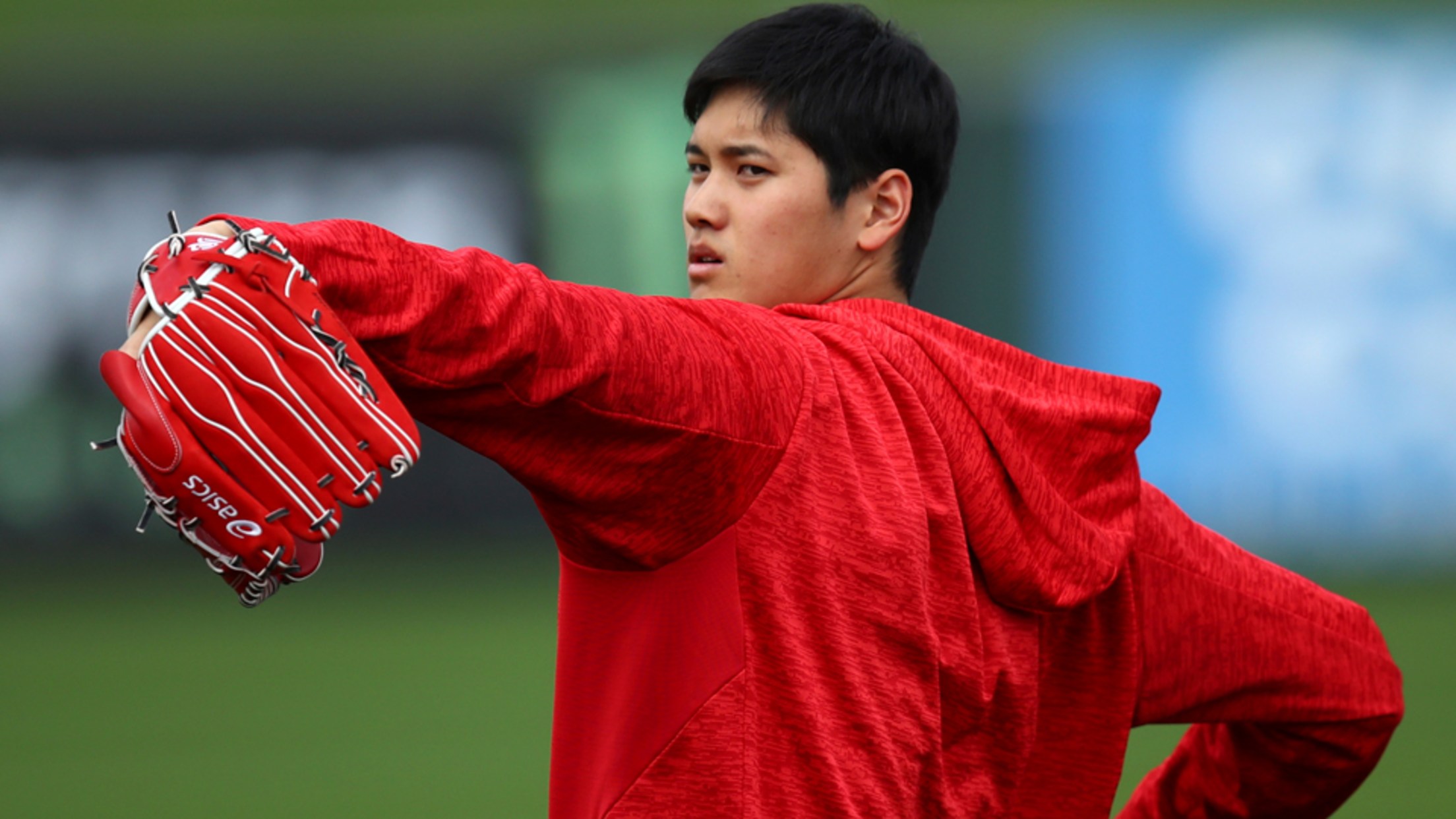 Shohei Ohtani could impact games as a two-way player. Even if he only pitches, he still figures to be a standout rookie. (Ben Margot/AP Photo)
Some players are on the verge of stardom, others are entering a crucial phase of their development and still others are getting their first tastes of full-season ball. With the 2018 season approaching, MiLB.com takes a look at the most intriguing prospects from each MLB organization.Shining Star: Shohei Ohtani, RHP/OFThere
Some players are on the verge of stardom, others are entering a crucial phase of their development and still others are getting their first tastes of full-season ball. With the 2018 season approaching, MiLB.com takes a look at the most intriguing prospects from each MLB organization.
Shining Star: Shohei Ohtani, RHP/OF
There was so much offseason hype surrounding the two-way Japanese player that it may have been impossible for Ohtani to live up to it. As it happened, he fell far short. In one outing as a pitcher, he struck out eight of 12 batters; other times, he was pushed around. His outstanding raw power on the left side of the plate hasn't yet been much of a factor.
Still, Ohtani enters the season as MLB.com's No. 1 overall prospect and is expected to break camp with the big club. There are very legitimate reasons he would have struggled this spring -- unlike prospects who have played in the Minors, this is Ohtani's first time facing hitters or pitchers affiliated with a big league organization. It's only fair to expect a transition period to get acclimated to the differences in the game. He's also adjusting to living in a new country with profound cultural differences, and any time he does anything at the Angels' Tempe Diablo facilities, he's under the microscope of hordes of fans and media. And, of course, he has double the on-the-field concerns of any other player on a big league roster. Plus, he's 23 years old.
No wonder the Angels aren't concerned about the Cactus League results.
"Spring Training stats?" general manager Billy Eppler asked media in mid-March. "I can't talk about Spring Training stats. I don't even know what they are."
The bottom line is: Ohtani is both a pitcher with a five-pitch arsenal that includes an 80-grade fastball and two other plus offerings and a five-tool outfielder. Even if the time when the Angels decide he's more valuable only as a pitcher -- even if they were to determine he'd benefit from time in the Minors -- he would remain an electric prospect.
Breakout prospect: Michael Hermosillo, OF
Actually, Hermosillo has been quietly "breaking out" ever since Los Angeles selected him in the 28th round of the 2013 Draft. With a .368 career on-base percentage and 80 steals in 123 tries in 355 games, the 23-year-old outfielder erased any doubt that he was for real with a strong 2017 split mostly across the Minors' top two levels.
Having clawed his way to No. 10 among MLB Pipeline's Top 30 Angels Prospects, the Illinois native is ticketed to return to Triple-A Salt Lake. In a 30-game taste of the Pacific Coast League last year, he got aboard at a .341 clip, swatting five homers, six doubles and a triple while swiping nine bags. With that experience under his belt, he's poised to do some damage in the PCL this season. If injuries do a number on big league outfielders, an early callup isn't out of the question. Great bat speed and a strong plate approach indicate he could handle it, and this spring he spent his time in Major League camp, learning from Mike Trout and Justin Upton.
At the crossroads: Kevin Maitan, SS
The top international prospect of the July 2016 signing period, Maitan inked a deal with the Braves worth $4.25 million but was cut loose when Major League Baseball penalized the organization for violating international signing rules.
That was after Maitan struggled in his professional debut (.241/.290/.340 in 42 Rookie-level games) and put on weight that prompted questions about his ability to remain a middle infielder.
"We're going to give him every opportunity to do [develop as a shortstop], and time will tell," Eppler told MLB.com in January.
Still, he's a switch-hitter whose tools have earned him comparisons to the likes of Miguel Cabrera, and he turned 18 in February. Considering the upside, the Angels did well to sign the Venezuela native for $2.2 million at the end of last year.
Full-season debutant: Jo Adell, OF
Adell is the most exciting of non-Ohtani outfield acquisitions who've reshaped the Los Angeles system over the last couple years. The 10th overall pick in last year's Draft, he batted .325/.376/.532 with 24 extra-base hits, 30 RBIs and eight steals in 49 Rookie-level games in his debut summer.
"Our organization can now have a player to build around long-term," scouting director Matt Swanson told the Los Angeles Times after the Draft.
With outstanding raw athleticism and 60 scores in fielding and arm strength, the Kentucky native is MLB.com's No. 62 overall prospect. Although he figures to be one of the youngest players there and it's possible the Angels will keep him in extended spring camp until the fields thaw a little bit, Adell should have no trouble holding his own in the Class A Midwest League.
Loudest tool: Trent Deveaux, OF
Signed out of the Bahamas last July, Deveaux turns 18 on May 4 and has yet to play in a professional game. When he does, everybody will take note of his speed. That 80-grade tool alone would get him a spot among the Angels' top prospects -- (MLB Pipeline lists him at No. 24) -- but it's not the only noteworthy part of his game. His arm is more than adequate for center field and he gets good reads on the ball. His plate approach is advanced for his age, honed partially by time training in the Dominican Republic for several months in 2016-17.
"It was a huge difference because ... in the Dominican, everyone is really good," he told The Tribune of Nassau, Bahamas last January. "Everyone has something special about them that the coaches look for and it forces you to get better. For me, they say speed doesn't slump, but I can hit."
More to keep an eye on: Count Jahmai Jones and Brandon Marsh among the aforementioned group of young outfielders who have helped turn this system around. Jones spent 2017 -- his first full season -- between the Midwest League (86 games) and the Class A Advanced California League, stealing 27 bases and collecting 14 homers, seven triples and 29 doubles. Marsh aced the Rookie-level Pioneer League in his debut campaign, batting .350/.396/.548 with 22 extra-base knocks in 39 games. ... Jose Rojas, who grew up in Anaheim, is reminiscent of Hermosillo in that he's a late-round pick who's played as well as anybody in the system and is ready for the upper levels. ... Right-hander Chris Rodriguez did not put up great numbers between the Pioneer and Midwest leagues last year, but there were occasions when his potential was crystal clear -- including a one-hit outing with Orem.


Predictions:
Most home runs in the system: Jones
Most stolen bases: Hermosillo
Most strikeouts: Jose Suarez
Current prospect to get most Major League playing time: Ohtani
Non-Top 100 prospect to end 2018 in the Top 100: Marsh
Josh Jackson is a contributor to MiLB.com. Follow and interact with him on Twitter, @JoshJacksonMiLB.