Peters hits three jacks, takes Cal League lead
Dodgers No. 18 prospect puts up Quakes' first hat trick of 2017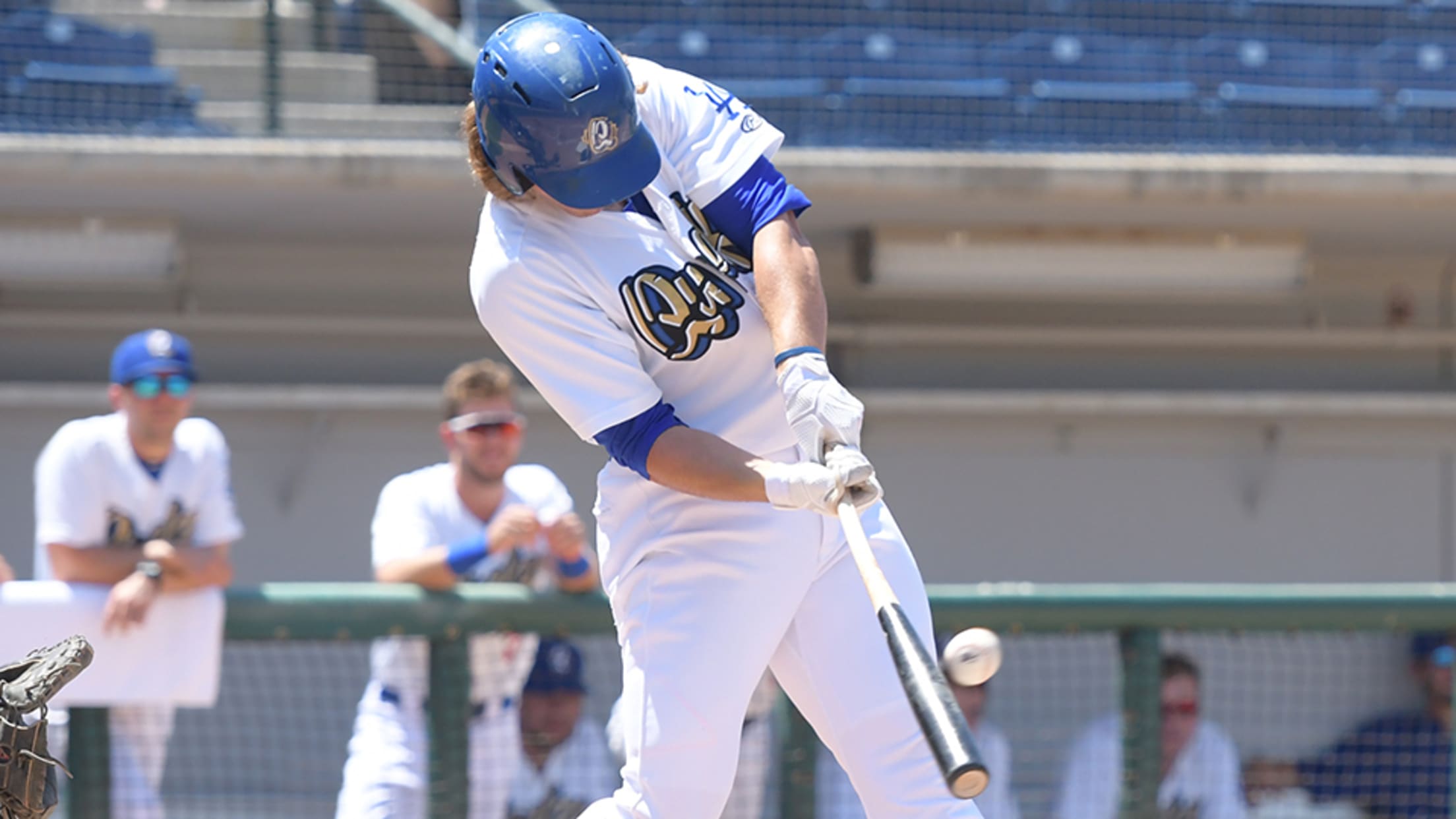 DJ Peters recorded Rancho Cucamonga's third three-homer game over the last two seasons. (Steve Saenz/Rancho Cucamonga Quakes)
DJ Peters' hometown of Glendora, California, is fewer than 25 miles from Class A Advanced Rancho Cucamonga's LoanMart Field. On days like Sunday, when he put together his first professional three-homer game, he's especially appreciative of that fact. His mother, Karen, and father, Donnie, were there with family and friends
DJ Peters' hometown of Glendora, California, is fewer than 25 miles from Class A Advanced Rancho Cucamonga's LoanMart Field. On days like Sunday, when he put together his first professional three-homer game, he's especially appreciative of that fact. His mother, Karen, and father, Donnie, were there with family and friends to witness the power show.
"To do it here for the first time in my young career, I enjoyed it 100 percent. It felt great," the Dodgers' No. 18 prospect said. "It was a lot of fun, the whole experience, being able to hit a 'milestone' with all of my family and family friends here, it's an absolute blessing. It's an absolute blessing -- to be able to live the dream, playing for the Quakes, where I grew up going to games and playing at the ballpark [in high school tournaments]."
The 21-year-old center fielder drove in four runs, walked and scored four times while grabbing the California League home run lead in Rancho Cucamonga's 12-2 rout of Lancaster. Johan Mieses -- Los Angeles' No. 25 prospect -- hit two dingers, including a grand slam, on a 3-for-4, five-RBI da. The victory also saved the Quakes from starting a four-game set with three straight losses.
Gameday box score
"Of course, I'm very grateful we were able to get the 'W' and not lose three straight to the JetHawks," Peters said.
The hat trick was the Quakes' first since Mike Ahmed had one last Aug. 7. Peters had gone yard twice in a game on two separate occasions -- against Stockton on May 26 and for Rookie-level Ogden last Sept. 5 -- and he said he's thought about the possibility of three jacks in one game before.
"I guess it's always in the back of your mind. Your teammates in the dugout are telling you, 'Hey, hit three or four' and you hear people in the crowd saying, 'Hit another one!'" he said. "But for me, I try to take it at-bat to at-bat, whether it was a homer or a strikeout or a sac fly the last time. And whether I'm 2-for-2 or 0-for-2 or 4-for-4, I don't like to take the previous at-bat into the next one, whether it was a good result or a bad one."
With 16 long balls, he's one ahead of teammate Ibandel Isabel -- who was 3-for-5 on Sunday -- for tops in the league.
"Isabel hits the ball farther than anyone I've ever seen," Peters said. "He's going to have a really long career as well. Having two league leaders on the same team, we're going to cause a lot of trouble for the other teams. We congratulate each other and we want nothing but the best for each other."
The 2016 fourth-rounder opened the second inning with a blast to left-center field on the second pitch he got from Lancaster starter Trey Killian. In the fifth, he got to Killian for a two-run dinger over the wall in left. Two innings later, he pulled another one out, this time against right-hander Cristian Quintin.
Petres saw a total of eight pitches during those at-bats.
"For me, personally, I like to see the ball up and once I get a pitch up I can drive and elevate, I don't want to miss it. [In the fifth, it] was on an 0-2 pitch, but I got them early and hit them solid up," he said, admitting that he knew two of them were gone as soon as he made contact.
"Definitely on the second and the third one, I hit it very solid off the bat, elevated it, for sure. Knew it, I knew right away. But the type of player I am, I put my head down and was running. It's a respect factor -- the pitcher is trying just as much as I am and I have a lot of respect for the pitchers in this league."
As he circled the bases in the seventh, he was well aware of what he'd accomplished.
"It's really indescribable," he said. "With some of my family there and some of my family friends, one in a game is great, two is great, three is just phenomenal. I just wanted to enjoy the moment, soak it all in, because how many of those in your career are you going to have?"
Peters batted again in the eighth, but Quintin walked him on four pitches to load the bases and Mieses followed with his grand slam.
"I was on first base and he swung at the first pitch and fouled it back. I knew if he got another one in a similar place, he was going to crush it," Peters said. "It just so happens he did crush it and it went out to left. Running home, I had a big old smile on my face, and seeing Luke Raley there, we had a moment because this was a big team win."
Rehabbing Dodgers left-hander Scott Kazmir, on the disabled list since the start of the season with a left hip strainstarted for the Quakes and allowed one run on one hit and two walks while striking out one over three innings. Adam Bray (3-2) earned the win, holding Lancaster to an unearned run on one hit and one walk with three strikeouts in five innings.
Josh Jackson is a contributor to MiLB.com. Follow and interact with him on Twitter, @JoshJacksonMiLB.