Dodgers' Peters setting bar even higher
Top prospect Verdugo considers LA's deep outfield 'a blessing'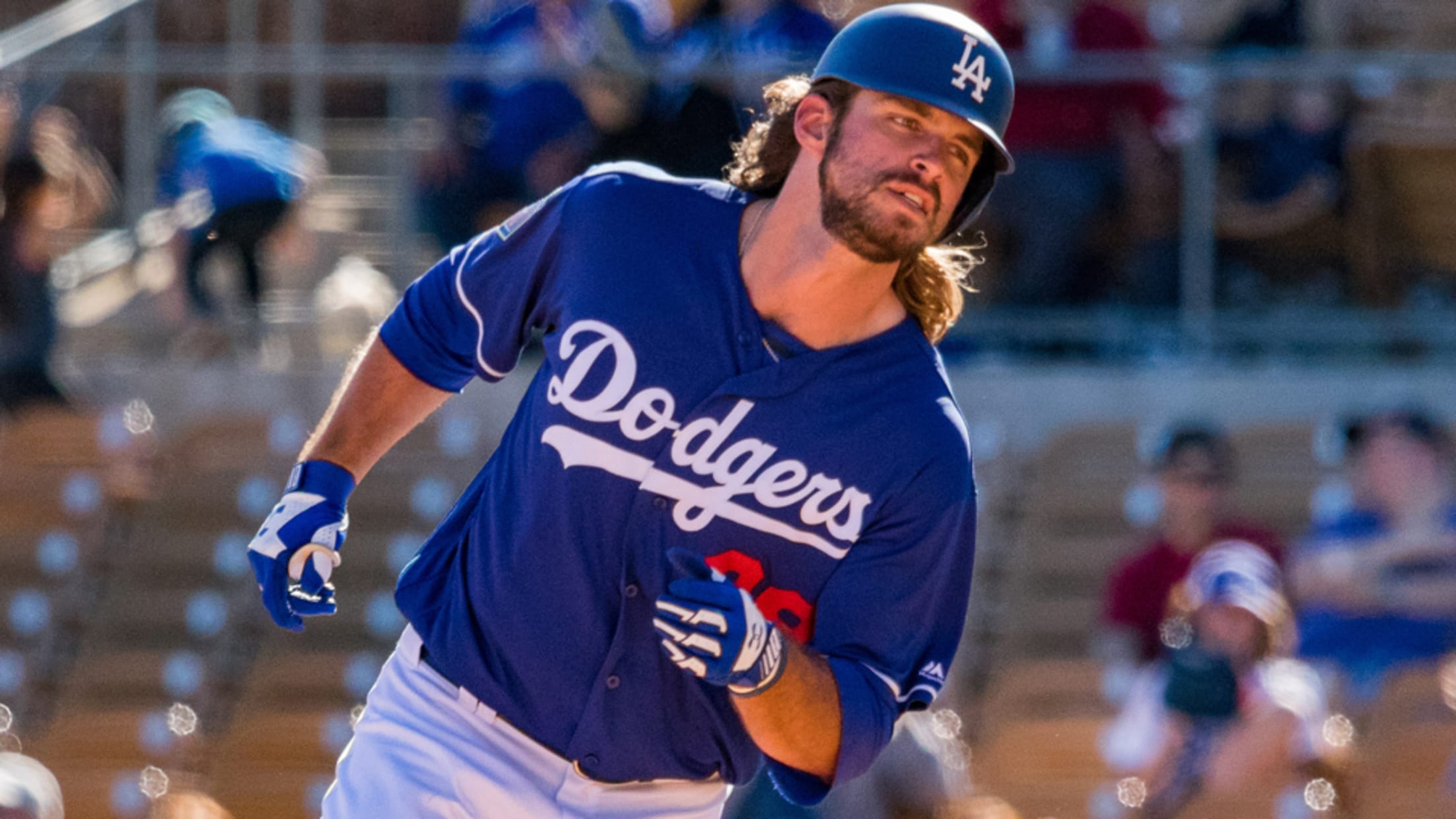 DJ Peters has hit 40 home runs and 53 doubles over 198 Minor League games. (Freek Bouw/Phrake Photography)
GLENDALE, Arizona -- When DJ Peters was a boy, he had special cause to get excited every Saturday. Starting at the age of 6, he would climb into a truck and tag along as his father, Donnie, moved pianos around California's San Gabriel Valley.That may not sound like a great
GLENDALE, Arizona -- When DJ Peters was a boy, he had special cause to get excited every Saturday. Starting at the age of 6, he would climb into a truck and tag along as his father, Donnie, moved pianos around California's San Gabriel Valley.
That may not sound like a great time to most children, but Peters loved it, and he learned different lessons than the ones he picked up in elementary school during the week.
"I was always looking forward to [those] mornings when I get to go on the truck with my dad, get the tips from the customers and having gas- station food in the morning, maybe having lunch at McDonald's that day," he said. "Learned a ton from him -- from a work ethic standpoint and being able to see him start up his own company and strive in that has really taught me to be a better person and to be a workhorse."
All the years he put in around Donnie's Piano Transport paid off last season. In his first full year, the Dodgers No. 6 prospect played in 132 Class A Advanced games -- and with a .276/.372/.515 slash line and 27 homers -- picked up California League MVP honors before moving on to the Double-A Texas League for the playoffs.
"Then [I] had about two weeks off and then came back here for the [Arizona] Fall League, and I got back after Thanksgiving for Dodger Stadium workouts," the 2016 fourth-rounder said. "It was a long year, but I wouldn't have asked for anything else. [It just went] boom-boom-boom, but I feel great. My body feels great, stronger than ever."

Los Angeles rewarded him with an invitation to Major League camp this spring, and he went 7-for-19 with two home runs over 19 Cactus League games. Reassigned to the Minors on March 11, Peters looks back at the past 12 months with a sense of gratitude. Not only did he accomplish just about everything he possibly could have on the field -- including swatting two dingers off Madison Bumgarner in the same inning -- but he spent the regular season with a team fewer than 25 miles away from Glendora at Rancho Cucamonga.
"I did have a great year," the Western Nevada Community College product admitted. "For it being my first professional full season and being at home is something that every player doesn't get to experience. To have my family there at every game basically just makes it that much more comfortable. It kind of makes you feel like you're in high school again, getting a home-cooked meal, to have friends there that are supportive whether I do well or don't do well."
Part of this year's stint in big league camp also made Peters feel like he'd never left home.
"I was probably about 11 years old going specifically to watch Matt Kemp and [Andre Ethier] and Russell Martin and guys like that," the outfielder said. "To be able to work out with [Kemp], play with him, hit in the same group in BP as him and even be in the same lineup as him was kind of like one of those childhood memories [of when] I used to go to the games. Now, being 22 years old and being able to compete with him is something that is very surreal."
There were others too whom Peters benefited from working alongside with during his Cactus League time.
"For it being my second Spring Training, being over on the big league side for about three to four weeks, [I made sure I] learned a ton from guys like Doc [Dodgers manager Dave Roberts] and [hitting coach] Turner Ward, tapping into guys like Justin Turner, Chase Utley," he said. "I got to work out with them during the offseason which is a privilege ... and to be asked to go to big league camp is a very, very big privilege for it only being my second Spring Training."
Of course, his performance last season and experience in spring camp have set a sky-high bar for 2018, but Peters is confident he can make it another excellent year, starting at Double-A Tulsa.
"[During Spring Training, I've] just really been working on my approach -- my two-strike approach," he said. "Last year, everybody can say I had high strikeout numbers, but I also do walk a lot. When you balance the two out, I do hit for a lot of power and I hit for average as well. If I can combine all those and cut the strikeouts down a little bit, a little bit more balls in play with two strikes like I have been this entire Spring Training, it's going to be great."

Verdugo not discouraged by depth
The Dodgers optioned
Alex Verdugo
to Triple-A Oklahoma City on Tuesday, answering a question not of "if" but "when." Considering the club's Major League outfield includes a resurgent Kemp,
Chris Taylor
,
Yasiel Puig
,
Enrique Hernández
and
Joc Pederson
, it was never likely the 21-year-old center fielder was going to land a roster spot out of camp. Nonetheless, Verdugo is happy with his situation.
"It's a blessing," the
No. 33 overall prospect
said. "At least I'm in the opportunity to win a spot and potentially be up there and playing, but I got sent down here, so I'm just going to keep doing what I've been doing, keep working hard, keep playing baseball, and everything will work out."
The 2014 second-rounder is coming off an All-Star year with Triple-A Oklahoma City, having batted .314/.389/.436 with 37 extra-base hits over 117 games before getting into 15 games in the Majors. During the Cactus League this year, he went 11-for-34 (.324) with a pair of jacks.
So what can Verdugo do back in the Pacific Coast League to expedite his arrival in Los Angeles?
"Fine-tune everything and make sure everything's ready. I try not to think about numbers or anything like that. It's just really go out there and play the game hard and have fun," he said. "I think Double-A, Triple-A, big leagues, I'd be excited to get out there, but obviously I would have been more excited to be in the big leagues. But the preparation for the games is going to stay the same."
Josh Jackson is a contributor to MiLB.com. Follow and interact with him on Twitter, @JoshJacksonMiLB.