Quakes' Ruiz collects two more extra-base hits
Dodgers No. 12 prospect slugs first California League home run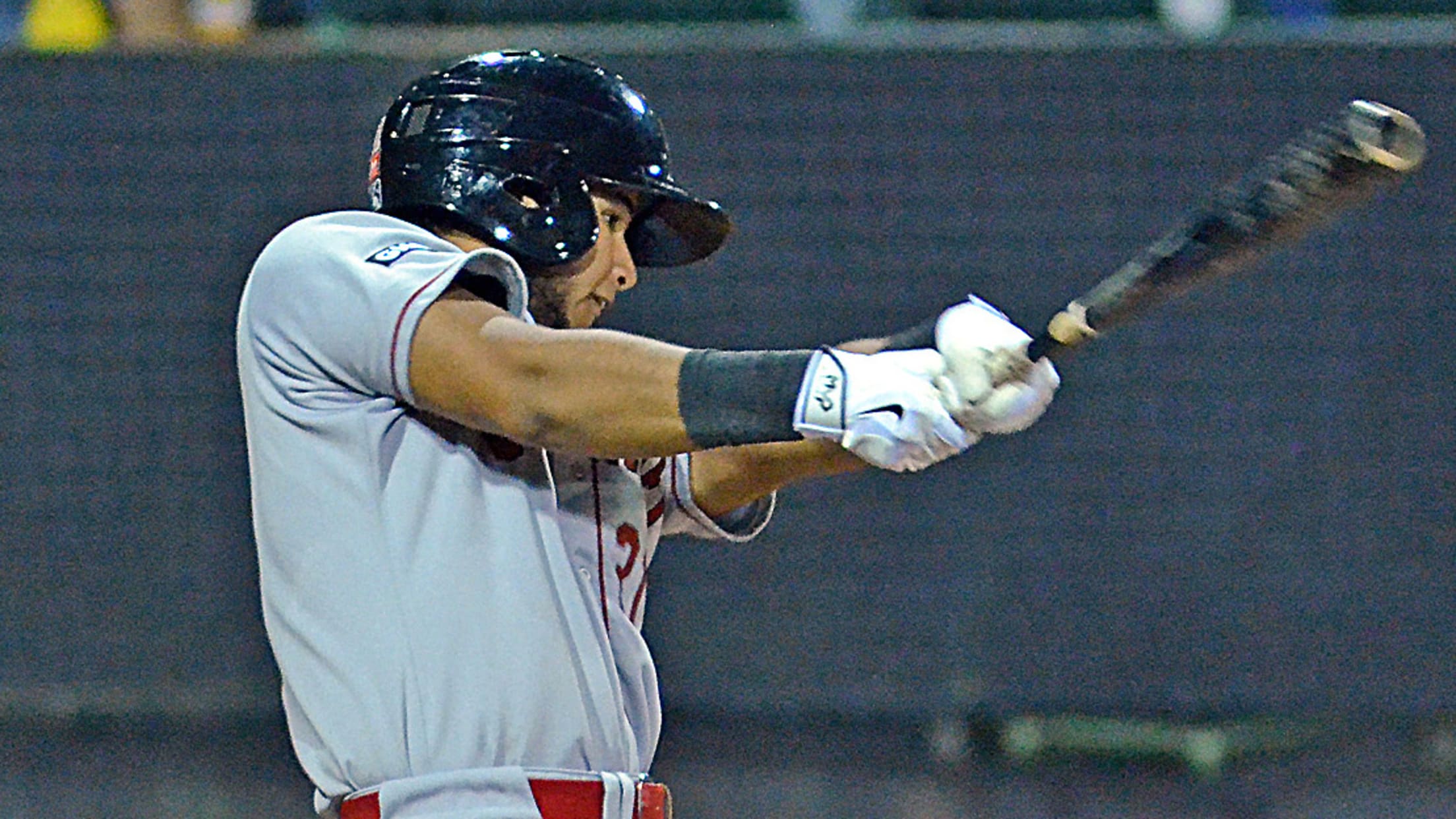 Keibert Ruiz has 205 hits, including 47 doubles, in 167 career Minor League games. (Paul R. Gierhart/MiLB.com)
The Los Angeles Dodgers are moving Keibert Ruiz up the ladder aggressively and he is giving them no reason to slow down. In his fourth game in the California League, the Dodgers' No. 12 prospect hit his first homer and doubled as Class A Advanced Rancho Cucamonga defeated San Jose, 7-2, on Friday. 
The Los Angeles Dodgers are moving Keibert Ruiz up the ladder aggressively and he is giving them no reason to slow down.
In his fourth game in the California League, the Dodgers' No. 12 prospect hit his first homer and doubled as Class A Advanced Rancho Cucamonga defeated San Jose, 7-2, on Friday.
"It's such an outlier to see someone who cares so much about his teammates, his pitchers and what he can do to help them," Quakes manager Drew Saylor said of Ruiz. "All of those things kind of shape him into who he is. I don't know if I have enough adjectives to describe the type of player he is. There haven't been a lot of guys who have made this type of impression on me."
Gameday box score
The Dodgers promoted Ruiz on Saturday after he batted .317/.372/.423 with two homers and 24 RBIs in 63 games with Class A Great Lakes. So far in the California League, the native of Venezuela has produced a 1.145 OPS with three of his five hits going for extra bases.
"The thing that has impressed me so far has been the calmness and poise he's been able to display both on and off the field," Saylor added. "He's a soft-spoken guy and you have to almost do a double-take when you look at the roster and see he's only 18. It's like, 'Are you kidding me?' Because the professionalism and the way he goes about his business is off the charts for me."
After lining out to center in the second, Ruiz doubled to right field in the fourth off San Jose starter Jake McCasland (4-9). Ruiz bested McCasland again in the sixth, with a two-run shot to right field that extended Rancho Cucamonga's lead to 5-1.
"It was a fastball and he turned it around pretty easy," Saylor said." Offensively, when you watch him, you can tell there's a plan and a process that he has. He's trying to get himself loose and get his body in the right position so he can get ready to hit.".
Ruiz was the only player in the Quakes lineup not to strike out, and that's not a surprise. The 6-foot, 200-pound catching prospect has fanned 32 times in 268 plate appearances across two levels this season.
In addition to producing at the plate, Ruiz has made a terrific first impression behind the plate with the Quakes.
"The softness of his hands behind the dish is so impressive," Saylor said. "He doesn't try to force anything and he's a really quiet receiver to the point that it almost looks like the ball doesn't make an impact in his glove. He's on time so much, that even on tough pitches, he'll make it look like an easy block, but it's really not."
Dodgers No. 17 prospect Drew Jackson hit a two-run triple and No. 25 prospect Johan Mieses collected two hits and scored two runs for the Quakes.
Matt Winn had three hits, including two doubles, for San Jose.
Michael Leboff is a contributor to MiLB.com.