Robert sparks White Sox comeback with slam
Third-ranked prospect boosts Cactus League average to .300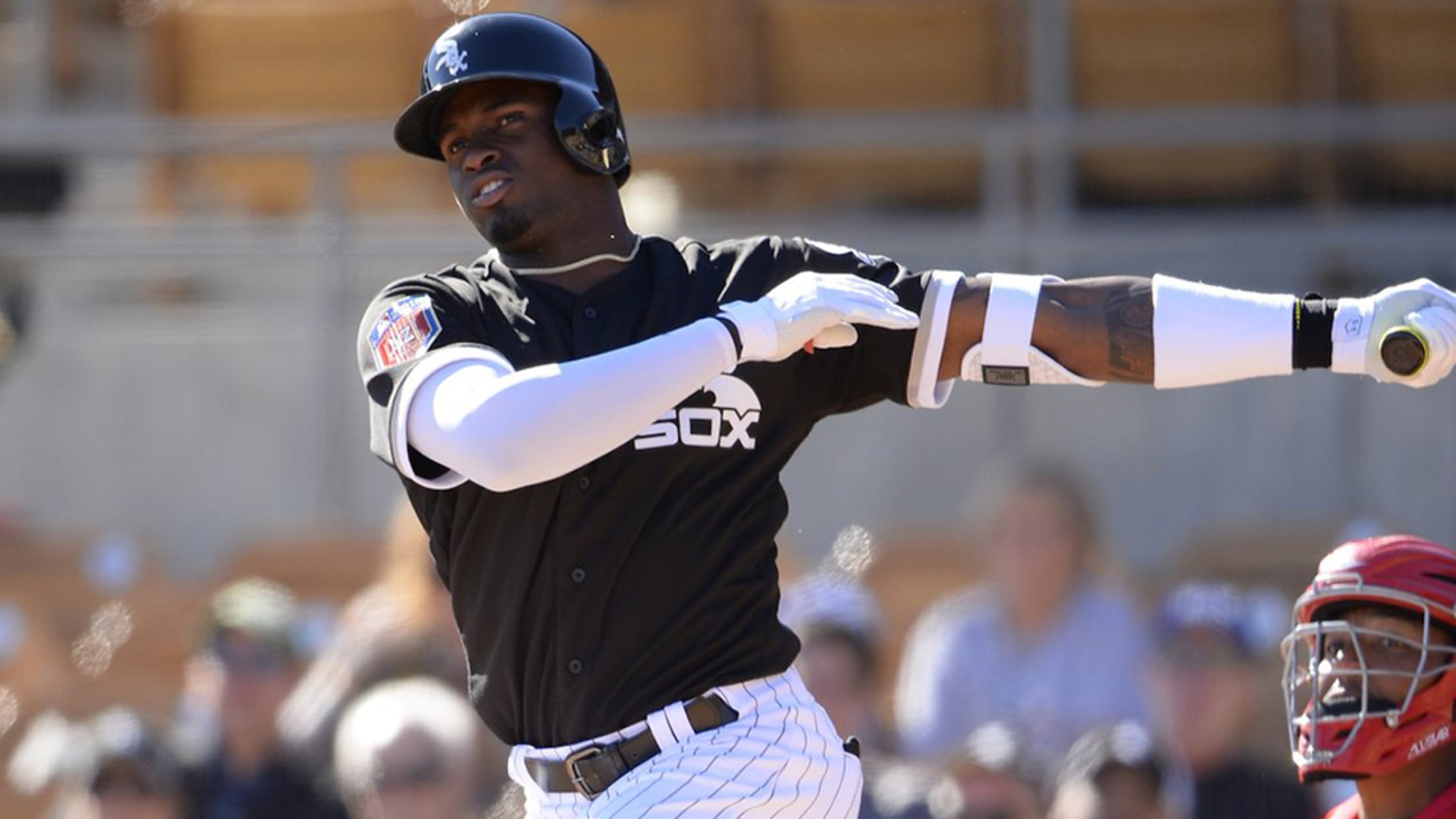 Luis Robert batted .310 in 28 games in the Rookie-level Dominican Summer League last year. (Chicago White Sox)
After defecting from Cuba and signing with the White Sox last May, it was only a matter of time before Luis Robert could prove himself.In his first opportunity to play a full game, MLB.com's No. 28 overall prospect made the most of four at-bats, blasting a go-ahead grand slam in the
After defecting from Cuba and signing with the White Sox last May, it was only a matter of time before Luis Robert could prove himself.
In his first opportunity to play a full game, MLB.com's No. 28 overall prospect made the most of four at-bats, blasting a go-ahead grand slam in the eighth inning as the White Sox outslugged the Reds, 14-12, in Glendale, Arizona.

"When I was walking to home plate, I heard the crowd and they were chanting for me," the third-ranked White Sox prospect said. "It made me excited. I took a deep breath and focused. I was ready for the slider. He threw me the pitch and I hit it. When I hit the ball, I knew it was gone."
The homer capped a five-run eighth and was the first of the spring for the 20-year-old, who also walked and stole a base while getting the start in center field. Robert, who did not get an at-bat in his previous two appearances, is hitting .300 in eight Cactus League games.
Robert played 28 games in the Rookie-level Dominican Summer League last year, batting .310/.491/.536 with three homers, eight doubles, 14 RBIs and 12 stolen bases.
No. 18 White Sox prospect Ryan Cordell singled, walked and scored a run in three at-bats.
Starting at third base, Reds top prospect Nick Senzel double and lifted a sacrifice fly. No. 23 Phillip Ervin added a two-run triple.
In other spring action
Dodgers 4, Angels 2 (Box)
The highly anticipated first matchup between Shohei Ohtani, MLB.com's top overall prospect, and Dodgers ace Clayton Kershaw ended in a strikeout. The Angels' designated hitter grounded into a double play in his second at-bat against right-hander Brian Schlitter and is 1-for-11 (.091) this spring. Dodgers No. 3 prospect Keibert Ruiz went 1-for-1.
Giants 4, Padres 4 (10 innings)(Box)
Fernando Tatis Jr., MLB.com's No. 8 overall prospect, singled, made a diving grab and committed an error at shortshop, while Padres No. 10 prospect Franchy Cordero singled and came around to score. Giants No. 15 prospect Tyler Herb worked the 10th and pitched around a leadoff single by Raffy Lopez by recording three straight groundouts. Seventh-ranked Aramis Garcia went 1-for-1 with a walk for San Francisco.
Orioles 7, Rays 2 (Box)
Rays No. 2 prospect Willy Adames cranked a solo homer, struck out and walked. MLB.com's No. 22 overall prospect is 7-for-17 (.412) with two long balls and six RBIs in eight Grapefruit League games. Christian Arroyo, the Rays' sixth-ranked prospect, notched an RBI single and also is 7-for-17 at the plate. Recently acquired left-hander Anthony Banda (No. 16) gave up four earned runs on two hits and three walks in one inning for Tampa Bay. Orioles No. 8 prospect Anthony Santander plated two runs with a single, while 24th-ranked Austin Wynns added an RBI single.

Cardinals 4, Nationals 3 (Box)
Victor Robles, MLB.com's No. 6 prospect, roped an RBI double in the first innings. The Nationals' top prospect did not reach base in his next two at-bats. Breyvic Valera, the Cardinals' 30th-ranked prospect, lined a two-run single in the seventh.
Yankees 11, Mets 4 (Box)
Yankees No. 19 prospect Billy McKinney had another big day with a grand slam in the eighth off Corey Taylor. It was the fourth spring homer for McKinney, who has 11 RBIs in 10 games while splitting time between the outfield and first base. No. 2 prospect Estevan Florial knocked a single. Right-hander Domingo Germán (No. 18) started and allowed a pair of unearned runs on a hit and two walks, striking out five over 2 2/3 innings. Eleventh-ranked Dillon Tate gave up an unearned run on two hits in two innings.
Marlins 7, Astros 6 (Box)
Top Miami prospect Lewis Brinson went 2-for-2 with a double and a walk, ninth-ranked Brian Anderson added a single and No. 24 Pablo López struck out three in two scoreless frames. Nick Neidert (No. 10) allowed a run on two hits in two innings, striking out one. Garrett Stubbs, the Astros' No. 24 prospect, replaced Brian McCann and went 1-for-2 with his fourth Grapefruit League RBI before 20th-ranked Riley Ferrell allowed two runs on two hits and a walk in one inning and took the loss.
Twins 7, Red Sox (ss) 1 (Box)
Twins No. 4 prospect Nick Gordon collected a pair of singles. John Curtiss (No. 21) issued a walk and struck out one in a hitless ninth.
Blue Jays (ss) 6, Tigers 5 (Box)
Blue Jays No. 6 prospect Danny Jansen hit an RBI double, while 29th-ranked Max Pentecost drove in a run with a single.
Phillies, 2 Red Sox (ss) 1 (Box)
Red Sox No. 23 prospect Bobby Poyner pitched a perfect fifth inning. Tzu-Wei Lin (No. 24) went 0-for-2 but made a nice diving stop to get a forceout. Phillies No. 27 prospect Luis García retired two batters, working around a hit and a walk with one strikeout.
Brewers 10, Royals 6 (Box)
Brewers No. 11 prospect Mauricio Dubón hit a two-run double and scored a run. Sixth-ranked Royals prospect Nicky Lopez ripped a two-run double and walked and No. 13 Josh Staumont struck out one in a perfect inning.
Cubs 11, Indians 6 (Box)
While big league bats carried the Cubs, Minor League pitchers shined. No. 13 prospect Dillon Maples struck out the side in his lone inning, while Duane Underwood Jr. fanned a pair in the eighth.
Athletics 7, Mariners 3 (Box)
A's No. 3 prospect Franklin Barreto rapped a double, walked and scored a run. Eleventh-ranked Sheldon Neuse bashed his second spring homer, a solo shot in the sixth inning. No. 11 prospect Dan Vogelbach doubled twice in three trips to the plate as the Mariners' starting first baseman.