Unlikely Guides charted course in Maine
International League team found a home in beach town of 6,500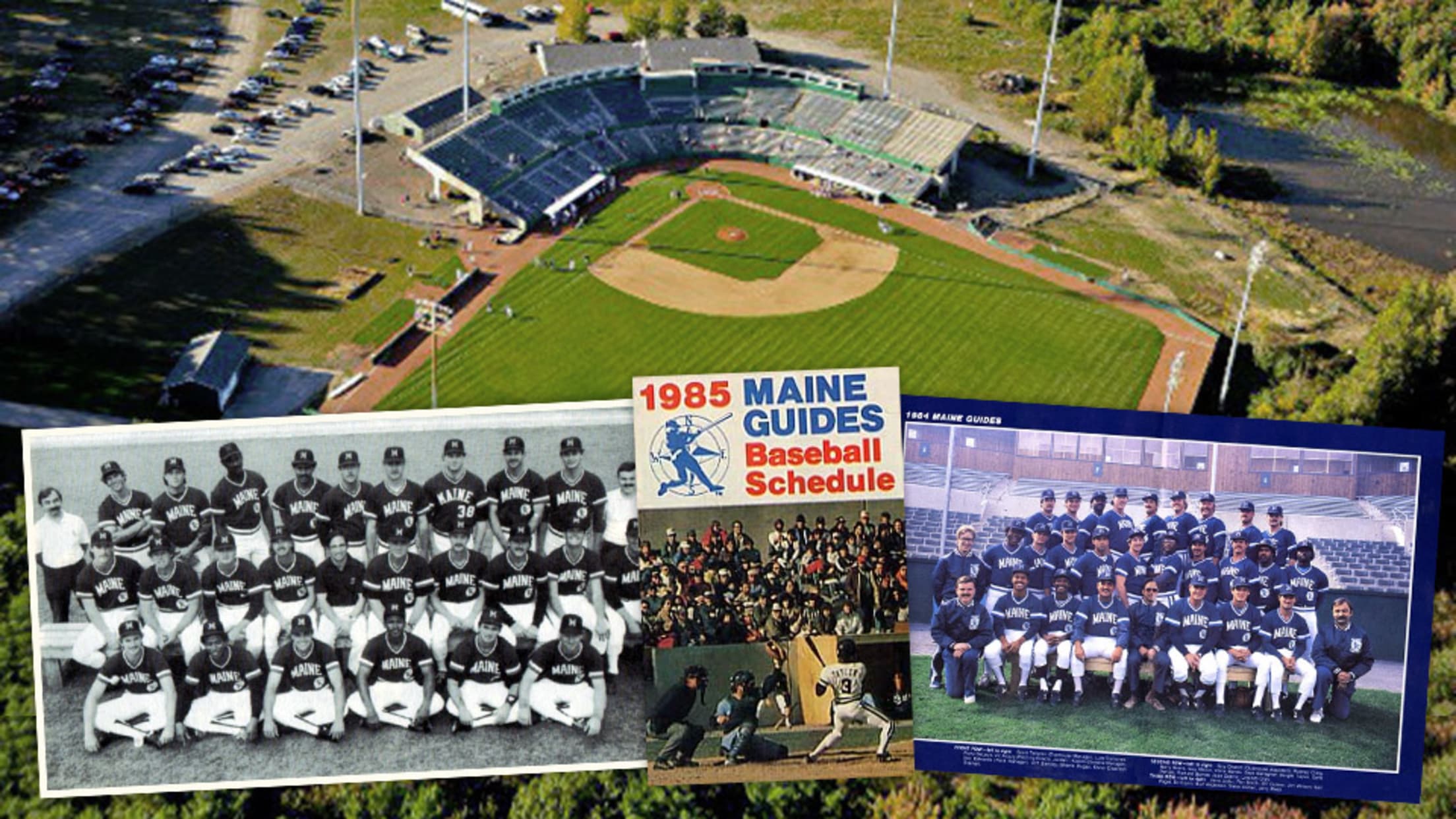 In its first season in 1984, The Ballpark -- standing in a town of 6,500 -- drew 183,289 fans.
OLD ORCHARD BEACH, Maine -- This small coastal town is a summer vacation destination, known across New England and Quebec for its amusement park, pier and plentiful bars. For most of the year, it's a quiet place, populated with fewer than 10,000 people living across approximately eight square miles.In other
OLD ORCHARD BEACH, Maine -- This small coastal town is a summer vacation destination, known across New England and Quebec for its amusement park, pier and plentiful bars. For most of the year, it's a quiet place, populated with fewer than 10,000 people living across approximately eight square miles.
In other words, it's not what most people think of when they imagine a Triple-A city.
But for five unlikely seasons it hosted an International League team in a stadium that was one of the Minors' crown jewels. The Maine Guides were not always winners, they did not always draw well and their end was not without acrimony, but some fans found perfection at The Ballpark in Old Orchard Beach from 1984-88.
"People loved it. It was a great brand of baseball. It was just awesome," recalled Dean Plante, who was a bat boy for the first two Guides seasons and now serves as the athletic director, football coach and girls basketball coach at Old Orchard Beach High School.
"There were [lots of the same fans] every night. You knew they were going to be there. We didn't have a lot of celebrities in the front row, but a whole lot of people in Old Orchard were regulars, and they built good relationships with the players."
The players loved being here too.
"I enjoyed Maine more than any place I've ever played," right-hander Jerry Reed told the Biddeford Journal Tribune. "Everyone was excited about us being there, we got great exposure with radio and TV games, and the people were really super to us. I hated to see the season end."

Guides get on track
According to a story repeated in media accounts from the mid-'80s, Bangor attorney Jordan Kobritz decided to quit his law practice and get into baseball while on a business trip in December 1981. After a year of studying the industry and meeting insiders, he purchased an IL franchise out of Charleston, West Virginia for a reported $650,000 with the intention of bringing it to Maine.
"I think the whole thing was viewed as an impossibility by virtually everybody," said Orioles broadcaster Gary Thorne, who first got involved in pro baseball as part of Kobritz's investment group.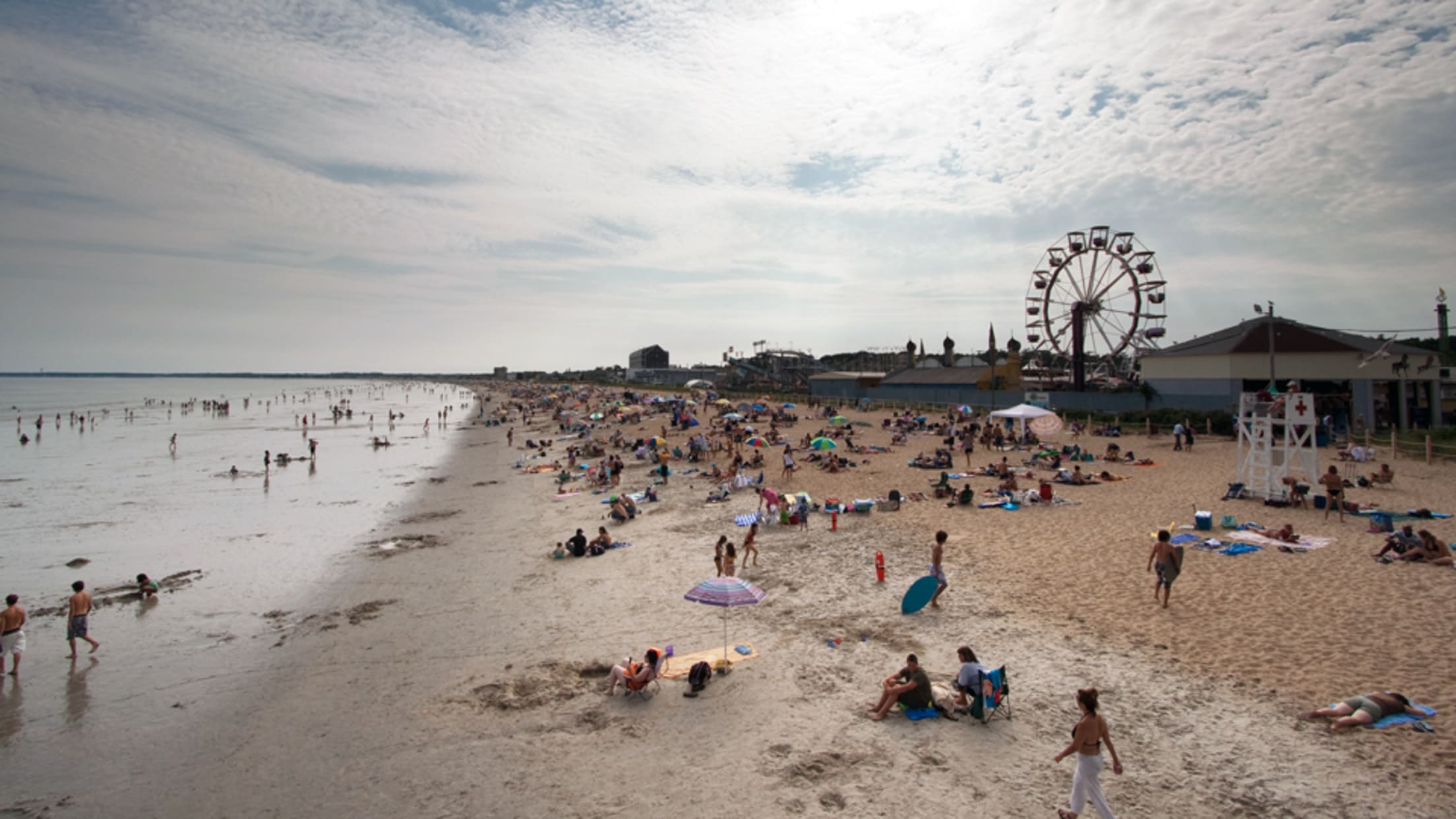 Tourists often far outnumber residents. (Andrew Malone/Creative Commons)
"Nobody thought we were going to pull this off, including the Minor League Baseball people," he added. "They thought it was a joke, and they said, 'OK, if you bring the cash, you can buy the team.' They didn't think there was any way that could happen, and then Jordan showed up with the money. I think they were flabbergasted."
Kobritz began with Maine's biggest city in mind but Jerry Plante, father of Dean and then Old Orchard Beach's town manager, had a different idea.
"We'd heard that the owner was romancing Portland, which was understandable, because they're a much larger city than we are," said Plante, now 83. "But in the summer months, we pick up 60,000 people a day [through tourism]. When we heard he was in negotiations, we thought we'd give him a buzz and have him get a look at the 75 or 100 acres the town had available behind the high school."
In September 1982, Portland turned down Kobritz's proposal. Within months, plans for The Ballpark in Old Orchard Beach were moving full speed ahead. In February 1983, Kobritz applied for a $2.2 million loan from the Finance Authority of Maine to build the stadium. FAME questioned his collateral on a loan that size, but the Town agreed to buy the park in the event of a default.
They broke ground in June.
"We had to do the whole thing -- the whole process of buying the team and building the stadium," Thorne said. "That was a great experience. We had a lot of support from the people of Maine, both for the business and as fans. It was really fun, because you were doing something that nobody thought you could do."
The next April, Maine had its first professional baseball team since the Portland Pilots hung up their spikes in 1949.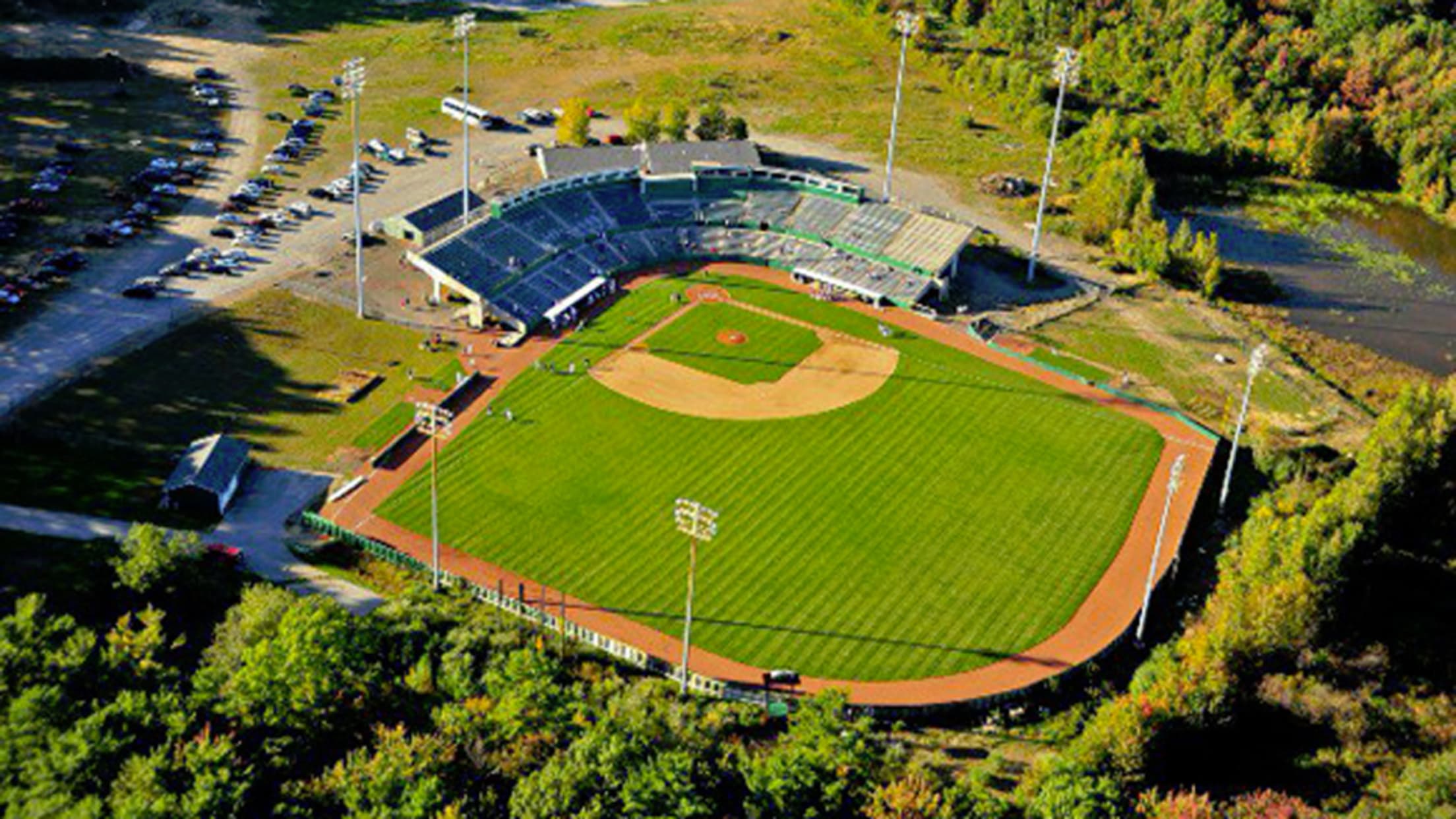 The Guides went 75-61 their first season. (Old Orchard Beach Ballpark Commission)

A promising start
The improbability of Old Orchard Beach getting a Triple-A team was not lost on the younger Plante, who was 14 in 1984.
"When the deal was signed, there was that little-town-from-Maine snicker, like, 'Yeah, we took one from the big boys," he said. "And then to see the construction getting under way, it [happened fast]. ... My father was extremely excited about it and saw it as an unbelievable opportunity for the town, and really the region. And the ballpark itself, it was gorgeous, state-of-the-art at the time."
After the home opener on April 18 (a 13-9 win over Rochester after a rainout the night before), the
Boston Globe
described The Ballpark as "beautiful." In July,
Sports Illustrated
referred to the stadium nestled among tall pine trees as "an extraordinary sight," noting, "it's just a mile from the Atlantic Ocean, and it may be the prettiest ball park in creation."
It was a thrilling workplace for a kid. Cleveland prospects such as Juan Espino and Luis Quinones played pepper and joked with Plante and the other bat boys. One day, hard-throwing reliever Bud Anderson, who'd appeared in 64 games for the Indians over the previous two seasons, played along.
"He was just pitching us batting practice," Plante said. "Juan Espino was catching and [Anderson] dialed one up. I just dropped the bat. I was shocked. That was unbelievable. He started laughing, because it was probably only about 75 [mph], but the other bat boy wouldn't get in the box after."
Thorne, who'd worked in broadcasting through high school, college and law school, also had some fun that year.
"I was a partner in a law firm [Mitchell & Stearns] at the time, and I intended to stay. That was it. I wasn't looking to get back into broadcasting as a vocation," he said. "I took a sabbatical. I said, 'OK, I'm going to spend the summer doing some games.' I thought it would be something fun to do and I'll be back [at the law firm] in the fall."
That wasn't to be. Peter Gammons, then with the Boston Globe, spent parts of the summer in Maine. In September, he wrote a column about the new IL team in a town of 6,500, mentioning that Thorne "puts most [Major League broadcasters] to shame." The New York Mets reached out to Gammons, asking whether Thorne wanted to take his act to the bigs. He did so the next season and he's been a nationally recognized voice in sports since.
"I always tell people I learned more about baseball in that one year with the Maine Guides than I did all the other years," he said. "The best part was Doc Edwards, who was the manager. He was a wonderful guy, an old-time baseball guy. We traveled together and I did every game. I virtually lived with Doc on the road. Drawing out lineups on napkins, talking baseball, that's the thing I remember best."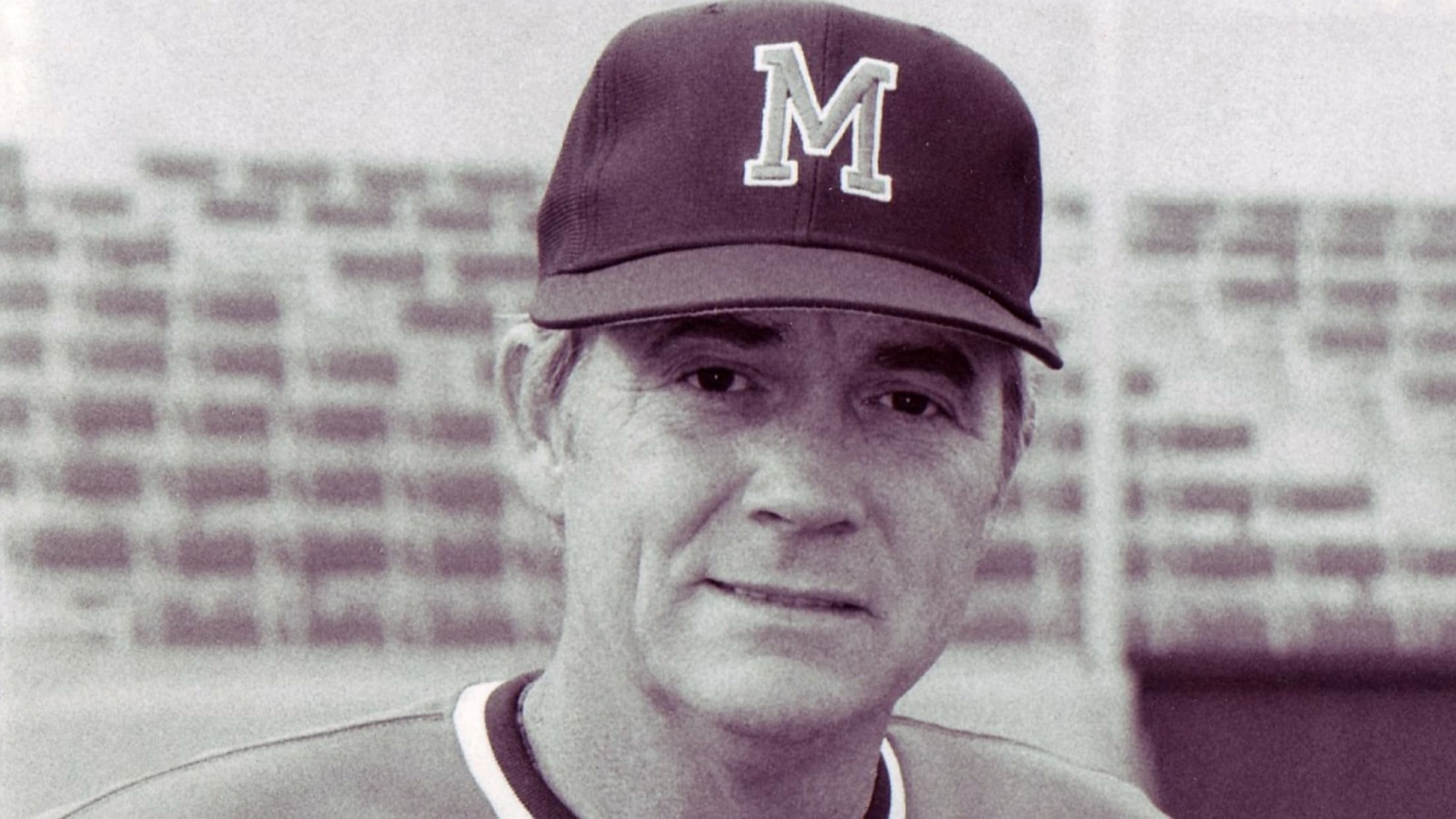 Manager Doc Edwards led the Guides in 1984 and 1985. (International League)
That season, the Guides came within one win of the Governors' Cup but lost to Pawtucket. More than 180,000 fans came through the gates. Even though an April Boston Globe article stated the team needed to draw 200,000 per season to be profitable, all involved seemed pleased with the attendance. The governor christened the day of the next year's home opener "Maine Guides Day." Local press heralded Kobritz, the principal owner and general manager, as the "Man of the Year." And the July Sports Illustrated article made the team famous.
"I remember my father buying about 20 copies [of the issue], and I think we were getting a subscription at the time," said Dean Plante, who was quoted in the story. "I had a copy on the bottom bunk when I woke up."
The magazine gave the Guides another nod with the April 1, 1985 gag story on Sidd Finch. George Plimpton's fictional pitcher made his way into pro ball by approaching Tidewater Tides manager Bob Schaefer outside The Ballpark.

Small town, big stars
Thorne was not the only one who worked his way from The Ballpark to The Show. The first Guides team alone featured many players who spent part of their careers in the Majors. Otis Nixon stole 39 bases for the '84 Guides. Geno Petralli, who was a big leaguer for parts of 12 seasons, played 23 games for Maine that year. John Farrell, who helmed the Red Sox to a World Series title in 2013, earned his first professional win as a Guides pitcher. Edwards, who managed the Guides for the first two seasons, took over the job in Cleveland from 1987-89.
Doug Jones, who recorded 303 saves over 16 big league seasons, posted a 2.09 ERA over 43 Guides games in 1986. Mike Maddux, who appeared in 472 Major League games, was with Maine for parts of '87 and '88.
Several Major Leaguers made rehab appearances in Old Orchard Beach. In 1987, the Phillies' Darren Daulton, the Mets' Dwight "Doc" Gooden and Boston's Dennis "Oil Can" Boyd all played at The Ballpark. Mainers love the Red Sox, and Boyd's June 13 start for visiting Pawtucket sold out well in advance. Gooden, pitching for the Tides on May 31, inspired a Biddeford resident to write to the local paper describing the righty as a "true craftsman."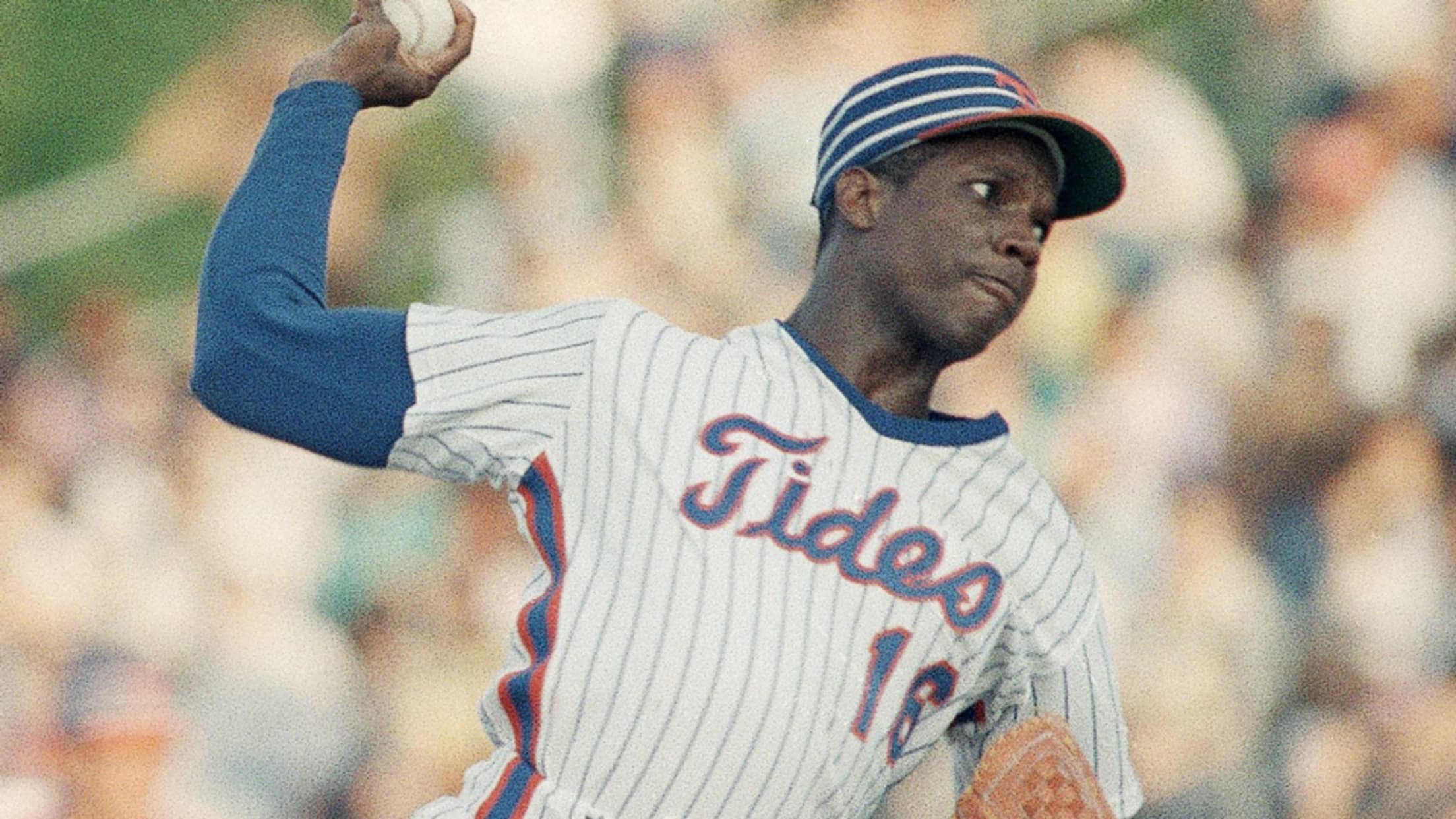 Dwight Gooden pitched six innings of one game at The Ballpark. (Lois Bernstein/AP)
"What transpired on that hot afternoon is now Triple-A history," Katherine Gillis wrote of Gooden's 10-punchout performance. "We were all mesmerized by the way young Dwight handled himself..."

Success is short-lived
The Guides were a winning club again in '85, and again they drew well. Season-ticket sales were strong. Plante, who served in the state legislature in the '50s and '60s and knew just about everybody in town, was partially to thank for that. He bought a pair himself.
"That was a lot of fun, but I did it also [because] I was the town manager and I wanted to be very supportive," he said. "I'd been in public service in that area for so long. Being there every game, I could introduce [the Guides' staff] to people and push for advertising on the outfield wall space, and I believe I was very helpful in selling season tickets."
Fans tolerated a heavy mosquito presence, which was noted in most of the national media stories about the team.
"You get a couple of rainy days, then it heats up, and behind there, there's some wetlands. They had [a drainage ditch for the stadium and] the retention pool," the younger Plante said. "It was a nice breeding ground, so there were a couple of weeks every season where right at sundown, it was feeding time.
"[Players] stayed active in the outfield. There wasn't a lot of standing around -- constantly moving, whacking 'em. It was pretty funny."
Fog off the ocean could also make The Ballpark a chilly place. During the 1988 season, hometeam relievers took to lighting fires in the bullpen to keep the cold and the bugs at bay. People in the stands had no such luxury.
But there were other factors that contributed to the declining attendance every year.
Townspeople who worried from the beginning that The Ballpark would take business away from the downtown area or who balked at paying for the stadium if ownership defaulted on its loan were never won over. Concerts at the venue fueled tensions. An Aug. 6, 1985 Loverboy performance netted Kobritz a court summons for violating a noise ordnance. (The charges were eventually dropped.) To the annoyance of many, 17,000 rock fans stormed into town for a Def Leppard concert three seasons later.
It didn't help that the team never had another winning season after 1985. They finished last the next year and also had the league's worst attendance.

End of an era
In August 1986, Kobritz agreed to sell the team to Northeastern Baseball, Inc. of Pennsylvania with the understanding he would receive a Double-A team as part of the deal. The agreement fell apart within two months, which prompted a series of lawsuits, countersuits and appeals involving Kobritz, Northeastern Baseball and the IL.
The suits continued throughout 1987, when the Guides became a Phillies affiliate. The parent-club swap in the midst of a battle for ownership exacerbated a prevailing sense of instability. That July, the Town took over the park, adding more bitterness to the whole situation for those who opposed its construction.
When the legal mess was resolved in the Supreme Court in March 1988, Kobritz was forced to accept the sale without receiving the Double-A franchise. The Maine team played as the Phillies that year, once again finishing last in the standings and attendance. It moved to Scranton/Wilkes-Barre for the 1989 season.
George Culver, the manager of the '88 club, told the local press he was glad a miserable season was over but added, "I can't help but think we've left a lot of things undone in Maine."
The younger Plante agreed.
"When you think about it now, Minor League Baseball is a little more appreciated. I think that had you the opportunity to maintain that now, people would go a little bit further to try to keep it here," he said. "It's painful when [people say], 'We had Triple-A? In Old Orchard Beach? ... And we let it go?'"
Life after death
Maine regained Minor League Baseball in 1994, when the Portland Sea Dogs arrived as a Marlins affiliate. A Red Sox affiliate since 2003, last year they finished fourth in attendance in the 12-team Eastern League, despite losing seven gate openings to weather -- third-most in the EL.
Although Kobritz took the loss in the long court battle and had to give up on fielding a team in the park he was instrumental in building, he's gone on to a successful career in sports. Now a part owner of the Triple-A New Orleans Baby Cakes and Class A Advanced Charlotte Stone Crabs, he was inducted into the Florida State League Hall of Fame in November. He's also the chair of the sports management department at the State University of New York, Cortland.

Former town manager Jerry Plante stays active at The Ballpark. (Pat Wellenbach/AP)
The biggest recovery from the loss of the Guides, though, was the one made by The Ballpark. It continued to host concerts throughout the late '80s and early '90s, and the concerts continued to tick off residents. ("It became a bit much," recalled the younger Plante. "[At] The Grateful Dead, I think they literally found dead people, OD'd.") But it spent the next couple decades mostly unused, falling into disrepair. After a fire in 2007, Old Orchard Beach voters rejected a referendum to sell it, 2-1, in favor of restoring it.
"That was very rewarding," said Jerry Plante, who pushed for restoration and is a member of the town's Ballpark Commission.
The Portland Press Herald reported $240,000 worth of volunteer labor and goods went into the project. In 2011, The Ballpark hosted a team in the wood-bat New England Collegiate Baseball League, and since then it's consistently had various levels of ball in addition to concerts and community events.
"We've had college teams, [independent], American Legion, [Amateur Athletic Union], high school," the elder Plante said. "We have 140, 144 games a year now, not counting the other activities and we have a lot [of those]. We try to make it so it essentially pays for itself.
"We emphasize [to the townspeople]: It's your ballpark, so enjoy it."
Josh Jackson is a contributor to MiLB.com. Follow and interact with him on Twitter, @JoshJacksonMiLB.