Cuomo possessed baseball ability
Reluctant departure from diamond led to career in politics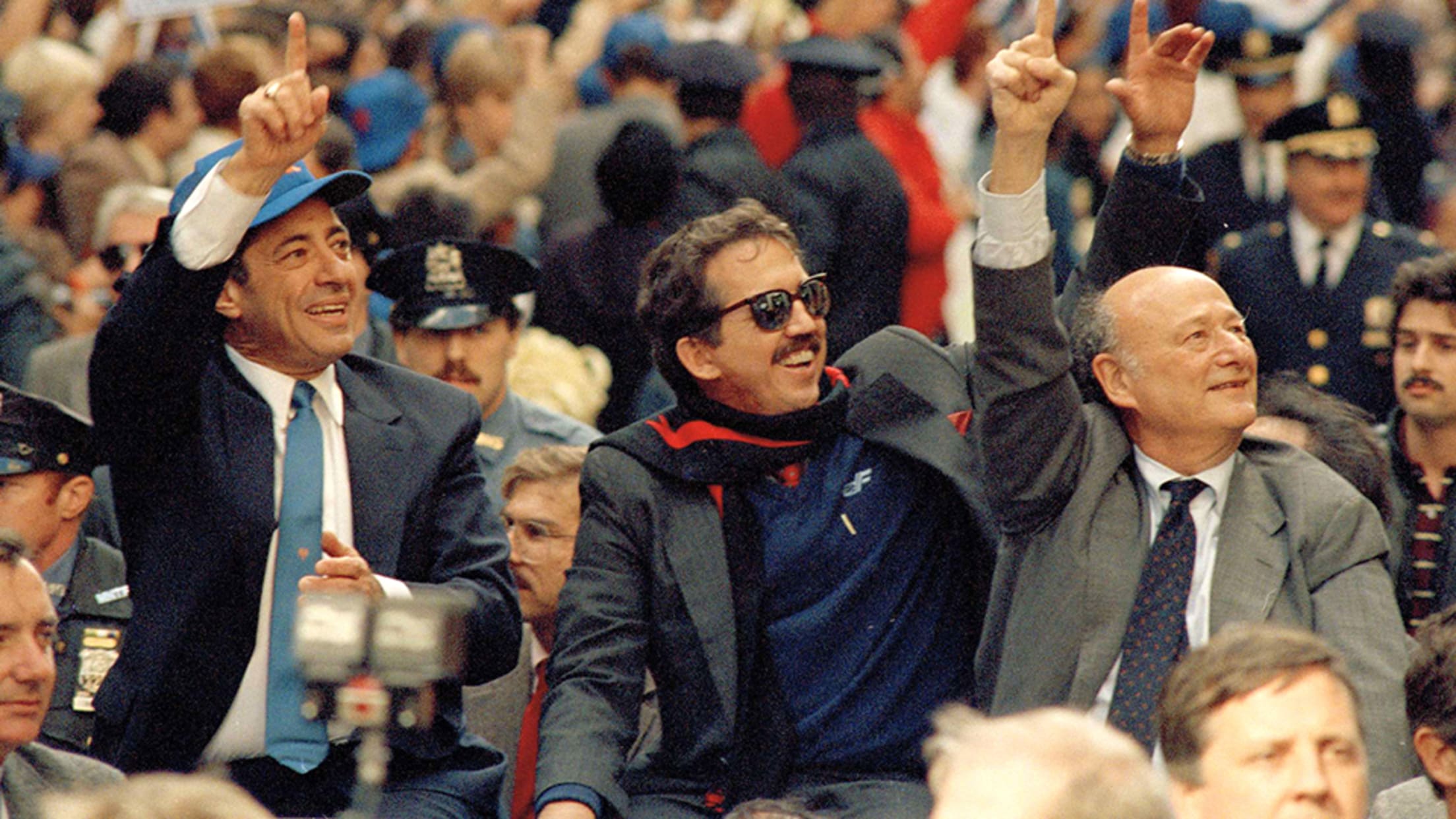 Mario Cuomo flanks Mets manager Davey Johnson and Mayor Edward I. Koch during a parade for the 1986 World Series champions. (AP)
Minor League Baseball is known for its rich history dating back more than 100 years. While much has been written about the best teams and top players who have graced the Minors, there remain many stories either untold or largely forgotten. Each week, MiLB.com will attempt to fill that gap
Minor League Baseball is known for its rich history dating back more than 100 years. While much has been written about the best teams and top players who have graced the Minors, there remain many stories either untold or largely forgotten. Each week, MiLB.com will attempt to fill that gap and explore these historical oddities in our new feature, "Cracked Bats." Know of any stories to be considered for this feature in the future? Send an email and let us know.
You really have to go digging to find it. And even then, you'll need your Indiana Jones hat on and a Sherpa to get you to the right location.
But after an intensive search, you'll find it tucked away neatly at the top of page 256 in The Class D Minor League Baseball Encyclopedia. Nestled between Albert "Al" Cuoco and Kedy A. Curt is the stat line for one Mario Matthew Cuomo, 1952 Brunswick Pirates.
It's one line in a big book about a guy who played part of a season for a small-town team that finished 19 1/2 games out of first place more than a half-century ago. But from that one little line a whole new volume of books emerged, ones that helped shape the landscape of politics, not only in New York state but across the country.
What that one line doesn't tell the reader is that "Matt" Cuomo, center fielder for Brunswick, went on to become Mario Cuomo, three-term governor of New York and one of the most influential political figures in the national Democratic Party over the latter half of the 20th Century.
And had it not been for a wayward fastball, who knows where Cuomo might have ended up. Chances are he wouldn't have played professional baseball much longer. To hear him tell the story, the thought of reaching the Major Leagues felt more like an impossible dream. But no more unlikely than that of a kid from Queens reaching the governor's mansion after a beanball ended his baseball career before it ever really got started.
"I've gotten some things done [in my life]," Cuomo told MLB.com. "But I never thought of myself as a Major Leaguer or good enough to be one. The first good player I watched as a kid was Joe DiMaggio, and that was like ballet. Since then, I played sandlot and college ball and came to understand how difficult it can be.
"Then you get some madman in the Minors throwing the ball 100 miles an hour and not knowing where it's going to wind up. And on one occasion, it wound up in the back of my head. So it didn't occur to me to ever be that good [in baseball]. God had other plans for me."
Cuomo had signed with the Pirates that summer after the club's top scout, Ed McCarrick, saw him play in an exhibition game in Bridgeport, Connecticut. McCarrick was there to see Yankees star Whitey Ford, who was in the Army and playing out of Fort Totten.
Cuomo was even playing under an assumed name at the time because he was a student at St. John's and was getting $25 for the game -- a no-no as far as the NCAA was concerned.
"The only reason McCarrick saw me is because I was playing against Whitey Ford," Cuomo said. "Whitey was from north Queens and I was from south Queens and I had played against him before. That didn't mean I could hit him, but I was comfortable against him and got good wood on the ball.
"I struck out once, but I also got a bunt single off him and I think the scout was impressed. You can say it was luck or fortuitous. But if I hadn't been in Connecticut and it hadn't been against Whitey Ford ... You have to be very, very lucky to be selected from the sandlots to go to a Major League organization. I never thought of pursuing a Major League career. I never thought of anyone offering me anything."
But Pittsburgh did offer something: $2,000 and the chance of a lifetime. Cuomo accepted, but his father, who owned a grocery store in Queens, thought that if his son was going to play baseball he wouldn't finish school. So the legendary Branch Rickey, who was the Pirates' general manager at the time, wrote Cuomo's father a letter congratulating him on his son receiving such an offer and assuring him that the youngster wouldn't have to report to Brunswick until he completed his final exams.
Cuomo read the letter to his dad, who agreed with Rickey's suggestion. Upon completing his exams in May he set out for Georgia. Cuomo hadn't played much ball that spring and the scouting report filed by McCarrick said as much. But McCarrick also knew talent when he saw it.
"McCarrick wrote a note to the manager in Brunswick and said he runs with Major League speed and throws with a Major League arm, but his hitting needs a little work," Cuomo recalled. "He has considerable power, but no one has ever taught him how to hit. He's reasonably good but could be better with instruction.
"He also said I was very quiet, but well-liked by the people who got to know me. And he said I'd also leave a spike mark in someone's chest on my way to second base. [Former New York mayor] Ed Koch used that against me once. Anyway, I went down there and played until late August. I played well the first two or three weeks and actually hit a homer, the only one I hit all year."
Cuomo had a bit of a roller-coaster ride through the Georgia-Florida League. He started off hot and was hitting .353 before crashing into a fence while trying to make a catch. He injured his wrist and his batting average began to plummet. By the time he faced the Cordele A's in late August, his average had dropped to .244. He had a homer and 26 RBIs, while his 54 walks were a testament to a keen eye and patience at the plate.
But that keen eye betrayed him when he stood in against Cordele's John Barbier, a right-hander who won 16 games that summer.
"I was batting fourth and they had a sidearmer [Barbier], like Ewell Blackwell, who would step toward third base and then throw the ball," Cuomo said. "If you were right-handed, it would come at you from the seats behind third base. Normally, the ball would break and everything would be all right. But I had two strikes on me, so I had to stay in there.
"I turned my head and the ball hit me in the back of my head. They didn't have batting helmets back then. We only had one helmet in the dugout and that was for sissies, so-called, or guys who got injured. So I was unconscious and it was a very bad thing. I wound up in Brunswick Memorial Hospital with impaired eyesight for the next six days."
By the time Cuomo was ready to play again, the season was over. But the Pirates thought enough of him to invite him back and offer him a contract for the 1953 campaign. The only condition was that he had to get checked out by a doctor.
"As far as I was concerned, I was fine," Cuomo said. "My eyesight was back and I was playing basketball and everything. In those days, there were no MRIs or CAT scans. All they had were X-rays, and the one they took showed a blood clot. It was kind of a dark smudge and they said it might be a problem.
"The only way they could tell would be to open me up and I said no to that, and that was the end of my career. I never played in another game of baseball after that. I used what was left of my $2,000 to buy Matilda [his future wife] a ring, and that was the end of my career."
But it wasn't the end of Cuomo's story. He went back to school, got his degree and went on to become one of the most respected politicians in the country. While baseball didn't work out, it left an imprint -- and not just from the beaning.
As a youngster growing up in a racially diverse neighborhood like Queens, heading to south Georgia proved to be an eye-opening experience. Cuomo got a lesson in Jim Crow politics his first day in Brunswick as he was shagging fly balls down the right field line. That's where the segregated section of the stands happened to be at Lanier Field.
"Someone was hitting fungoes toward where the blacks were sitting," he said. "I was from Queens and my father's store was in a black, Portuguese, Jewish neighborhood. The idea of separating blacks from whites was ridiculous. But I got called into Harold Hays' office, he was the general manager, and he told me I had to be careful about talking to them out there.
"He said that I couldn't be conversing with the fans that way. I said it was kind of dumb that I couldn't talk to the fans, and he told me there were plenty of fans outside of right field. I was shocked. You could say I was naive. I had never seen people, a whole government or city and culture, opposed to them in an identifiable way all the time. Not that they were beating them with sticks or anything, but that really got me interested in the racial problem. It had an impact."
Cuomo's baseball memories are, for the most part, tucked away. His real legacy is a result of what he did in the political arena, not what he did on the baseball diamond. That you have to search to find information about the latter speaks volumes about how important the rest of his life has been.
Kevin Czerwinski is a reporter for MiLB.com.