Mavs' Kittredge fans five in one inning
Mariners right-handed prospect takes loss after bizarre eighth frame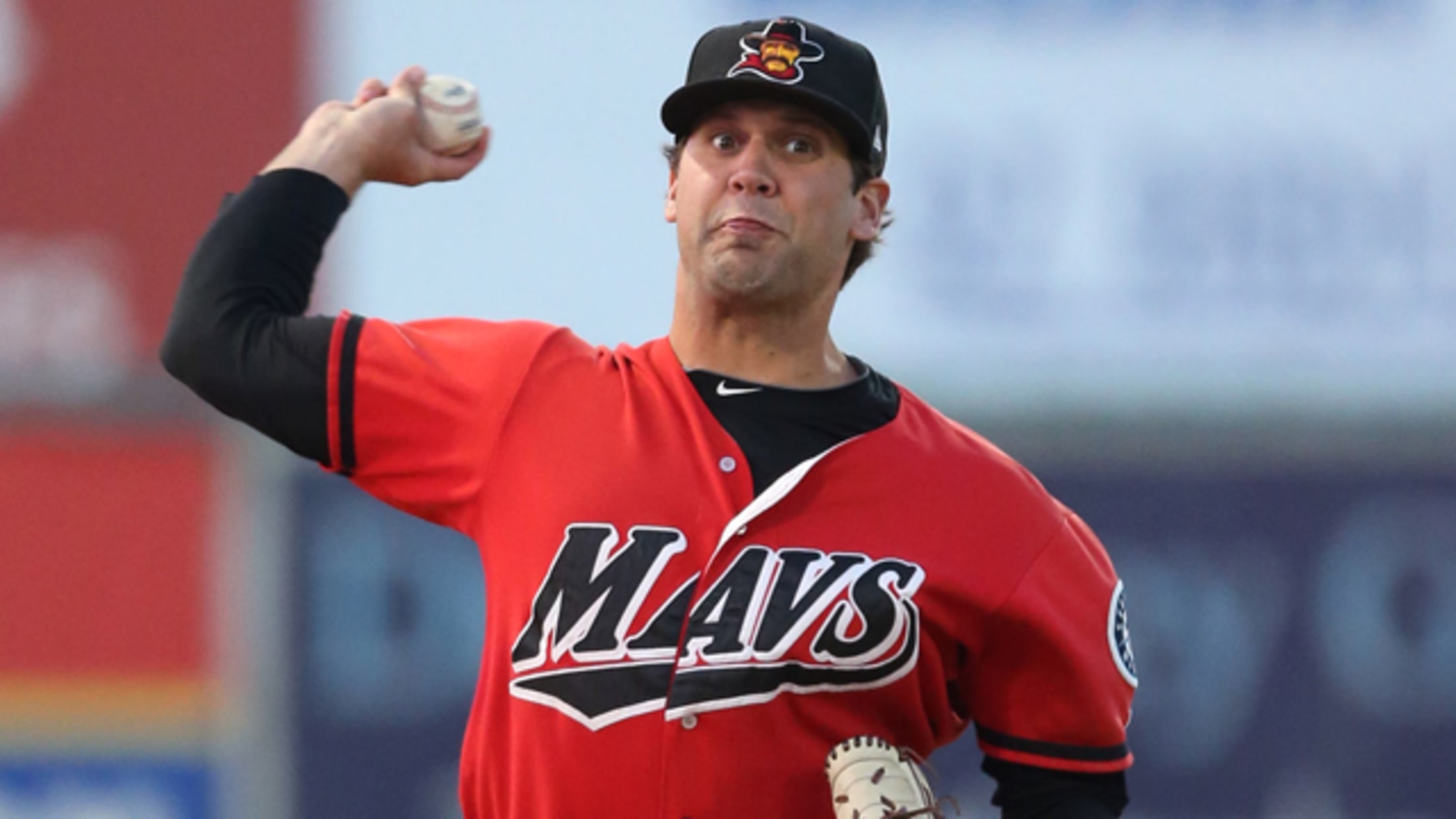 Andrew Kittredge has 64 strikeouts over 46 2/3 California League innings. (Larry Goren/Four Seam Images)
If you're going to have a bad night, might as well have one that's historic. Andrew Kittredge did when he struck out five hitters in one inning. Kittredge (3-1) suffered the loss after giving up three runs on two hits and two walks over 1 1/3 innings of relief as
If you're going to have a bad night, might as well have one that's historic. Andrew Kittredge did when he struck out five hitters in one inning.
Kittredge (3-1) suffered the loss after giving up three runs on two hits and two walks over 1 1/3 innings of relief as Class A Advanced High Desert fell to Rancho Cucamonga, 10-7, on Tuesday. But the 24-year-old accomplished something no full-season Minor Leaguer has done in exactly three years.
"I feel like it's one of those records that can only come with something negative too," the Mariners right-hander said. "It's cool to have the record and a cool thing to say that I've done, but I much rather would not have the record and have gotten the team win."
Yankees prospect Mark Montgomery was the last to pull off the feat in full-season play, having struck out five in a single frame for Class A Charleston in the South Atlantic League on July 1, 2011. Strangely enough, fellow Mariners prospect Tyler Herbalso fanned five in the ninth inning of an Arizona League game against the Brewers on Monday.
Kittredge entered with two outs and runners on first and second base in the seventh inning with the Mavericks ahead, 7-5. Back-to-back doubles by Steven Proscia and Jeremy Rathjen gave the Quakes a 9-7 lead, and that was still on Kittredge's mind in the eighth.
"I was a little frustrated that I gave up the lead in the previous inning. I just needed one out," he said. "I was pitching mad, I guess. I hit the first guy (James Baldwin). You never want to get that first guy on to start an inning, but that happened."
Baldwin stole second with Robbie Garvey at the plate and advanced to third on an errant throw by High Desert catcher and No. 7 Mariners prospectTyler Marlette.
"With two strikes on Garvey, I came at him with a slider and it hit him in the back foot as he swung at it," Kittredge said. "I thought the ruling on that was that it's a dead ball and he's out, but he ran to first and the umps talked about it, and they said that it's not the case. So from that first one, I was kind of frustrated and confused anyway."
It only got weirder.
Kittredge whiffed Brandon Dixon for the first out of the inning, and top Dodgers prospectCorey Seager stepped to the dish with runners on the corners.
"Seager, he's one of the best hitters in the league," Kittredge said. "Our manager [Eddie Menchaca] elected to walk him and set up the double play."
Chris Jacobs, who's tied for third in the California League with 16 home runs, was next. Kittredge stuck to his fastball down in the zone, hoping for a grounder that would end the inning, but he wound up with another punchout -- the third of the inning, but only the second out.
Aaron Miller was the next to whiff, but he ended up at first and Baldwin scored on the play.
"I got ahead and stayed pretty hard with [Miller]. I got ahead with two fastballs and wanted to get him to chase a slider in the dirt," Kittredge said. "My catcher called for fastballs, and we had a little confusion or miscommunication. I called him out and told him I wanted to get [Miller] to chase a slider in the dirt.
"I threw it in the dirt, and he did chase it, but I threw it a little too much in the dirt."
At that point, Kittredge was oblivous to the notion that Miller had been the fourth batter he'd fanned in the frame.
"I didn't think about that. I was thinking first about the run that came in. I just wanted to limit the damage and keep the game close," he said.
Nor did he shy away from throwing another slider in the dirt. He used it to whiff Kyle Farmer, which finally ended the inning.
"I didn't realize it was five [strikeouts] until I was out and the pitching coach [Andrew Lorraine] told me, 'Congrats. That's pretty impressive.' I had to ask him what he was talking about," Kittredge said.
"So many things go through your head when you're pitching, and I was still frustrated. I knew I struck out four, but after he said that, I realized there were two wild pitches with guys able to get on base."
Tyler Smith and Jabari Henry both went 3-for-5 for High Desert. Smith tripled, knocked in a run and scored twice, and Henry missed the cycle by a triple.
Garvey was a homer shy of the cycle.
Josh Jackson is a contributor to MiLB.com.