Mavs wave goodbye with a championship
High Desert wraps farewell season with fourth California League title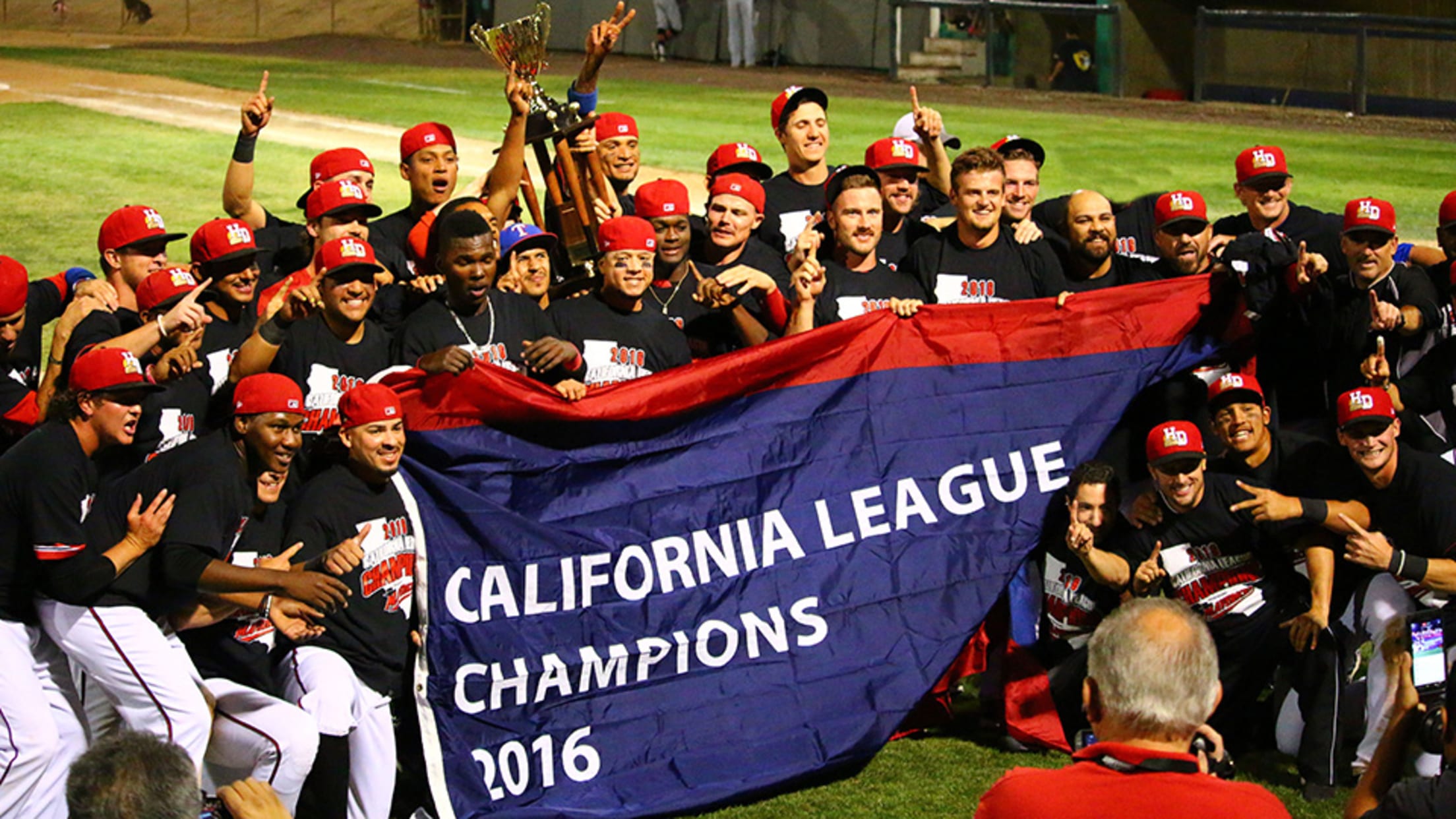 High Desert's fourth and final California League championship was its first since 1997. (Mike Andruski/MiLB.com)
The symmetry of what High Desert accomplished on Saturday night was impossible to miss, as bittersweet as it was. Buoyed by a five-run sixth inning, High Desert defeated Visalia, 7-4, to complete a three-game sweep of the best-of-5 California League Championship Series. After taking home the title in their inaugural
The symmetry of what High Desert accomplished on Saturday night was impossible to miss, as bittersweet as it was.
Buoyed by a five-run sixth inning, High Desert defeated Visalia, 7-4, to complete a three-game sweep of the best-of-5 California League Championship Series. After taking home the title in their inaugural season in 1991, the Mavericks bookended their 26-year stay in Adelanto with a fourth and final league championship. The Rangers' Class A Advanced affiliate will move east and join the Carolina League in 2017.
"I'm thrilled for the guys," High Desert manager Howard Johnson said. "They persevered for so long and didn't let the whole situation here affect them negatively. They stuck with it and embraced from day one to get where we are today."
Statistically the league's best offensive club during the regular season, High Desert entered the bottom of the sixth with four hits and trailed, 3-1. But the Mavs loaded the bases with nobody out on consecutive singles by Jose Cardona and Rangers No. 12 prospect Jairo Beras and a walk to Carlos Arroyo. Rangers No. 13 prospect Josh Morgan and No. 15 prospect Michael De Leon greeted reliever Kirby Bellow with bases-loaded walks to tie the game.
After Scott Heineman popped out, Luke Tendler grounded a ball to first, where Austin Byler stepped on the bag and fired home. But catcher Michael Perez stepped on the plate instead of tagging the charging Arroyo, who scored the go-ahead run. Juremi Profar followed with a two-run single to make it 6-3.
"We were fortunate, for sure," Johnson said. "That situation could have changed everything. But we've created our own breaks all year. We've put guys on base and made things happen with steals and hit-and-runs, and when you do that, you create opportunities to make your own breaks. And that's what we've done all season.
"We have a very talented group of guys and if they were given an inch, they'd take a mile. It was by far one of the most opportunistic teams I've ever seen. If they sensed blood in the water, they got after it."
Tendler homered in the eighth to cap a 3-for-5 night.
Visalia answered High Desert's first-inning run in the second on Joey Armstrong's two-run double to right. D-backs No. 20 prospect Victor Reyes' leadoff homer in the fifth the lead to 3-1, but Mavericks starter Colin Wiles and relievers Felix Carvallo (1-0) and Clayton Cook retired 12 of 13 batters from the fifth through the eighth inning.
"We did a good job there," Johnson said. "Our bullpen was strong all year. We had some guys who went up earlier in the season and had some fill-ins, but the 'pen held up. Friday night's game was particularly huge for us and helped us get our bullpen basically a day of rest."
Nick Gardewine allowed the first three Visalia batters to reach in the ninth and surrendered a run. But he got Sergio Alcantara to hit into a double play and retired Reyes on a groundout to set off a celebration as High Desert won its first championship since 1997.
"We're certainly aware of the history here, being the last team and winning it all. It's something we're very happy about, especially for the fans. There's some loyal High Desert fans who came out tonight and all year," Johnson said. "But everything was good. We embraced it and it was a real positive experience for us all year."
Rangers No. 9 prospect Brett Martin, who struck out 15 over seven hitless innings in Game 2 on Friday, was named Championship Series MVP.
High Desert Mavericks: Start as Champs, End as Champs. It was a great run. 1991-2016 #WeAreHighDesert #ForeverMavs pic.twitter.com/r7z5LpFrSG

— HighDesert Mavericks (@HDMavs) September 18, 2016