Mejia extends hit streak to 50 games
Indians prospect credited with double after scorer reverses decision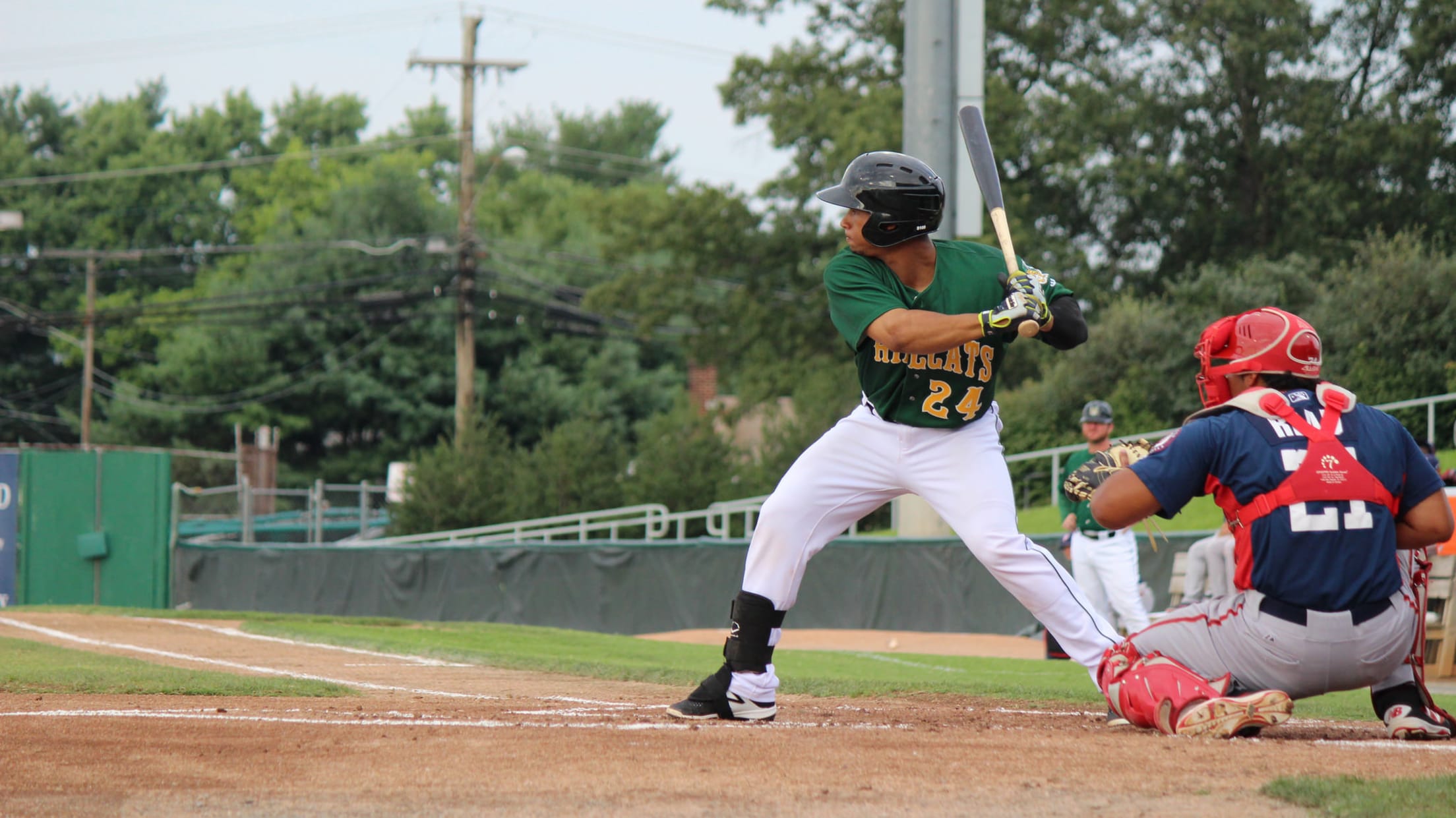 Francisco Mejia boasts the longest hitting streaks in the Midwest and Carolina Leagues this year. (Lynchburg Hillcats)
Things are going so well for Francisco Mejía, he's getting hits even after his games have ended. The Indians' No. 4 prospect extended his hitting streak to 50 games -- matching the Minor Leagues' longest in nearly a century -- as a postgame scoring decision changed a third-inning error to
Things are going so well for Francisco Mejía, he's getting hits even after his games have ended.
The Indians' No. 4 prospect extended his hitting streak to 50 games -- matching the Minor Leagues' longest in nearly a century -- as a postgame scoring decision changed a third-inning error to a double in Class A Advanced Lynchburg's 7-5, 10-inning loss to visiting Winston-Salem.
"I'm just really proud of him for all the hard work he puts in on a daily basis to be able to go out and execute the way he does," Hillcats manager Mark Budzinski said. "It's been a lot of fun to be a part of. I'm just happy for him and for his teammates who want it for him, as well."
MLB.com's No. 95 overall prospect was 0-for-1 when he stepped to the plate and sent a ball down the third-base line off Winston-Salem starter Tanner Banks in the bottom of the third inning.
"He hits a ball pretty firmly off the bat that takes a couple hops down the line and [Winston-Salem third baseman Gerson Montilla] went to go to his right to field with his backhand and just didn't get to it," Budzinski said. "The ball went by him and all the way down the line and into the corner. It's one of those 50-50-type calls, whether he can get to the ball and make the play or not."
Initially, official scorer Malcolm Haley charged Montilla with an error. But he changed that decision upon extensive postgame review.
"After the scorekeeper kind of reviewed some film and got the exit velocity that it was 93 [mph] off the bat and the fact that it had some topspin on it because the ball wasn't touched, wasn't gloved, and it went all the way down in the left field corner, you put all that together and he felt like it should've been ruled a hit," Budzinski said.
The Hillcats released a statement on the reversal after the game, saying in part, "The video review showed that the ball was struck far enough away from the backhand of the third baseman (Montilla) and hit with enough force and topspin to prevent Montilla from making the play with ordinary effort. Based on this, the official scorer changed the error to a hit."
As it stands after the reversal, Mejia's 50-game streak is the longest in Minor League Baseball's modern era and matches Otto Pahlman's 1922 run for the fourth-longest in history. Pahlman split that campaign between Class B Danville of the Illinois-Indiana-Iowa League [a team, level and league that have long ceased to exist] and Reading of the then-Double-A International League.
Budzinski marveled at his 20-year-old catcher's feat.
"It's two things for me: the routine that he puts in the cage every day before he gets out on the field for batting practice and for the game to compete and just an innate ability -- he's got a gift to put the barrel of the bat on the ball very consistently," he said. "He's an aggressive hitter, which, for me, is another positive for a hit streak because if you're a guy who walks a lot, it cuts down your number of attempts to be able to get a knock. If you put all that together, it's been special, and it's been fun to watch."
A 50-game streak would require its own impressive level of consistency throughout a Minor League season, but with extra days out of the lineup due to his work behind the plate, Mejia has been on his ride since May 27 -- two days after his last hitless performance with Class A Lake County -- a span of nearly 75 games for his teams.
"It's something I've never seen before, for sure," Budzinski said. "The catching position is the most taxing on the field with what the expectations are for him, handling a pitching staff, blocking balls, taking foul balls off of all parts of your body and then being able to get up there and swing the bat with some days off here and there. He just went through an illness a couple days ago, so he's a gamer. He gets after it and he competes every single at-bat."
Budzinski and his staff informed Mejia and the rest of the Hillcats of the scoring reversal during the team's postgame meeting.
"Everybody was obviously excited, happy for him and the fact that things worked out the way they did," the manager said. "He wants to continue to play hard and keep it going if he can."
Mejia's on-base streak would've extended to 50 games regardless of the scoring decision. The backstop worked a walk in the ninth inning in his final plate appearance. Lynchburg forced extra innings with a run in the ninth, but Winston-Salem's Nick Basto slugged a two-run homer in the 10th.
Still, Saturday's ultimate outcome gave the Hillcats something to smile about.
"I think more than anything, they're just happy for their teammate," Budzinski said. "They've done a really good job, win or lose, of coming out the next day and putting in a good effort in their pregame work and preparing themselves to do the best they can during the game. I don't think, no matter what happened tonight, that would change. They're going to come out and give a good effort and play hard to the last out either way."
Tyler Maun is a contributor to MiLB.com. Follow him on Twitter @TylerMaun.