Chavis, Dalbec power up for Portland
Two of Boston's top six prospects each leave yard twice vs. Erie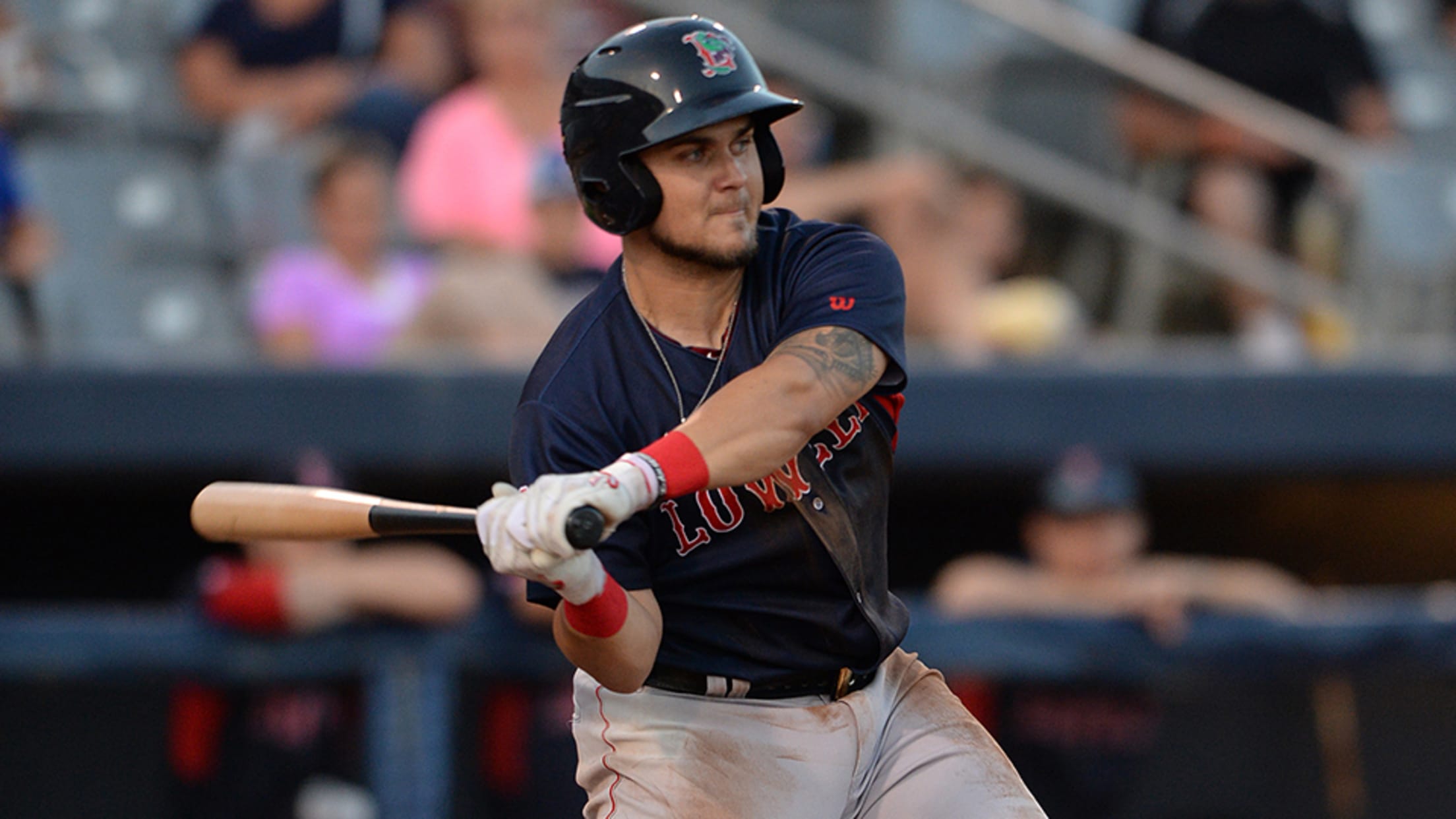 Michael Chavis batted .250/.310/.492 with 14 homers and 39 RBIs for the Sea Dogs last season. (Kevin Pataky/MiLB.com)
It took only two pitches to reveal just how potent Michael Chavis and Bobby Dalbec can be in middle of the batting order for Double-A Portland.Chavis, Boston's top-ranked prospect, and No. 6 Dalbec each went deep twice to launch the Sea Dogs to a 10-9 win over Erie at UPMC
It took only two pitches to reveal just how potent Michael Chavis and Bobby Dalbec can be in middle of the batting order for Double-A Portland.
Chavis, Boston's top-ranked prospect, and No. 6 Dalbec each went deep twice to launch the Sea Dogs to a 10-9 win over Erie at UPMC Park.
The duo went back-to-back on consecutive first pitches -- Chavis' to left field and Dalbec's to left-center -- in the opening inning against No. 4 Tigers prospectAlex Faedo.
"I'm always looking to be aggressive, but under control. I'm always thinking damage," Dalbec said. "I was just trying to be on time for Faedo's fastball and see the ball up."
Chavis went the same way for his second homer with two outs in the fifth against the SeaWolves right hander after Dalbec had taken MLB.com's No. 68 overall prospect deep to lead off the fourth, again to left-center.
"It's a fun dynamic hitting behind him," Dalbec said.
Johnny Bladel knocked the game's first pitch into center for a base hit before Chavis, the No. 99 prospect in baseball, cleared the bases. Following the big night, the 22-year-old has five homers and 13 RBIs in 19 games for Portland. Chavis was suspended for the first 80 games of the season after testing positive for the performance-enhancing drug Dehydrochlormethyltestosterone in April.
He batted .313/.476/.750 with a homer and three RBIs over five games for Class A Short Season Lowell before joining the Sea Dogs. Chavis made his Eastern League debut last June after a sterling first half with Class A Advanced Salem. The 2014 first-rounder compiled a .250/.310/.492 with 14 homers and 39 RBIs in his first taste of Double-A and finished the year with combined season highs of 31 long balls and 94 RBIs.
Gameday box score
Dalbec has caught on quickly since he was promoted to Portland on Friday. The 23-year-old posted his first two-homer game in the Eastern League on Sunday against Richmond. He has hits in eight of his first 21 at-bats (.381) on the circuit with six RBIs in as many games.
"[I'm] just trying to stay with my plan of keeping it simple," Dalbec said. "Just trying to get a good pitch to hit and put a good swing on it."
The fourth-round selection from the University of Arizona in the 2016 Draft batted .256/.372/.573 and set career highs with 26 homers, 85 RBIs and a .573 slugging percentage over 100 games with Salem.
He remains the Carolina League leader in each category a week after being elevated, capping his Salem tenure with a .319 average and a personal-best 10 roundtrippers in July. The Seattle native also went 2-for-2 with a homer and a triple in one August contest. The strong finish was the product of some enlightening meetings with Salem hitting coach Pepe Paulino and Dalbec's hitting mentor, Benny Craig.
"I realized I wasn't ready to hit consistently," Dalbec said. "All I can control is being on time and ready to hit and the pitches I swing at."
The dingers were the only hits in five at-bats for Chavis, who also went down swinging in the third, grounded out to short in the sixth and bounced back to the pitcher in the eighth.
Dalbec added a fifth-inning single before striking out in the sixth and ninth. It marked the first game on the circuit in which Dalbec has recorded at least three hits and his fourth this season.
Chavis has mainly been a third baseman with some experience at shortstop throughout his five-year career. In the week since fellow third baseman Dalbec joined Portland, Chavis was slotted in at first base for the first time in as a pro three times, including Thursday night.
Portland's Tate Matheny collected three hits, including a triple, and Jordan Betts added a sixth-inning solo shot.
Faedo (1-4) was saddled with the loss after yielding five runs on 10 hits while striking out five over five innings. The 22-year-old sports a 4.54 ERA through eight starts for the SeaWolves.
Gerard Gilberto is a contributor to MiLB.com. Follow and interact with him on Twitter, @GerardGilberto4.