Hermosillo enjoys night of firsts with Bees
Angels No. 10 prospect adds cycle, grand slam to his ledger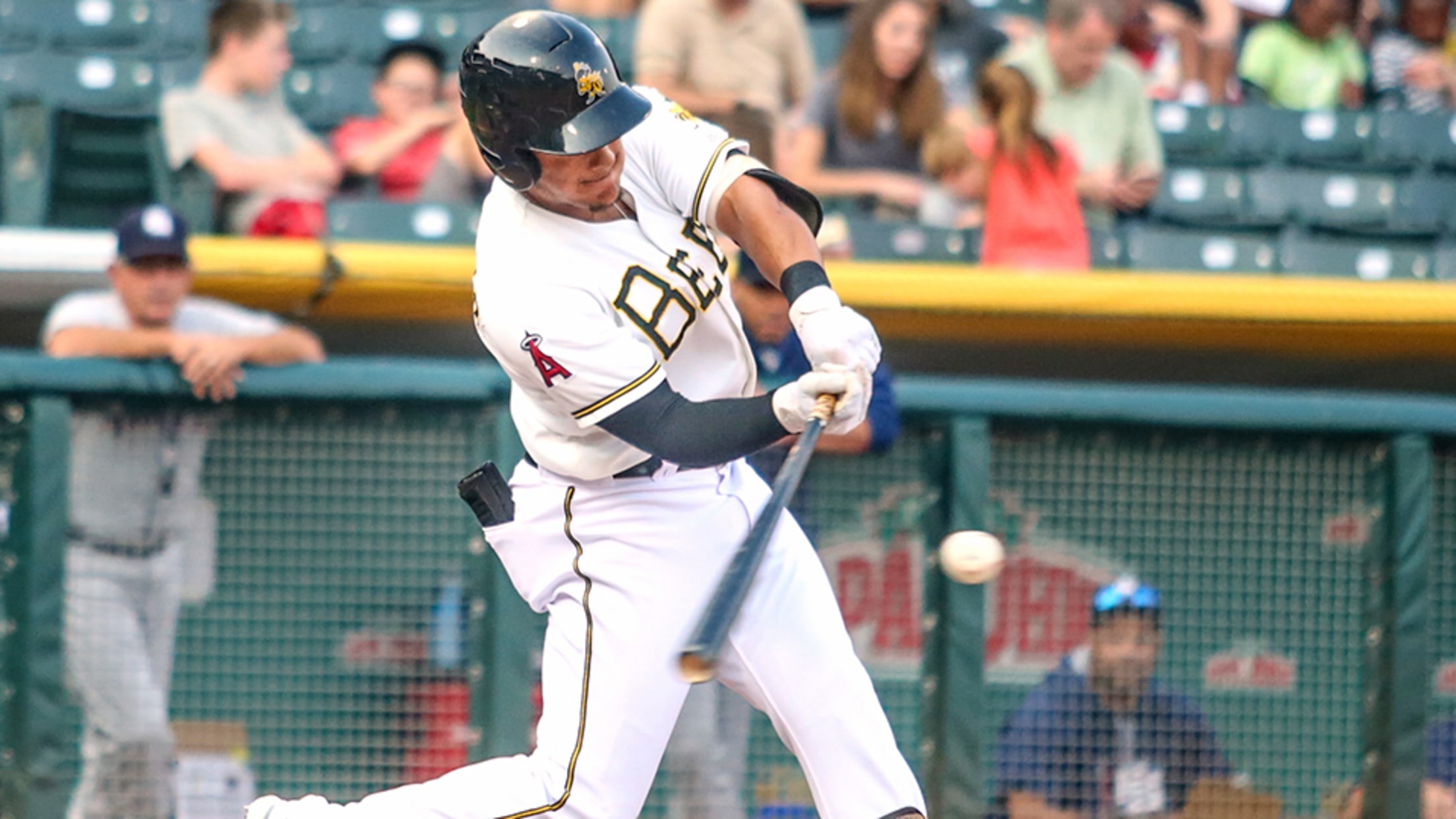 Michael Hermosillo recorded his first six-RBI game on April 17 against the River Cats. (Brent Asay/Salt Lake Bees)
For six years in the Minors, Michael Hermosillo remained in search of his first cycle and grand slam. In his 378th professional game Tuesday night with Triple-A Salt Lake, he accomplished both -- and struggled to put the feeling into words afterward."It hasn't really set in yet. You know what
For six years in the Minors, Michael Hermosillo remained in search of his first cycle and grand slam. In his 378th professional game Tuesday night with Triple-A Salt Lake, he accomplished both -- and struggled to put the feeling into words afterward.
"It hasn't really set in yet. You know what I mean? Everyone kind of dreams about hitting for the cycle," the Angels No. 10 prospect said. "I didn't come in today thinking that was going to happen. I did feel good, but it's definitely an awesome feeling just sitting back and thinking about it now."
Hermosillo fueled his first professional cycle with the first grand slam of his six-year professional career as the Bees defeated the Grizzlies in a 13-9 slugfest at Smith's Ballpark. Hermosillo's extra-base hits plated six runs, matching a personal best he set on April 17.
"You just try and stay in the moment as best as possible," he said. "You know you're feeling good. You know you're seeing the ball well, but you just don't want to get away from what you're doing. You don't want to try and do too much, and I think I just did a decent job of that."
The four hits provided a 31-point bump in Hermosillo's average to .275 through 23 games in the Pacific Coast League. He debuted at the Minors' highest level with 30 games for the Bees in 2017, batting .287/.341/.487 with five homers, six doubles and 16 RBIs after beginning the year at Class A Advanced Inland Empire.
Selected by the Angels in the 2013 Draft, Hermosillo's output over the past two seasons might be more than what's expected from a 28th-round pick. He combined to bat .286 across four levels since 2016, also displaying a speed tool that's helped him race through the Minors. He's stolen 69 bases since 2015, including a career-high 35 last year.
The 28-year-old hadn't recorded a hit against Fresno starter Cy Sneed in six at-bats before Tuesday's game. After a strikeout in the first inning, Hermosillo bucked that trend with a third-inning infield single off the right-hander.
Staked to a 7-3 lead in the fifth, Sneed gave up a triple to Ryan Schimpf and an RBI base hit by David Fletcher. Hermosillo drove Fletcher in with a three-bagger to center field and Kaleb Cowart followed with a sacrifice fly to cut the lead to a run. Sneed backed himself into a corner in the following inning, issuing three walks to load the bases and bring Hermosillo to the plate with two outs.
He caught hold of an 1-0 fastball and deposited over the fence in center to give Salt Lake the lead for good.
Gameday box score
"[Sneed] had been working in with his fastball all night to me and he just came in with the first pitch. It was a ball, fastball," Hermosillo recalled. "I just told myself, 'If he doubles up right here and comes fastball-in again, just be ready for it and put a good swing on it.' Luckily, I got the barrel to it and got a little lift and was able to hit a home run."
Knowing he was a double away from the milestone, the Mesa, Arizona native wound up in an interesting spot with runners on first and second and two outs in the eighth against righty Jacob Dorris. Hermosillo slapped a ground ball through the left side on a hit-and-run play, plating Schimpf from second and pulling in for the two-bagger to complete the cycle.
"Everyone was just kind of moving on the play and it kind of just had the outfielder [Jon Kemmer] just a little off guard," he said. "I just took advantage of it and got to second to get that double."
The cycle marked the eighth in Salt Lake history and the latest since Cowart strung together six hits for the milestone last June 22.
"I think there's been a couple opportunities where [the cycle has] been close," Hermosillo said. "I needed that double or needed a triple, but I've never done it, so it was definitely an awesome accomplishment."
Angels No. 27 prospect Jake Jewell (1-1) earned the win after pitching 2 1/3 innings of scoreless relief, yielding two hits and two walks with one strikeout. The 23rd-ranked Fletcher led off the opening inning with a homer, finishing 2-for-2 with four RBIs and a pair of walks.
Astros No. 9 prospectJ.D. Davis clubbed a two-run shot in the ninth inning, capping a four-hit, four-RBI night in which he doubled twice and fell a triple shy of the cycle. The 25-year-old is hitting .391 in the PCL.
Gerard Gilberto is a contributor to MiLB.com. Follow and interact with him on Twitter, @GerardGilberto4.