Knights' Kopech dazzles in scoreless effort
No. 2 White Sox prospect allows four hits, fans nine in six innings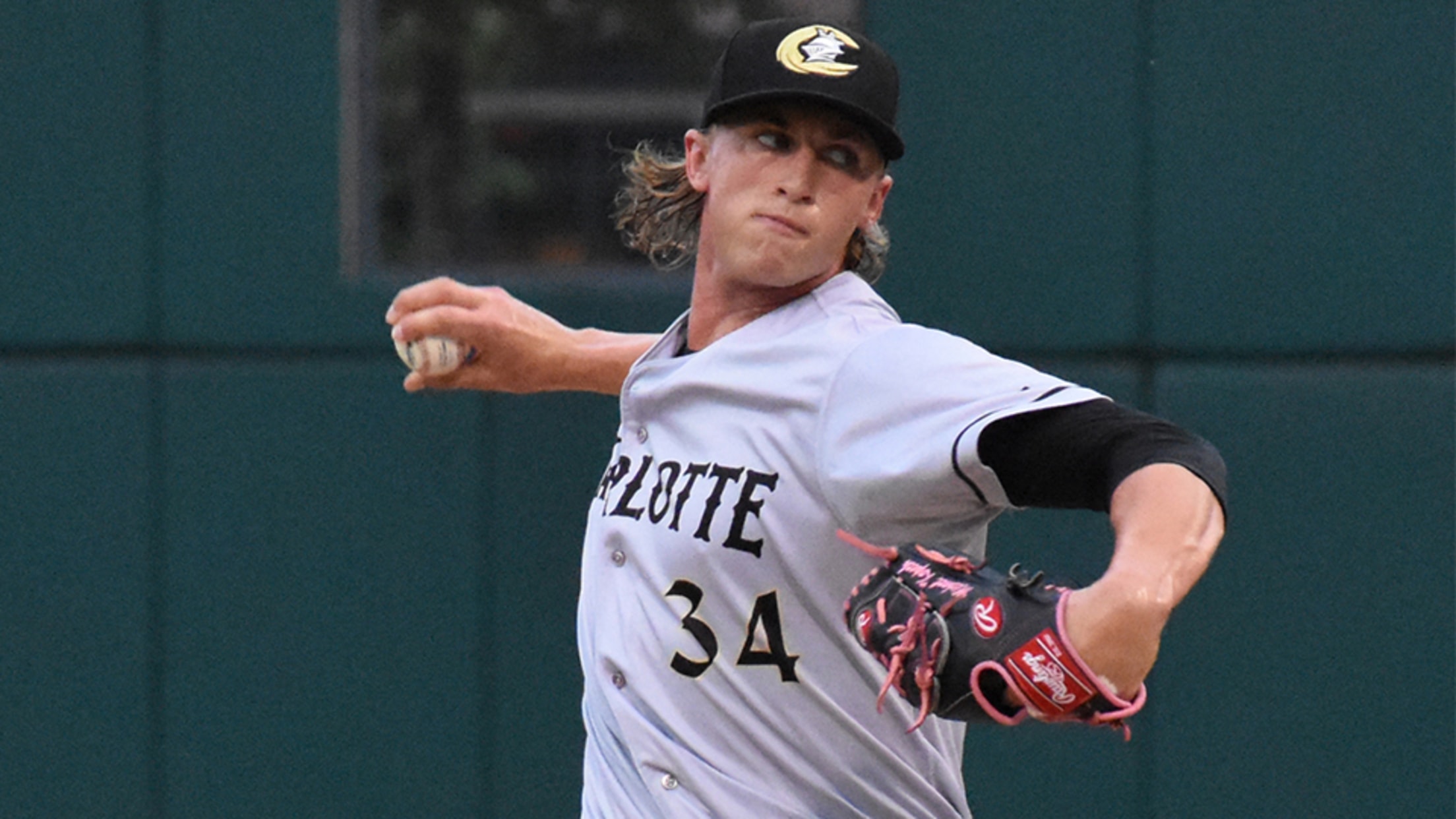 Michael Kopech is averaging 11.9 strikeouts per nine innings through 15 starts. (Cathryn Wood/Columbus Clippers)
Michael Kopech may not have been as consistent this season as he may want to be, but with his confidence up, he's showing his true colors.The No. 2 White Sox prospect struck out nine over six shutout innings as Triple-A Charlotte edged Durham, 2-1, on Monday at Durham Bulls Athletic
Michael Kopech may not have been as consistent this season as he may want to be, but with his confidence up, he's showing his true colors.
The No. 2 White Sox prospect struck out nine over six shutout innings as Triple-A Charlotte edged Durham, 2-1, on Monday at Durham Bulls Athletic Park. Kopech scattered four hits and two walks in his third scoreless outing of the season.
"It was nothing too particular," Kopech said of his outing. "Just getting comfortable again and going out there and competing. I mentioned to someone after my last start that I had fun pitching for the first time in a while."
Locked in a pitchers' duel with Durham starter Colin Poche, the 22-year-old right-hander retired five of the first six batters he faced. Handed a 1-0 lead in the third, Kopech surrendered a leadoff double to Roberto Peña and walked Jeremy Hazelbaker with one out. He kept the Bulls off the board with back-to-back strikeouts of Kean Wong and Rays No. 14 prospectBrandon Lowe.
Kopech worked around a one-out single by ninth-ranked Rays prospect Justin Williams in the fourth and retired the side in order in the fifth.
Gameday box score
Still nursing the one-run lead in the sixth, he surrendered consecutive two-out singles to Brandon Snyder and Williams, putting runners at the corners. With the count 2-2 on Andrew Velazquez, the 2014 first-rounder uncorked a pitch that scooted away from catcher Dustin Garneau. Snyder attempted to score but Kopech tagged him out at the plate, wrapping up the righty's first scoreless effort since May 18.
"I would say there were a variety of things at play for me over the last few weeks," the Texas native said. "I couldn't find that confidence that I was used to pitching with, and in this game, that's key. Going out there with confidence makes all the difference and I feel like I've got it back. Part of that comes from pitching in a close game like this one. Every pitch is important. Every at-bat could sway the momentum of the game. It's fun to compete in duels like this and trying to get that win by any means necessary."
MLB.com's No. 12 overall prospect lowered his ERA by nearly half a run to 4.68 and snapped a streak of four consecutive starts with four or more walks. His nine punchouts increased his season total to 97, second in the International League behind Pawtucket's Jalen Beeks and seventh in the Minors.
"I know walks don't look great on a stat line," Kopech said. "But if I have zero or five, as long as they don't score, it doesn't matter to me how they got on. Attacking the zone is key, but it's also easier said than done. That's what it comes down to to be successful."
Through 18 Triple-A starts -- including three last year -- the former first-round Draft pick is 4-6 with a 4.38 ERA. Those numbers are not what Kopech is accustomed to, but he's enjoying the challenge of learning at the Minors' highest level.
"I wouldn't say Triple-A is tougher, but I think there are points where you can make it tougher on yourself than it needs to be," he said. "But I'm getting used to the approaches of the hitters here and that plays into the experience factor. When I go out there with my best stuff, I don't feel uncomfortable at any level."
José Rondón's solo homer in the eighth snapped a 1-1 tie and helped hand the win to Jeanmar Gómez (1-1), who gave up a run in the seventh. Ian Hamilton, Chicago's 19th-ranked prospect, worked around a hit in the ninth while striking out two en route to his first Triple-A save.
Poche was charged with one run on three hits and a walk while collecting three strikeouts in two innings.
Jason Coats hit a solo homer for Durham.