Ray goes yard three times for Biloxi
Brewers No. 6 prospect records first career three-homer game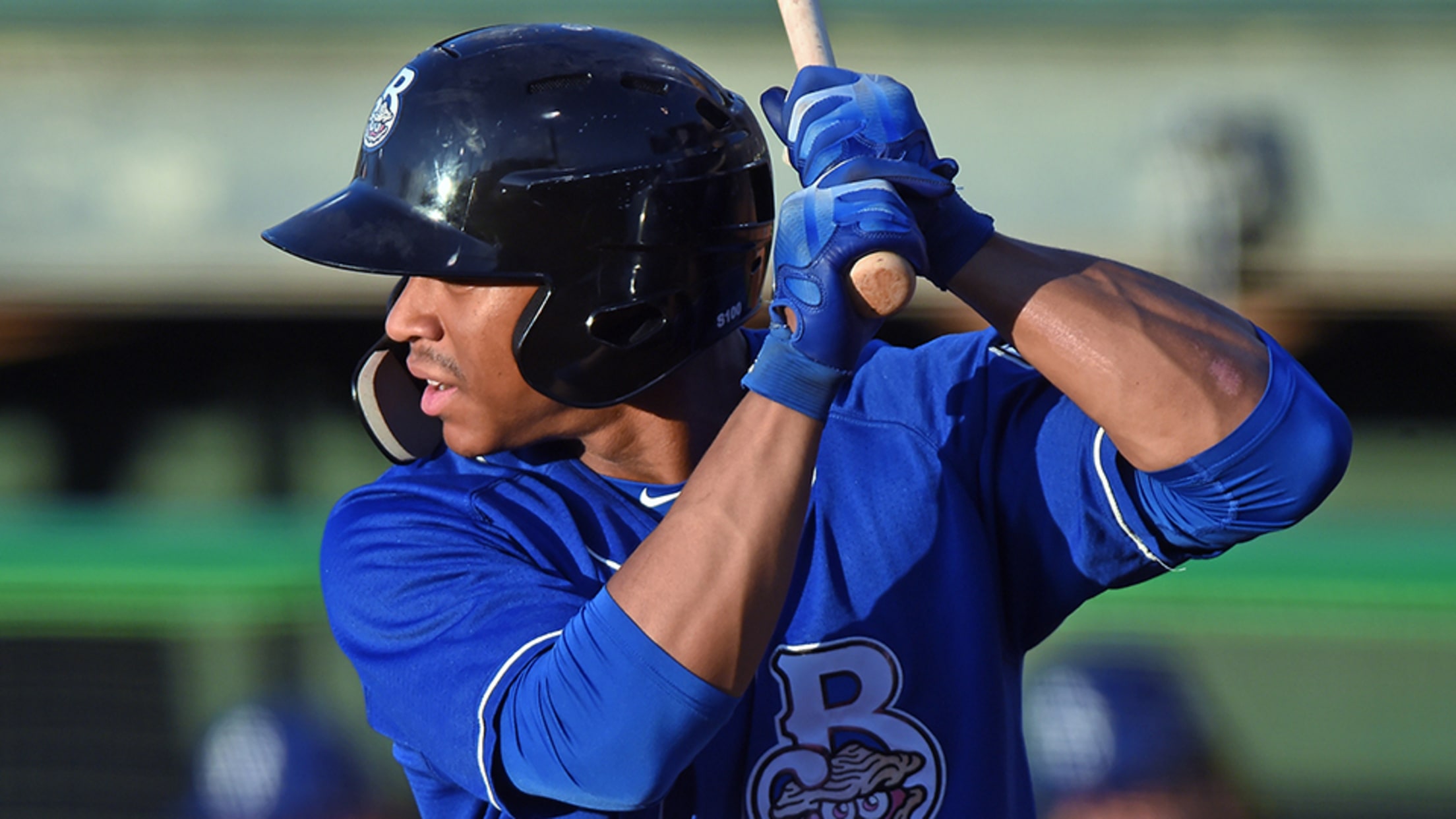 Corey Ray assumed the Southern League lead in extra-base hits with 43. (Brian McLeod/MiLB.com)
A pair of Double-A Biloxi sluggers are duking it out atop the Southern League home run leaderboard, and Corey Ray made a statement to teammate Jake Gatewood on Wednesday afternoon. The Brewers' sixth-ranked prospect recorded his first career three-homer game, pushing him into first place ahead of Gatewood with 16 long
A pair of Double-A Biloxi sluggers are duking it out atop the Southern League home run leaderboard, and Corey Ray made a statement to teammate Jake Gatewood on Wednesday afternoon.
The Brewers' sixth-ranked prospect recorded his first career three-homer game, pushing him into first place ahead of Gatewood with 16 long balls on the season and powering the Shuckers to an 8-3 victory over Jackson at MGM Park.
"They're all competitors," Biloxi hitting coach Al LeBoeuf said. "I don't know a hitter that stands in the batter's box and doesn't wanna do good. As far as that goes, I think it's healthy for a ballclub. We've done it all season here in Biloxi. We have, obviously, one of the youngest teams. The onus was about commanding the strike zone and squaring the ball up -- hard contact within the strike zone. Like I said, it's been a very good, healthy, working environment. Quite frankly, I like what I see. I like the direction and I enjoy watching."
With both Gatewood and Ray sitting on 13 homers entering the matinee, Ray sparked the Shuckers' outburst in the home half of the first inning against Jackson starter Ryan Atkinson. The 23-year-old leadoff man sent the right-hander's first pitch over the left field wall for an opposite field shot.
"To his credit, he's starting to see that using the backside of the field makes him good all over," LeBoeuf said. "That's not just him but all hitters. It was nice to see."
Ray led off the third and fell behind, 1-2, before fouling off a pitch. Atkinson missed with the next offering and the 2016 first-round pick responded by lining a blast to right-center field. He grounded out to second in the fifth but punctuated a rally an inning later with a two-run dinger to right off Kirby Bellow, jumping on the left-hander's first pitch. D-backs No. 27 prospect Wei-Chieh Huang struck him out after a six-pitch battle in the eighth.
It was the second career multi-homer game for Ray, who went deep twice on May 15 against Pensacola.
Gameday box score
"The thing I was impressed about was he hit a changeup out to left, a fastball to right-center and then a slider to right field," LeBoeuf said. "He was pretty much on every pitch that they threw him today."
The Chicago native has a .248/.340/.484 slash line and 49 RBIs in 86 games. He opened a two-homer lead over Gatewood, Tennessee's Trent Giambrone (who recorded his own hat trick on July 5) and Chattanooga's Brent Rooker. Ray totaled 12 homers in 172 games over his previous two seasons. One of the biggest reasons his power numbers have taken off this year, LeBoeuf said, is his plate discipline.
"I think it's just a matter of him understanding what he does when he does it properly," the veteran hitting coach said. "He's got a tremendous work ethic, very good listener. One of the big things is, like any hitter, you're only as good as the pitches you swing at. He's starting to man the strike zone a little bit better, sitting on pitches in certain counts. He's worked himself into a really, really good position to hit -- not only to hit, but recognizing pitches and reacting to those pitches. So far, so good."
And although Ray has struck out 106 times in 343 at-bats, his other tools have allowed him to take the next step this year.
"I understand that strikeouts are OK as long as the power numbers are up," LeBoeuf said. "But for a guy like Corey, or any speed guy with power, I think it's more important for him to command the strike zone, put the ball in play and take his walks when they're giving it to him. Because if he walks, it has a chance to be a double because he can steal bases."
Ray is tied with Giambrone for the league lead with 21 thefts.
"He's progressing nicely," LeBoeuf said. "He's having a nice year. Like I said, I couldn't be happier for him."
Ray battled a knee injury last season and hit .238/.311/.367 in 112 games with Class A Advanced Carolina last season.
"I believe that's the reason why he's doing what he's doing," LeBoeuf said. "Him being healthy just allows him to put forth the work to have the success that he's having."
Brewers No. 4 prospect Lucas Erceg added a solo shot for the Shuckers. Fourth-ranked Luis Ortiz gave up two runs -- one earned -- on five hits over three innings with two strikeouts before turning it over to No. 13 Cody Ponce, who fanned seven and scattered three hits and three walks over 4 1/3 scoreless frames for the win.
Chris Bumbaca is a contributor for MiLB.com based in New York. Follow him on Twitter @BOOMbaca.